A donation to an important cause or organization can be a wonderful gift for all different people in your life. You can donate money to groups related to issues your friends are involved in as a way to support their work. Making donations in people's names also can connect your family or other important people in your life with issues that you care about.
I think a lot about how to thoughtfully engage my family in things that I'm passionate about. I'm lucky to have a family that's always open to hearing what I do and care about, but it can sometimes be hard for them to connect with my politics if they don't see a clear spot for themselves in the issues I find important. I think this is often a challenge for young, newly politicized people. For the holidays a few years ago, after a period when I'd been learning a lot about immigration and the US/Mexico border, I gave small donations to several organizations whose work I'd been learning about, in the names of my different family members. For each person, I picked an organization that related to one of their particular interests and wrote them a letter about why it was an important organization to me and why I thought they would care about it. Writing the letters helped me share what I learned and cared about from the time I spent in Tucson, and it showed each of my family members the personal connections they had to what I had learned and seen.
The nice thing about giving gifts this way is that you can tailor it to whatever your means are. Whether you contribute $5 in someone's name, or make them a monthly sustainer, it's a meaningful gift that will support important work.
Kate made a great list of LGBTQ organizations last year, and Audrey made this list for GiveOUT! Day. 2014 has been a huge year for grassroots queer and feminist organizing, activism and media-making. Here are some new(er) groups and projects to throw your money at in the names of your loved ones:
---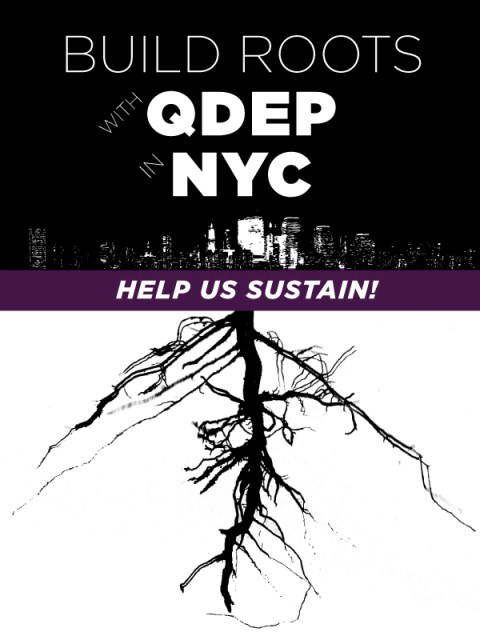 QDEP works with immigrant detainees, undocumented folks and asylum seekers who are queer, trans and/or HIV+ in New York City. QDEP says,
"We are committed to assisting folks in building lives outside of the detention system, to keeping queer families together by demanding an end to deportations, and to queering dialog and work on immigration justice."
QDEP only began last year, but it's had a banner year, organizing actions, events and services for queer, trans and HIV+ detainees, and hosting the Queering Immigration conference in August. This is a great group to donate to in honor of people who really care about issues related to immigration.
---
Marissa Alexander was arrested in 2010 after she fired a warning shot into the ceiling when her abusive and violent husband was threatening the life of her and her children. No one was hurt as a result of her warning shot, and the incident took place in Florida, which has its infamous "Stand Your Ground" law on the books. Yet, Alexander was prosecuted and sentenced to 20 years in prison. Her guilty verdict was overturned on appeal in September 2013, and so she has a new trial scheduled for December 8th, 2014, where she could face sixty years in prison if she is found guilty.
Alexander faces over $250,000 in legal fees, and her supporters are trying to raise $40,000 before her trial begins. Supporting her legal fund is a meaningful and important way to involve people who care about supporting mothers and people experiencing domestic violence.
Donate to the Marissa Alexander Freedom Fund
---

GetYrRights launched their website a few weeks ago. GYR is a network of organizations across the US who do Know Your Rights work for LGBTQ youth. Donate to GetYrRights in the name of someone who is passionate about the criminal justice system, and use it as a starting point to talk about how criminalization and police affect queer youth.
---
The Trans Women of Color Collective promotes the leadership and activism of trans women of color, with the vision of creating revolutionary change. TWOCC has organized events like Black Trans Revolution in Pittsburgh, and has organized days of action and vigils for Islan Nettles, a black trans woman who was killed outside a police station in Harlem.
TWOCC has chapters in New York, Ohio and New Orleans. TWOCC is an important collective to know about for people who feel strongly about promoting the leadership of women, trans people and people of color.
---
In the Making is a photography project working to "debunk the myth that marriage equality means full equality for the LGBTQ community." Featuring Harvard students and alumni, each photograph reveals what the individual sees as part of their gay agenda. The creators of In the Making are raising funds for the Sylvia Rivera Law Project, GLSEN and the National LGBTQ Task Force. It's a great project to support in honor of someone who is passionate about art as activism, and it can help people begin to understand the importance of issues beyond marriage for the LGBTQ community.
---
There's still lots of need for financial support for people protesting the murder of Mike Brown and police militarization in Ferguson. Donate to this fund in honor of people who are passionate about supporting grassroots resistance to police militarization and brutality.
Donate to the Legal Support Fund for Justice for Mike Brown
---
The Arcoíris Liberation Team is a grassroots organization in Phoenix, AZ working for queer and trans immigrant communities in and outside of immigration detention. Arcoíris has been pushing for justice and freedom for Marichuy Leal Gamino, who was assaulted in immigration detention. They've also been part of community education initiatives to raise awareness about legal obstacles for LGBTQ detainees. Arcoíris also has a bond fund for people in immigration detention.
Donate to the Arcoíris Liberation Team
---
Let us know if you're planning to donate in the name of a friend or family member this year! What grassroots feminist/queer organizations do you support?