Helmets
So y'all listened to what Cara had to say in Buckle Up and Bike in Style: The Autostraddle Helmet Guide, right? "Any dyke on a bike is sexy but any traumatic brain injury is not." Preach. For urban commuting, you'll want a helmet that's rounded so it doesn't get dislodged no matter which way you fall, preferably covering as much of the back of your head as possible. Some helmets come with visors to keep rain and sun out of your eyes. Well-ventilated helmets with more holes make for less sweaty rides, while those with fewer visible vents make for slightly better protection. Most importantly, make sure it fits well and comfortably.
1. POC Trabec Helmet
2. Giro Reverb Bike Helmet (recommended for larger sizes)
3. Bern Berkeley Summer Helmet with Visor
4. Giro Air Attack Helmet (not recommended for hot weather)
5. Giro Rift Bike Helmet
6. Bell Fraction Multi-Sport Helmet (comes in lots of designs!)
7. Yakkay Tokyo Colour Stripe Helmet
8. Uvex Urban Bicycle Helmet
Kids' Helmets
To protect your small humans' heads, just like yours, it's most important to find a helmet that fits, not just one they'll "grow into." The age guides here are approximates; it's best to do your own measurements. Let them pick any colour or design they like so they'll (probably) actually wear it. If you're getting a helmet with say, a unicorn horn, make sure anything that protrudes is soft or isn't in a position to twist the helmet out of place in a fall.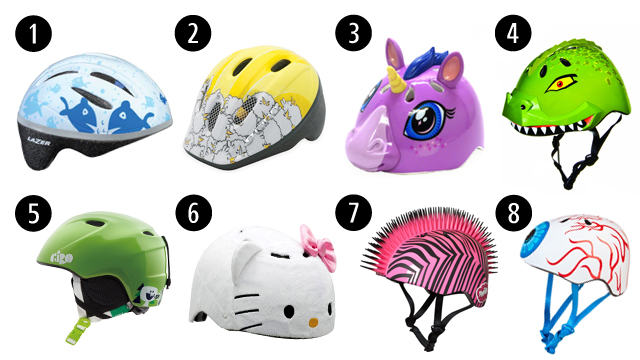 1. Lazer Baby on Board Infant Helmet (ages 8m+, 18–20.5″/46–52cm)
2. Giro Me2 Infant/Toddler Bike Helmet (ages 8m+, 18.75–20.5″/48–52cm)
3. Raskullz Unicorn Helmet (ages 3+)
4. Raskullz Dragon Helmet (ages 5+)
5. Giro Slingshot Helmet (XS/S: ages 1+, 19–20.5″/49–52cm; M/L: ages 5+, 20.5–21.75″/52–55.5cm)
6. Bell Child's Hello Kitty Adventurer Multi-Sport Bike Helmet (ages 5+)
7. Krash Zebra Hawk Helmet (ages 8+, 21.25–22.75″/54–58cm)
8. Krash Eyeball Helmet (ages 8+, 21.25–22.75″/54–58cm)
P.S. In case anyone's fishing for business opportunities this holiday season, I've checked and the market for cat helmets is still wide open. Think about it y'all – so many happy lesbians! Even more unimpressed cats! Just putting it out there, alright.
Gloves
My partner and I only really disagree on two things when it comes to me cycling: first, how I sometimes cycle on more dangerous London roads instead of quieter cycling routes just to shave 5min off my commute; and second, how poorly I protect my fingers while I'm at it. Hands are important, y'all. They're also really vulnerable when you're cycling because they stay mostly motionless, are exposed to the wind and absorb the impact of every bump on the road. So, gloves! When it's warm, fingerless cycling mitts will cushion your palms without compromising ventilation. When it's cold, look at windproof, waterproof and/or thermal full-finger gloves, bearing in mind that the more of these properties the gloves have, the bulkier and pricier they'll likely be. If it's really cold, consider getting glove liners to fit into a larger weather-proof mitt. Gloves can also be really useful for visibility when hand-signalling.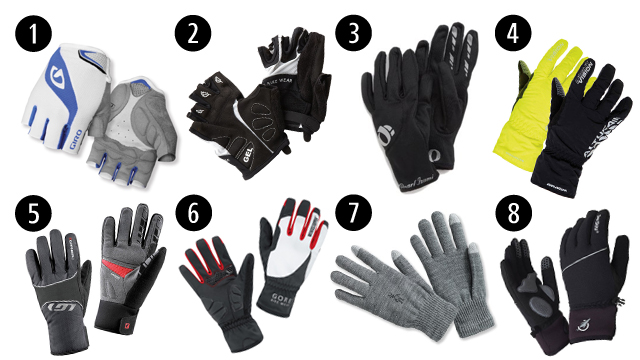 1. Giro Bravo Gloves
2. Gore Bike Wear POWER II Glove
3. Pearl Izumi Thermal Lite Glove
4. Altura Night Vision Hi-Visibility Waterproof Cycling Glove
5. Louis Garneau Shield Gloves
6. Gore Bike Wear Power Windstopper Soft Shell Gloves
7. Smartwool Liner Gloves
8. SealSkinz Winter Cycling Gloves
Jackets
A good cycling jacket should be both waterproof and breathable, allowing water vapour to escape from the inside while keeping rainwater out. Most designs also feature a dropped tail and longer sleeves to cover your back, butt and wrists while riding. Hardshell jackets offer complete weather protection and are more rigid and layered, while softshell ones are lighter, more breathable and more flexible while still wind- and water-repellant. Even if you're not looking for a dedicated cycle jacket (which can double up as a running jacket, or so I hear – I'm allergic to running), consider getting an emergency light, stowable raincoat.
1. ALTURA 2013 Ladies Night Vision Jacket (wind-resistant, waterproof, available in hi-vis)
2. Pearl Izumi Women's Select Barrier Jacket (windproof, water-resistant, available in hi-vis)
3. Bellwether 2013/14 Women's Convertible Cycling Jacket (windproof, water-resistant, available in hi-vis)
4. Helly Hansen Women's Aden Jacket (windproof, waterproof)
5. ALTURA Ladies Microlite Showerproof Jacket (windproof, water-resistant, stowable)
6. Gore Women's Xenon 2.0 AS Jacket (windproof, water-resistant, stowable)
Backpacks, Messenger Bags and Totes
Bike stuff-carrying situations range from dedicated backpacks with ventilated, breathable straps and hydration packs to basically anything with a strap that you can carry on your back.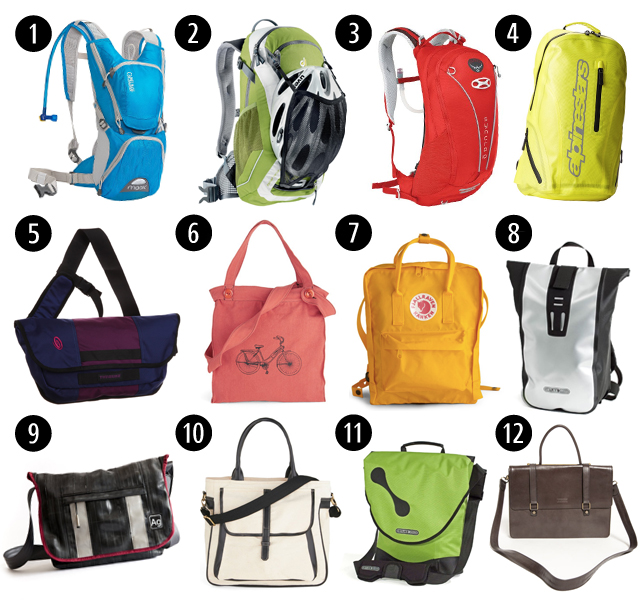 1. Camelbak Women's Magic Hydration Pack
2. Deuter Bike One 18 SL Backpack
3. Osprey Syncro 10 Hydration Pack
4. ALPINESTARS Slipstream Backpack
5. Timbuk2 Catapult Cycling Messenger Bag
6. To and Fro Tote
7. Fjällräven Kånken Daypack
8. Ortlieb Velocity Messenger Bag
9. Alchemy Goods Pine Messenger Bag (made from upcycled bike tubes!)
10. Flawless Transition Bag
11. Ortlieb City-Biker QL3 Bike Pannier/Shoulder Bag
12. Ippolito Grey Metal Rail Handbag
Warm-Making Things
So many bikes routinely get abandoned when the air gets chillier, but you can do better than that! Most of the time, you won't need anything particularly thick or insulated because your body will warm up as you cycle – instead, look for windproof items to decrease windchill. Merino wool works great as a base layer because it wicks away odours and remains breathable even as it keeps you toasty.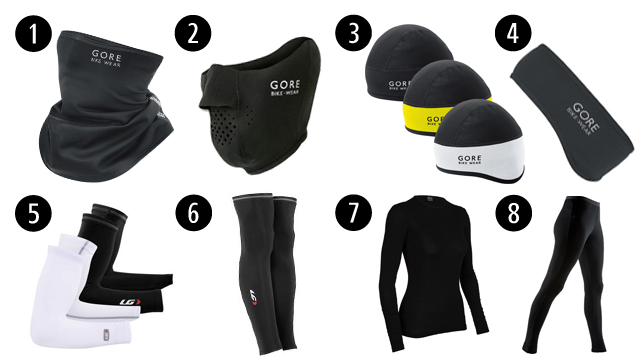 1. Gore Bike Wear Universal Windstopper Neck/Face Warmer
2. Gore Bike Wear Universal Windstopper Face Warmer
3. Gore Bike Wear Universal Windstopper Helmet Cap
4. Gore Bike Wear Universal Windstopper Soft Shell Headband
5. Louis Garneau Arm Warmers 2
6. Louis Garneau Leg Warmers
7. Icebreaker Merino Wool Women's Everyday Long Sleeve Crewe Top
8. Icebreaker Merino Wool Women's Everyday Leggings
High-Visibility Wear
Luminous yellow isn't going to make you feel like the sexiest Straddler, but y'know what's hot? Staying alive. So get on these, you wonderful queermo, 'cause you're glowing tonight.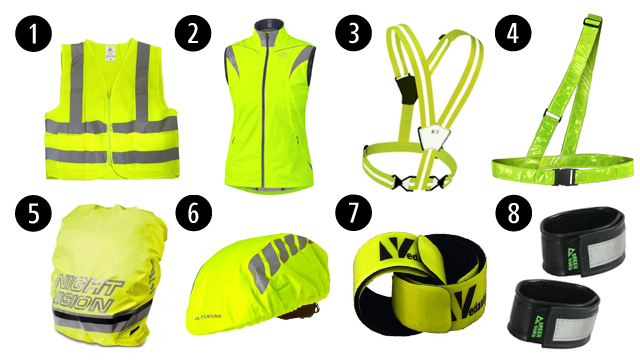 1. Neiko High Visibility Safety Vest with Side Pockets
2. Gore Bike/Running Wear Women's Visibility Vest
3. Amphipod Xinglet Vest
4. Time to Run High Visibility Reflective Cycling/Running Belt
5. ALTURA Night Vision Pannier/Rucksack Cover
6. ALTURA 2013 Night Vision Helmet Cover
7. Vedante Super Reflective Pop Bands
8. Green Guru Gear Recycled Bicycle Tube Reflective Pant Leg Straps
We've hit the end of this monster of a gear/gift guide, and now I leave you with this:
Yeah, that's Hope Solo in hi-vis shorts, y'all. If Hope "Highlighter" Solo isn't above hi-vis in potentially awkward places, then neither are you. Ok? Ok. Good talk everybody. Stay safe!
---
Visit the Autostraddle Store ┊ Shopping online? Use our affiliates!
Pages: 1 2See entire article on one page