Welcome to the second installment of a dedicated biking column, where we'll discuss the joys and perils of getting in – okay, on – the saddle. Here we'll talk how-tos, gear guides, politics and history, travelling and anything else that comes to mind – all while making terrible jokes about putting our legs round things.
---

Now that you've got your new shiny lesbosexy bike, let's talk about getting kitted out! This is the first of two biking x Holigay Gift Guide crossovers, to give you lots of ideas for what to get for the cyclists in your lives (including your own beautiful selves).
This is a two-part gift/gear guide situation: first, we'll look at what to put on your bike, and then we'll look at things to put on your body. Aside from the stuff that's super important for you and your bike's safety (lights, locks, helmet, brakes), you won't need all – or even most – of this; I am a big advocate of just wearing whatever you were going to wear anyway on your daily commutes. But! Remember that just getting a couple of accessories can do wonders for your warmth, comfort and visibility, and plenty of cyclists don't want to splurge on these extra things for themselves. Stuck on what to get for that one person (read: me) who only appreciates practical presents? Here's where you, the benevolent giftmo, come in.
Lights
In most areas, it's illegal to cycle in the dark or inclement weather without lights (white for the front, red for the rear) – and for good reason. Here's what to consider when buying lights:
Brightness: Usually measured in candela or lumens. Choose one that's as bright as you need it to be to be seen in the kind of conditions that you'll be cycling in – fog and heavy traffic, unlit paths or just to the store down the road? – and look for lights with good side visibility, not just narrow, focused beams.
Power Source: For most commuters, AA/AAA battery-powered or USB rechargeable lights are more than adequate. Dynamo-powered lights are best for long, intensive bike rides.
Portability: Clip-on lights or those with quick release mounts mean that you can take the lights with you, reducing the chances of theft or damage. If you leave your lights on the bike, you want to make sure that they're screwed on as tightly and as securely as possible.
Location: Most front lights are mounted on the handlebars and rear lights on the seatpost. If a rear light on the seatpost is likely to be blocked (e.g. if you wear dresses or long coats), consider mounting it on your bike rack, clipping it onto your backpack or pannier, or getting a helmet light.
Back Ups: Get a set of emergency lights in case your main lights fail or get stolen.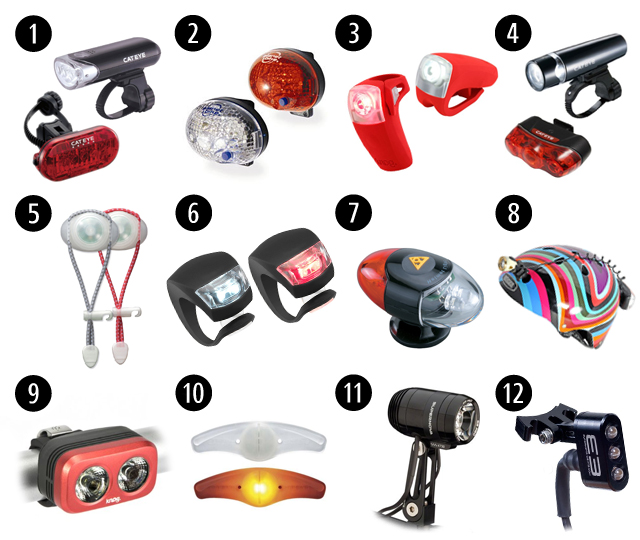 1. CatEye HL-EL135N/Omni 3 TL-LD135 Combo (battery-operated, quick release, clothing clip)
2. Planet Bike Blinky Safety 1-LED Bicycle Light Set (battery-operated)
3. KNOG Boomer USB Rechargeable Front Light and Rear Light (quick release)
4. CatEye Uno HL-EL010/Rapid 3 TL-LD630 Combo (battery-operated, quick release, clothing clip)
5. CatEye Loop Bicycle Front and Rear Safety Light Kit SL-LD110 (battery-operated, emergency lights)
6. KNOG Beetle Front and Rear Twin Pack Lights (battery-operated, quick release, emergency lights)
7. Topeak HeadLux Helmet Light (battery-operated)
8. Light and Motion VIS 360 Degree Plus Bike Light (helmet light, USB rechargeable)
9. KNOG Blinder Road 2 Front USB Rechargeable Light (quick release)
10. CatEye Orbit Bicycle Spoke Safety Light Kit SL-LD 120 (battery-operated)
11. Supernova E3 Pro 2 Headlight (dynamo-powered)
12. Supernova E3 Pro 2 Tail Light (dynamo-powered)
Locks and Security
Keeping your bike secure is such an important topic we'll have a whole post dedicated to it in the near future but in the meantime, here's a quick look at what's available. Ideally, you'll want to lock your frame and both wheels to a bike rack. Stronger locks tend to be bulkier, heavier and harder to transport, but many come with brackets so you can attach them to your bike frame. Here I've also included the Sold Secure three-tier rating of each of the locks, which is what most UK insurance companies use, to indicate their relative strengths.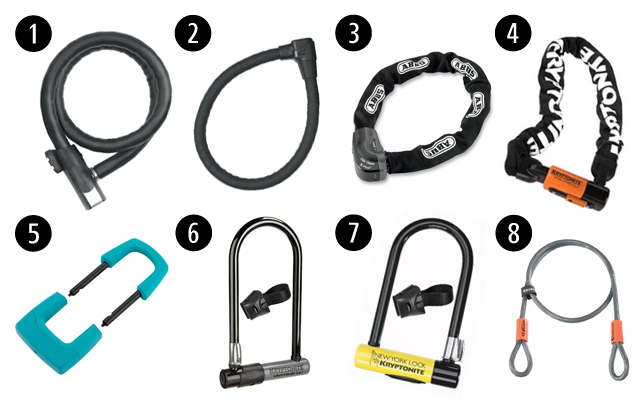 1. ABUS Centuro 860 (85cm) Lock and 860 (110cm) Lock (Bronze)
2. ABUS Granit Steel-O-Flex 1000 (80cm) Lock and 1000 (100cm) Lock (Silver)
3. ABUS Granite City X-Plus 1060 Chain Lock (Gold)
4. Kryptonite Evolution 4 Integrated Chain Bicycle Lock (Gold)
5. KNOG Bouncer U-Lock (Bronze)
6. Kryptonite Kryptolok Series 2 Standard Bicycle U-Lock (Silver)
7. Kryptonite New York Standard Bicycle U-Lock (Gold)
8. Kryptonite Kryptoflex Looped Cable (deterrent chain if you only have one lock)
Bells and Horns
Sometimes you need a tourist out of the way and sometimes you need to just– hey, girl, hey. (No I'm kidding, don't do that, that's street harassment and it's not cool. Context and consent, y'all!) Realistically you probably won't need anything fancy to do the job, so you could spend on a branded, quality bell… or you could just go with whatever's cutest on the handlebars.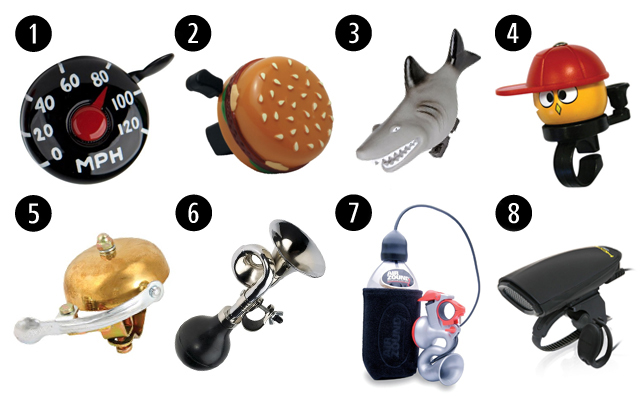 1. Kikkerland Dring Dring Bike Bell – Speedometer
2. Vavert Hamburger Bell
3. Sunlight Squeeze Bicycle Horn – Shark
4. Vavert Dude Bell
5. Crane Suzu Lever Strike Brass Bell
6. Bell Be Alert Classic Bugle Horn
7. Delta Airzound Bike Horn
8. Hornit dB140 Cycle Horn with Remote Trigger
The last two on this list are considered the loudest horns in the market, in case you've ever thought to yourself, "wow, cycling's great and all, but I really wish I could be as loud as a jetplane while I was at it." You do you, my friends, you do you.
Racks, Panniers and Baskets
Bicycles are the one of the most efficient means of cargo transportation, because of the low weight of the bike relative to what it can carry. Of course this will mean little to you when you're lugging a sack of potatoes up a hill (real-life experience) and you might not be say, moving house by bike any time soon, but getting your bike fitted with just a couple of carrier racks, pannier bags or baskets can make your life substantially easier. Most carrier racks are fixed to the rear of the bike – lower fixtures destabilise the bike less, and wider ones increase wind resistance but allow you to carry more. If you own a folding bike or a weak frame (e.g. a bike with a very low crossbar), you might want to look at front-fitting fixtures instead.
1. Planet Bike Eco Rack
2. Topeak Explorer Bicycle Rack with Disk Brake Mounts
3. Ibera Bicycle Quick-Release PakRak Mini Commuter Bag and Seat-Post Rack
4. Rixen & Kaul KLICKfix Vario Rack
5. Topeak MTX Trunk Bag EXP with Rigid Molded Panels
6. Green Guru Carbon Cooler Pannier
7. Banjo Brothers Canvas Saddle Bag
8. Topeak Pannier Dx Drybag
9. Topeak Trolley Tote Folding Basket
10. Snoozer-Pet Bicycle Basket (dog not included)
11. Nantucket Lightship Classic Front Handlebar Bike Basket
12. Avenir Folding Rear Wheel Basket
Child Seats and Trailers
Do you have a small human to transport and/or entertain? It can take a while to adjust to the additional weight and different centre of gravity, but cycling with a kid can be super fun for both of you. Rear-fitting seats, which can be attached to the bike frame or a carrier rack, are a bit safer and offer better protection from wind-chill. Front-fitting seats destabilise the bike less and offer the child a better view but can make for awkward pedalling. In choosing a child seat, don't compromise on safety and comfort: the kid must be able to sit up on their own and be under the weight limit. For bigger small humans, consider a bike trailer!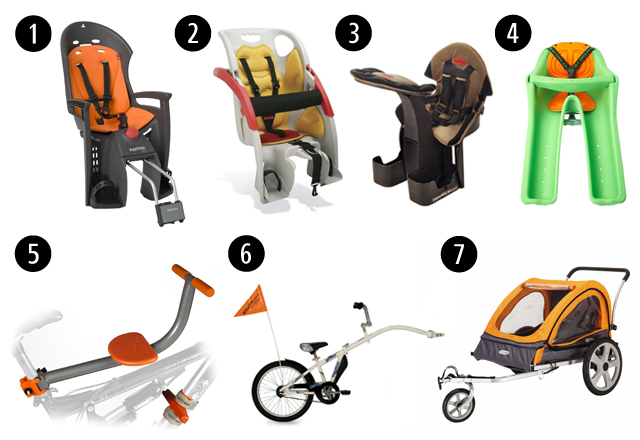 1. Hamax Siesta Bike Child Seat (rear-fitting, frame mount, max. 48lb/22kg)
2. CoPilot Limo Bicycle Child Seat (rear-fitting, rack mount, max. 40lb/18kg)
3. WeeRide LTD Kangaroo Child Bike Seat (front-fitting, max. 40lb/18kg)
4. iBert Safe-T Front Child Seat (front-fitting, frame mount, max. 38lb/17kg)
5. TYKE TOTER Front Child Bicycle Seat (front-fitting, frame mount, max. 45lb/20kg)
6. WeeRide Co-Pilot Bike Trailer (rear-fitting, frame mount, max. 75lb/34kg)
7. InStep Quick N EZ Double Bicycle Trailer (rear-fitting, frame mount, max. 80lb/36kg)
Cleaning and Maintenance
Here's another topic that we'll be going into in the future, but for now here are a few all-in-one cleaning and repair kits that are useful for getting started in your DIYke biking journey and make a great gift for the handy queers in your life.
1. Finish Line Pro Care Bucket Kit 8.0
2. Muc-Off 8-in-One Bike Cleaning Kit
3. Park Tool Chain Gang Cleaning System
4. Topeak Alien II 26-Function Bicycle Tool
5. Zefal Universal Patch Kit with Levers
6. Roswheel Bicycle Repair Tools Set with Pouch and Pump
Various Thingamabobs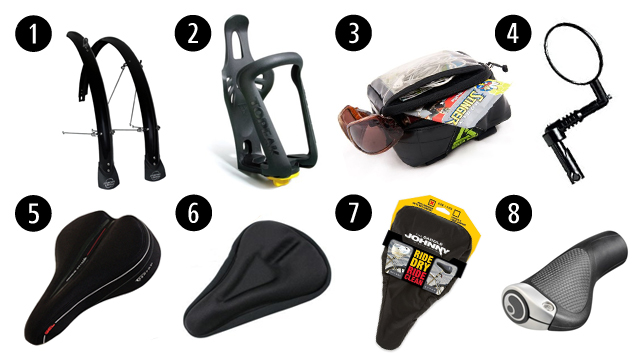 1. Planet Bike Black Hybrid/Touring Hardcore Fenders (45mm) (you really don't want to get mud thrown up onto your fancy new coat)
2. Topeak Modula Ex Bottle Cage
3. Green Guru Recycled Bicycle Tubes Dashboard Handlebar Bag (for maps, phones and other small necessities that you need within your sight or quickly within reach)
4. Mirrcycle Original Bicycle Mirror (for racing or if it's hard for you to turn around to look behind you when on the road)
5. Serfas Women's Reactive Gel Bicycle Saddle
6. KLOUD Black Soft Gel Relief Bike Saddle Seat Cushion Pad Cover
7. White Lightning Saddle Johnny Bike Seat Protector (TIP: a shower cap works just as well – here's just if you wanna get fancy about it or need a stocking stuffer)
8. Ergon Grip P-1Mg Series Bicycle Handle Bar Grip

Helmets
So y'all listened to what Cara had to say in Buckle Up and Bike in Style: The Autostraddle Helmet Guide, right? "Any dyke on a bike is sexy but any traumatic brain injury is not." Preach. For urban commuting, you'll want a helmet that's rounded so it doesn't get dislodged no matter which way you fall, preferably covering as much of the back of your head as possible. Some helmets come with visors to keep rain and sun out of your eyes. Well-ventilated helmets with more holes make for less sweaty rides, while those with fewer visible vents make for slightly better protection. Most importantly, make sure it fits well and comfortably.
1. POC Trabec Helmet
2. Giro Reverb Bike Helmet (recommended for larger sizes)
3. Bern Berkeley Summer Helmet with Visor
4. Giro Air Attack Helmet (not recommended for hot weather)
5. Giro Rift Bike Helmet
6. Bell Fraction Multi-Sport Helmet (comes in lots of designs!)
7. Yakkay Tokyo Colour Stripe Helmet
8. Uvex Urban Bicycle Helmet
Kids' Helmets
To protect your small humans' heads, just like yours, it's most important to find a helmet that fits, not just one they'll "grow into." The age guides here are approximates; it's best to do your own measurements. Let them pick any colour or design they like so they'll (probably) actually wear it. If you're getting a helmet with say, a unicorn horn, make sure anything that protrudes is soft or isn't in a position to twist the helmet out of place in a fall.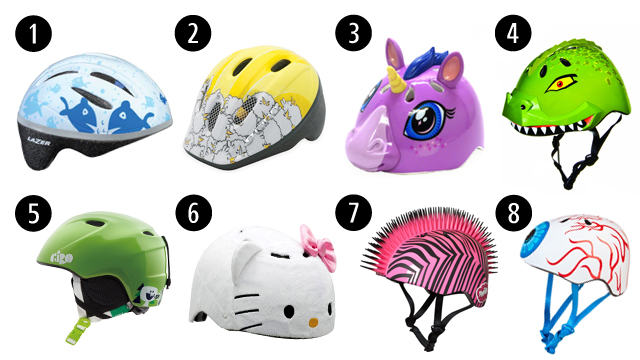 1. Lazer Baby on Board Infant Helmet (ages 8m+, 18–20.5″/46–52cm)
2. Giro Me2 Infant/Toddler Bike Helmet (ages 8m+, 18.75–20.5″/48–52cm)
3. Raskullz Unicorn Helmet (ages 3+)
4. Raskullz Dragon Helmet (ages 5+)
5. Giro Slingshot Helmet (XS/S: ages 1+, 19–20.5″/49–52cm; M/L: ages 5+, 20.5–21.75″/52–55.5cm)
6. Bell Child's Hello Kitty Adventurer Multi-Sport Bike Helmet (ages 5+)
7. Krash Zebra Hawk Helmet (ages 8+, 21.25–22.75″/54–58cm)
8. Krash Eyeball Helmet (ages 8+, 21.25–22.75″/54–58cm)
P.S. In case anyone's fishing for business opportunities this holiday season, I've checked and the market for cat helmets is still wide open. Think about it y'all – so many happy lesbians! Even more unimpressed cats! Just putting it out there, alright.
Gloves
My partner and I only really disagree on two things when it comes to me cycling: first, how I sometimes cycle on more dangerous London roads instead of quieter cycling routes just to shave 5min off my commute; and second, how poorly I protect my fingers while I'm at it. Hands are important, y'all. They're also really vulnerable when you're cycling because they stay mostly motionless, are exposed to the wind and absorb the impact of every bump on the road. So, gloves! When it's warm, fingerless cycling mitts will cushion your palms without compromising ventilation. When it's cold, look at windproof, waterproof and/or thermal full-finger gloves, bearing in mind that the more of these properties the gloves have, the bulkier and pricier they'll likely be. If it's really cold, consider getting glove liners to fit into a larger weather-proof mitt. Gloves can also be really useful for visibility when hand-signalling.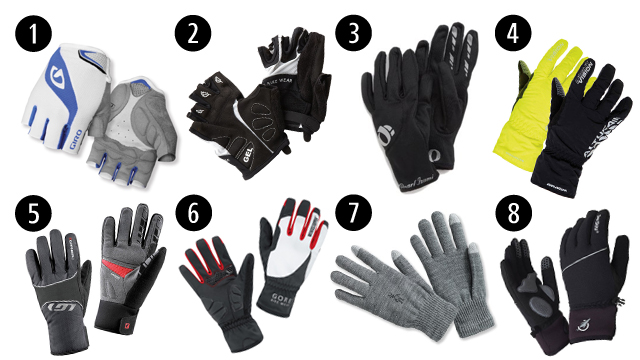 1. Giro Bravo Gloves
2. Gore Bike Wear POWER II Glove
3. Pearl Izumi Thermal Lite Glove
4. Altura Night Vision Hi-Visibility Waterproof Cycling Glove
5. Louis Garneau Shield Gloves
6. Gore Bike Wear Power Windstopper Soft Shell Gloves
7. Smartwool Liner Gloves
8. SealSkinz Winter Cycling Gloves
Jackets
A good cycling jacket should be both waterproof and breathable, allowing water vapour to escape from the inside while keeping rainwater out. Most designs also feature a dropped tail and longer sleeves to cover your back, butt and wrists while riding. Hardshell jackets offer complete weather protection and are more rigid and layered, while softshell ones are lighter, more breathable and more flexible while still wind- and water-repellant. Even if you're not looking for a dedicated cycle jacket (which can double up as a running jacket, or so I hear – I'm allergic to running), consider getting an emergency light, stowable raincoat.
1. ALTURA 2013 Ladies Night Vision Jacket (wind-resistant, waterproof, available in hi-vis)
2. Pearl Izumi Women's Select Barrier Jacket (windproof, water-resistant, available in hi-vis)
3. Bellwether 2013/14 Women's Convertible Cycling Jacket (windproof, water-resistant, available in hi-vis)
4. Helly Hansen Women's Aden Jacket (windproof, waterproof)
5. ALTURA Ladies Microlite Showerproof Jacket (windproof, water-resistant, stowable)
6. Gore Women's Xenon 2.0 AS Jacket (windproof, water-resistant, stowable)
Backpacks, Messenger Bags and Totes
Bike stuff-carrying situations range from dedicated backpacks with ventilated, breathable straps and hydration packs to basically anything with a strap that you can carry on your back.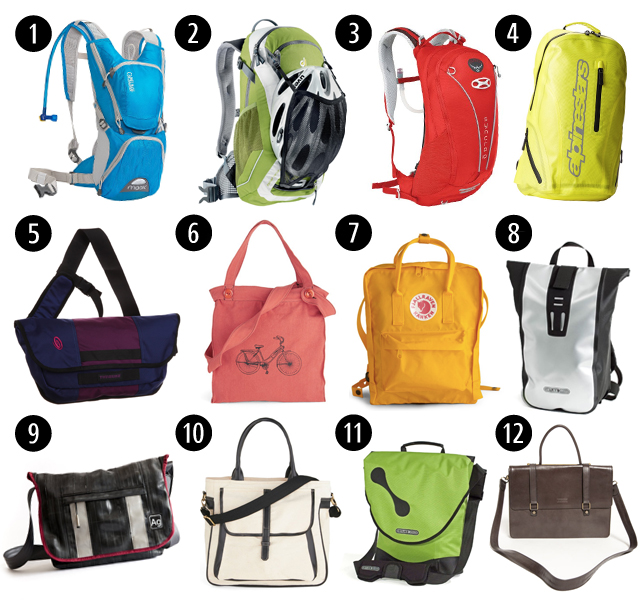 1. Camelbak Women's Magic Hydration Pack
2. Deuter Bike One 18 SL Backpack
3. Osprey Syncro 10 Hydration Pack
4. ALPINESTARS Slipstream Backpack
5. Timbuk2 Catapult Cycling Messenger Bag
6. To and Fro Tote
7. Fjällräven Kånken Daypack
8. Ortlieb Velocity Messenger Bag
9. Alchemy Goods Pine Messenger Bag (made from upcycled bike tubes!)
10. Flawless Transition Bag
11. Ortlieb City-Biker QL3 Bike Pannier/Shoulder Bag
12. Ippolito Grey Metal Rail Handbag
Warm-Making Things
So many bikes routinely get abandoned when the air gets chillier, but you can do better than that! Most of the time, you won't need anything particularly thick or insulated because your body will warm up as you cycle – instead, look for windproof items to decrease windchill. Merino wool works great as a base layer because it wicks away odours and remains breathable even as it keeps you toasty.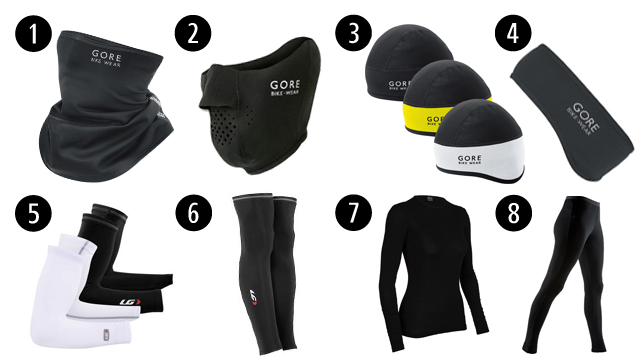 1. Gore Bike Wear Universal Windstopper Neck/Face Warmer
2. Gore Bike Wear Universal Windstopper Face Warmer
3. Gore Bike Wear Universal Windstopper Helmet Cap
4. Gore Bike Wear Universal Windstopper Soft Shell Headband
5. Louis Garneau Arm Warmers 2
6. Louis Garneau Leg Warmers
7. Icebreaker Merino Wool Women's Everyday Long Sleeve Crewe Top
8. Icebreaker Merino Wool Women's Everyday Leggings
High-Visibility Wear
Luminous yellow isn't going to make you feel like the sexiest Straddler, but y'know what's hot? Staying alive. So get on these, you wonderful queermo, 'cause you're glowing tonight.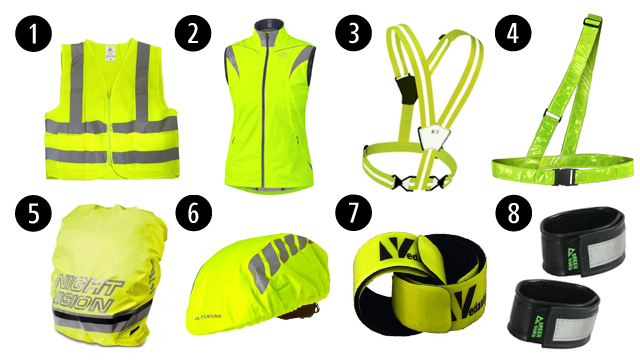 1. Neiko High Visibility Safety Vest with Side Pockets
2. Gore Bike/Running Wear Women's Visibility Vest
3. Amphipod Xinglet Vest
4. Time to Run High Visibility Reflective Cycling/Running Belt
5. ALTURA Night Vision Pannier/Rucksack Cover
6. ALTURA 2013 Night Vision Helmet Cover
7. Vedante Super Reflective Pop Bands
8. Green Guru Gear Recycled Bicycle Tube Reflective Pant Leg Straps
We've hit the end of this monster of a gear/gift guide, and now I leave you with this:
Yeah, that's Hope Solo in hi-vis shorts, y'all. If Hope "Highlighter" Solo isn't above hi-vis in potentially awkward places, then neither are you. Ok? Ok. Good talk everybody. Stay safe!
---
Visit the Autostraddle Store ┊ Shopping online? Use our affiliates!
Pages: 1 2See entire article on one page