Editor's Note: This author did this piece before the COVID-19 pandemic, which is the reason they aren't wearing masks in photos!
Building a wardrobe can be one of the most daunting tasks a queer person can come across, especially if you're someone who lives outside of the confines of gender norms. Stepping into a store, based on the gender binary, can produce anxiety, disappointment based on fit, or even body dysphoria for those who make a, "constant effort to align themselves externally with how they feel internally." As a fashion consultant and a queer woman who loves menswear, I know this struggle all too well. I've shopped in both the women's, men's and have even snuck into a few boy's sections to figure out what brands work best for me. I've gone through it all so you don't have to and am ready to give back! That's why I'm super excited to do a makeover for a special person, Dante Bravo. I'll be using all of the knowledge I've accumulated to transform their wardrobe to better align with their style goals.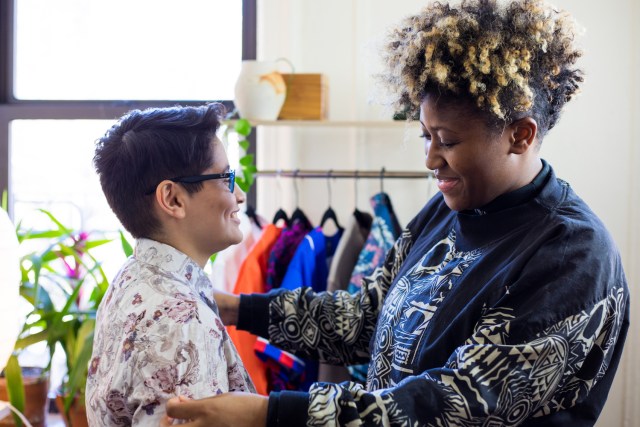 A Little Bit About Dante
Dante is Latinx, trans-masculine and non-binary. Originally from Miami, Dante now currently works as a Post-Secondary Success Counselor in NYC. They are someone who works hard, relaxes even harder, and knows their way around the kitchen. "I work specifically with first generation college students of color, and used to be a teacher. I'm hella nerdy and deeply enjoy baking and cooking with the love of my life. I love Pokémon, reading queer subtexts in novelas and TV shows, and throwing dinner parties."
On our consultation call, they let me know that their partner often jokes that Dante's personal style is Dad On Vacation. Dante loves pastels, short sleeve button-ups, and anything with palm trees or beach imagery. "Maybe it's me trying to keep Miami on my mind," Dante said. Additionally, Dante loves to mix up patterns like wearing floral tops with striped pants, cardigans in any weather, and collared shirts for a professional look. Dante draws inspiration from a few influences. "I'd be remiss not to mention that I'm clearly trying to imitate Toad from the Frog and Toad books in my fashion. I also look more and more into queer bloggers and the creativity that queer, trans, people of color constantly put in their wardrobe. So special shoutouts to @shedoeshim and @janae.pittman for constantly serving looks on Instagram. My partner, Frances (@franchiah), also constantly looks incredible, and I'm trying to get on their cardigan game."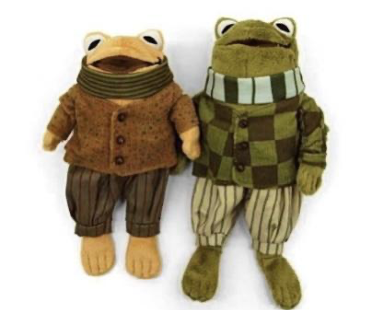 Style Issues, Style Goals
Fashion has always been a main driver in Dante accepting themselves for who they are. "Fashion was one of the first ways I came out to myself and was able to cement how much I loved myself, even in an emotionally vulnerable time like coming out." They got top surgery in December and wanted to transform their wardrobe to better reflect who they are. "My wardrobe was previously built around my dysphoria with my chest, and I'd love an affordable way of starting my wardrobe off to celebrate my wonderfully trans, queer, and Latinx body."
At five feet tall, Dante has had issues with fit in a few areas as a trans-masculine shopper. "I love collared shirts but they're usually either too big for me or if they fit well for my shoulders and torso, don't button for me at the bottom where my hips and butt are at." About shopping for pants Dante said, "As a smol curvy person, I rarely find 'men's pants' that will fit in terms of the inseam. Even if I were to get them hemmed, there is no space for my thighs. I once bought a pair of pants from the men's section in Forever 21 and actually broke the thigh seam because the pants were clearly not made for bodies like mine." In terms of style goals, Dante wanted to be challenged to create a more versatile aesthetic and address their fit issues. "I am hoping to get better fitted button downs and pants that won't make me feel so crappy about my body. I also want a more cohesive idea of what my style is, beyond copying the cisgender men in my life and just scrapping "menswear" together just because it fits my body".
New Me, New Wardrobe
Dad On Vacation 2.0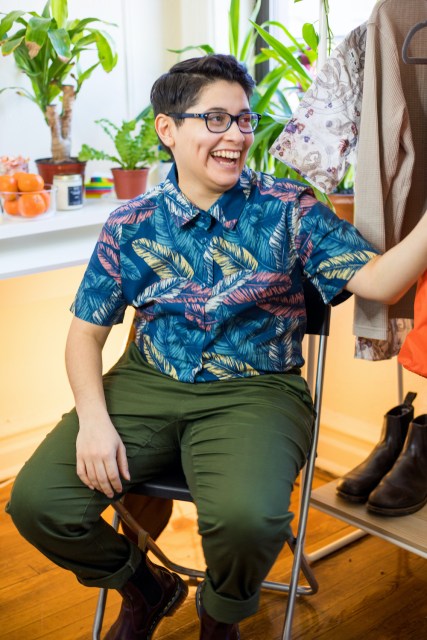 I wanted to keep Dante's fun and playful personality in their new wardrobe, while addressing their issues of fit. Through this look, I showed Dante that they could elevate the pieces they wear while still keeping it fun. Dante mentioned that they typically shopped at brands like Old Navy for button-ups and I helped them realize that a brand like Old Navy typically runs larger in sizing, which could produce a baggier look than Dante was looking for. That's why I went for the feather print button-up and olive pants, both size medium, from Wildfang. Wildfang prides themselves on making menswear button-ups for all body types. All together, this outfit is well balanced. While the button down is fun, with pops of color and a feathered design, the pants cool it down because of olive green's neutrality. It's a great shirt to dress up or dress down which would allow Dante to easily transition from work or play. Dante also found the wide-leg and drawstring waist really comfortable and could see themselves using these pants on a day-to-day basis. They cuffed the bottom of pants for a more tapered look. To bring the look together and really elevate it, I added an overshirt from Asos to the mix. Dante mentioned that they love cardigans but I wanted to challenge Dante to try something new. I find that overshirts are a more sleek, modern, and trendy alternative to cardigans. For a similar overshirt to what Dante is wearing try this one from Topman.
Smart Casual Papi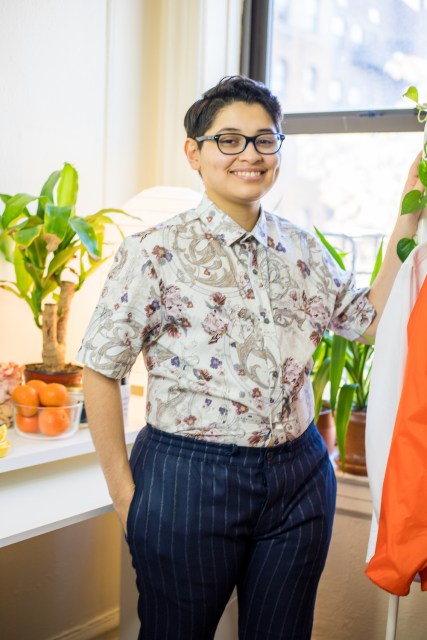 For the second look, I wanted to accomplish two things for Dante — an outfit that had a mix of patterns from top to bottom as this is a style they mentioned gravitating towards and finding an additional pair of pants that were more form fitting, still comfortable, yet wouldn't accentuate any curves on Dante's body. I opted for a floral print button-up from Asos, like this one from Selected Homme in a size small. For the pants I went for these navy striped pants from Topman's stretch skinny line in a 32 short. These pants are part of the smart casual trend where brands take comfortable fabrics and tailor them to more formal silhouettes. I've found that these pants work better on more body types than traditional slacks or chinos do because of the extra stretch. You can also dress them up with a pair of oxfords or brogues, or dress them down with a pair of clean leather sneakers. These are a must have for every wardrobe. Lastly, I wanted to ensure that Dante was able to mix and match any of the pieces I purchased for them to create multiple outfits from both looks. As an example, this outfit also works really well with the overshirt from the first look. Dante could also match the green pants with the floral shirt, and navy striped pants with the feather button-up.
Shoe Game On Lock
When thinking about elevating Dante's wardrobe I wanted to make sure I emphasized the importance of having a good pair of shoes. Shoes can make or break an outfit and are important in distinguishing outfits as formal or dressed down. Dante typically wore converses and low top brogues so I wanted to introduce them to something different. I brought Dante a pair of vegan cherry red chelsea boots from Dr. Martens. Keeping in line with Dante's fun and non-traditional personality, I didn't want to go with a brown or black boot. This dark red boot subtly turns up the heat on Dante's outfit in a way that a black or brown boot wouldn't. Thus, providing Dante with a versatile, sleek look, still infused with notes of their personality. I was happy that I was able to get these for Dante because it's extremely difficult to find men's shoes that work for them. I swear by Dr. Martens because they are a unisex shoe company with shoes that comes in sizes as small as a 5 in women's. Dante is a size 6 in women's/size 4 in men's so this worked out perfectly.
Final Thoughts
Working with Dante on their new look only further affirmed why I love fashion and styling so much. Dante absolutely loved the new additions to their wardrobe and learned a lot from the experience. "If I had to pick, the overshirt feels like something out of a dream. It fits great, looks wonderful with sleeves rolled up or down, and it's so versatile and warm!! I didn't realize I could have access to pants that didn't make me feel like crap. I'm experimenting much more with pants that offer elastic bands, but have tapered leg cuts that can account for my height, weight, hips and butt. I'm also feeling confident enough to tuck my shirt in, and how to style it so I don't feel so dysphoric."
Through helping clients and friends, I'm able to be the outside eye in clarifying their vision and bringing their dreams to reality. It's so easy to get bogged down by the process of shopping — because of fit, folks can't get to the fun part, which is using fashion as a way to express who they really are!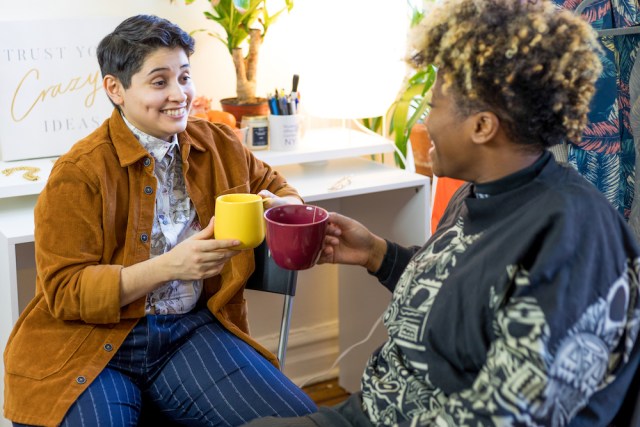 Tips For Upgrading Your Wardrobe
Break it down on a moodboard. Whether you sift through magazines or roam the web, creating a moodboard can help you get your thoughts down in a visual manner. I typically use Pinterest to create my moodboards depending on the style, season, colors, patterns, etc.
Partnership and community is everything. Find a supportive friend, partner, or family member to help you shop for looks. This can help with the anxiety and jitters of doing this on your own. If that isn't possible, try finding online communities, influencers, or stylists that you can draw inspiration from.
If at first you don't succeed, try, and try again. If a brand isn't working for you, try another one. If that material or that fit isn't working for you, see what alternatives might be available.
Infuse YOU into everything you do. Your style is about your self expression. Think of the ways you can infuse your personality and your message into what you wear by playing around with colors, neutrals, patterns, and styles.