Ugh, Mississippi Is The Latest State to Pass an Anti-LGBT Law
+  Welcome back, folks! It's another episode of Religious Freedom Bingo, where you find out which state will pass a new anti-LGBT law each week! This week it's Mississippi!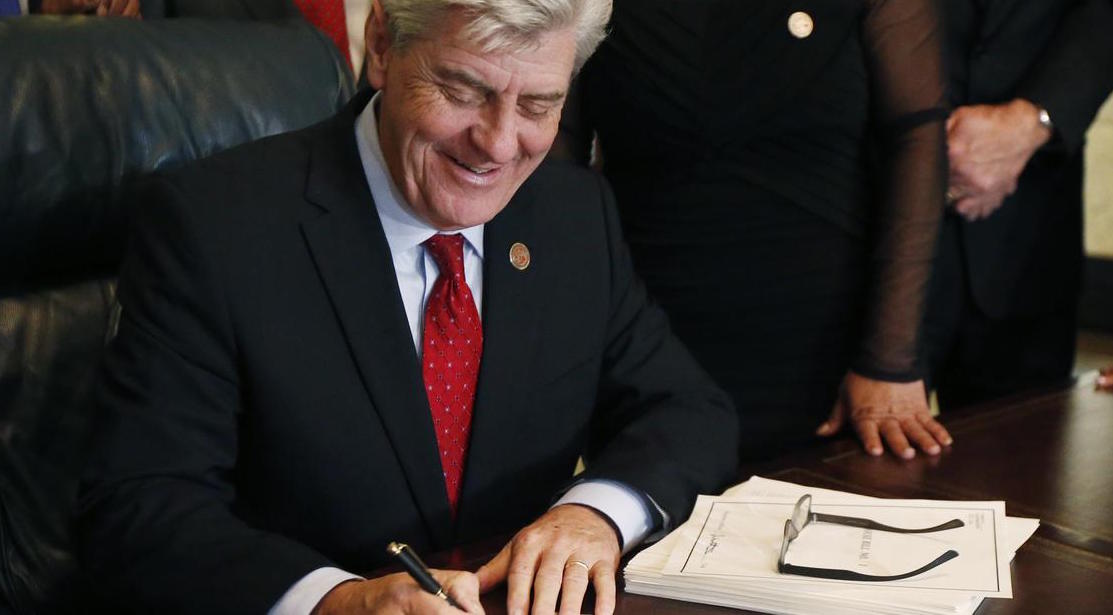 Y'all I wish this was just a stupid game, but it's not. Mississippi's Governor Phil Bryant signed HB 1523 that allows individuals, businesses and religious groups from refusing service to LGBT people based on their religious beliefs. More specifically, the government can't punish those who refuse service based on their opposition to same-sex marriage, transgender people and also! extramarital sex. "This bill merely reinforces the rights which currently exist to the exercise of religious freedom as stated in the First Amendment to the U.S. Constitution," Bryant said in a statement posted on his Twitter. But why is it necessary to make an extra law about it if it's already protected? Because people are homophobic and transphobic and want to do so openly, protected by law.
This law is especially dangerous for trans people because it protects those who believe that one's sex as assigned at birth is immutable citing: "male (man) or female (woman) refer to an individual's immutable biological sex as objectively determined by anatomy and genetics at time of birth."
According to NPR: "The law protects, among other things, state employees who refuse to license marriages, religious organizations who fire or discipline employees and individuals who decline to provide counseling or some medical services based on those oppositions."
The law goes into effect July 1.
North Carolina Updates
+ The Obama administration is investigating whether North Carolina's new anti-LGBT bill HB2 would make the state ineligible to receive billions of dollars in federal funding used for schools, highways and housing. HB2 bans trans people from using facilities that match their true gender, eliminates all existing LGBT nondiscrimination ordinances in the state, and prohibits cities from implementing new ones. The New York Times found The Department of Transportation, the Department of Education, and the Department of Housing and Urban Development are all reviewing the law to determine if North Carolina qualifies for federal funding. Even if the departments found the state to be ineligible for the funding, the NYT reports it would be a long process.
"It would be a long process of negotiation," said Jane R. Wettach, an education law specialist at the Duke University School of Law in Durham, N.C. "I think the federal government would be loath to do it and would give North Carolina every possibility, every chance to change their position, to change the law, to negotiate, to make some exceptions. I think they'd go back and forth for a while and try to come to a negotiated settlement."
+ Broadway composer Stephen Schwartz and company are halting all productions of Wicked in North Carolina in protest of the state passing HB2.
+ Protestors gathered outside the governor's mansion on Saturday to sing "Let us pee, let us pee, let us pee" to the tune of the Beatles song "Let it be."
+ Minnesota Governor Mark Dayton has banned all nonessential travel to North Carolina in protest of HB2.
Law & Order
+ James Dixon pleaded guilty to manslaughter for the death of black trans woman Islan Nettles. Dixon could've faced up to a maximum of 25 years in jail for murdering Nettles but since he took the plea deal, the maximum sentence he now faces is 12 years. Sentencing will take place April 19. Trans activists feel justice wasn't served and Dixon should've been convicted of a hate crime, which faces more severe punishment.
+ In the wake of anti-LGBT bills being proposed and passed all over the country, Republican Texas State Rep. Matt Krause wants to reintroduce a stricter "religious liberty" bill when the Texas legislature meets again in 2017. Texas already has a RFRA in place "which prohibits the government from substantially burdening a person's free exercise of religion unless it has a compelling interest." In the last session, Krause proposed to change the state's constitution and remove the word "substantially" from the law, which would just open the floodgates of hate because someone can say they feel "burdened" by someone's gayness, transness, queerness and it would be ok since it's in the state's constitution. I mean it would be more difficult for Krause to indeed enshrine this in the constitution  — it "requires a two-thirds vote of the legislature and voter approval at the ballot box" — but we also thought Donald Trump wouldn't make it this far in the election and didn't think ridiculous discriminatory bills would be made law as is the case in North Carolina! And we all know how that's turned out.
+ A man in Los Angeles is accused of killing his son because he was gay, but also the case just sounds very complicated, so. Shehada Issa was charged with killing his 29-year-old son, Amir Issa, with a gun outside of his home last week. Police found Shehada's wife/Amir's mother dead inside the home with multiple stab wounds but Shehada wasn't charged with her death. It seems there was lots of family turmoil since Amir moved back with his parents. Neighbors say Amir was struggling with drugs and mental illness.
+ The University of Pittsburgh is now allowing staff, faculty and students to use the restroom that matches their gender identity. These changes come after a four-year legal battle with former student Seamus Johnston, a transgender man who was expelled from the school after continuing to use the men's restroom and locker room for a weight training class. The university's policy then only allowed students to use facilities that matched their birth certificate. Johnston sued the school claiming his rights were violated under Title IX and the Civil Rights Act but the judge ruled Johnston wasn't protetected under Title IX. Johnston filed an appeal and they have now reached a settlement.
Hateration Nation
+ An Illinois bed and breakfast was fined over $81,000 for violating the state's human rights law by not allowing same-sex marriage ceremonies to take place at their venue. According to the Champaign/Urbana News-Gazette, this is the first time "the Illinois Human Rights Commission made clear that businesses in the state must serve the entire public and cannot pick and choose based on their personal religious views." TimberCreek Bed-and-Breakfast was ordered to pay couple Todd and Mark Wathen $30k for emotional distress and damages and over $50k in legal fees after refusing to host the couple's civil union in 2011.
+ A gay couple was attacked at a Burger King in Miami after kissing while waiting in line for their food. The two young men were visiting from LA and attacked at 3 a.m. while waiting for their food. The couple kissed and the man behind them said he was offended and called them gay slurs, which then turned into a physical fight.
+ Parents of students at Windmere Ranch Middle School, a suburb outside of San Francisco, are speaking out against the school's LGBT acceptance week, which is scheduled for next week. The parents are concerned the week is focusing too much on LGBT issues which could alienate people with different religious views or opinions on the matter. The parents say they're not against LGBTQ people but they want equal representation of values, opinions, minorities, cultures, etc.
"We are highly concerned about the extended promotion of LGBTQ by the acceptance week curriculum, which appears to indoctrinate our children, undermine parental guidance and humiliate those with religious, cultural and personal convictions not in agreement or acceptance with the promotional campaign," the petition states. "Again, we are not against LGBTQ, but demand respect and equality for all segments of our community by WRMS."
Grab Bag
+ The Fraternal Order of Police Chicago Lodge 7 has hired the police officer who shot and killed 17-year-old Laquan McDonald 16 times in 2014. Jason Van Dyke, who was charged with six counts of first-degree murder and one count of official misconduct but later released from jail, was suspended from the Chicago Police without pay. The FOP hired him as a janitor because they Van Dyke's family was financially struggling since no one wanted to hire him and his wife's business began to fail after the dashcam footage of the shooting was released to the public.
+ Wtf is all this talk about the Panama Papers? Well, Vox has a handy dandy infographic explaining what it's all about. In short, there was a massive leak of confidential papers to a huge team of investigative journalists and those papers may or may not deal with a shit ton of $$$ and global corruption — world leaders and wealthy bigwigs keeping their money in discreet offshore accounts. So far in terms of fallout, Iceland's prime minister has stepped down after his name was revealed to be in them.
+ Canada's Prime Minister Justin Trudeau is seeking a post humous pardon for Everett George Klippert, who was deemed a dangerous sexual offender because he was gay. The Liberal government announced they also intend to review hundreds of cases of gay men who were convicted of sexual offenses prior to 1969, when homosexuality was illegal in Canada and to pardon the offenses. Many say these pardons aren't enough for the horrible history of violence and prejudice against LGBT people in Canada.