All For One
Mondays, Wednesdays, Fridays on YouTube
Written by Karly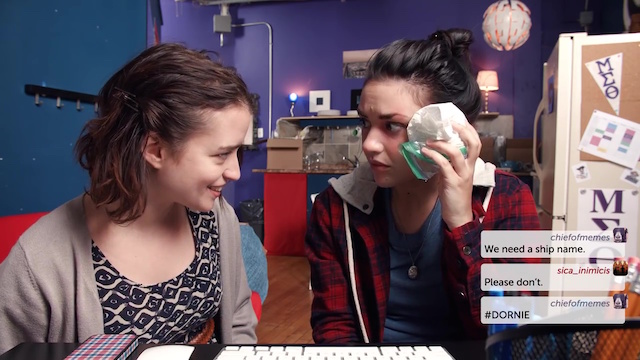 As if destined by the universe, shortly after the debacle at The 100, a sunbeam of a webseries made its debut on YouTube. It's a gender-bent, queer, modern-day adaptation of Three Musketeers on KindaTV (formerly Vervegirl), the same channel as Carmilla.
To be honest, the only thing I know about Three Musketeers is from the 1993 movie starring Chris O'Donnell and Tim Curry, so my memory is a little rusty. In A4O, Dorothy Castlemore goes off to college and her big dream is to pledge a very awesome sorority, Mu Sigma Theta. Dorothy is a feisty, bi dreamboat who has the enthusiasm of Laura Hollis but the slouchiness and bad temper of Carmilla. Connie, her roommate, is like the gay Rory Gilmore I always wanted. Their ship name is Dornie by the way. I know, they're both brunettes! How could it possibly work? But trust me, you'll be on the ship in no time. Dorothy meets new friends Alex, Arianna, and Portia, who are already members of MST. Dorothy gets a nice boyfriend, Miller, early on who might be too good to be true but reasons why are still unknown. Now I really wish I remembered that 1993 movie.
Connie and Dorothy are forbidden to be accepted into MST by the villain/president of the student union, Rick aka "douchecanoe", because of his vendetta against its president, Anne. And because Dorothy punched him. Dorothy and her friends vow to overthrow Rick to save Anne and so that Dorothy and Connie can be in MST where they belong.
While most of this plot takes place off-camera, Dorothy webcasts the goings-on to her long-distance internet friends, The Inseparables. Messages from the Inseparables scroll up the side during episodes. I have to watch every episode twice: once to see what's going on and the second to read the Inseparables' commentary. But it's totally worth it because there are plenty of jokes and some obscure Carmilla references.
Fourteen episodes are already online. Episode 21 is going to air live, which sounds so crazy but then again why hasn't anyone done this before? A4O airs Monday, Wednesday, and Fridays at 5:30p.m. EST.
---
Empire
Wednesdays on Fox at 9:00 p.m.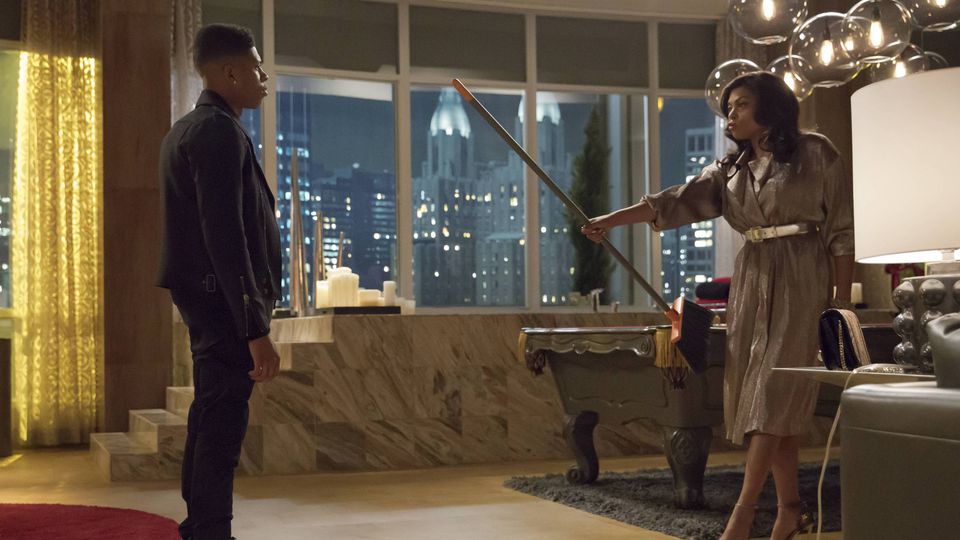 I am back! Still watching Empire and bringing you your weekly recap to save you from the fresh hell of watching on your own.
Rhonda is still on the floor after some mysterious figure, aka Boo-Boo Kitty, pushed her down the stairs. As she lays there in a pool of her own blood, Andre is across town trying to convince Lucious and Thursty to leave the Empire offices before the cops are called. Lucious insists that it's still his company and he doesn't have to go anywhere. Thursty is convinced that if they can get a copy of the company charter they prove ousting Lucious was illegal. I move that we all agree that Thurty's trifling ass lawyer skills are illegal. Andre agrees to get the charter if they will leave.
Meanwhile, Hakeem arrives home to find Cookie sitting in the dark waiting for him. She demands to know why he would throw away the family legacy by handing it over to that "half lesbian bitch." Yup that's what she said. One of two mega slurs by Cookie in this episode, but that's actually to be expected and very real. From the beginning Cookie has always been the manifestation of the reality of veiled, passive homophobia in simple tolerance v.s acceptance in the black community. Four days later we would see that played out in reality on Real Housewives of Atlanta. But that is a whole different show and I am trying to stay focused.
Hakeem maintains that he voted against Lucious out of solidarity with Cookie and Lyon Dynasty. That it was revenge for Lucious being out to get them. Cookie is not having it. She calmly explains that they are going to call a meeting and he is going to take his vote back. When Hakeem refused? Babaaay, Cookie snapped. She beat the damn brakes off of Hakeem with a broom and a purse. I haven't seen an on-camera whupping like that since Regina King pulled off the baby oil smackdown in This Christmas. Have no fear, though, this will come back to haunt Cookie later.
The cops arrive at Empire with Yoko. I mean Camilla. Sometimes I struggle to remember these women's real names vs the ones Cookie has given them. The cops arrive and demand that Lucious leave. Before he can get truly indignant Becky bursts in to tell him that Rhonda is in the hospital and may not make it. The entire family meets at the hospital but when Hakeem shows up he gets absolutely no love. As a matter of fact, Cookie tells him nobody wants to see him and pushes him out the door. Andre arrives and they have the terrible task of informing him that Rhonda made it but the baby didn't. He has a total meltdown and Cookie is afraid they are going to take him away again.
Rhonda is incredibly awake and alert as Andre sits in the hospital room with her. She goes step by step through what she can remember of what happened. She says that in the end she was laying there praying that God would save the baby. The fact that the baby wasn't saved says to her that there is not God. Andre is horrified to hear her proclaim that there is no God because she prayed to him and he didn't save the baby. That's all I'm going to say about that scene. Except that it was at that moment I remembered the Jennifer Hudson character and started to wish they would bring her back.
Cookie goes to Lucious' house and finds him laying silent and despondent in bed. Being the ride or die that she is, she simply climbs in bed and holds him until they both fall asleep. She wakes up to find him in his walk-in closet playing around with his gun. She tells him her plan to get on the inside of Empire and get rid of Camilla once and for all and makes him promise not to do anything stupid for two days and give her time to work.
Punk ass Hakeem visits Camilla at the Empire office as she is sifting through clothes for an Empire clothing line. She doesn't waste any time. Camilla promises to make Hakeem CEO if he gets rid of his girlfriend. Before he has an answer Cookie busts in and makes Camilla an offer. Buy Lyon Dynasty for $20 million for the rights to Hakeem. As co-owner of the label, Hakeem is still under contract with Lyon Dynasty and can't legally work for Empire. Camilla scoffs at the deal and Hakeem has no problem turning his back on his mother seeing as she whupped his tail with her purse. See how that came back around.
Crazy Anika shows her face in Rhonda's hospital room acting concerned for her health. When Rhonda admits to being disappointed at not bearing the "heir to the Empire" Anika assures her that there will in fact be another heir to the Empire. This is some straight up Hand That Rocks the Cradle mess.
Lucious has his band of bandits visit each other board members to "persuade" them to change their votes about bring him back as CEO. I would love to think there were better ways to persuade them besides bowing up a car, hanging a cat, and vicious beat downs, but this is Lucious we are talking about.
Jamal and Cookie have a discussion outside the hospital about the trajectory of his career and beating his father for an ASA Award. This is where the show gets problematic. So it seems that Simon, the bigwig gay promoter, is pulling his support from Jamal because Lucious told him that Jamal had a girlfriend (Alicia Keys' character, Sky.) A casual watcher would think that the problematic issue is Cookie little speech encouraging Jamal to pick a team and that bisexual folks just want to be freaky deaky. That's not the problem. Actually, that was the best part of the scene because it was true to the nature of the type of person Cookie represents. Her dialogue and the way Taraji portrays her is right on point in representing people who tolerate queer folks but don't truly accept us. Who believe that by merely not being physically violent towards us or verbally abusing us they are actually allies.
So I give kudos for that accurate portrayal. But overall the way that Empire has done this whole Jamal kisses Sky storyline has been sloppy and terrible. It's a hard subject to comment because they try to have Jamal articulate the fluidity of sexuality at a time when no one else would even think about stringing those words together in dialogue. It seems that what's missing is someone at the writers table with better knowledge that is actually from the black queer community. As my friend Chaney aka The Social Life of Oakland put it, "It's like when you have white people writing stories about black people with no black people in the room." It is simply not working. Also also also, I'm trying to figure out why Jamal's music is getting worse instead of better.
Cookie, Andre and Jamal visit Hakeem and Camilla at Empire to again propose that they bring Lyon Dynasty in Empire with a distribution deal. This time using the leverage of Jamal's next album which was a joint venture between Empire and Lyon Dynasty. Either Hakeem gives Cookie a distribution deal with full autonomy and an A&R position at Empire or they will leak Jamal's album online. Of course Yoko is against it but ultimately Hakeem is still a little brother wanting respect from his family. He melts into a mush puddle of family feelings and gives in.
Earlier Hakeem had treated Laura terribly in front of the group in an effort to distance himself from her and make Camilla happy. He later changes his mind and visits her at home and they end up sleeping together for the first time. He doesn't get to enjoy it long because his father calls him down to the docks and tells him the story of how he killed Bunky in that same exact spot. Lucious dares Hakeem to shoot him in the head but warns him that if he doesn't that he is going to come after him. Let's just say that Lucious will be appearing in next week's episode.