Over the last few years, sex toy companies have asked us to review their toys in exchange for, you know, their toys. Today we're reviewing Her Ultimate Pleasure, a versatile sex toy that offers vibration, suction, AND tongue-flicking.
---
Her Ultimate Pleasure reminded me how much I love oral sex. I'm not partnered and don't come across many opportunities for sex with another human, and my solo sex life typically involves vibrators. I'm usually pretty skeptical when it comes to toys that advertise some sort of "oral sex" feature, but Her Ultimate Pleasure has received so many raving reviews — so I decided to expand my repertoire. I figured while I wait for the lover of my dreams, I should begin a relationship with an automatic tongue.
As a serious judge and skeptic of "gimmicky" toys, let me be the first to tell you that this thingworks, even thoughthe USB-rechargeable contraption might look a little strange. A removable cup encases a moving, silicone, tongue-like object on one end. The shaft of the toy doubles as a vibrator on the other end, which can also be used for penetration. The operating buttons are in the middle.
I'm not big on reading directions when it comes to toys, so I figured I would use Her Ultimate Pleasure in a trail-by-error fashion. Operating the vibrating dildo side seemed pretty self-explanatory, but the cup/tongue situation took a hot sec. You can use the moving tongue by itself or you can choose one of two suction cups, which you can connect around it for an additional sucking feeling. You're supposed to twist the suction attachment until it snaps into place, but as an excited and impatient masturbator, this wasn't the easiest thing to do. I also ended up having to read the directions after all so I could understand the buttons — Her Ultimate Pleasure has three different functions, but the buttons are only marked with arrows, which wasn't too helpful.
Once I located the suction button, I tried the suction function first. Let's start with the cons: 1)Even though I'm pretty sure Her Ultimate Pleasure provides suctions in a pattern, I still can't quite figure out what that pattern is, 2) The cups are a little uncomfy, and 3) The two sizes offered seem limited. One of the cups is a bit bigger and more oval-shaped to cover most of the vulva. The other cup is a true circle, which really doesn't make a lot of sense to me. My clit is deeply tucked-in, so I had to really dig the cup up into my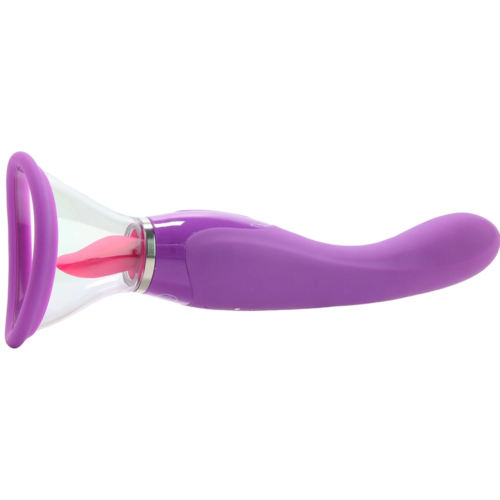 vulva in order to feel the effects. While the outcome was amazing, I definitely felt a little bruised after it was all over. I think this issue could be resolved by including additional cup sizes, but I understand it wouldn't be realistic for the company to provide 30 different versions. I found the circular cup to be pretty useless, but perhaps that shape just doesn't work for my specific anatomy.
That said, the suction function definitely had some redeeming qualities. I figured out that the main pattern of suction starts slow and then grows stronger and faster, but it takes a good five to ten minutes to reach the maximum strength. For some people, this is probably an ideal timeline, but again — I'm impatient! This gradual teasing temporarily turned me into a bratty bottom, which I truly could not believe. I quickly became obsessed. Additionally, the lighter suction felt pretty realistic, so it was easy to image that someone was actually going down on me. The strongest suction level was intense. When I eventually had one of the best orgasms of my life (!!!), I felt like something inside me had been rearranged. When I looked in the mirror, I could see that my clit was enlarged and slightly hanging down. I have NEVER seen my body react this way. My clit kind of looked like a small penis, which was pretty hot.
The tongue feature, which you can use with or without a suction cup, is truly incredible. The speeds and patterns are similar to how a vibrator functions, so using the tongue is pretty intuitive if you've used a multi-speed vibrator before. On the most basic flicking setting, the tongue really felt like oral sex, especially with the suction cup. Sometimes I had trouble positioning the tongue with the cup around it to get the perfect angle, but using the tongue without the suction feature was easy and felt super realistic.
I don't have much to say about the dildo/ vibrator portion of Her Ultimate Pleasure, because it's pretty standard. It might be fun to experiment with using both sides with another person, but unfortunately for you and for me, I can't provide that insight right now.
Overall, I give Her Ultimate Pleasure 4/5 stars, only because of the limitations of the suction cup. Otherwise, the blissful orgasmic pleasure it gave me was off the charts.