House: "You're gonna base your whole life on who you got stuck in a room with?"
Eve: "I'm gonna base this moment on who I'm stuck in a room with. It's what life is. It's a series of rooms. And who we get stuck in those rooms with adds up to what our lives are."
"One Day, One Room," House M.D.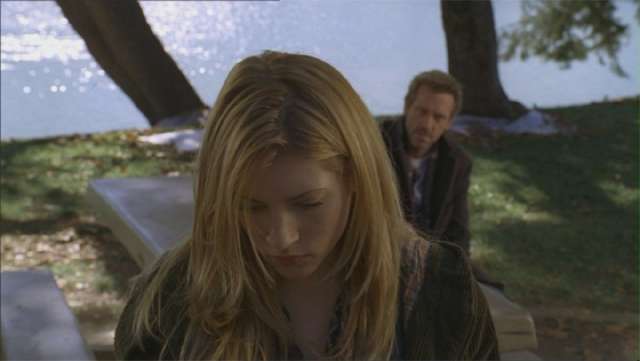 In the quoted episode, House M.D. diverts from its typical formula of: 1. House guesses wrong about the disease but think he's right, 2. House guesses wrong again about the disease but think he's right, 3. House guesses right about the disease.
A woman who has been raped enters the hospital, connects with House and won't open up to anyone about her trauma but him. House is confused, because there is no disease for him to be wrong about curing. He tries to avoid the responsibility, but ultimately they settle into a long conversation and they each find a little solace. No medical mystery, just people talking.
At some moment, perhaps several moments, in your life, you will be in a room with someone who is disclosing to you about their trauma — rape, domestic violence, human trafficking, suicide, etc. You may freeze up or panic. "What should I do?" You may not know this person, or you may not want to know this person. You may want to leave the room and not come back. Or maybe they're your dad, or your girlfriend. Maybe you will leave, maybe you won't. For argument's sake, and because I have nowhere to go with this if you don't stay, let's say you stay. What now? (Make sure to ask if they just want to talk to you and are not currently interested in seeking outside care.)
Before I go any further into this, here are my credentials. I went through a 32-hour volunteer counselor training at a domestic violence and rape crisis center. I helped facilitate and train, but was also learning myself, during a 55-hour counselor training for another rape crisis center. I've logged a few hundred hours as a crisis counselor, and also worked as a full-time employee with a rape crisis center for a few months.
The purpose of this article is not to condense those trainings, my experience or the hundreds of pages of notes I have in front of me. You are not going to be a counselor, you are going to be just another human in a room. What I can do is give you are a few key strategies and some helpful things to consider when you do find yourself in that room.
Well, the irony of this piece's title is that you won't be doing most of the talking. We can break down what happens in this room four ways (in no particular order): Considerations, Questions, Affirmations and Self-care.
Considerations
Listen. Listen. Listen. When they are talking, be listening, don't be trying to guess what to say next. You are not Freud, do not try to channel him, you'll just end up with an opium addiction. Really, be yourself. Respect where the person is coming from, meet them where they are in their lives. Do this by imagining a spectrum, where you are on one end, with your loved ones and life experiences, and they are on the other end with theirs. Walk yourself over to their side of the spectrum. This is called "meeting them where they are." Do this instead of lecturing, moralizing or telling the person why they did what they did. At the end of the day, people are the experts on themselves, you cannot fix them or troubleshoot their life for them.
Silence is a powerful tool, for them and you. Don't feel like you need to impregnate them with words every time, give them space to put together their thoughts. You can also reassure them you're "here to listen whenever they're ready. You can change your mind about this or stop whenever you want to." And if there is so much to the story and they don't know where to start, you can say, "Sometimes it's pretty hard to talk about things. Just begin where it's comfortable for you." Keep a moderate tone of voice. Allow them to talk at their own pace, but try to remind them it's okay to focus on their feelings and emotions and needs. This can help divert them away from,"But what will everyone else think about this?" Don't minimize their feelings or tell them to "get it together." Just because they may have suffered psychological trauma rather than physical trauma, does not make their feelings less true or their experience less real. Listen, believe and validate.
And remember, their thoughts and opinions about what happened can change over time or over the course of the conversation. That's just healthy processing, in the same way the stories we tell about ourselves change over time.
Questions
Don't be afraid to ask questions to clarify or to help them be more specific:
"What I hear you saying is X, is that right?"
"When you said you were worried about Y, what did you mean by that?"
"Would you like to tell me more about Z?"
Open-ended questions are the best way to establish a rapport, as opposed to closed-ended questions which only have a yes or no answer. "Did you have a good relationship with your parents?"is a closed-ended question, and can even be a little judgmental and leading. "What was your relationship with your folks like?" allows them to tell their own story in their own way. Even if you think you know where they are going with their story, don't try to lead them there. "She hit you, didn't she?" is a leading question. "How did she react to that?" is not.
Avoid why questions:
"Why did you leave the party with them in the first place?"
"Why did you do something like that?"
"Why didn't you just wait until you were ready?"
Ask questions that help empower their healing:
"How can I help you?"
"What do you want to do about the situation?"
"What would you like to do but maybe haven't yet?"
"How have you handled problems (like this) in the past and has that worked for you?"
"Have you thought about maybe trying to get back into some of your old routines? It can help to do things that are familiar."
Or simply, "How are you feeling?"
Asking yourself questions can help you stay present:
"Who is doing the majority of the talking, them or me?"
"Am I asking more questions than I need to?"
"Am I reflecting back things that they say to show I am listening?" ("What I heard you say is X?")
They may ask questions along the lines of, "What should I do?" or "Do you think I did the right thing?" Avoid telling them what to do. You are supporting those decisions, what they are, but it's rarely helpful to tell someone what decisions are right and wrong. This is their story and their journey, after all. You can give them options (for ex. "Would you like to call the police?") or ask them what they would like to do about this situation. Trying to take charge of a situation from someone and solve it for them, especially if they are in a fragile state, can lead to them relying on you when ultimately they are learning how to rely on themselves.
Affirmations
The rule in Hollywood screenplay writing is, to help make sure you have communicated a point or a piece of information to the audience, "Tell them. Tell them what you just told them. And tell them again." The first time someone told you that something you felt bad about "wasn't your fault," did you believe them the first time, really? Many people need to hear these kinds of things a few times before they'll believe them themselves. Show someone, by words and actions, that you believe them, that it's not their fault, that you can imagine this is very hard for them, that they are safe now and that they don't have to do anything they don't want to. All of these affirmations can help lead people in the direction of healing. It reminds them that they are not alone, that other people have been through this and come out the other side, and that it's really and truly going to be okay.
Another way you can offer affirmation, while at the same time reflecting back what they are saying, is to use some of the following:
"I really like the way you A."
"That was very creative how you B."
"You showed a lot of self-control when you C."
"It may not seem like much, but I think it was really impressive how you D."
"You have a real gift for E."
"I really like the way you F."
Or something like, "Your anger is perfectly normal and understandable."
"No one deserves to be treated the way you were."
Self-care
These can come towards the end of the conversation, but really they can come anywhere. They're about building healthy coping behavior for the future. Emphasize that they can decide what to do when they are ready and that they don't have to operate on anyone else's timeline. Remind them that it's okay to pace themselves in their actions and take things one day at a time. Tell them that if they ever need to make boundaries with people because they need space, but don't want to cut others out of their lives, to limit their time with people based on their needs, to feel free to not answer the phone when it rings or to be open to being honest with people about their need for space.
You can encourage them to rest, drink water and eat. You can make suggestions and give them options like:
"Do you think writing this down, or keeping a journal, or making a zine would help you process?"
"Would you like to look up meditation, relaxation or exercise regimens that might help?"
"Would you like to talk to someone at a local crisis center or shelter, or find resources from the closest LGBT center?"
Feel free to encourage them towards speaking with a counselor or someone they trust about what they have gone through. Maybe they have already done that and they just needed a space to talk. Maybe they're deepening your relationship by sharing this with you and they don't want any special care. This is just about presenting you and them with options, should you need to make use of them.
I was a person that our counselors would go to when they needed to unpack from a challenging session. I know hearing about this stuff can be hard, or if not hard you may just need to get something out of your system. Respect the fact that you need to take care of yourself, too, but I encourage you not to do so in a way that breaks anyone's confidence or desire for privacy. Just because you don't name their name in a conversation with someone else does not mean that that person won't be able to figure out who this is, or may later run into them. Instead, do things that make you feel good, even if it's just talking to a friend about nothing or simply being in the same room with someone.
If this was rape or violence, let them know that it's a crime but support their decision about whether or not to report it. If they would like to do a rape kit and the assault has just taken place, inform them that showers and even going to the bathroom can destroy vital criminal evidence.
My final point takes me back to Dr. House. In the episode, House discloses to the woman about childhood trauma he suffered at the hands of family members, and in turn Eve opens up what happened to her. If you have been through something similar, it is a gray area and a judgment call as to whether or not you should disclose. On one hand, you may end up crying and holding each other and it's a powerful moment. On the other hand, you may end up unintentionally hijacking the conversation about what you went through, welling up and wanting support of your own from the other person. I'm not calling any of these things right or wrong, but it is far safer to stay focused on them than it is to share too much of the focus with you.
I hope you have found something helpful in all of this. These are links to a series of hotline numbers you can share about mental health counseling, substance abuse, rape, violence, suicide, child abuse, abuse of the elderly, and so on. I would like to thank InterAct of Wake County and the D.C. Rape Crisis Center, whose training are the backbone of much of my counseling experience and the information I used to put together this support 101 piece.