The time has come for a few of us to give our thoughts on Happiest Season, Clea DuVall's Christmas romantic comedy now streaming on Hulu. Since the movie's release a few days ago, we sat down and gave it a watch (some of us more than twice) and then jumped together to hear each other's feelings on it. We talk about what it's like to bring someone home, the white universe the film takes place in, and, obviously, Aubrey Plaza in those suits.
There are some spoilers ahead!
---
First things first: What were your thoughts when you first found out about the film?
Drew: Despite being a fan of Clea DuVall as a performer, I really loathed The Intervention, her first film as a writer/director. So when this was announced and I saw people getting excited about it I just sort of felt… well, honestly, I felt happy for the cis white lesbians in my life and then went about my day. But the thing is I love Christmas movies! Like last year I gave Let It Snow a glowing review. I don't think Christmas movies have to be masterpieces and sometimes it's just nice to have a simple seasonal movie to enjoy. So I was excited for it! This was not The Lesbian Cinema Event of my year, but I've absolutely been looking forward to it.
Vanessa: I am really not a movie person — I usually see like, one movie a year. That said, I love Kristen Stewart, so when I found out about this movie I was pretty excited and figured I'd make it my "One Movie of 2020." A lesbian holiday rom-com with one of my favorite actors, what could go wrong!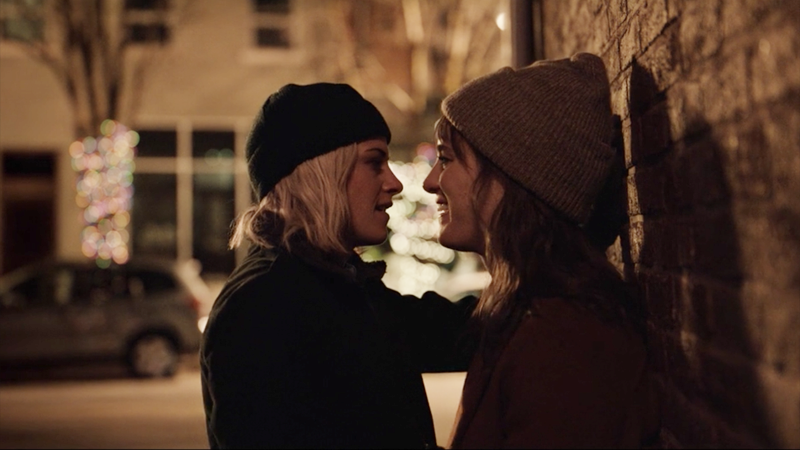 Shelli Nicole: When I first heard about it I am sure I tweeted and was quite judgmental, but I also recall saying I was of course, still going to watch it. Like, why wouldn't I want to watch a lesbian Christmas rom-com? I want to live in my own version one holiday season. The big names were a little bit of a draw. I've never fawned over KStew but I have wanted to kiss Clea DuVall since seeing her in The Faculty, so there was that.
Christina: There are few things I love more than romantic comedies, especially ones that are supposed to be cheesy and over the top and a little wacky. I also have a fondness for general WASPy mess (I blame the fact that I lived in Boston for ten years) so I was pretty pumped for this! Also, tall bottom representation!
---
After watching it, did it live up to your queer expectations?
Rachel Charlene Lewis: I… didn't love it? It had moments I loved. I wanted to finish it and feel so whole and so seen, but I just felt really sad. Will I watch it again? Yes. I've already watched it over and over. But I think some of the coming out arc felt way too close to my own experiences with dating and my girlfriends' parents and families, and I felt a little tricked by the trailer, which made it seem like it would be made up of more fun and shenanigans, and less CRUSHING HEARTBREAK. The acting was great. Kristen Stewart is an angel and getting to watch her be gay and happy made my heart happy. Aubrey Plaza saved the day. The outfits and the makeup and the vibes were just so wonderfully queer. But I think it needed more time to really pull off everything it wanted to and to balance straight audiences who wanted one thing (aka coming out stories) and queer audiences who wanted another (happy nonsense lesbian rom-com).
Valerie Anne: I don't generally like rom-coms OR Christmas movies but the idea of one made by queer people for queer people made me happy. Especially for those people who DO love Christmas rom-coms and have had to watch thousands of very straight movies just to get their fill. And I bet the people who love those movies will love this movie very much. I enjoyed it quite a bit but it was still a Christmas rom-com so my capacity to love it was somewhat limited, which honestly means it succeeded in being exactly what it was meant to be.
I thought the acting was stellar and the writing was great, and it made me feel happy in my heart to know how many queer people were involved on both sides of the camera. For me, I would have enjoyed it ending like the kinds of movies I watch. For example, it would have ended with Abby and Riley together and running into Harper at pride a few years later. Finally out and happy and with a girlfriend she was ready to be with. But I understand why it had to end the way it did for the genre. I agree with Rachel that Kristen Stewart being gay and happy and Aubrey Plaza's whole, everything, were absolutely the best parts of the movie. And Dan Levy.
Malic: This rom-com definitely had its funny moments. I adored Aubrey Plaza's classic deadpan and Dan Levy's delivery of hilarious one-liners. I knew that the film would be very, very white and very, very homonormative, but I had no idea that the storyline would fill me with so much rage! I didn't get enough time to buy into Abby and Harper's relationship before Harper brought them into an impossibly difficult situation. I spent the whole time being pissed instead of rooting for them to stay together. I'm with Rachel — I was unprepared for the crushing heartbreak! Also, I'm bored with coming out narratives and want to see queer people doing other things.
Stef: I am very, very not a Christmas movie person, but I do love a Lifetime movie now and again so I gave this a shot. I had really mixed feelings because while I had a pretty good time watching the movie, everything Harper did made me so anxious I wanted to crawl out of my own skin. Abby was supernaturally patient with her and understanding of everything she went through, but Harper just… kept… dropping the ball? Even when it was a simple little thing like her parents putting Abby in a separate room, it would have been so easy to ask your MOM to let your FRIEND sleep in your room. When Harper didn't even tell Connor there had been a reason she broke up with him, she slipped into irredeemable territory for me and I was deeply upset on Abby's behalf during the resolution of this movie.
Sometimes it's possible for someone to love you without respecting or particularly liking you, and that was something I felt very strongly about Harper's feelings towards Abby. I do love Valerie's idea for an ending much more than what actually happened; it seemed like a WASPy way of sweeping the issues under the table and deciding everything will be fine if we just will it to be so — and NEVER DEAL WITH ANY OF OUR ISSUES AGAIN. In conclusion, Aubrey Plaza is a precious gem and I would die for her.
Shelli Nicole: Well, I'm just going to say it and welcome any draggings — I really, really loved it. It was hella cute, very queer from the wardrobe to the writing and also just felt quite real? There was a sideswipe of heartbreak but I just knew that Clea and crew were not going to make these girls have a traumatic ending the first time around. The straights watching simply wouldn't know how to handle it but the queers watching it would be like "saw that coming". I thought it was funny, sweet, well acted and told a whole story and didn't leave many gaps.
What super stood out to me was the wardrobe: I agree with Rachel completely so when she said it was "wonderfully queer.wp_postsI too would have changed the ending and wanted Abby and Riley at a bare minimum hook up and become friends, but that doesn't mean that I wanted Harper to be sad and heartbroken. I think she had some things that she needed to work out, and maybe she needed to do that alone. I don't enjoy the queer girl narrative that it's always helpful to work through your personal issues while you're with someone, because that's hard and not all of us are trained to do it that way. All in all though, I really dug it and I've watched it a few times. I sent it to my dad to watch and he texted me telling me he's starting it — just waiting for that text that says "LESBIANS?! On MY Christmas?!?"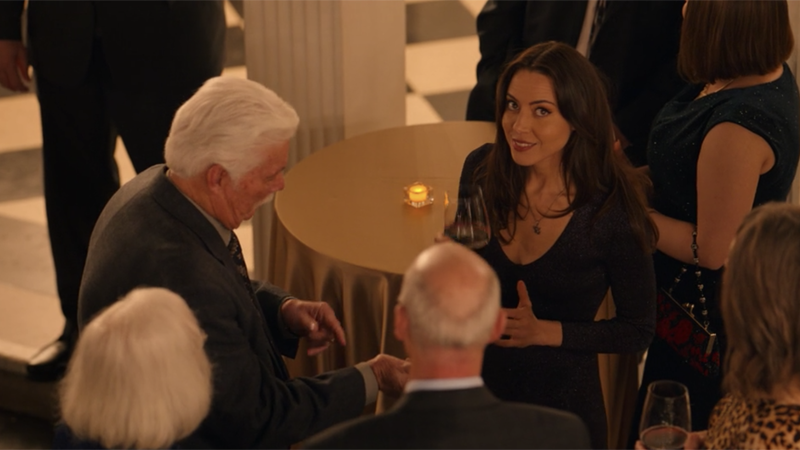 Drew: I knew the basic premise going into the film, but I think I was a bit surprised by the tone. There are farcical moments for sure, but it felt more slice of life than comedy. Which is fine! It just wasn't quite as charming and funny as I would've hoped. But mostly? Yeah it totally met my expectations. I don't think it was a masterpiece, but Kristen Stewart looked hot and I'd die for Aubrey Plaza and it hit the story beats I was expecting and I mostly enjoyed the experience.
Vanessa: Haha okay, I'm kind of laughing at everyone else's reactions considering I'm the asshole here who doesn't even like movies, so what the hell does my opinion matter, but wow, y'all are so much more generous than I feel! Perhaps it's because I was told it was a rom-com (I literally did not even watch the trailer, I truly know nothing "about movies,wp_postsI just felt excited to watch a cute gay funny romance on my laptop screen ya know?), perhaps it's because a friend texted me before I watched it complaining about how much they hated it, perhaps I'm just too harsh but… I truly hated it.
It made me SAD. It was not funny, it was deeply painful and very, very difficult to watch! I know from twitter dot com that reactions to this film are very polarizing — I've actually seen a lot of people share my reaction, but I've definitely also seen tons of people who loved it and of course there has also been backlash to the backlash… I guess it wouldn't be a queer movie if there wasn't a ton of semi-stressful queer discourse, right? ;) I just did not see where in the narrative arc the writers gave me any reason to understand why Abby and Harper's relationship was GOOD, you know?
The opening montage, chronicling the first year of their relationship, was my favorite part, because it felt HAPPY and like at least I understood in a vague way why they wanted to be together. The rest of the film was honestly so bleak; I watched with my housemate who was equally horrified and they put it this way: "Where was the sparkle?wp_postsAnd I want to know that! The only time I felt a sparkle of holiday rom-com energy in the film was the scene with Riley and Abby singing with the drag queens. That was beautiful. I'd watch a whole movie that took place within that scene tbh.
Christina: It was a little disappointing for me—I had seen the discourse flying all over the TL, so I was prepared for it to be a little less charming than the trailer made it seem. It was frustrating, because with a few tweaks I really could have gotten on board, even though the "ooops hahaha sorry I didn't actually come out despite telling you I did!!wp_postsplot was not my favorite thing. If they had given us more time with Abby and Harper up top, so we got to know them and their relationship, I probably wouldn't have spent the whole time wondering why Abby thought Harper was worth all this. And like, honestly, if the story ended up with Riley and Abby together….I mean is there anything gayer than breaking up with your girlfriend for her ex??
Shelli Nicole: update on my fathers review:

I'm gonna get that nigga to go to pride with me one day or at least wear rainbow cuff links during pride month.
---
How did you feel about the whiteness of the film, both in front of and behind the camera?
Rachel Charlene Lewis: God, it was so fucking white. I've come to expect that from queer films, like, the only thing that can be "wrongwp_postswith them is that they're gay, so otherwise they're rich/white/etc. In general, I wasn't shocked by how white it was, but I really didn't like the way it portrayed the two mixed kids in the family. I also wish the characters themselves had been willing to say, on screen, that their family was super white and clearly using these babies to look ~diverse~ for the dad's campaign.
Malic: I knew from the trailer and from my experience watching Christmas movies that this film would be oh-so-very white, but I had no idea how aggressive that whiteness would be. This film is nearly all white faces. It's like the creators went out of their way to make sure that white people and white culture were at the forefront.
Stef: Yeah, the treatment of the kids made me uncomfortable, but something about this did seem like what an authentic Terrible White Family™ would do?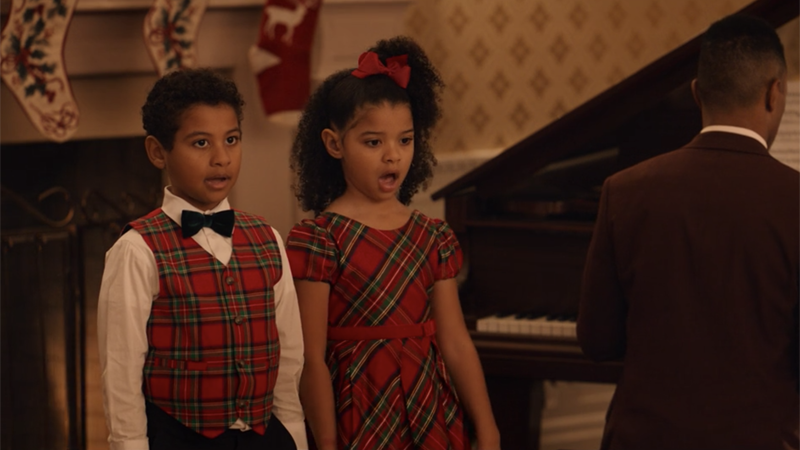 Shelli Nicole: Same Malic, I knew that this film was going to be so very white, it's not something that they tried to hide. They casted KStew in the lead role for fucks sake, what did y'all think we was going to get? When it came to them sprinkling in diversity…..just no. Also, were the kids supposed to be like a mulatto Wednesday and Pugsley? Because I think they were trying to do that and it just came off weird. It was quite white and I think it became even more so when the political element sort of snuck it's way in. Having Clea behind it just was the caucasian cherry on top but with her at the helm, I was ready for what was coming. I'm basically saying that they never tried to hide it, it was overt and present from trailer to release and that's honestly all I ask of white people — just be upfront with what you're doing and I'll have more respect.
Drew: This was one of my issues with The Intervention. That movie has an ensemble cast of all white people and it's about them spending the weekend at a big house in Savannah, Georgia… Not great! So to say I wasn't surprised by the cast list of this is an understatement. I think it's clear based on these two movies this is what Clea DuVall's world looks like so I don't trust her to write characters that aren't white. But she's the one getting to make the big budget lesbian Christmas movie. So that's a bummer, you know?
Vanessa: I agree with everything everyone has already said, but I will add — while attempting not to spoil anything — that I really hated the choice to make the mixed kids do the thing they did at the mall. That just seemed like a really unnecessary plot point in a slew of shitty choices the writers made for those two characters in particular.
Shelli Nicole: Yeah, I think they were trying to add to the weirdo factor of them and also at the same time trying to make it a "Those darn kids!!wp_postsKinda thing but — nah. It does make me wonder if they had any black writers or interns in the room who maybe would have spoken up and been like "Hey um — maybe let's not make it them."
Christina: For the most part I am fine with white people writing the white reality they live in—I'd much rather let people of color write and direct their own stories than have to sit through mistreated characters of color via white writers. I think the portrayal of the twins proves my point! I kind of liked that they were… creepy evil twins instead of the angelic kind of mixed kids that white people seem to feel like will "fixwp_postsracism, but they felt just… tossed in a way that didn't really make sense for me?
---
What would you have liked to see more of or even less of through the film?
Rachel Charlene Lewis: More: Aubrey Plaza, laughing, cuddling, smiling, time with the resolution. Less: weird shitty moments between the love interests that made their power dynamic seem deeply trash.
Valerie Anne: More Aubrey Plaza, yes! More Jane!! I loved Jane!!! Also I love watching Allison Brie body slam people, turns out. More Harper having to work to rebuild Abby's trust. She fucked up so much so hard and I don't think 1.5 speeches was really enough to fix it.
Malic: More humor. More affection. Also I think that Abby and Harper should have broken up.
Stef: So much more Aubrey Plaza in a blazer and so much less Connor. I wasn't expecting a LOT by way of character development, but I thought it was weird how they just gave Abby and Harper these careers and then never mentioned them again? We saw a lot about the patient and loving way Abby cared for Harper, but never really got a clear understanding of really why, or much about what Harper felt for Abby. The reconciliation just was not enough for me.
Shelli Nicole: More Aubrey Plaza. More Aubrey Plaza in blazers. More Aubrey Plaza giving smoldering nervous dykey looks while in said blazers. She stole every scene and she looks beautiful. MALIC, I know you are used to me screaming at you in all caps by now but YESSSSSSSS!!! Again, I wanted them to break up. I thought it was going to happen too, it's not me saying I wanted a sad ending because them breaking up doesn't necessarily mean it would call for one. I could have done without so many references to closets both in the script and with the physical acting. I get it — Dykes, Closets, fumbly experiences, secrets, like…I get it. I also loved the Josh Hartnett shoutout — I see you Clea.
Drew: Yes, in agreement with everyone. More Aubrey Plaza. Obviously. And then I just wish the film had committed to being a more serious dramedy about the dynamics on display and with that not had the "in a bow" happy ending. OR committed to being a holiday romcom and then had more humor and a lighter tone.
Vanessa: Yeah I guess I wanted this movie to be… different? If it was a rom-com, I would have liked a different plot. Just something fun and silly and slapstick, shenanigans ensue, etc. Like my housemate said, something with a holiday sparkle. If, like Drew said, it had leaned into being a dramedy, I would've liked a more convincing first act to make me understand why Harper and Abby work together and how they both care for each other, and I would've liked a longer climax/resolution to try to work through the honestly very traumatic subject matter of the film! Other things I wanted less of: the weird obsession with calling Abby an orphan, Connor, the bar named Frattys. Things I wanted more of: Aubrey Plaza duhhhhhh, Dan Levy, the fish subplot, A BREAK UP BETWEEN HARPER AND ABBY.
Christina: More Dan Levy in incredible coats, more time to get to know why Harper was worth all of this pain and suffering, A BETTER WIG FOR HARPER MY ACTUAL GOD.
Shelli Nicole: Christina, I don't know why I didn't bring that up before but it just was — sitting there? At the big party it looked like someone finally combed it but before that — my goodness.
---
Have you ever taken someone home for the Holidays (or been bought home)? How did it go? Did you find any similarities to your experience in the film?
Rachel Charlene Lewis: I have! It's been… fine? But I've never dated anyone who brought me home where I could be GAY and In Love With Them. I've always had to tone it down, and it's lowkey a traumatizing experience. I wish Happiest Season had had more time to really sit with how it's not just a single event; it's this weird lifelong issue you have to deal with that doesn't get easier just because time has passed or because the family has decided not to hate you.
Malic: I have a few times, and it's been fine. I'm grateful to have parents who are fine with most aspects of my queer identity (my mom even got matching Christmas pajamas for my ex and me). I like having partners around my family members, even the ones who are less comfortable with queer stuff. I think it's important to show my younger relatives that cousin Malic is very queer and very happy with their life.
I've never dealt with anything like what I saw in Happiest Season, at least not around the holidays. I have dated people who were closeted, so maybe that's why this movie brought up so much for me.
Stef: During my first deeply messy relationship with a woman, I was brought along on a family trip without said family being aware of the whole situation. I was very young and in love and confused and heartbroken and deeply upset, and I dealt with it very poorly, as one might expect! I got blackout drunk and ended up having a full-on panic attack, crying and screaming on a boardwalk in the rain. Ultimately I made things very awkward with some cousins who had definitely figured out what was up. Probably in this particular situation, the right thing to do would have been to not bring me on this trip in the first place.
In general, I have a pretty good track record with my partners' parents, because I am polite and offer to help with dishes. Moms love me. I only recently introduced my parents to someone I'd been dating for the first time, and it went medium OK? Nobody really asked too many questions or had too great a time; I think it will be a while before I try that particular move again.
Shelli Nicole: Never. I have never even introduced my parents to anyone I have dated, even when I was still in the closet. But just like with KStew in the film, other people's parents love me. I razzle dazzle them out of their socks and they ask about me for years to come because I am charming, pretty and have manners to make you melt. HOWEVER, those are the parents of my friends, not someone I'm dating. I was forcibly (literally) bought home in my first relationship with a woman. Not just for the holiday but every weekend for the entirety of our relationship. This was also the same woman who threatened me in a bunch of ways until I came out to my mother, I did but I didn't tell her I had a girlfriend.
When my mom came to visit I told her we were going to have dinner with my "friendwp_postsat her place — and when we showed up my ex invited her whole family without telling me. It was so horrible and I escaped to the bathroom where I was told this was all my fault. Her family cared for me and I had a better relationship with her sisters than I did with her but yeah, that shit is hard. Family is wild you know, so it's best to not bring anyone home without giving them as much info and heads up as possible about what your family dynamic is. That way, when you get a moment to yourselves you can both talk about how wild it is and make your connection that much sweeter.
Drew: I've brought two partners home and also met their families. But when that first happened I was supposedly a cis straight guy so that's a very different dynamic. Honestly, as a trans woman, I've had experiences where it's clear someone I'm on a date with does not want their roommates or friends to know I'm there as a date. That's what I thought of way more. So maybe it'll be like that but worse next time I meet someone's family! Who knows what the future holds!
Vanessa: You know what, I just started writing this deeply personal thing about my family, and then I got freaked out and deleted the whole thing. I will say I think "bringing someone home for the holidayswp_postsis very intense and can be really awful for the person not part of the nuclear family, especially if you and your family have unresolved issues, and perhaps that is why I reacted so strongly to this movie. I think Harper's choice to remain closeted around her family — while my therapist would definitely call it "a betrayal of selfwp_posts— was absolutely her choice to make for as long as she needed to. Family shit and parental expectations are COMPLICATED. But I think it's irresponsible and downright cruel to bring a partner into a dynamic like that if you aren't going to be able to protect her from your family's shit (which is why I think Harper is awful — not because she's closeted, that is a neutral fact).
Uhhh, but back to the question… My very first girlfriend brought me home to her parents' house a lot and I got to know them pretty well and they loved me. One Hanukkah I was visiting and we were getting ready for their Hanukkah party, and my girlfriend and I hopped in the shower together. Why was her family cool with this? I don't know. Why were we cool with this? TRULY DO NOT KNOW. Anyhow, we were really just showering, no sexy stuff, because we were at her parents' house and also in a rush to get ready, when suddenly I hear the door open and HER MOM ENTERS AND SUDDENLY THERE IS FREEZING COLD WATER ALL OVER ME BECAUSE HER MOTHER HAS HURLED A BUCKET FULL OF ICE WATER OVER THE SHOWER CURTAIN IN AN EFFORT TO GET US TO HURRY UP. And my girlfriend acted like it was totally normal and like I was the jerk because I was mad and couldn't "get over itwp_postsin time for the party!!! Anyway the moral of the story is never go home with your girlfriend for the holidays, I think. That's gotta be the moral of my story and also of Happiest Season.
Christina: I have brought a girlfriend home for a weekend, not the Holidays, but I have never done the whole meet the parents thing for the Holidays. I am deeply single! I give great parent! Someone bring me home to charm them!!!!
---
That's gonna be it for us but let us know how you felt about the film in the comments below!