Sara Medd is a woman on a mission. That mission is to help you find all of the androgynous and otherwise gender-neutral garb you've been looking for all your life.
Medd, who you may remember from gigs like dressing the Autostraddle Calendar Girls and helping you rediscover your ideal wardrobe via personal style sessions at A-Camp, launched a Kickstarter campaign on October 1 to raise money for the creation of Greyscale Goods — a company that would put a spin on your run-of-the-mill delivery services by bringing curated gender-neutral apparel to your doorstep.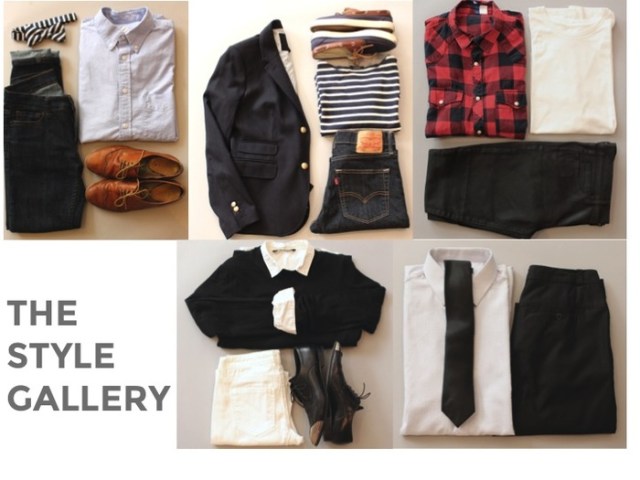 The idea itself is easy peasy lemon squeezy: customers sign up, fill out a style profile specially crafted by Medd to guide her through the fashion market and find their perfect fits, and then they receive goods that are just what they're looking for after working with some staff members and shoppers from Greyscale. Over time, as they leave feedback and comments about the items they've received, the Greyscale style team will find itself even better at matching them with their ideal looks. Customers pay for what they want, return what they don't, and, over time, find themselves looking exactly how they want to look without suffering through another men's section shopping spree or fruitless mall venture with their friends.
For something so revolutionary in its simplicity, the reality is that Greyscale Goods would fill a void in the current fashion world occupied by a ton of center-of-center queer folks. No longer will tomboys have to manuever through the men's section, plagued by questions by staff members and glances from their neighbors. No longer will the dapper folks hand their clothes over to tailors in order to create the ensemble they were thinking of. And with a no-risk return policy and a personal shopper on their side, no Greyscale customer needs to worry about what happens if they're not totally taken by the finds that come to their door. Like many things in life, it only gets better the longer they work with the team.
For Medd, going into fashion was inevitable. "I've been interested in fashion since I was a very tiny person," she told me. "I was sewing clothes for my Barbie dolls at age 6 out of scrap fabric, which evolved into sewing clothes for my American Girl dolls, which eventually led to designing a collection for our school fashion show during my senior year of high school. I've worked in clothing retail since I was 17, and I have always been enamored with yummy fabrics and well-constructed designs." Medd, who describes her personal style as "eclectic" and can't live without jeans and a button-down shirt on hand (preferably in black, of course), went on to major in Fashion Merchandising at the Fashion Institute of Technology, and a string of office jobs afterward led her to professional styling. "I finally found what I love to do," she said. "Take the beautiful and arduous work of designers and bring pieces together into a wearable and marketable look."
Now, the Founder and CEO of Greyscale Goods has also come into her own as a member of the queer community, and it's her impetus for gearing her company toward folks seeking out androgynous or otherwise gender-neutral looks. "Before Greyscale Goods was even a thought, the need for a retailer that offers more selection in gender-neutral clothing was very clear," she told me. A lot of that comes from her experiences with queers like you at A-Camp, where she held private styling sessions. "The same questions kept coming up: I live in a small town in Missouri, and I don't have access to city shopping, where can I find a properly fitting button-down shirt? I have a wedding to attend this summer — where can I find a vest or jacket?"
They were questions echoed on the queer Internet, posted on websites like DapperQ and QWear. "Clearly, there was a gaping hole in the clothing market," Medd said. And though she often referred folks to botique online retailers, she noticed that the inconvenience of returning items purchased that way or even picking them out in the first place was also a hurdle for folks seeking out their perfect look. Whether things were too expensive, too complicated, or too far removed from small-town queers, it became clear to Medd that the void in fashion wasn't just about the mere offering of androgynous apparel – it was also about how it was provided.
And thus, a spark.
"Earlier this year," she told me, "I started noticing that many of my friends were subscribing to various subscription boxes and raving about the convenience of them. Some were subscribing to fashion boxes, but the targeted markets were distinctly separated between men's clothing and extremely feminine women's clothing. We are in an age where androgynous clothing is embraced in both male and female wardrobes, and gender-neutral fashions are becoming more popular. It only makes sense that there should be more platforms for bringing these gender-neutral brands together in one place, to create a one-stop shop."
Medd eventually dreamt up Greyscale Goods when she was chatting with some friends about shopping. One was thrilled with her latest experience with Stitch Fix, and couldn't get enough. Her girlfriend, however, wanted that experience but hadn't been able to find one tailored to her androgynous look. "This underserved market is a glaring omission in the structure of traditional men's and women's clothing departments, and one that Greyscale Goods is motivated to address (and dress)," she said. "With Greyscale Goods, we aim to target the market in between these two segments: the gender-neutral style. We will be covering the "grey area" between traditional men's and women's fashions."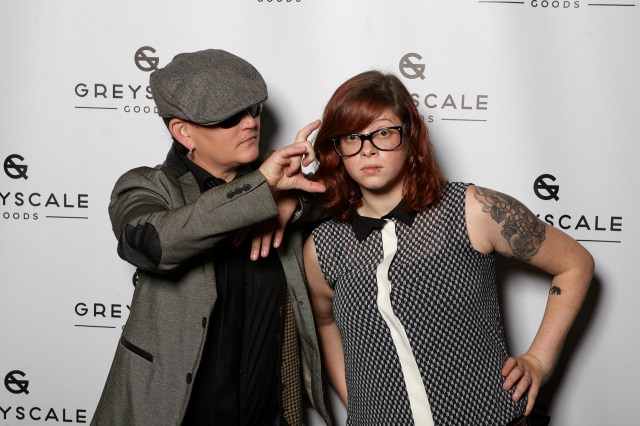 At its inception, Greyscale will do that by working specifically with smaller, androgynous brands to bring them all under one roof for her clientele. Of particular interest are her burgeoning partnerships with Kipper Clothiers and Sharpe Suiting for any queer with dazzling places to go; if the Greyscale Kickstarter hits $120,000, Medd will design a Ready-to-Wear line of suiting separates with Kipper exclusively for her customers. Sharpe Suiting is already working on their own Ready-to-Wear line, which she hopes to bring into the fold as well. Over time, as her funding expands, Medd will also work to bring in more established and well-known brands carrying denim, sportswear, and menswear. In the long-term, she's also gearing up to expand her offerings to plus-size folks.
But it doesn't end there. "I am so excited about my plans for the future of Greyscale Goods.," Medd told me, "because this is such unchartered territory right now. The way that I see this company building is based on an intricate algorithm incorporating the feedback from customers, which will allow us to have an actual relationship with each customer. This is a dream challenge for a software developer, but an extremely costly one." Ultimately, Medd knows how to conquer that: "I hope to bring in some tech-savvy business partners who are up for the challenge!" (For the sake of us all, let her know if you're one of those. Please.)
Though the Kickstarter goal is $25,000, Medd's shooting for the stars with stretch goals beyond $100K, and they're all well-deserved for someone hoping to help out an invisible market. (To make shipping actually happen, she needs $70,000.) And even if you don't plan on becoming a Greyscale Goods shopper, supporting the Kickstarter can help you land some awesome items to fill that closet of yours you crept out of a few years ago. From sweatshirts to boyshorts to tee shirts to Kipper Clothier tops, the options are abound for folks hoping to make gender-neutral fashion a reality before the end of the month.
So just fucking give already! On behalf of all of us tomboy femme girls out there, I sincerely thank you in advance.
---
You can learn more about Greyscale Goods online and by following them on Instagram, Twitter, Facebook, and Tumblr. Sara welcomes all of your feedback and questions at greyscalegoods@gmail.com and would feel good about her day if you took their survey, too.