The following review contains spoilers for the first four episodes of Grease: Rise of the Pink Ladies, now streaming weekly on Paramount+.
The first time I performed Grease, I was nine years old at Girl Scouts camp. We did a medley for our parents that included both "Born to Hand Jivewp_postsand "Cool Riderwp_posts(even though the latter, technically, was from Grease 2). Afterwards to celebrate, my mom rented the movie for the first time. I was hooked.
That fall, I wanted to be a Pink Lady for Halloween. Pink Ladies are not a common child's costume and we're talking pre-online shopping days, so my mom called a local professional costume shop. They had the coveted satin jacket, but I was so small that my mom ended up triple rolling the sleeves to make it fit. By fifth grade I had memorized the entire Pink Ladies Pledge and taken to performing overly dramatic renditions of "There Are Worse Things I Could Dowp_poststo an audience of my own reflection in my bedroom mirror after school.
Being Black and Puerto Rican and gay (though, I didn't know that last part quite yet) didn't stop me from seeing myself in the lily-white, straight halls of 1950s Rydell — not that it ever would have. In fact the only reason I mention this at all is to say, by all accounts, I am the core audience for Paramount+'s Grease: Rise of the Pink Ladies. I know that anyone reading this website wouldn't assume that I'm some off-the-wall right wing pundit bemoaning the "wokeficationwp_postsof Grease for finally including POC and queer characters, but I also want you to know that I'm not some staunch traditionalist. As far as I'm concerned there have been queer, Black, and Latina Pink Ladies since at least 1997, when I first put on the jacket.
Which is why it pains me that I don't love this prequel.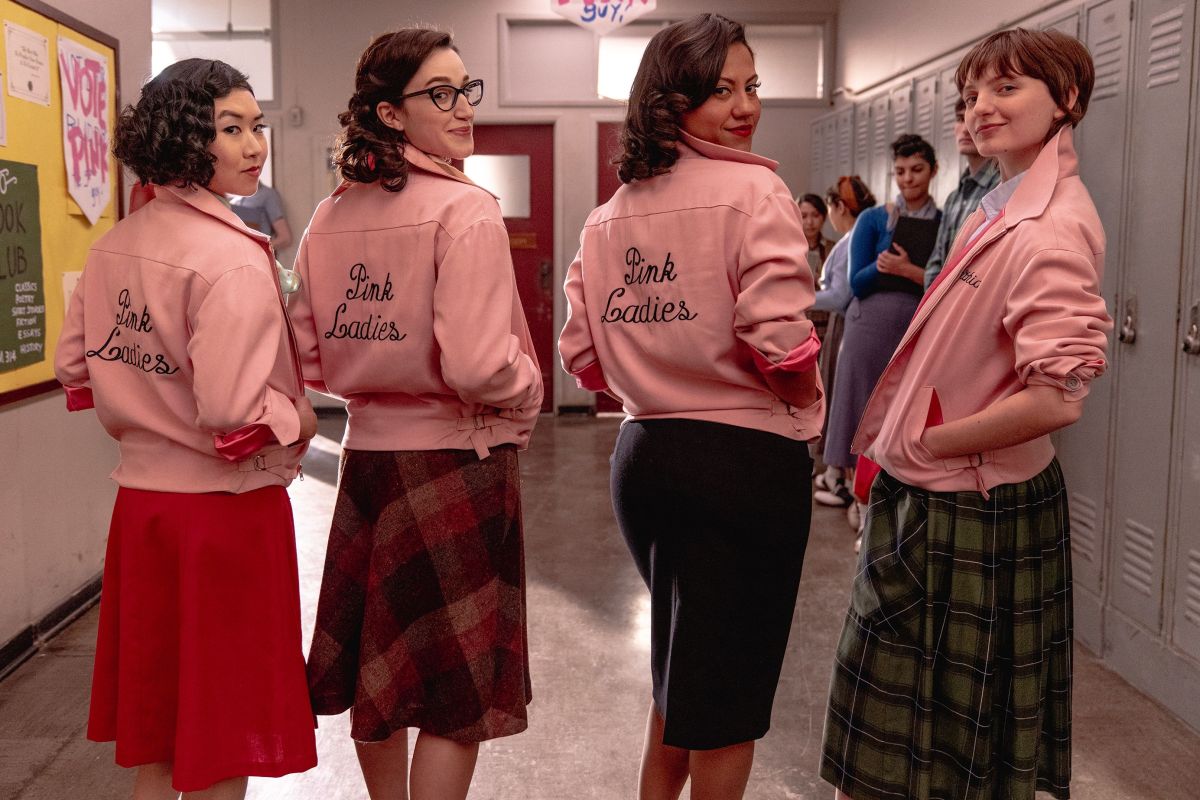 In Rise of the Pink Ladies, it's 1954 — roughly five years before Rizzo, Frenchy, and Sandy are going to rule the school — and horny Puerto Rican-Italian nerd Jane Facciano (Maris Davila) is spending the last hazy days of summer going at it in the backseat with her boyfriend, preppy jock Buddy (Jason Schmidt). Teens being horny is a backbone of Grease lore and Rise of the Pink Ladies is often its strongest when directly tackling the sexist double standards and purity policing forced onto teen girls. Jane, still relatively new at Rydell after moving to the California suburban high school from New York last year with her family, is made the target of a slut-shaming rumor campaign after Buddy lies about how far they went at the drive-in.
Meanwhile, Olivia (Cheyenne Isabel Wells), an aloof bookworm hot girl Chicana, is also left reeling after rumors swirl about a "relationshipwp_postsshe had with her English teacher last year — relationship put in quotations by me because a grown adult can't have a consensual relationship with a teen girl, a fact that isn't glossed over in the show but can never be emphasized enough. Nancy (Tricia Fukuhara), a Japanese student who dreams of a life as a fashion designer in New York, is left alone after her two closest friends dump her to become boy-obsessed. Cynthia (Ari Notartomaso) is a tomboy who dreams of being inducted into the T-Birds, no matter how badly they treat her. Cynthia's obviously queer coded right away and the team behind Rise of the Pink Ladies has promised make good on queer characters in future episodes, which is one of the reasons we are gathered here today. While I get the sense that Cynthia's episodes are still ramping up, it must be said that Notartomaso is already a scene-stealer right from the top, its impossible to take your eyes off of them.
When Jane announces that she's running for class president against Buddy, she makes new friends in Olivia, Nancy, and Cynthia — with Olivia, whose brother is the head of the T-Birds, becoming her campaign manager. For Pink Ladies casting director Conrad Woolfe, in creating these archetypes, "Our North Star… was Rizzo. Stockard Channing is just so amazing, and that was the essence we wanted to pull for all of these characters, for all four of these Pink Ladies especially."
And thus, the original girl gang is born.
On the surface, Rise of the Pink Ladies hits all the important nostalgic beats. So far there's been a T-Birds' mooning, a bonfire pep rally, Principle McGee (for now she's Assistant Principle McGee), a sleepover in Frenchy's pink Sandra Dee bedroom. The premiere episode alone includes homages to "Greased Lightningwp_postsand "Beauty School Dropout.wp_postsIt doesn't take long for a middle school aged Frenchy and Rizzo to make a cameo, either. If you're a fan of poppy TV musicals about high school outcasts — High School Musical, Glee — there is a lot to love in music producer Justin Tranter's work. It's also beautiful to look at, with impeccably slick production design and choreography.
For me, this is also where the series begins to fall apart at the seams. I have yet to make it through even one single episode of Rise of the Pink Ladies without asking myself if a meteor is going to come any minute now and strike all the students of color (and their families!) before the prequel ends and the original series picks up. After a while, I started making a joke that around every shrub was a The Last of Us mushroom zombie that only ate the Black and brown kids. That there must be a reverse migration style mass deportation back to Mexico, Japan, and the Southern states. Because somehow Rydell goes from a beacon of 1950s racial harmony in 1954 to the all-white school we know it becomes in '59.
If she was interested in telling an updated take on Grease that tackles school integration (and to be clear, I think if we're going to return back to these classic namesake properties, we should be updating them) — I'm not sure why showrunner Annabel Oakes chose to focus on a prequel instead of setting her series in the 1960s, after the events of both original movies. In that situation, the linear progression of time could have done lot of the work for her. If we imagine a world where, say, after Michelle Pfeiffer's Pink Ladies hang up their iconic jackets, the group disappears for a few years , only to be picked up again by newly arrived POC and queer students who are outcasts and find power in the iconic Pink satin — very little else of the show would have to change. Except that I would stop daydreaming about a zombie apocalypse worthy of a drive-in cinema.
One of Autostraddle's writers, Drew, helpfully suggested that instead of letting the question of "where did all the POC exactly go?" get the best of me, I could compare the budding Grease-verse to the James Bond franchise. After all, there have been, and will continue to be, an infinity amount of Bonds, Qs, Ms and Money Pennies — and I've never required any of them to have continuity. What's to stop Rise of the Pink Ladies from taking place in a multiverse where the infamous Frenchy (Jane's little sister) is actually Puerto Rican and both the Pink Ladies and T-Birds have origins more closely aligned with the very real Mexican-American 1950s culture that birthed "Greaserswp_postsin the first place.
Except even that instance doesn't solve what I believe to be Rise of the Pink Ladies' greatest fault. The show is in a rush to pat itself on the back for a more (overtly) queer, POC-based adaptation, but seemingly has little concern about the factual realities that race plays in these characters lives. It would be one thing if (as is often the case in Broadway musicals), the racial-blind casting simply meant that race wouldn't be brought up at all. Instead confusingly, if not upsettingly, Rise of the Pink Ladies seems to want to pick and choose when race matters.
At one point Hazel (Shanel Bailey, another knockout performer), a Black student who recently transferred to Rydell, shows interest in joining the Pink Ladies. In hushed tones during one of their classes, Wally (Maxwell Whittington-Cooper), a Black football player, warns as much as he chastises: "Hazel, you're not getting mixed up with those Pink Ladies, are you? They like to stir up trouble. [Hazel says: so?] So trouble just might hit you differently than it would hit them."
But following that same logic, would this worry of "troublewp_postsnot also be true for Nancy, who's Japanese-American family would have been held in interment camps not barely a decade earlier? When Nancy would have only been in elementary school? Or for Olivia and her brother Richie, Mexican students living in a California that's only had integrated schools for seven years at that point? Or even for Wally himself, who has a blonde, white cheerleader girlfriend? A full 13 years before Loving v. Virgina?
Later in a following episode, Nancy tells Wally, who is feeling down about losing a game, that you can't look to others for validation. It's a lesson that she learned as a child because "when I was little, kids used to throw rocks at me and call me a 'dirty Jap.' They blamed me for the war… I was still saying 'pa-sketti.'"
Of course, that is horrifying. But it's also fantastical to believe that young Black boy in 1954, less than a year before the murder of Emmett Till, would need to be told a story about the difficulties of racism. Let alone in the context of being hard on himself over a football game.
Jane's mother, Kitty (Vivian Marie Lamolli), attempts to wave off her dark skin tone in public by passing as Italian instead of Puerto Rican. She ignores Frenchy's bewilderment over hiding her heritage ("I thought I was calling my abuelo, nonno this whole time!") and shudders when Richie bows and calls her Señora in public. When Jane decides to make boycotting a bigoted, exclusive country club for the fall dance part of her campaign platform, Kitty objects. This is the closest the show has gotten to tackling the complications of race head on — Kitty's passing attempts are easy to write off as self-hatred in less deft hands, and to its credit Rise of the Pink Ladies instead takes time to show how they're rooted in strategies of survival.
That survival, of course, also pays a steep price of loneliness and isolation. While visiting Olivia and Richie's parents, who are so excited that Rydell's next student body president might be Mexicana (they don't quite get "half Puerto Ricanwp_postsbut hey, the heart is there!), Jane wistfully explains that she doesn't know much Spanish. Rather than dig deeper into the ways that their relationship to race has strained Kitty and Jane's relationship to each other, Kitty's entire passing subplot is swept into a campy musical number between Jane and Buddy at the Frosty Palace, where Jane publicly "comes outwp_postsas Puerto Rican to applause from her fellow Pink Ladies. There was so much more to explore.
Rise of the Pink Ladies wants the privilege of deciding when and how questions of race matter, but that's not how race works — not on a fictional television show where teenagers sing on cafeteria tables for fun, and not in life. Without any serious consideration to historical specificity and its impact on the lives of Rydell's students of color, all Pink Ladies does instead is open up an unsatisfying — and distracting — Pandora's box. Even if it is one shimmering in bright pink glitter.