Last week, Freeform announced that Good Trouble had been renewed for a third season. Though the show is 25 episodes into its run, it continues its tradition of highlighting an increasing number of important issues that often go undiscussed, like opioid use among young people and education policy. But "Gumboat Becky" also shows a series that's evolving and willing to address how it builds its own narrative.
Alice and Gael are missing from "Gumboot Becky" and while I'm a little disappointed that two queer characters of color are sidelined this week, I'm glad that Good Trouble is addressing one of my most frequent criticisms about the show: it's doing too much. Each episode is overcrowded with story to the point that none of them resonate as much as they should. Alice and Gael's absence this week gave space for the emotions — Judge Wilson and Dennis' grief, in particular — to really land and I'm hopeful that the writers continue this trend.
Still unable to harness his grief, Judge Wilson clings to his effort to find someone to blame. He recruits Callie to help him: asking her to meet with Tate's old dealer, Graham, and figure out if he was the one who sold Tate the drugs. Despite the fact that she's got a boatload of work to complete at Legal Aid, Callie's gonna Callie so she meets Graham at a local coffee shop to ply him for information. Graham swears he doesn't know who sold Tate the drugs — the friends had been steering clear of each other as they chased their sobriety in different ways — but his defensive posture leaves Callie and Judge Wilson with questions.
Wilson spends the reception following his son's funeral looking for answers to those questions: scouring the security footage from Tate's building for a familiar face. With Callie looking on, Wilson happens upon video of his son Tate walking into his apartment for what would be the last time. He's with someone Wilson suspects is the drug dealer but it's not Graham. The judge and his former clerk draft Graham into their effort to identify the suspected dealer and he comes through with a name (Chase Carter) and address. Wilson rushes out of the reception, ready to confront the dealer, and (OF COURSE!) Callie's ready to ride shotgun. Apparently, Callie learned nothing from that time that she climbed into the car with Troy Johnson!
When they arrive at the Chase's apartment, he's not home and, for a moment, it looks like Callie's appeal to Judge Wilson to let go of his anger is working but then he spots the dealer and his rage explodes. He pins Chase to the wall and accuses him of selling Tate the drugs that killed him. Chase swears that he didn't sell Tate the drugs; Tate had gotten them off the internet and taken them before Chase arrived. But because Wilson is really invested in finding someone to blame, the revelation doesn't sate his anger: he yells that by not staying with Tate, Chase effectively killed him. Callie tries to pull Wilson away before he crosses a line but, in his rage, he aggressively pushes her away. Her body crashes against a nearby car and it snaps Wilson out of his trance. He realizes, in that moment, that he was searching for a person to blame to avoid accepting responsibility for his role in Tate's death.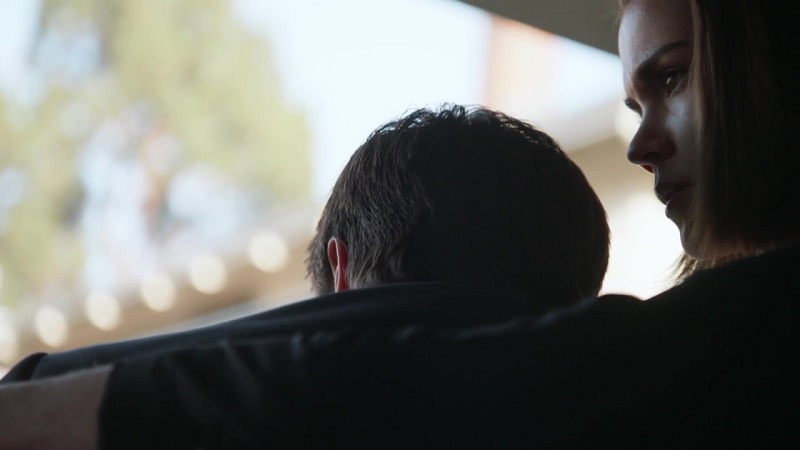 "I failed my son," Wilson admonishes, before dissolving into tears against Callie.
She drives him back home and, before they part ways, he apologizes for his behavior. Callie slips back into clerk-mode, reminding Judge Wilson that the desire to want someone held accountable for his loss is the same desire that compelled Jamal Thompson's mom to launch a protest and Malika to storm into his chambers. She pushes one step further: assuring him that Malika didn't know he was the target of the BLM protest and she hopes Wilson can respect Malika's decision to defy the restraining order because people we counting on her. Nothing gets resolved but, I suspect Callie's done enough good on Wilson's behalf that he'll heed her advice.
We're supposed to take comfort in this outcome, I guess — as it looks like Malika will escape serious punishment — but I can't help but be disheartened by it all. Not for what it means for the characters but for what this storyline says for about the capacity for empathy. There are real life Judge Wilsons out there, "unapologetically [protecting] the agenda of the powerful and the privileged" — lots more thanks to this current administration and its lackeys in the Senate — and are we to believe that their empathy hinges on a shared loss? Why does it take the loss of his son to see the pain of Jamal Thompson's mother, perhaps for the first time? And, if that's the standard — a standard that can't really be met — how will black and brown mothers who lose their sons and daughters to police violence ever really know justice from the Judge Wilsons of the world? It's bleak portrait that Good Trouble paints, one that sits with me, long after the episode ends.
But I digress…
In her free time between solving mysteries, supporting her former boss and saving her friend from a jail sentence, Callie manages to have some success at her actual job as well. Though her crime solving pulls her away from the office regularly, she's able to finish the busy work Teresa assigns for her and she shows up just in time to prevent the tenants from dropping out of Legal Aid's class action suit. But before she can celebrate her accomplishments too much, she discovers that the target of the class action is a subsidiary of Chinese development group, Anwei International, and Legal Aid/ACLU might not have standing to sue. But, ultimately, Callie discovers that Anwei has deep ties in California and so they can sue? Only problem? Callie's boyfriend, Jamie, is their lawyer.
Oh, Jamie… you were doing so good… now I fear you (and this relationship) are not long for this world.
---
At school, Davia has introduced her track three students — mostly low-income, students of color — to a book that she thought they could relate to, Kaffir Boy (an autobiography about a poor, black family living in South Africa under apartheid), but it hasn't resonated with her kids. Instead, Davia's students come to class unprepared, don't pay attention and just generally act as though they don't care.
"If you're treated as intellectually less than from day one, why would you believe in yourself or bother trying?" Malika asks, rhetorically. Mariana concurs, reflecting on her experience at MIT where professors would just assume the white women in her class were smarter. Davia assures them that she doesn't underestimate her kids but, in the classroom, she struggles to come up with an engaging lesson plan. A colleague — a black math teacher — urges her to meet the kids where they are…find a way to connect her students' interests to her lessons. She offers to be a sounding board for any ideas that Davia has…and I so, so wish that Davia had taken that math teacher up on her offer.
Because I imagine, had she gone to that teacher and told her that she, a 25 year old white woman from Fitchburg, Wisconsin, planned to perform the gumboot dance — a style of dance that originated among blacks working in South African mines — in front of her class, the teacher would have cautioned against it. But what ends up happening in that classroom is a confluence of Davia's naivete on race (which we saw a bit of last season), bad education policy (tracking students leads to segregated classrooms and opportunity gaps) and ineffectual training that's masked as a solution (*cough*Teach for America*cough*). For a while, it looks like Davia's class might actually be grasping the lesson she's trying to share but when they ask for a repeat performance and pull out their phones, it's clear what's coming: the next day, clips circulate around school and Davia is branded "Gumboat Becky."
At the home, things aren't going well for Davia either: convinced that she caught Malika and Dennis in a drunken post-coital haze, she stomps around the Coterie, imaging the pair hooking up. When her frustration from work and her jealousy over Dennis' new lover boils over, Davia goes directly to Malika and tells her not to drink with Dennis again. Malika's understandably dismissive of Davia — she and Dennis are adults after all — so Davia spills the details of his recent hospitalization and depression. She tosses out that Dennis also uses sex as a coping mechanism but Malika assures her they didn't sleep together, much to Davia's great relief.
Later when Dennis comes looking for someone to share his tequila with, Malika demurs and urges him not to drink alone. He realizes that she knows and invites Davia to his loft to confront her for breaking his confidence. He criticizes himself for believing she would keep his secret and accuses her of always lying. Her lies started with her claim that she broke up with Jeff when she hadn't, Dennis says, but Davia doesn't understand why he cares and he's unwilling to admit it.
"You know, talk about lying, your whole life is a lie! You lie to everyone who cares about you by hiding in your pain. Making everyone believe that you're just some sort of loser who dropped out of life for no reason," Davia pushes back before tearfully confessing, "I can't keep enabling you by keeping your secret."
She accuses Dennis of hiding in his loft, working on whatever's hidden behind the tapestry on his wall, and then, over Dennis' protests, rips the tapestry off the wall. Behind it? A huge mosaic of Dennis' son, Jacob, that offers a tangible reflection of a father's pain. Davia reminds him that the best way to honor his son's memory is to honor his own life and urges him to get help.
With her help, he finally does.
---
Coterie Sundries
+ Mariana continues to struggle as Speckulate: stymied by the investigation in to the leak of the company's salary information which has kept her from working on her social activism app. Mariana tries to micromanage the app through her boyfriend, Raj, but after her effort's draw his ire and the ire of Speckulate's Byte Club, she relents.
This week, Evan's cold shoulder towards Mariana finally thaws…though it wasn't a cold shoulder at all, he was just pretending to keep the company's new COO at bay. He wants to take control of his company back but, in order to do that, he has to make Mariana's app a casualty in the fight.
+ Malika's in a holding pattern, awaiting word on what charges she'll face for violating Judge Wilson's restraining order, so instead she tries to focus on the one thing she can fix: her relationship with Isaac. She hosts a dinner for his family and hers on the Coterie rooftop and affirms him as her primary partner. She even says "I love you" to him for the first time.
Awww! There goes Good Trouble, making me care about the straights again.
---
Next week: shit at Speckulate hits the fan.