Well if there's anything I like better than riding my bike off a cliff, it's an hour-long season finale allegedly focused on the impending high school graduation of a mixed-gender crowd that somehow manages to be all about BOYS. Oh wait, I'm sorry — MEN! Once, they were boys, and now they are men. How did they become men? By supporting each other. Because that's what men do. Yay men!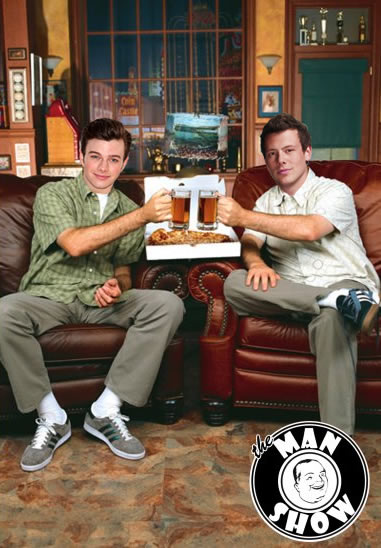 Anyhow, this week's episode didn't knock my socks off. However, it didn't inspire me to strip down to my socks and run drunkenly through a glass door, either. It was, all-in-all, "okay." To be honest I think this show has worn me out to the point where I've been unable to make any meaningful commentary on it for some time now, and I apologize. I'm doing my best, I swear.

We open in the Hallowed Hallways of McKinley High, where the Glee Club OG ("Original," not "Olive Garden," my former employer) can be heard performing "Sit Down (You're Rocking the Boat)," a medley which serves to subsume Mr. Schuster's fuzzy head into brief nostailgic hallucinations, like this one, from back when Kurt still had that unfortunate haircut and Tina still had lines:
Alas, the children are no longer children, are they Mr. Schuster?
After glumly intoning that there's nothing left to do or prepare for, Schuster scrawls "GOODBYE" on the whiteboard and assigns his students to prepare tear-jerking songs for each other to celebrate the end of Season Three — the underclassmen must prepare a "goodbye song" for the seniors and vice versa.
Mercedes: "Part of me wants to lock these doors and stay in here with everyone forever."
Brittany: "We could use the wastebasket as a toilet, and then we could eat Joe for the food, since she's been here the shortest so we know her the least."
Quinn: [to Will] "I really hope you're about to rap."
No, worse — he's going acoustic on a stool with "Forever Young" and it's fine, maybe even good, but we don't really give a shit, 'cause it's Mr. Schuster.

We then cut to that ol' familiar Hallowed Hall of McKinley High, where Kurt's monologuing about his personal development for those of us unconvinced that any of these children have played out actual character arcs.
Kurt: "When I first got to McKinley, I was afraid to make eye contact. I didn't talk about my politics, I didn't share what was in my heart, I — oh, let's just call the cadillac pink and be done with it — I was in the closet. Most days, I was also in the dumpster."
Kurt: "But McKinley has made me a stronger, more socially conscious fashion-forward person. and perhaps I played a small part in making it okay for tadpole gays all over Lima to be themselves in public — not a bad legacy for somebody who once pretended to be in lust with Rachel Berry so he wouldn't have to date Mercedes Jones. Now if I could just get through the next few days without turning into a hot mess teary trainwreck…"
Kurt then trots into the McKinley High Auditorium to meet up with Burt Hummel, who is taking another one of his exceptionally long lunch breaks to chit-chat with his homosexual offspring.
See, Burt's got a "graduation present" for Kurt, and it's not a Lamborghini. Is it a pony? It's not a pony.
It's a dance!
Burt's been exercising his dancing shoes with Tina Cohen-Chang and Ms. Brittany S Pierce  to create a near-re-creation of Kurt's glittery gay "Single Ladies" situation circa 2009: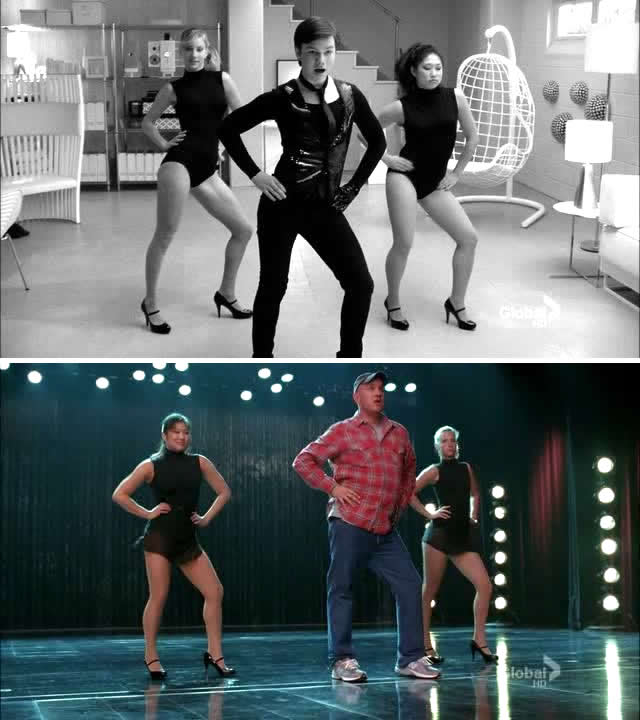 So that was nice and weird and cute or whatever, and Kurt says it's the best gift ever, even though it's not a pony.
We then cut to another strangely abandoned classroom where Blaine's getting antsy regarding his future with Kurt.
Blaine: "We've been putting this off for far too long but don't you think we should have the talk?"
Kurt: "Can't we just have two final days of denial?"
Blaine: "No! No, we cannot. This is happening right now, kurt, it's not some far-off thing in the future. You're graduating, I'm not. You know how hard long distance relationships can be. We both saw The Notebook."
Kurt: "You wanna know how I picture the end of my life? Just like in The Notebook, I'm sitting in a nursing home talking endlessly about my high school sweetheart, my first love, going on and on about every little detail as if they matter. Only in my version, he's there with me, telling me I should shut up so he can watch The American Cinematheque Salute to J-Lo.
Blaine: "So, we're gonna be alright?"
Kurt: "Yes, we're gonna be alright. I told you I'm never saying goodbye to you. We'll figure out this whole long distance relationship thing."
Best evidence that they're gonna be alright: Blaine just managed to transform a conversation about why they're not having The Talk into "The Talk."

Cut back to Glee Club, where Kurt intros his sure-to-be-dazzling tribute song by thanking everybody, "but especially the men in the room, who never saw me for the things that made us different. You only saw me for the ways we are the same. Because in this room it doesn't matter if you're gay or straight, what matters is that we're friends."
Yeah what about the girls who never saw him for the things that made them different, but the ways that they were the same, because in this room it doesn't matter if you're a boy or a girl, what matters is that they're friends. What about that? What about your Hags, Hummel?!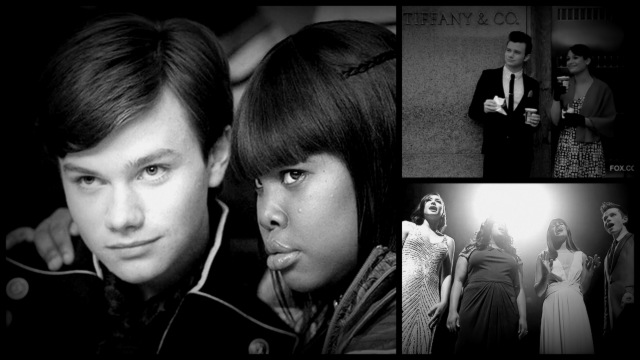 I'm completely unable to participate in the emotional experience of Kurt's Madonna cover due to my slack-jawed awe at how blatantly — yet invisibly to those not paying attention to such things — this show's obsessed with its own manhood. Also he's doing the assignment wrong, so.

Cut to the Hallowed Vanishing Hallways of McKinley High, where Rachel's wetting her Tuesday panties over the acceptance and/or rejection letters arriving shortly for her, her gay best friend and that vertically blessed pile of peet moss the kids refer to as "Finn Hudson."
The trio pinky-super-promise to rendez-vous in the choir room and open said letters together, which'll undoubtedly be happy for some and sad for others.

Also in the Hallowed Hallways of McKinley High, Sam has raided Party City and buried his ambitious girlfriend in a mountain of purple party balloons to celebrate today's preposterous and insane development regarding the future of a McKinley High senior: an "indie label" representative in Los Angeles saw Mercedes singing "Disco Inferno" on YouTube and wants her to do backup vocals for somebody, somewhere.
In yet another terrific feat of policy-defying college admissions stunts, Mercedes demurely adds that she'll be taking "extension classes" at UCLA, the second-highest-ranked public university in the entire country.
Santana says if it was anybody but Mercedes, she'd be super jealous and bitchy about it, but she truly believes Mercedes deserves it and therefore deserves a hug, and everybody knows that the point of a hug is to make your boobs touch.
Sam enthusiastically notes that Mike's future is also looking bright bright bright, and he's correct as Mike Chang is actually doing what Mike Chang would do if Mike Chang were a real person.
Mike: "I was all set to go to Alvin Ailey but then The Joffrey in Chicago called and offered me a scholarship."
Tina jovially adds that Santana must be creaming in her skort about swapping out that filthy Cheerios outfit for whatever fantastic uniform University of Lousiville's got up their non-existant sleeves. "Yeah, I can't wait!" says Santana in a voice tht suggests she could totally wait, possibly forever.
And thus, Santana's stormy VaLima monologue begins:
Santana: "This is so embarassing. I'm a star. So what am I doing heading to Kentucky? I'm just as talented as Mercedes, Boy Chang, Berry or Lady Hummel. Thank G-d for Mom. She'll know what to do."
…and just like that, we cut to Gloria Estefan partaking in breadsticks & lettuce at breadsticks with Good Ship Brittana.
Much like the rest of us, Brittany's remained in the dark regarding Santana's "coming out to her parents" experience and is undoubtedly rapt with attention as Maribel delivers the scoop:
Maribel Lopez: "When Santana finally said, Mami, Papi, I'm gay, all I could think of was 'I should've known'! When she was 8 she went trick-or-treating as Uncle Jesse on Full House. Spent three years growing out that haircut — business in the front–"
Both: "Party in the back!" [laughter]
Heather: "So you really didn't care?"
Maribel Lopez: "I care that my baby's happy."
Santana: "I wish Abuela felt the same."
Maribel Lopez: "I know, it sucks, mi hija, but you don't want a person in your life that doesn't support your dreams."
…or who was only on contract for one episode. Anyhow, something's clearly weighing on the mystifying mind encased in Santana's beautiful melon, and it's about Kentucky:
Santana: "I don't wanna go to that cheerleading program at the University of Louisville. I wanna go to New York."
Maribel Lopez: "Go to college, Santana. Do what i never got the chance to do. New York will still be there after you've earned your college degree."
Maribel Lopez: "Brittany, I understand you got into Perdue University?"
Brittany: "Not the University, the poultry farm. Plucker is a studied profession but I can't go to either because I'm not graduating."
It's hard to know what's more shocking — that we're re-introducing the Chicken Plucker joke from two weeks ago or that Santana's unaware her girlfriend is flunking out, big time.
Santana: "What?!!"
Brittany: "Yeah, I was kinda glad when I found out that I was flunking 'cause it'll give me a chance to do my senior year all over again, and way better! I'll show up to my classes this time. Plus I'll get to be a two-term senior class president."
Santana: "Why are you acting like this is okay? and why didn't you tell me?
Brittany: "What did you think was going to happen to me? I have a 0.0 grade point average."
Let's not dwell on the fact that Brit-Brit would've failed to move forward academically from 9th to 10th grade, let alone 10th to 11th or 11th to 12th, with a 0.0 GPA, and move forward to My Ideas For Brit-Brit. See, here's the thing: Brittany's a pretty good dancer. And just like playing football or being a model, dancing is a talent one need not attend college to pursue.
So, I think Brittany should give a local college a whirl, and if the experience flops, I suggest she move to Los Angeles and try out for So You Think You Can Dance. She may only make it to the final 30, but she could still segue that into, oh, I dunno, a spot as a backup dancer for The Beyoncé Experience world tour. Obviously she'll kill it, and end up working again with Beyoncé on a mini "Single Ladies (Put a Ring on It)" promotional tour which will land Brit-Brit on a series of impressive soundstages, such as the American Music Awards, Saturday Night Live, The Ellen DeGeneres Show and Today. Perhaps Brit-Brit will even snag a spot doing backup for Beyonce and Tina Turner at the Grammys, or get some small parts dancing in films like Fired Up and on television shows like Eli Stone and Swingtown. 
Who knows, maybe one day she'll get a gig teaching the "Single Ladies" dance to the cast of a new program about high school showchoir and the producers will like her so much that they'll bring her into the main cast. And then she can say goodbye to the Chicken Factory and Lima forever.
Speaking of Lima forever:
Santana: Well, maybe if Brittany's staying in Lima, I should stay, too."
Maybe this is just what we do at the end when the future seems too scary to bear — we freeze and cling to the nearest human being because that human being is the only thing we know for sure that we actually want. The rest of it is just so big and scary and unknown. The whole world.

Pages: 1 2See entire article on one page