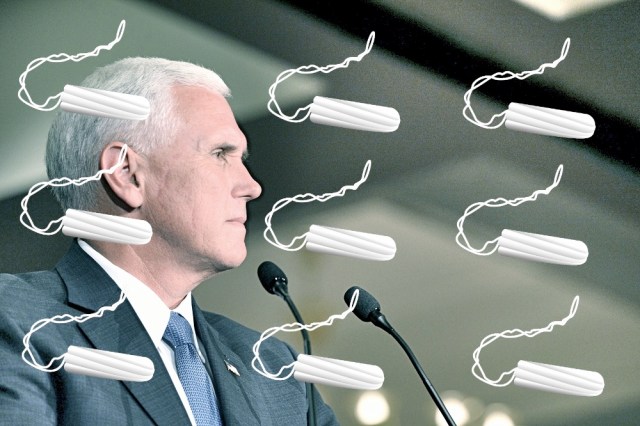 Mike Pence, somehow America's Vice President-elect, seems especially concerned about what I do with my lesbian body. He wants to know what I'm doing with it, he wants to know where I'm taking it, he wants to know who it's with, he wants to regulate it, convert it, ban it, and it's like, yes, I get it, you're obsessed with me. At a certain point, though, Mike Pence, you've got to put your money where your mouth is.
Which is why from now on Mike Pence will buy me my tampons.
The government should already be buying me my tampons, but they're not, and so Mike Pence will. Even if the government agreed to pick up Mike Pence's tab, I'd say, "No, Mike Pence will buy them using money from his bank account. Mike knows what he's done," and then we'll sign into Amazon to start the transaction.
Amazon? Who buys tampons on Amazon? Mike Pence does, because that's where these lesbian vampire themed tampons exist.
When Mike Pence is in the process of buying me my lesbian vampire tampons I'll make reference to the lesbian vampires as much as I can so as to say "lesbian" over and over into Mike Pence's ears. "Mike Pence," I'll say, "Do you know why associating lesbians and vampires outside of the context of this Carmilla-themed tampon box is offensive?" and he'll go, "Mmpngg," because that's how Mike Pence responds to a woman asking him a question, and then I'll go, "Because it perpetuates the stereotype that lesbians are predatory," and then he'll blink twice because that's his way of asking if he can leave.
I'll say, "Ohh, no, Mike Pence, you can't leave yet, you know I need to see the receipt!" which he then shows me in silence before exiting to rearrange a pencil drawer, or whatever Mike Pence does in between obsessing about how he can try to control a woman's body and thinking up new ways to hurt LGTBQ people.
I know it's going to be tough getting Mike Pence to pay for my lesbian vampire tampons, but I'll figure it out. If I have to pretend that I want conversion therapy and reach out for financial assistance – which he will agree to since I'll suggest this might make a strong argument in front of Congress ;) – only to then pocket that money, I will. If I need to bewitch him into some sort of Disney-princess style contract which states that for the rest of time he, Mike Pence, will buy Erin's lesbian vampire tampons, I will.
Thanks in advance, Mike Pence, for buying me my lesbian vampire tampons until I die, which is when I will then see you in hell!