Cut to Glee Club, where the Seniors have prepared a little number for the baby squirrels, namely "You Get What You Give" by the erstwhile "New Radicals."
Straight out of the proud farmlands of Lima, Ohio, a bucket of Silage slurps itself into a human form wearing an American Apparel hoodie, and then exclaims with unnecessarily ragey fervor: "THIS IS YOUR GLEE CLUB, TAKE CARE OF IT AND IT WILL TAKE CARE OF YOU!" Yes — the Silage is Finn Hudson!
The song begins and it's a lovely cover, besides Finn's parts — which are basically all of the parts — but it seems without Brit-Brit they've been unable to coregraph any dance moves and therefore spend the entirety of the song walking forwards and backwards with occassional timeouts to awkwardly fondle the underclassmen.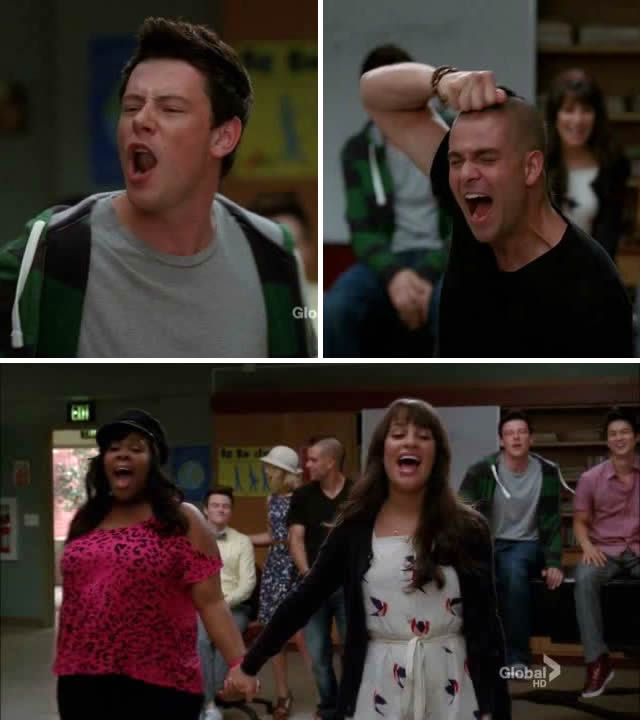 Let me explain this dance to you: Rachel and Mercedes, holding hands, approach Artie and Tina. Rachel grabs Tina's hands while Mercedes does a sort of hands-off standing-from-a-distance lapdance for Artie, and then Rachel touches Artie's chin, and then Mercedes points at Blaine and they give each other "HELL YEAH" faces.
Mike Chang then bows before his blushing Tina Cohen-Chang, Quinn hurls herself upon Teen Jesus for two seconds, gets up, and then stands real close to Artie, clutching Artie's face as Artie clutches her upper arms and they make strange affectionate faces at each other, and then Puck gives Sam a high-five and then Puck gives Sugar a HELL YEAH point like they had sex yesterday or something and then — AND THEN — Puck attempts a Moonwalk that embarasses everybody in the room.
Oh, I'm not done, it keeps going — Puck then wraps his fist around a tuft of his signature mohawk and dramatically lets go of said tuft while jerking his head backwards, a movement which apparently holds deep significance for Sam, who cheers like HELL YEAH!, and also for Artie, who shakes his head like, "Oh that Puck, always messing with his mohawk during strange musical numbers!"
Then Santana jaunts jubilantly towards her girlfriend, grabbing both of her hands and swinging back and forth while Brit-Brit remains in her chair, and then they hug, and then — AND THEN — Santana leaps gayly over to Mr. Schuster and violently tousles his hair.
Then the entire Senior Gang descends upon their young classmates, hands rife with germs and disease, in order to pull said classmates onto the dance floor and arrange them in a circle. The upperclassmen then prance around the circle of underclassmen, continuing to sing and oddly touching each other.
At the song's end, the seniors take the seats and look meaningfully towards the juniors who stand in the middle of the classroom wishing they'd brought that anti-bacterial lotion to class.

Cut to one of McKinley's many abandoned classrooms, where Finn and Rachel have inexplicably set up shop for wedding planning and are choosing chairs — Rachel wants to sit in the nice expensive chairs, Finn wants to sit in the not-nice cheap chairs, and I want them both to sit on a knife.
Rachel: "I compromised on the food, I compromised on the location, I compromised on the flowers, does my butt really have to compromise on what it sits on.
Finn: "Maybe what you're really upset about is that you're compromising on your husband."
That's what I'm really upset about, actually, so thank you Finn.
Unfortunately Rachel refuses to see the cold hard truth, instead insisting that they'll wed and be together forever and barf ew ugh whatever.

Cut to more-or-less my worst nightmare, which's a Finn voiceover echoing through the Hallowed Halls of McKinley High.
For his VaLima Monologue Finn's inner voice congratulates Finn on his Total Amazingness and concludes:
Finn: "I'm getting married to a great girl and moving to New York to chase my dreams with her and my gay stepbrother. And how do I know? Because I nailed my "Inside The Actor's Studio" audition with the main dude himself."
And cut to James Lipton, the main dude himself, in some imaginary theater in some imaginary place during some imaginary time —
James Lipton: "I was very moved by your letter and application, Finn. You're no doubt aware that you would be an exceptional case, should we accept you?"
Finn: "Yes."
James Lipton: "Why don't we start with your dramatic monologue."
Thanks for the nod for this being a Master's Program, Glee writers! Unfortunately, Finn's clearly unaware of what that means.
We continue on Finn's Great Adventure to Mr. Schuster's office, and honestly I'm surprised the room doesn't implode on itself from the airsuck of these windbags occupying the same enclosed space. Finn's unimpressed with Schuster's yearbook signature, because didn't he also tell Becky Jackson to have a cool summer? And is that fair?
Schue, weighed down by the immense burden of having a boner for Finn Hudson, says writing his true feelings for Finn would make him cry or something, which is pathetic, and then Mr. Schue unloads:
Mr. Schue: "Finn, wait, I need to tell you something. Something I would rather not have written down anywhere. Please have a seat. Um, when I first took over the glee club we needed a male lead, i heard you singing in the shower in the locker room, REO speedwagon, you were really good, so I planted the pot in your locker and blackmailed you into joining glee club. It was wrong, and though I can't argue with the results, I've always hated myself for doing it. I'm very sorry, Finn, I wanted you to know the truth before you left, so."
Finn: "You are so much cooler than I ever thought you were."
Teacher of the year, ladies and gentlemen. Teacher of the Year!

 Cut to Finn's very own home, where Finn and his mother are discussing something related to Finn, so therefore I don't give a flying fuck, but speaking of flying, I think Finn wants to join the army to make his Dad proud of him, or whatever. Yawn.
Finn: "Everything seems like it's falling into place, everything but him."
I'm obviously very pro-this-army-plan, as it'll make cavorting with a Bohemian Broadway Belle highly inconvenient and will up the chances that Finn might step on a land mine within the next 6-8 months.

Cut to the Glee Club, and speaking of Finn — because really, who else do I ever want to speak about — in the spirit of Kurt Hummel, the juniors have forgone the assignment to "say goodbye to the upperclassmen" in favor of saying goodbye to just some of the upperclassmen.
Or, in this case — one.
Artie: "With all the dedications being thrown around McKinley this week, there was one we wanted to make sure didn't get missed. Finn — right now you're somethng I never thought possible when I first rolled down these halls. You're my friend. Our friend. Even before Glee Club ws kinda cool, you had our backs. You were on the football team, you were one of the most popular kids in school, you had a lot to lose and people forget the sacrifices you made. We want to thank you."
FINN GIVING UP BEING THE MOST POPULAR GUY IN SCHOOL WAS A SACRIFICE? You ever been waterboarded? That's a sacrifice.
The underclassmen then proceed to blasphemize The Beatles' "In My Life," which is a lovely song and it's quite well done, but I still can barely believe that the underclassmen have also betrayed the assignment in favor of a Finn Hudson circle-jerk. I suppose Michael Jackson's estate has fallen on hard times as of late, but they really shouldn't be allowed to do this to The Beatles.

We then return to the VaLima Monologues, taking place as always in these dear dear dearly hallowed halls. Now we're onto Quinn opining on the slings & arrows of her career at McKinley.
Quinn: "Who would've thought I'd end my McKinley days right where I started — back on top. I got into the school of my dreams AND we won Nationals. Plus, I'm feeling stronger every day. Everyone else is so emoitonal, but I don't feel that way. I guess I've cried enough tears for three graduations. Or maybe it's just hard to get weepy when I look at my friends."
Quinn: "They've grown into such incredible people, nothing's gonna stop any of them — well, maybe one of them."
Who could that be?
Puck? Sigh.

Cut to the bathroom, the only place on earth where Quinn and Rachel can talk to one another woman-to-woman surrounded by the stench of rotting urine, discarded sanitary napkins and festering bowel movements. No seriously, they only talk in the bathroom.
Quinn: "This freshman just gave me a hug and told me to never change. Poor thing is too young to realize that change can be so good. Think… if we hadn't changed, we would've never been friends."
Rachel: "It's still so weird, having you call me a friend."
Miraculously somebody fact-checked this scene and Quinn bequeaths her beloved with an actual gift that makes actual sense — a Metro-North pass to New Haven, so Ray-Ray and Quinndolin can visit one another all year long.
Having sealed that deal, Quinn announces she intends to "give back" and by "give back" she means "help Puck with his geography test," which's a strange yet mysteriously popular method of "giving back" in these parts.
See, Quinn's determined that Puck's failure is linked to his declining confidence, and all he needs to get his confidence back is attention from a lady, and as ladies exist primarily to fix the men in their lives, we all know where this is going.
Quinn: "I would've never given my virginity to this guy. The Puck I fell in love with had swagger, and you know what questions Mrs. Doosenberry is gonna ask you so you just need to get your confidence back so you can get all that stuff out of the roach motel."
Puck: "And how am I supposed to do that?"
Quinn: "Like this" — [she kisses him] "You have to remember the guy you were when we first met."
Quinn redeems Puck and gives him magic, and Puck strongly saunters back into the hallways while monologuing that a kiss from a hot girl "can bring you back to life, like CPR but with tongues."
He declares himself an "All-original, grade-A badass, and tells the test to "get ready" because he's "about to make Puckerman your daddy."

We snap on over to a quick Sue/Roz interlude, in which Roz suggests that although they have nothing in common, they have one thing in common, and that thing is hating Principal Figgins, so shouldn't they work together to kick that ish to the curb? I hope so!
Roz makes a crass joke about Sue's boobs, exits, and her airspace is quickly filled by Quinn, dressed as always for a garden party and holding a dry-cleaned Cheerios uniform.
Sue's got some honestly quite-lovely words to share with Dear Quinn:
Sue: "You keep it. I'm retiring this uniform. Sit. You know when I first laid eyes on you, Q, I thought you reminded me of a young Sue Sylvester. But looking at this amazing woman sitting across from me right now, I realize I was wrong. You're nothing like me. Youre better. Sure, I'm as smart as you are, and I'm every bit as pretty, but somehow you're slightly less evil and I admire that. I admire you, Quinn Fabray. I admire your perseverance. You're gonna go so far, kiddo. And I'm gonna ha ve the best time watching you do it. And I'm gonna get to say, hey I remember her from way back when, way back when she was getting Ryan Seacrest tattoos and lying about who the father of her unborn child was."
Aw.
Quinn: "I'm gonna miss you."
Sue: "I don't see how that's possible, but thank you."
Did you hear it, reader? Did you? I did. I heard Jane Lynch talking to Dianna Agron. I understand if you missed it over the boring drone of information being communicated about Puckerman's Geography Test. He passed!

Okay, time to graduate!
McKinley High has somehow stuffed everybody's families and the entire underclassmen student body into a tiny auditorium, and can I just suggest that the football stadium would've been a more befitting locale for this event, but nobody cares what I think, as illustrated by the fact that Santana is wearing a gown and Brittany isn't lying on top of her.
Puck leads us in Bruce Springsteen's fantastic anthem, "Glory Days," as Extras cheer and our dearest dearest Glee Clubbers make their various entrances and all the parents played by actors that weren't busy that day are in the audience and everybody is so full of cheer!  Also Kurt has an evil bug made out of glitter on his robe, just saying.

Following the ceremony, Kurt/Finn/Rachel meet up in the choir room to open envelopes and see who got Anthrax this time.
Sheesh, wouldn't it be so stressful if college admissions decisions actually weren't doled out 'til graduation day? Like if this was how it really happened? I probably would've gotten rashes on all my body parts.
Finn goes first.
Finn: "I didn't get in."
Rachel: "It's okay."
Finn: "Please, somebody else just open theirs –"
Kurt: "I'll go next…."
Kurt: "I didn't get in. I didn't get in."
Rachel: "Oh Kurt, I'm so sorry."
Finn: "Your turn, Rachel."
Rachel: "I got in."
And although you'd expect her oafish boyfriend-like creature and her gay bestie to take a time out from their endless characteristic self-absorption and congratulate Rachel on making her own dreams come true, they both kinda half-smile, like total assholes. And SCENE.

We return from a relaxing commercial break to find Rachel VaLima monologuing about how wonderful everything has turned out — she won Prom Queen, her team won the Show Choir championship, she's gonna marry that quarterback she molded out of play-dough and varnished in her E-Z-Bake Oven AND she's on her way to Broadway! But there's still something holding her back —
Rachel: "I can't bring Finn to New York. He'll be reminded of his rejection every day. And being there without Kurt would be like remaking Beaches without the Bette Midler character. So, I've decided — I'm deferring my acceptance to NYADA for a year and working with both of them on their applications and auditions to guarantee we'll all go there together next year."
Rachel: "I'm actually thankful for all this. I used to think broadway was my one and only love. I'm so glad something has made me come to my senses."
Um.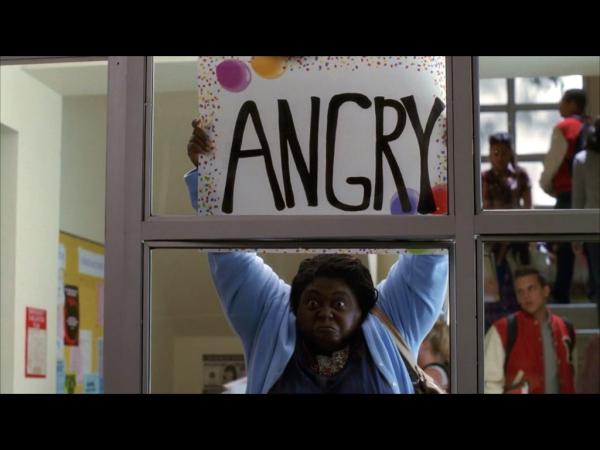 In another shady & hallowed hallway of McKinley High, Maribel Lopez is delivering Santana her graduation present.
Santana: "Wait, hold up, have you had this money the whole time? Why aren't you driving a Lexus?"
Maribel Lopez: "I'm not driving a Lexus because for the past 18 years, I've been saving all my extra change, tax rebates and Christmas bonuses so I could help you pay for college."
Santana: "But I got a scholarship."
Maribel Lopez: "If you coulda told me that 18 years ago, I would've bought more shoes."
Santana is, of course, pensive about this whole exchange because despite its formidable ranking on the Campus Pride Equality Index, nobody ever got famous in Kentucky.
Santana: "You know what, keep it then. Go on a trip with Dad or something. I don't need it. I told you, I don't wanna go to college."
Maribel Lopez: "Then use it to go to New York. I trust you, I trust your dreams, and your talent, and I pity anyone who tries to get in your way."
Santana: "Are you serious?"
Maribel Lopez: "I would love for you to go to college. But it's not my choice. This is your first moment of adulthood, mi amor. From now on, it's up to you."
Wow! Well, Abuela may be a bit of a letdown, but Santana's got a really awesome Mom in her corner. I hope we see more of her.
The cards are falling into place…

…and cut to Finn picking up Rachel so they can go get straight-married, have ten bilion lizard babies and start a potato farm to grow as many mini-Finns as possible.
But instead of pulling up to the church, Finn pulls up to the train station. Rachel's clearly not enthused about marrying in the Parlor Car (the chairs, for starters, leave much to be desired), but marriage isn't on the menu today after all, surprise!
Finn, in cahoots with the Fatherberrys, have arranged for Rachel to hightail it over to the Big Apple and pick a nice little hovel in Greenpoint where she can spend the next four years making vlogs with Kurt and eating carrot soup on the floor with Quinn when she visits from New Haven. I assume she'll return to Lima for the remainder of the summer, but I guess we're supposed to not think about that.
Rachel's not into this plan, she panics, because Finn is that thing she's holding on to, like I said before. In times of great uncertainty, we cling to the only things we know we still have. But Finn's gonna rise above it —
Finn: "The thought of you being stuck here for another year beacuse of me makes me sick."
Rachel: "Then come with me. We can get married in New York, and live in a little shoebox apartment together, it'll be so romantic."
Finn: "Do you love me?"
Rachel: "Of course I do."
Finn: "Then tell me the truth and not just something you think I wanna hear. Are you 100% sure you wanna marry me?"
Rachel: "No — no one is 100% sure of anything."
Finn: "I am."
Ooops.
Finn: "I am that sure you're something special, that this is just the beginning for you, okay? That you're gonna do amazing things but to get there, you gotta have these experiences on your own –l listen to me — I –"
Rachel: "Are you breaking up with me?"
Finn: "I'm setting you free!"
Rachel: "Oh My God"
Lea Michele squeezes every last emotional ounce possible out of this scene, and the result is a ridiculously believable situation, maybe the first conversation I've seen these two have that actually rung true.
Finn: "Look – do you know how hard this is for me? How many times I've cried about this?"
Rachel: "No, I'm not going. I'm not going, not without you."
Finn: "You don't have a choice, I can't come with you."
Rachel: "Well then I'll stay here, I'll go wherever it is that you're going?"
This seems like a good a time as any for Finn to break the news that their only chance of being together is if she's cast in the Middle East Tour of "Hairspray."
Rachel: "You're joining the army? Are you insane? I can't believe that this is happening right now."
Finn: "You're gonna get on that train and you're gonna go to New York and you're gonna be a star. Without me. That's how much I love you. You know what you're gonna do? Surrender. And I know how hard that is for you becuse of how hard you hold on to stuff, but but we're just gonna sit here and we're just gonna let go, okay, and let the universe do it's thing and if we're meant to be together then we're gonna be together, whether it's in a little shoebox in New York or on the other side of the world. okay? Can you do that with me? Can you surrender?"
Rachel: "I love you so much."
Finn: "I love you."
And for the first time ever, he's showing it.
As Rachel emerges from the car miraculously unfazed by the fact that she's being delivered a billion miles from home with a tiny pink carry-on, she breaks into "Roots Before Branches," and she cries her way through it towards the platform, where her friends are waiting, dressed like a bunch of total inbeciles.
No really, what happened in the Costume Department today. Blaine's cardigan appears to have been attacked by a red-crayon-yielding toddler excited about parachutes, Artie has turned a copy of National Geographic into an actual jacket, and I seem to recall memorably appalling outfits adorning Kurt and Emma in this scene, as well.
We then proceed gayly onto the train and Finn does that annoying thing I hate where people run next to a train waving like Poppa's going off to war…
…and then Rachel saunters onto the train, still cry-singing, and before you know it the train lands in New York City and Rachel undertakes bizarrely ill-mapped journey from Grand Central to the Theater District to Bryant Park, I think, and you know, there she is in New York City. HURRAH! Without Finn!
I'd wondered how, exactly, they'd gotten Lea Michele to sign on for another excruciating season of this program — but this makes sense, doesn't it? She's gonna be given her very own show-within-a-show! It's gonna be Rachel's show. And Santana will be around, and Kurt will be around, but it will be the Rachel Show. Could be fun, you know?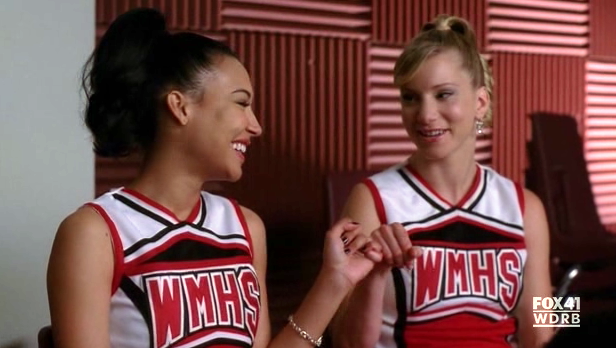 And thus completes Season Three of Glee. It's been a pretty terrible season, all-in-all, which is why as much as I'd like to pontificate on the future of Glee for a few paragraphs, I cannot, because I need to go stick my head in the oven. Put a fork in me. I'm done.
Pages: 1 2See entire article on one page