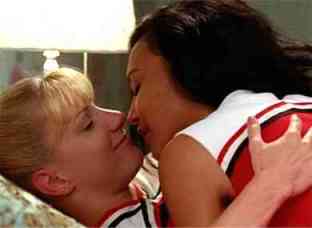 Well, this certainly bodes well for Brittana's future (as well as keeping the show at the apex of mainstream gay pop culture). If you stalk the opening credits of the show you've already noticed that every single episode is written by Ryan Murphy, Brad Falchuk and Ian Brennan.  Well! Those boys just hired a brand spankin' new writing staff to keep the upcoming third season from becoming completely ludicrous. While the new hires include additional five (mostly gay) men, the big news is that they named out lesbian TV writer (and Sara Gilbert's partner) Allison Adler as co-executive producer! Adler has a ton of TV writing experience as a producer on No Ordinary Family, Family Guy and Chuck, among a million other credits.
Of the shows criticism during season two, Murphy told the Hollywood Reporter, "last year you had the baby story line that everyone could follow and this year we didn't do that. Next year we're going to be doing that more. What I have learned from this season is I think people want story arcs."
Elsewhere in Gleeville, has anyone made it out to see the live tour this summer? Jane Lynch and Gwyneth Paltrow cameo'd this week at the shows in East Rutherford, New Jersey which is very exciting. The whole tour is currently being filmed for a Glee 3D movie to be released later this year.
Here, let my boyfriend Darren Criss take you on a behind the scenes tour:
Finally, are we all aware that Jane Fuckin' Lynch is hosting the EMMYS this fall?! Boy, what a ways we've come since Joyce Wischnia, right? When asked where she may appear during one of those requisite award show openers she teases that we may see her in drag as one of the Mad Men boys: "I wouldn't want to be one of the girls. They had no power."