Welcome to the tenth episode of the fifth season of Glee, a charming homespun comedy about a pair of genetically enhanced laboratory mice who reside in a cage in the Acme Labs research facility, where they perform elaborate tap-dancing numbers to the sound of iced tea being stirred, compare and contrast argyle sock collections, knead challah, write magnetic poetry, eat raw hair serum with fig compote and have very loud sex.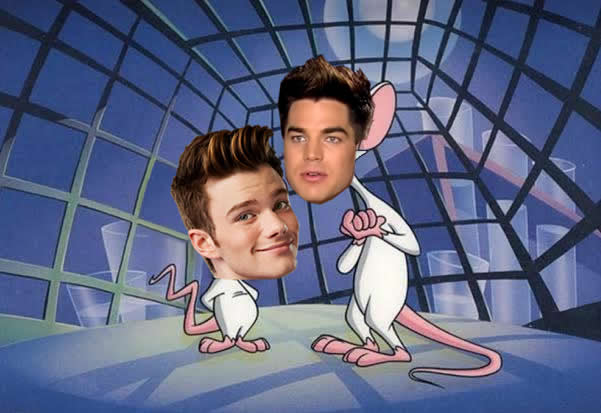 I will be skipping the adult parts in this recap because nobody's got time for that and Sir William and Emma having sex is gross and I don't want to talk about it. Luckily, nothing really matters, just like Queen said.
---
We open in the Hallowed Hallways of McKinley High, where Blaine, Tina, and Sam are performing a sanitized version of "Jumpin' Jumpin'", apropos of nothing.
http://youtu.be/JPqPAWiG_QM
It's an unambitious but watchable situation.
At the song's conclusion, Sir William declares that this jubilant club anthem isn't a good choice for the National Gladiators Ultimate Supercontest Choirblast Final Extravaganza Celebration Competition. Fortunately, Sam/Tina/Blaine explain that they weren't submitting this tune for consideration, they simply desired to perform together as a trio for their own selfish purposes.
Sir William reminds everybody that school's ending soon and, depending on their relationship with Ryan Murphy, the children may or may not see each other's ugly mugs again after graduation. Tina starts crying because time's running out and she hasn't had lesbian sex with Marley-Kate yet.
---
We then secure a sponsorship with North Face, deck ourselves out in reflective thermodynamic gear, and ride an ice sculpture all the way to New York, New York, home of the worst dentist I've ever been to, where Rachel's apparently moved in with Adam Lambert "indefinitely" despite the fact that on the salary of a Broadway star, she could actually afford to live in a g-dforsaken hotel if she wanted to. She's also forced Adam Lambert to sleep on the couch because she is rude/traumatized.
Although one's day off is generally best reserved for morning sex, pretending to exercise on the elliptical trainer at the gym even though you're really just watching Judge Judy, standing in line at Duane Reade, jostling with the masses at Fairway, forgetting your account number at the bank and begging your doctor at the Ryan Clinic for more Xanax, Rachel's not interested in maintaining her health and happiness on her day off, she's interested in holding additional rehearsals with her own private band! Adam Lambert pops in to deliver her dry cleaning and Green Tea, because he is a Perfect Human.
Rachel's super-thrilled to have Adam Lambert in her lifescape.
Rachel: "I have a new best gay!"
Adam: "I kind of hate that term, it makes me feel like a pet."
Rachel: "What do you mean? It's so funny! You have done more for me in the last 24 hours than that traitor Kurt Hummel has since graduation. I was just gonna sing the entire Funny Girl score, do you wanna watch?"
This conversation sort of punched me in the face. Her dismissal of Adam's discomfort with a term because she thinks it's "funny" and her dismissal of everything Kurt's ever done for her because of ONE disagreement about how one must conduct one's professional career is disappointing and makes me want to cry and then smash a tomato in her face.
ANYHOW, Adam Lambert is like, yeah thanks but no thanks I'd rather not watch you sing Funny Girl 2-3 times, but I'd love to sing with you, ideally a nice rock 'n roll song that'll excite all the lesbians who have crushes on me. It's unfortunate that my Guitar Hero PTSD interferes with me truly enjoying what is about to happen, because what's about to happen is a smokin' hot rendition of "Barracuda."
http://youtu.be/3dRgWvPWPM0
---
We then teleport back to Lima, Ohio, home of the Buttonbush Wetland Preserve, where Blaine and Sam are trying on their graduation gowns for this new fetish thing they read about on datalounge.
Tina pops in and begins crying again, lamenting that they never talk to Puck, Mike or Rachel anymore, and therefore they'll probs never talk to each other again, either, because "the glue that holds high school friendships together is high school."
Sam promises Tina that he'll send her a weekly Vine of him doing an impression if she agrees to Vine him a shot of her soaping up her boobs. Blaine says they need to "say goodbye to this place with some heroism and some drama" and therefore he will press Student Council to hold a Lock-in, because nothing's more dramatic and heroic than a school-sponsored social event that takes place at school!
---
Although Student Council quickly signs off on the plan, Principal Sylvester vetoes it because Obamacare. This inspires Tina to hurl herself upon the surely diseased tile floor of this godforsaken schoolhouse and weep like she just got a pony for Hannukah and then it died.
Sam, dressed like he's on his way to pick up a nice friendly Bear at The Flame Bar's happy hour, agrees with Blaine that the best solution to Tina's desolation is to have their own private Trio Lock-in because whatever, and then Sam asks Tina if her boobs are getting bigger and she says that they are.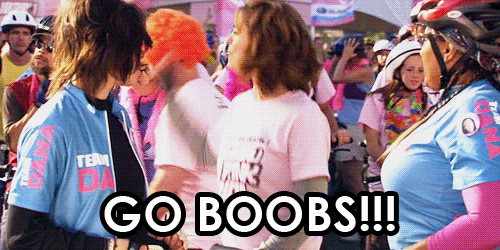 ---
We then board a crowded United Airlines plane and drink so many miniature bottles of vodka that we take off all our clothes and pass out and the plane is forced to make an emergency landing in New York, New York, where Santana's affixing a generous weave to her already luscious locks and Adam Lambert's dropping by to pick up Rachel's sheet music.
Santana informs Adam Lambert that she's planning to "psych out" Rachel by wearing sexy outfits and plastering the theatre walls with pictures of Rachel from when she was a "butterball" to remind her "once a fattie, always a fattie." Adam Lambert keeps it real:
Adam Lambert: "Oh, girl, that is so high school."
Santana: "Okay, life is very high school, just with bigger stakes, and if you knew Berry the way that all of us did, you would be applauding me. In the beginning, it's all sunshine and giggles and stickers, and then the second that you want the same thing as her, a dark cloud comes over her whiskery little chin. And she will chew you up and spit you out like a Jewish Hillary Clinton."
Har.
When Adam Lambert informs her that he's let Rachel into his hearth indefinitely, Santana is furious, and Adam Lambert is flawless:
Santana: "How could you do this to me! You are such a traitor!"
Adam Lambert: "Well, A: I hardly know you, so I'm not really being a traitor, and B: she needed a place to stay and I needed money."
Santana says maybe Auntie Snicks could help him out with money. ARE YOU THINKING WHAT I'M THINKING?????
---
We then put on our Straddle This boxer-briefs and our smoothest pleather jackets, drink a bunch of boxed wine, and race like Roadrunner all the way back to Lima, Ohio, where Blaine and Sam have interrupted their superhero-saves-the-hapless-blonde role-play to meet up with their third wheel, Tina, at McKinley High After Dark.
Immediately, the children get to work ruining the most memorable song from my favorite movie of all time, The Breakfast Club. Seriously that's my favorite movie of all time.  The song, my kittens, is "Don't You Forget About Me," and the performance is indeed unforgettable.
There's a part of every episode where I think to myself, with a sad facial expression, Oh my G-d I'm going to have to watch this AGAIN because part of recapping is watching the episode again. This song was that moment for this episode for me.
Witness the splendor with your own two eyes:
http://youtu.be/RsJHzFDQD4Q
Alas, mere moments into their triumphant last hurrah, who should show up but….
BECKY! Yup, and she's brought a duffle bag of 11-hour energy drinks and Twister.
Becky: "If you don't play Twister with me, I'm calling the cops! OH SNAP!"
Some moments, minutes, hours or perhaps light-years later, Becky's macking on Blaine and peer pressuring him into consuming 11-hour energy drinks as they attempt to engage in a twisty game of Twister. Suddenly, Blaine realizes his bosom buddies have flown the coop and he must seek them out, like how Moses climbed Mount Sinai. Becky sprawls out on the Twister board and says "When you come back, I'll be here."
Blaine roams the hallowed hallways, full of aching and yearning desire, and unsurprisingly to anybody who's been to a lock-in, he finds his besties engaged in heavy petting.
Yup, Sam and Tina are playing tonsil hockey while seated next to one another on a table — which's awkward and uncomfortable, shouldn't they be horizontal? — and Blaine's absolutely horrified to witness this carnal display of heterosexual lust.
---
We then use invisible ink and stealth skills to steal a flashy pink car from a mean person and race all the way back  to New York, New York, where Adam Lambert's helping Santana with her lines over a fancy feast at Fake Ellen's Stardust Diner. This is what Santana was talking about when she said she could give him money, so stop saving your pennies for that pretzel. Santana's obviously requested Rachel wait on her because she's being a child, and Rachel is predictably aghast.
Rachel gets all Lima Proper:
Rachel: "I gave you the apartment, I gave you Kurt, and you are never, ever, let me repeat, ever gonna play this part. Ever. Okay? But you can't take my new best friend."
Kurt: "You don't own him, Rachel."
Rachel: "I'm not speaking to you, traitor!"
Someone named Gloria has requested the servers perform the song "Gloria" and both Santana and Rachel are eager to get into the ring and sing for their lives.
It's a shame these kids can't work out their shit, because Santana, Rachel and Adam Lambert sound great together:
http://youtu.be/wuS8yKdp_6Q
At the conclusion of the song, Rachel and Santana demand Adam Lambert decide which of them is the Prettiest Pretty Pretty Princess in all the land, and Adam Lambert is like NO THANKS.
Adam Lambert: "You know what, until you guys can figure out your stuff, I'm done. I'm done with the band. Yeah. You know what Santana, you can find a new singing partner. Rachel, you can be my roommate, but I'm not your new best gay. And Kurt, you might be used to this kind of drama, but I'm not. I'm over it."
---
Back in the hallowed hallways of McKinley High, Blaine's arbitrarily upset that Tina and Sam ruined their Trio Night by sucking face. To be fair, it was Becky who genuinely ruined Trio Night, but whatever.
Tina and Sam insist they just needed to explore their potential sexual chemistry but have since transcended their hormonal urges and would like to be a trio again. Blaine says he cannot forgive them for their misdeeds because ummmm… why anything, I guess.
---
Back in New York, Kurt's attempting to mediate a conversation between Santana and Rachel Berry, the former of which suggests they duel it out Lima Heights style, which I hope includes mud wrestling.
Santana says that Rachel is a "selfish bitch," and I hope both of them die in a fire.
Kurt: "Okay, we promised each other that we would stick by each other for two years, and you guys haven't lasted for two months because you don't care about anyone but yourselves. How about me? How about the fact that I lost my roommates? Or the fact that you scared off Elliot and now he wants to quit the band?"
Santana and Rachel insist that their dispute, which's over a professional matter, won't interfere with their professional lives. With the band. Kurt's like, look, I don't want this drama in my band, I'm starting a new band with Demi Lovato and Adam Lambert, it's a trio and we're going to kill all of your children and eat your toast after we burn your toast.
Santana's irked that her girlfriend's joined the new band, but Kurt's like yup your girlfriend does not have time for your shit, she just wants to sing and have fun!
Cut to the gig, which Satana and Rachel have resentfully agreed to attend while "pretending to be friends," which means sitting next to each other without yelling while making pissy faces at the people they are supposed to love and enjoy.
Dani's got blue hair and is wearing a tuxedo, and the new band is called One Three Hill, and everybody LOVES it!
See for yourself:
http://youtu.be/ekr8c6ixY3k
---
Back in the Barbie Bushwick Dreamhouse Loft, Rachel's pilfering through Santana's drawer to find the thong she was wearing the night they first scissored.
Santana: "Why are you digging through my panty drawer, lezzie?"
Rachel: "Well, because before this drawer was filled with crotchless panties and stripper bras — ah! It was my scented candle drawer. Elliot's lovely, but he seems to only know how to cook with cumin and curry."
Santana: "Okay, can we just stop for a second about how you used to have an entire drawer dedicated to scented candles?"
The two ladies take a break to get real for one second, admitting that neither of them have any female friends, and never really had female friends in high school either, which is mostly, I think, because Ryan Murphy hates women. Rachel asks Santana why she had to go for Rachel's part, and Santana says, "There was an opportunity and I took it, you would have done the same thing."
Before we can get too deep, One Three Hill shows up with a cakebox and some coffees. They tell the Warring Duo that they'd all be happy to sing or eat curry together if the two can stop acting like the living embodiment of what misogynist douchebag comedians think PMS looks like.
They're like no thanks, gtg, and Dani's like, please stay, it'd make me feel less guilty about being okay that Kurt kicked you out of the band, but Santana just gives her an icy kiss and heads off to rehearsal. The thing about lesbians on television is you can never tell if they're kissing chastely because they're feeling chaste or if they're kissing chastely because Television Is So Mean To Us.
---
We then get so drunk we can't even tie our own shoes and walk all the way back to Lima, Ohio, with only our socks on, where Blaine is admitting to his sexually adventurous friends that maybe he was being a little crazy to freak out about their game of hide-the-salami.
Blaine: I thought we were gonna have the perfect senior year, and the one that we got has been so weird and really hard.
Blaine says they'll be friends forever and then they all hug. Really they should just have a threesome, like the movie Threesome. Somebody says, "It feels so weird to think about Glee Club going on without us." I know that somebody said that because I wrote it down in this wordpress box.
Sir William says some nonsense about accomplishing things and pizza and says they're all ready for nationals and that next week they're all gonna be in Los Angeles and shouldn't forget their sunblock. They sell sunblock in Los Angeles, though, just FYI.
This last musical number is the highlight of the episode if you watch Glee stoned, which I highly recommend. It's "Hold On" by the supreme '90s band Wilson Phillips.
Look, you can watch THE WHOLE THING WITH YOUR EYEBALLS:
http://youtu.be/RH3LtehnPyU
---
Next week on Glee, everybody's gonna forget to bring their sunblock and then all of their faces will burn off and then they are going to become wooly mammoths, but wooly mammoths who SING. Then they're gonna go on tour again, in 3-D, but as singing wooly mammoths. That's what happens when you forget your sunblock!
Pages: 1 2See entire article on one page