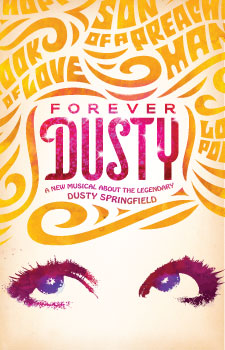 Kirsten Holly Smith is the driving force behind Forever Dusty, the new bio musical that follows the rise and fall of 60s British soul singer, Dusty Springfield. First, some Dusty 101. In a nutshell, Dusty Springfield (legal name Mary O'Brien) came to prominence as a "white girl singing black music" in the 1960s merging pop/disco music with R&B with her sexy, throaty one-of-a-kind voice. Dusty's legacy has permeated pop culture over the last 30 years with film and television soundtracks (from Pulp Fiction to The L Word) regularly dipping into her discography, not to mention her direct influence on modern day British soul singers like Amy Winehouse, Joss Stone, Adele and Duffy. What many Dusty fans don't realize is just how out she actually was back in the 70s as an active participant in the underground LA lesbian scene (pre-80s era of Melissa Etheridge, KD and Ellen). Her long-term relationships with women are well-documented if you dig a bit, but it's only now that her queerness is at the forefront of her story, in the new Off-Broadway play (co-written by and starring Smith).
The multi-talented Smith first started developing this idea back in 2006 when she received a grant from the University of California to write and perform a one-woman show based on the life of one of her heroes, Dusty. The project evolved into a screenplay and eventual musical while Smith developed her "Dusty" persona performing impersonation tribute shows (in full Dusty hair and makeup) at various nightclubs in New York and Los Angeles.
The finished product, Forever Dusty (playing Off-Broadway at the New World Stages), follows Dusty's career from its girl-group beginnings to her astonishingly successful international solo career to her long-term relationship (with a female journalist – one of her several LTRs) and pressure from the British press to come out of the closet. I chatted with Kirsten Holly Smith to learn more about her personal road in bringing this play to the New York stage and why Dusty's legacy remains so relevant in today's pop culture and political landscape.
When/how did you become inspired by Dusty's music and persona?
At first it was that voice!, the soul, the vulnerability, the raw emotion. The look, the beehive the thick black eye make-up. I wanted to know who this woman was. She just pulled me in. Where did this all come from? I began to intensely study her music, her story and to watch as much video of her as I could. As I got deeper into who she was, I knew that I had to share what I was discovering and I felt that the story in naturally leant itself to a musical format.
What connects you so deeply to this woman whose life you've devoted your work to since 2006?
What stands out most is her depth of humanity: her compassion, empathy and love for her fellow human being. She did not consider herself political but she made some profound choices in her life that left an impact on the world. She took a stand against Apartheid in South Africa and refused to play to segregated audiences, for which she was put under house arrest. She produced the first televised Motown revue in the UK which inspired a legion of fans overseas. I find it inspiring to tell this story for eight shows a week because it gives us all inspiration about what one person can really do if she follows her heart.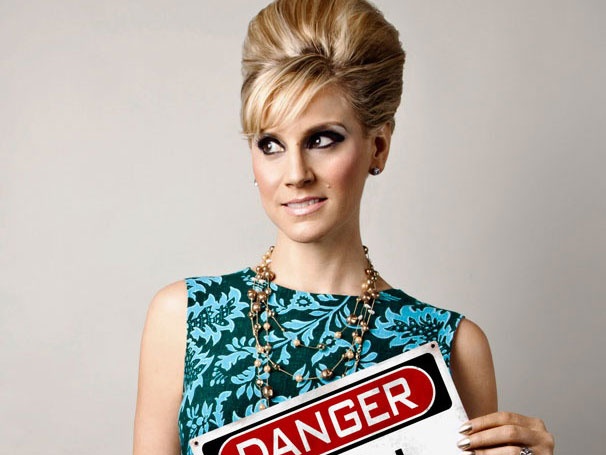 Describe your process in developing your live tribute shows into a full-fledged musical.
I started slowly, by singing her songs at open mic nights at The Gardenia Club in West Hollywood and writing monologues about her life in what I thought to be her voice. This eventually became the workshop production that was put up at the University of Southern California in 2006 and later produced by The Lily Tomlin/Jane Wagner Cultural Arts Center, which is part of the Gay and Lesbian Center in Los Angeles. It was co-produced there by Jorja Fox. We had a great audience and critical response. I knew there was something in this story and decided to drive it forward to the final frontier for theatre, New York City, where Forever Dusty is currently running at New World Stages in the heart of the theatre district. A dream come true!
Why do you think she is such a popular icon for drag performers?
The wigs, the beehive, the eye lashes, the hand gestures: she is just a very unique talent who was larger than life in a lot of ways which I think that drag lends itself to. In many ways she is the ultimate form of femininity. I think drag often lends itself to extremes like that, whether it's male or female drag. It's the ability to explore gender roles and when you have someone who is an extreme example of the feminine or masculine, it lends itself to imitation, the ultimate form of flattery.
She's depicted as being an active participant in the underground gay scene in the 70s. To what extent to do you attribute her demons with alcohol and drugs to be result of the British papers questioning her sexuality?
She was a very active participant in the gay scene in the 70s. I mean, I think she always had her demons, I just think that she was probably much more encouraged to explore who she was in that time. The 70s was pretty fantastic, an explosion really, especially in the gay community and she was mostly in the heart of LA at that time. I do think that her moving to LA was a result of the British papers relentlessly questioning her sexuality. It was a very dark period for her, much darker than I even explore in the show. I don't shy away from it either but there were stories that people who knew her in LA told me that were heartbreaking. I think anytime you are using alcohol or drugs, there are extreme forms of your personality that come out and she definitely explored this side. She was an addict. She always struggled with the two parts of herself: shy Catholic closeted Mary Isobel Catherine Bernadette O'Brien and the public persona Dusty Springfield.
How would you say she's influenced today's current pop music scene?
She sparked "The Motown invasion" of the UK which was just as important to the UK as the British Invasion of the Beatles, Stones etc. was in America. She changed her name, her look from a shy awkward Catholic schoolgirl, Mary O' Brien to a blonde bee-hived siren named Dusty Springfield. She directly influenced Bowie, Elton John, Elvis Costello and now Gaga and Madonna, all of whom made a point of creating new public personas for themselves. In the UK you can still hear the influence of Dusty with the great Adele, the late great Amy Winehouse, Duffy etc.
Do you ever perform your own original music?
I am dying to! This show has been all consuming and I am looking forward to writing again. I am working toward doing an album of original songs — stay tuned.
Who are some of your other favorite singers/songwriters, or other personal idols?
There are so many. I have very eclectic tastes. I am a huge KCRW fan, I get most of my new music from there. Voice wise: KD Lang, Nina Simone, Janis Joplin, Patsy Cline, Kate Bush, Tina Turner. Rock n Roll queens: Suzi Quatro, Joan Jett, Chrissie Hynde, Stevie Nicks, Freddie Mercury. Real kick-ass musicians: Ani DiFranco, Carole King, The Beatles, Bob Dylan. New Music: Florence and the Machine, Adele. I would say that everyone on this list is an influence and a personal idol.
Are there any other individuals whose story you would like to adapt into a play?
There are quite a few stories that I have in the hopper, I'd like to keep them secret though, let them brew and see what happens. I have to say I think times have greatly changed and I respect and admire all playwrights because I do think it is a true calling. I don't know if I am truly called to write plays but I am called to tell stories. There is something magical in seeing your play done night after night. Every night is a little bit different. To quote my Director Randal Myler, "You build an ice sculpture every night, watch it melt and start over the next day," I love that. In the future, I would like to further explore the celluloid medium. I love the permanency of film and TV, how one has the ability and power to make your mark with a story that hopefully reaches a wider audience. Fingers crossed!

Check out Kirsten Holly Smith in Forever Dusty at the New World Stages in New York City