Back at the Bushwick Barbie Dreamhouse Loft, Sam confesses to Rachel that his true dream in life is to be a male model.
Sam's been dreaming a little specific dream wherein he's chillin' out maxin' on a bench with a douchey hairstyle when a bus drives by, plastered in a photograph of Sam in his skivvies.
Rachel hands him a giant plate of starchy carbohydrates and assures him they'll pull off a winning photoshoot that'll snag him all kinds of gigs that'll make his junk look as big as various automobiles.
---
We then ride a bus plastered in photographs of a shirtless Sam Evans all the way back to Lima, where Artie's moved onto Step Four of Glee's Unwelcome Life Intervention: The Serenade. As per tradition, Artie has selected a song with romantic overtones, the content of which he will shortly re-define.
See for yourself:
http://youtu.be/cycfmQOLFA4
Becky's afraid of going to college because she's afraid everybody will make fun of her. Artie assures her that there'll be plenty of new friends, teachers and counselors there to support and love her, and he'll have her back too even though he'll be TEN BILLION MILES AWAY AT FAKE TERRIBLE FILM SCHOOL IN NEW YORK.
---
Meanwhile in the cafeteria, Marley peels potatoes with her Mom and mopes about New Puck being a big jerk and acting like he's the victim and putting flowers in her locker and overall being a useless character taking up space on this show that would be better filled by scissoring lesbians.  Mom's proud of Marley for denying New Puck the right to dip his stinger in her honeypot.
Mom: "Your first time is something that you can never get back honey, you need to hold out for a good guy this time, and not just somebody you have feelings for, but somebody you can trust."
---
We then sprint gallantly in tiny shorts all the way back to New York, New York, where Rachel's found a nice lesbian to take photographs of her studly future male model friend Samuel Evans.
Rachel basically does a Haviland Stillwell impression for the entire scene, during which Sam really struts his stuff, makes facial expressions, and so forth.
---
Still exhausted from our prior sprint, we return to Lima, Ohio, home of the Hunan Garden Chinese Restaurant, where Sue Sylvester's offering Artie an ear douche because he obviously didn't hear her when she told him "to stop meddling in the affairs of one Becky Jackson."
Artie patronizingly informs Sue that Becky's totes into college and he'll be taking her to visit the University of Cincinnati this weekend. Sue backs down and demands a full report, and then we cut to the hallowed hallways of McKinley High, where Ryder begs Marley to go out with him 'cause he's got good family values and knows how to read.
Marley-Kate says she needs a little break from men, which unfortunately doesn't mean "I'm gonna clamdive with Tina." Then Ryder sings "Innocent Man" and everybody looks super awkward about it, because they know that he's gay. Just kidding. OR AM I?
http://youtu.be/eU5KPtmxmW4
Anyhow, Marley-Kate says she'll go out with him, so you can scoot back off the edge of your seat now.
---
We then put on our windbreakers and track pants, tie up our brand-new tan Easy Spirits and mall-walk our way all the way back to New York, New York, where Kurt's helping his future husband Blaine Warbler pick an outfit for his Fake Julliard audition.
Blaine confesses that he doesn't wanna audition for Fake Julliard 'cause he's got other interests, like hair gel and medicine, and that maybe it'd behoove him to attend a college instead of a conservatory, which I think's a great idea and Kurt thinks is a steaming pile of lies and shit.
Kurt turns Blaine around to admitting his intelligent post-high-school plan was merely insecurity that he might not be one of 12 humans accepted to Fake Julliard's bizarrely semestered educational situation and then they share a nice chaste hug.
---
Elsewhere in the City of York, Samlander's hitting up the House of Bitchette, owned by Tyra Banks. "Your Midwestern eyes have the vacant state of a cow's," she notes. "I don't have any of those on my roster."
Bitchette gives him a depressing speech about Sam's potential as a male model, claiming that male models never get to have fun party time because they are always working for no money out in the world! Sam's not deterred! How could he turn down this opportunity.
Or this opportunity?!
---
Later that very same day in the Barbie Bushwick Dreamhouse Loft, Sam turns down Rachel's basket of baked goods 'cause he's on a flavored air diet in order to lose ten pounds for his photoshoot. His friends tell him he's perfect just the way he is! How do they tell him this? By singing "Just The Way You Are" on their brand new piano, duh! Yeah Blaine bought them a piano. I don't know, I think somebody on this show has magical powers.
Santana's not having it:
Santana: "Do you see this? This is what's gonna happen from every argument or discussion or meal from now on, it's gonna end in a freaking sing-a-long."
Despite her alleged surliness regarding this activity, they're only a few verses in when Santana re-emerges, microphone in hand. Probs she just took a valium.
https://www.youtube.com/watch?v=Mf-BTgmdRTo
---
We then turn into birds and fly back to McKinley High, where Becky tells Sue she really enjoyed her visit and wants to go to college.
Becky: I don't wanna hurt your feelings, coach.
Sue: I don't have any feelings, Becky.
Then Sue makes a Graydon Carter reference, and I'm one of five people watching this show who catch it.
---
In the hallowed halls of McKinley High, Ryder implores Marley to check her Instagram, where he posted a photograph with the caption "BEST DATE EVER." "When did you do all that?" asks Marley, clearly unaware that Instagram happens in AN INSTANT and that's why it's called instagram and therefore he probs did it like an instant ago. No really I wasn't paying attention, but it looks like both these kids have washed and conditioned their hair today, so BRAVO!
Marley's like, just 'cause we went out one time doesn't mean we're boyfriend and girlfriend foreveerinlove. Ryder's like oh whoops, that's not how it went with this gravatar I dated last year.
---
Blaine and Sam return from The Big City to announce that Blaine's Fake Julliard audition was AWESOME and Sam's not gonna go to college, just like Billy Joel.
I don't need to recap the rest of this episode because Glee has hired their own in-episode recapper to provide snarky commentary and her name is Sue Sylvester. I mean, I wouldn't have told Sam he was too fat to model because that's ridiculous, but pretty much everything else she says I am on board with.
Sam: I'm gonna skip college too, and become a male model.
Sue: Impossible. You're too fat.
Sam: No I'm not. And I don't care what you or Ms. Bichette or anyone else says, I like me just the way I am and I'm not gonna change for anyone.
Sue: Well that is just the screw-you spirit employers love. Honest to God, I cannot imagine what goes on in your lumpish, sexually ambiguous heads.
Becky: 'Cause they're nuts, Every one of them is crazy.
Sir William: Becky you may be right. We may be crazy —
Sue: Oh no no no Oh don't you dare over my dead body will you inexplicably shoehorn in another Billy Joel song just to punctuate one of your weekly lessons that inevitably veers off into a saccharine barrage of angst and affirmation.
[Billy Joel's "You May Be Right" begins]
It's awful.
https://www.youtube.com/watch?v=hHqCZdbo3p8
---
Thus concludes this week's episode, which was focused entirely on the male characters on the show, and unfortunately I am a lesbian who hates men, so I give it twenty thousand thumbs down. And yes, I've been known to enjoy a nice rendition of "Piano Man" and "Just The Way You Are" as well as the parody version of "Scenes from an Italian Restaurant" my co-workers and I at the Macaroni Grill oh-so-hilariously composed one drunken evening, but I enjoy those things in private, not on television instead of lesbians.
BUT YOU KNOW WHAT WE CAN ENJOY IN PUBLIC? MUPPPEEETTTTSSSSS!!!! NEXT WEEK THERE'S GONNA BE MUPPETS!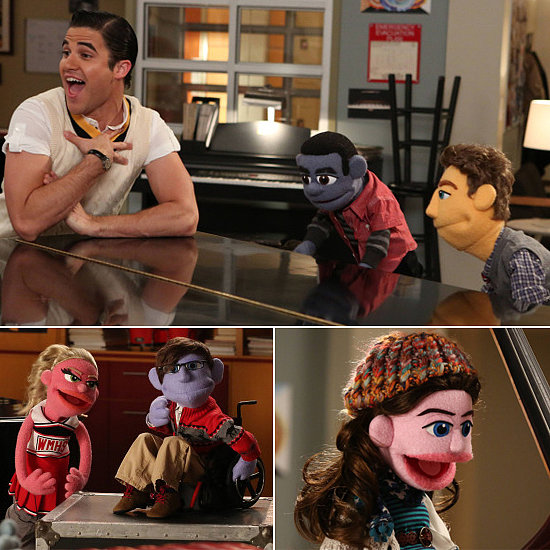 Pages: 1 2See entire article on one page