As a long-time watcher of The Walking Dead, I've been hoping for some queer characters on the show for, oh, I don't know, approximately forever. Although the zombie-centered show includes many top-notch action scenes, it's really a show about how people muster, maintain, or misuse strength as they relate to one another during times of crisis. It's an excellent, high-profile show about the human condition, basically, and since queer people are humans, we should be on it. This week, The Walking Dead finally made it happen.
Meet Tara Chalmers, played by Alanna Masterson.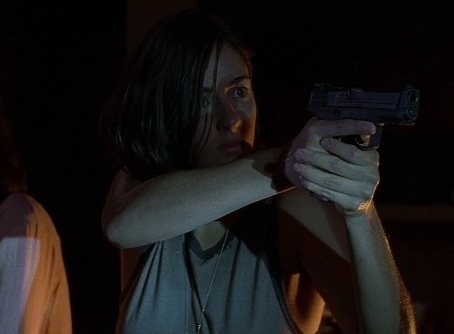 All throughout last season, I felt like they kept dangling the possibility in front of us just to snatch it away. (Remember all that hot and heavy subtext between Andrea and Michonne at the beginning? How about the complaints from fans when Andrew and Derek were not included later on?) So to finally see a queer character represented makes me feel all warm and fuzzy inside. It's just gravy that she happens to join the illustrious ranks of queer chicks on TV named Tara.
On Sunday's episode of The Walking Dead, we picked up with a character we met last season: The Governor. If you don't watch the show, essentially all you need to know about him is that he had power, abused it, and lost it. So when he wanders into an apartment building and sees a vulnerable group of two young women, a girl, and an old man, we are meant to feel apprehensive about what he's going to do to them.
One of these women, of course, is Tara Chalmer; the other characters are David, her father; Lilly, her sister; and Megan, Lilly's daughter. Throughout the episode, we watch as they each warm up to the Governor, drawn to his strength and willingness to help them in various ways. When David dies near the end of the episode, they quickly adopt him into their family unit and hit the road together.
As we see throughout the episode, Tara tends to talk a big game but it's mostly bluster. When she first meets the Governor, Tara plants herself firmly between him and her family, pointing a gun at the man's chest. There isn't the faintest flicker of fear on her face as she says,
"Do you see this? This here is a fully loaded standard issue Smith and Wesson. I'm Atlanta city police and I have enough artillery in here to kill you every day for the next ten years. You mess with me or my family and I swear to Christ I will put you down. Got it?"
Tara later reveals that the cop bit isn't quite true, but you've got to admire the girl's swagger.
Tara's coming out takes place in a conversation so casual you could totally miss it if you happened to sneeze at the wrong time. But it was definitely in there, and she's definitely, unambiguously out.
Here's the exchange between her and her sister:
Tara: I thought she was the one.
Lilly: Then you went camping, ate mushrooms, game over.
Tara: You're forgetting the part where Sam broke down and told me she has a boyfriend, that she wasn't really into chicks. Ugh, worst weekend of my life.
She ungraciously falls on her face immediately after and almost gets eaten by walkers, but it counts!
Tara is sarcastic. She swears constantly. She trusts quickly and has a tendency to talk too much – for example, blurting out to a complete stranger how isolated her family's living situation is, and exactly where their supplies come from. At another point, Tara almost hands a confiscated gun straight back to a mass murderer, until Lilly suggests otherwise. It's amazing that they've made it this far, especially because they've somehow never figured out how to kill walkers on their own. (How does a cop-trainee make it two years without ever going for the head?! Unbelievable.)
On the other hand, it's kind of refreshing to see unjaded characters who are still horrified by the idea of killing people/former-people. It reminds me of an earlier Walking Dead storyline, when the main characters tried to regain some of their humanity by cozying up to a still-idealistic family in possession of a secluded farmhouse. Obviously that setup couldn't last (and indeed, many viewers complained that it went on for way too long), but I liked the way it afforded viewers such an intimate look at each of  the characters as they plumbed their moral depths. I'm hoping we'll see a similar treatment as Tara goes out into the harsh new world for the first time, and I'm curious if/how her unique experiences as a queer person will come into play.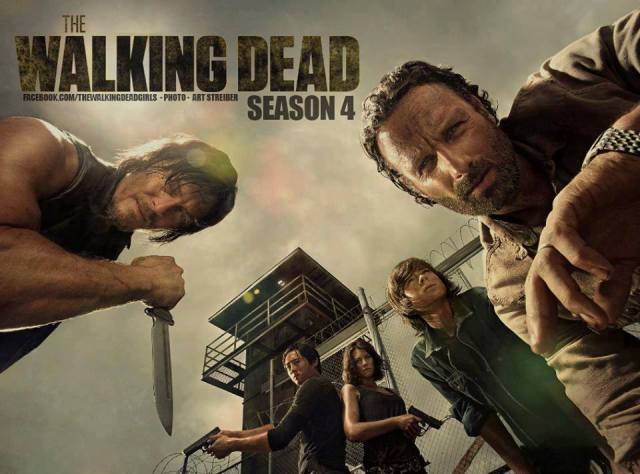 Tara is expected to appear in "Dead Weight" this Sunday and will return again for episodes 12 and 13. Masterson is signed with The Walking Dead for two years, with an option in her contract to become a regular next season. That is, assuming that the show is renewed and Tara isn't eaten by walkers.
(Although… the dead don't stay dead in this show. So even if Tara falls victim to Dead Lesbian Syndrome, like Tara Maclay and Tara Thornton before her, there are options.)