So, anyhow, this week on Glee, Will decided to let the kids write their own damn songs. This resulted in some brilliant moments…
Will: Just think about it. What's your favorite song of all time?
Brittany: My Headband.
… and some super-funny songs, like Santana's tribute to Sam, "Trouty Mouth"…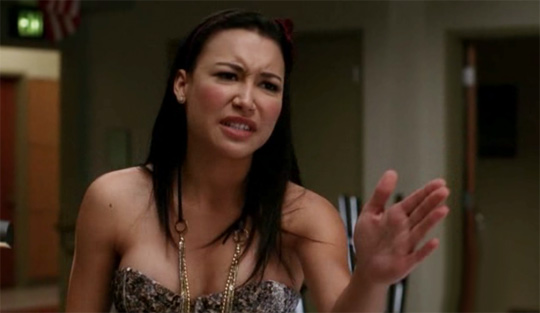 Guppy faced, trouty mouth
Is that how people's lips look where you come from in the south?
Grouper mouth, froggy limbs
I love sucking on those salamander lips
Wanna put a fishhook in those lips so cherry red
If you try hard enough you can suck a baby's head
… and Puck's "rockabilly" anthem for Lauren, "Big Ass Heart"…
and Mercedes' "Hell to the No." Mercedes' song was funny and energetic and is stuck in my head but some of those lyrics — sheesh. Can Murphy hire a racial sensitivity consultant? That exists, I think.

Quinn, who's been ret-conned this episode all the way back into the icy bitch she was in the first season, is on the prowl to hook Finn and secure their spot as Prom King & Queen. This results in her being a total douche to Rachel, who's supposed to be her songwriting partner.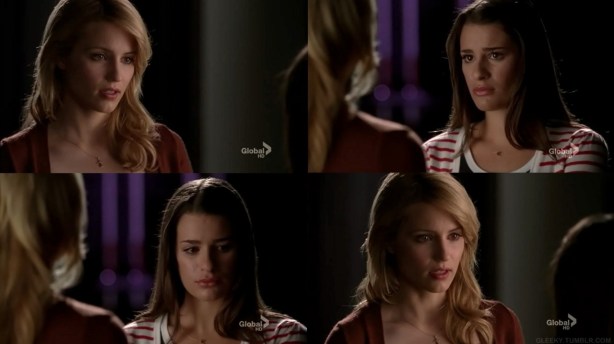 But when she reveals her reasoning, which may or may not be genuine, there's something remarkably sad and honest about it —
Quinn: Do you wanna know how this story plays out? I get Finn, you get heartbroken, and then Finn and I will stay here and start a family. I'll become a successful real estate agent, and Finn will take over Kurt's dad's tire shop. You don't belong here, Rachel. And you can't hate me for helping to send you on your way.
Well — she can — but Quinn is right. Rachel Berry will move to New York City, where she'll stand on a chair and touch herself while singing about her Mama Who Bore Her and pretty much be able to date whomever she wants, at which point she'll remember Finn as that simple-minded super-tall earnest football player she crushed on in high school.
Rachel says she's not giving up on Finn — it is high school, after all, foresight is never a teenager's strong suit — and will also be writing her own song. She leaves crying, which makes me cry AGAIN.
I pretty much waited the entire episode for Brittany's song to Santana so I'm going to SPOILER ALERT you right now and tell you it didn't happen. NO SUCH THANG. I was counting down every last second, thinking "is 21 seconds enough time for a reconciliation"? Etc.

Off to Regionals, the mega-competitive super-important event which separates the wheat from the chaff by bringing together no more than three glee clubs to perform for an eccentric panel of judges who know nothing about anything.
Rachel's ballad:
The Glee Club's song about Sue Sylvester:

Between "Loser Like Me," Kurt & Blaine's Duet, and the Warblers rendition of P!nk's gay marriage anthem "Raise Your Glass," I'm surprised this program somehow got onto Fox instead of Logo. It's kinda kickass.
At one point, the entire audience gets involved in an auditorium-wide tribute to fingerblasting! I mean how gay is that:
The judging panel addresses even MOAR gay shit head-on and I know we're all supposed to pee in our pants with excitement about Kathy Griffin playing Sarah Palin in this scene…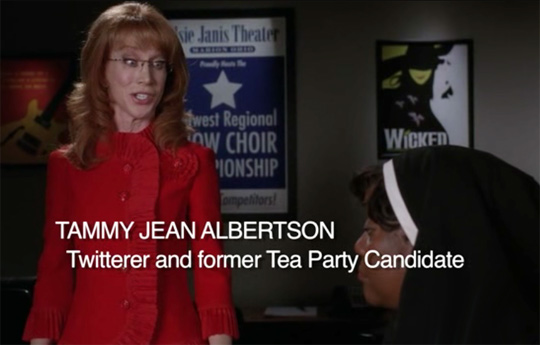 …but hello nobody told me Loretta Devine was guesting. Her character — an exotic dancer-turned-nun — would be an excellent addition to McKinley's faculty, and I'm not just saying that because I'm obsessed with Sister Act.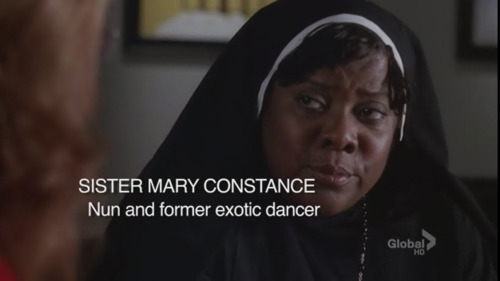 Oh also, New Directions wins, which means they're going to Nationals, I can only pray that it's half as good as Bring it On Again.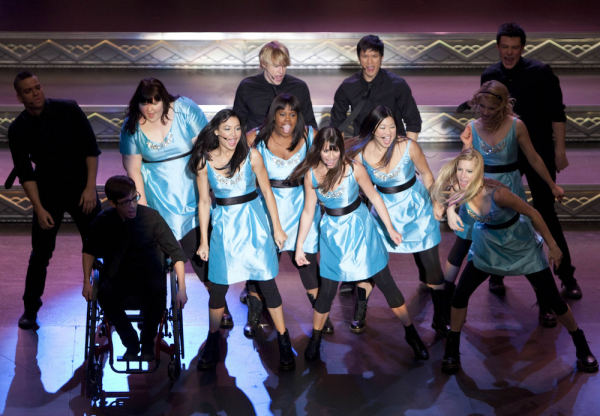 This photo is a perfect example of how Brittany consistently sells it in every single number and everyone else just sorta tries to not trip over their own feet.
+
The Warblers lose, but that's okay, because Kurt & Blaine have each other: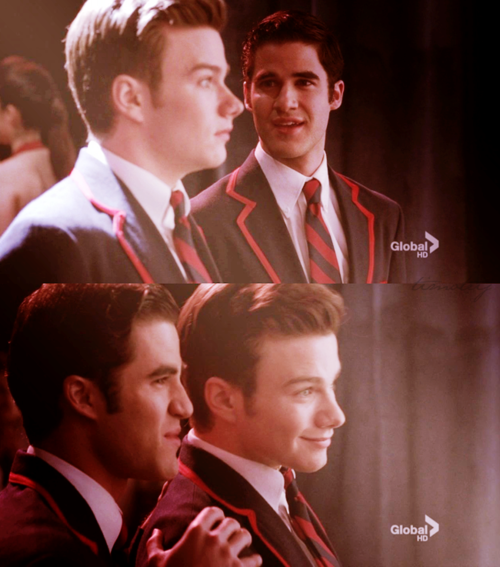 I cry again at the end when Rachel gets all humble and thanks the team for singing with her. See people this is what we call a "character arc." Maybe Quinn can have her's back in April?
"First of all, I just wanna say how amazing the song you guys wrote was. I was so inspired. You know, it's funny, I've won alot of trophies before for singing competitions and dancing competitions, but I've always felt like the girl who never gets the brass ring. And maybe I never will but today and at Regionals, the way you guys believed in me and took a chance with me. All I've ever wanted was to feel special and to feel chosen and I just, um, I wanted to thank you guys so much for giving me that. That's all."
Glee returns to your teevees in a month: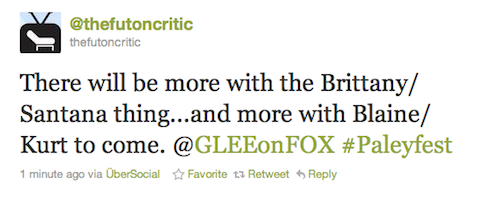 Download:
+ Loser Like Me (Glee Cast Version) – Single – Glee Cast
+ Get It Right (Glee Cast Version) – Single – Glee Cast
+ Blackbird (Glee Cast Version) – Single – Glee Cast
+ Raise Your Glass (Glee Cast Version) – Single – Glee Cast
+ Hell to the No (Glee Cast Version) – Single – Glee Cast
+ Candles (Glee Cast Version) – Single – Glee Cast
From PaleyFest:
Pages: 1 2See entire article on one page