Last night was not the gayest episode of Glee ever. It was the most lesbianist episode of Glee ever, even though there weren't any lesbians in it. Seriously I bet you my $238 remaining dollars of MasterCard credit (at a 29.9% APR) that tumblr is going to crash tonight because of this episode and the animated gifs it will inspire amongst tumblr's most passionate demographic.
For starters, Rachel and Mercedes did a "Diva-off" to "Take Me or Leave Me," the best lesbian song of all time — no, not just the best lesbian song of all time — to the very cherry on top of the invention of music and the rise of leather pants in the mid 90s. "Take Me Or Leave Me" is a belt-it-in-the-car like you're Britney Spears in a wig escaping from the police ANTHEM that echoes with a vaginal vibrato stretching from the thighs of New York City through the starlight Midwestern drama-camp air and all the way into the hearts and heads of every lesbian with ears to ever exist ever of all time.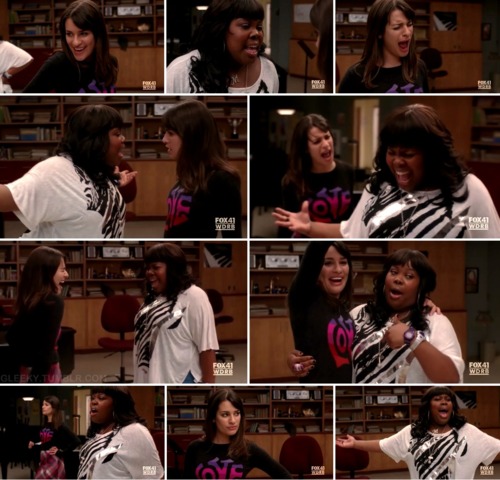 Furthermore, Justin Bieber, the perplexingly popular lesbian icon who isn't actually a lesbian, although many lesbians look like Justin Bieber, was a central icon of this week's episode. The Biebs — the man who launched a thousand parodies just as cloyingly charming as the actual songs he sings — yes, it was all about the Biebs and the American Apparel hoodies lesbians enjoy wearing so so much.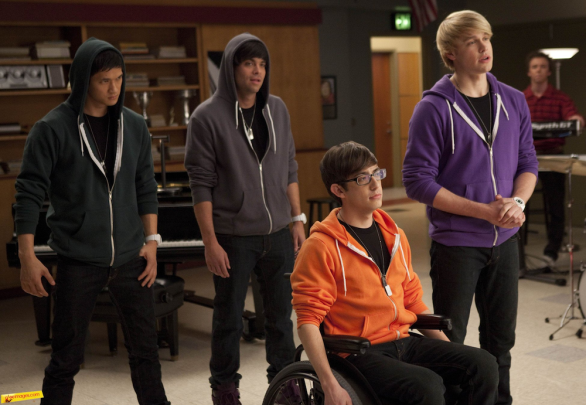 Then Lauren summons the fury of a thousand suns to do this glittersassy version of "I Know What Bois Like," while Brittany and Tina dance around her like psychotic lesbian schoolgirls. There's a lot of touching and everybody owns it. RISE, WOMEN — RISE FROM THE ASHES AND SING!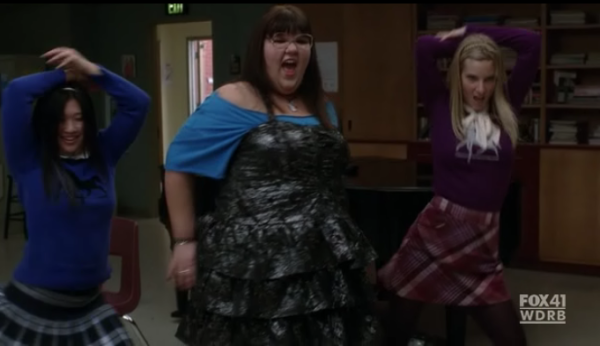 The finale featured everyone in PLAID FLANNEL. It was like a thousand-strong army of magical singing dancing lumberjack LESBIANS. From the back row, Rosie O'Donnell was probably drinking a beer and laughing her ass off.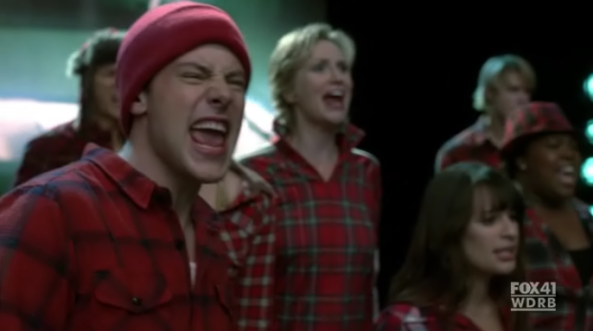 Also, Sue Sylvester says the words "pocket lesbian" in reference to Justin Bieber.
Also? Everyone wears legwarmers on their arms, which is what lesbians do to make sure their forearms don't freeze off which would render their limbs unable to properly fingerblast.
Also there's a touching moment at the cancer ward where giving back to the community and humbling oneself to the very real tragic needs of human children breaks Sue's icy-cold sue-icidal heart. That's a human thing I think. But lesbians are humans, SO.
Oh and also — somewhere near the end, Santana growls "Check out dwarf Dianne Warren," at Rachel Berry, who is on some hippie singer-songwriter kick where she wants everyone to win their very own Tony, and I am 75% sure that Dianne Warren is a lesbian if I'm not getting her mixed up with someone else. Even if she isn't, she produced a song for Haviland Stillwell's album, and Haviland Stillwell is a lesbian, so — LESBIAN.
Surprise of the episode? Finn is a lesbian, like Aidan in South of Nowhere, like Jonathan Taylor Thomas, like sea lions, like Maureen & Joanne, like hummus, like Justin Fucking Bieber, and like this website.
I don't think I can cover any more lesbian news until March, unless Brittany and Santana make out.*
* which they won't because Ryan Murphy hates lesbians