Concern for the post-singularity future of the human race has suddenly reached a tipping point into common consciousness, thanks to Jeopardy. If you haven't been following the news, a supercomputer made by IBM named "Watson" is currently facing off against Jeopardy's two all-time best players, the kind of squirrely Ken Jennings and not-very-squirrely Brad Rutter. IBM also made Deep Blue, the world's most unsettling chess-winning supercomputer.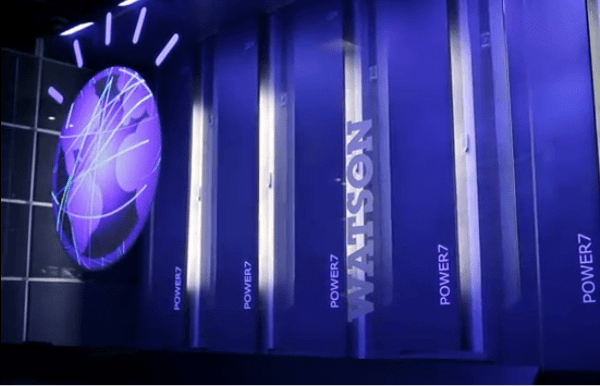 I'm not gonna ruin this for you, because I really think you should be concerned, so I've embedded the videos below for other people like me who don't have the moving pictures on the TV. Maybe I've just been watching too many consecutive episodes of The Sarah Connor Chronicles lately (I have), but seeing Watson get a streak of answers right without breaking a virtual sweat has me alternately elated and horrified. I think I'm happy about this triumph of modern supertechnology, but my teeth are clenched in a bracing-for-our-overlords kind of way. I'll have to side with futurist Ray Kurzweil on this one: "It is going to be more difficult to seriously argue that there are human tasks that computers will never achieve."
The stuff early on in Episode 1 goes into some light detail about how it processes the Jeopardy prompts and arrives at an answer. It's pretty fascinating stuff.
Episode 1, Part 1:

Episode 1, Part 2:

Episode 2, Part 1:

[Episode 2, Part 2 just aired and is in the works, according to the YouTube member who was kind enough to put these vids up]