Thus we gather our gear, load up the canoe and paddle back to Lima, Ohio, home to four Burger Kings and one Buffalo Wild Wings, where Tina's hitting up Blaine for a post-school shopping trip when Sam shows up in the hallway, topless; wearing only sunglasses, orange board-shorts and Uggs.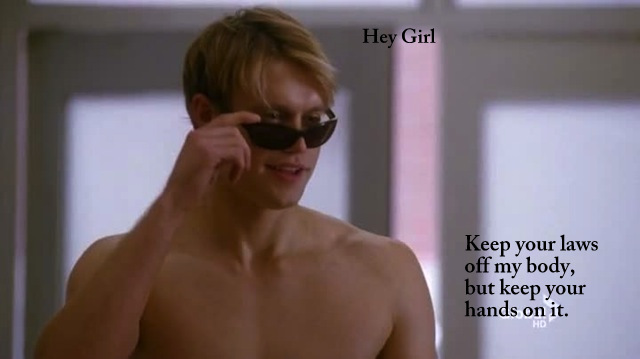 Blaine asks if Sam's gone nude 'cause he's overcompensating for flopping on the SATs, but Sam deflects, suggesting Blaine's just jealous of his hard core rockin' bod. Also Blaine probably wants to give Sam a rim job, but that's neither here nor anywhere. Hey Tina!
Tina: "Uh, for the record, Blaine has an awesome body and a perky and delicious behind that looks like it got baked to perfection by some sort of master chef."
Oh boy.
---
Smear on over to the McKinley High School locker room for Sam's "Modern Centerfold: Techniques That Work For Today's Hot Young Posers" course, modeled after the award-winning seminar by the same name at The Learning Annex.
Sam dishes the dirt on sit-ups, hair removal, and stuffing their shorts with socks to make their penises appear larger. I'm not making that up. This quickly gets naughty enough to warrant a hormonal explosion of "It's Getting Hot in Here," starring the Men of Glee and the portable Cheerios of Glee. There's also crunches, jumproping, spray-tanning, sprinting in bodysuits like zombie wrestlers, frequent trips to the scale of death and some stomach pinching.
I think the point of this performance is to make sure all the baby gayboys out there who find comfort in Glee's message that beauty is on the inside hate themselves.
---
We cut over to the Teacher's Lounge, where Sue challenges Rumbledethumps's decision to peddle smut throughout these "hallowed halls." Rumbledethumps, always a wiley boy, calls Sue out on a previous Penthouse photospread she spread-eagled back in the day and threatens to xerox it and sell it to raise money for regionals, which honestly is the most cost-effective idea he's had yet.
I tried to care but then I fell asleep and when I woke up I was surrounded by Care Bears on a cloud and everybody was eating butterscotch and filing their nails and little children sang sweet songs like the one about rowing your boat.
---
We then zip back across the country to the Barbie Dreamhouse Bushwick loft, where Geyerdean's supporting Rachel's decision to go topless in "My Grandma Is The End Of The World, Also Boobs" by going full frontal 24/7.
Kurt's shocked/awed by this eyeball assault and subsequently by Rachel's announcement that she's letting everybody see her boobs for free. Kurt tells her that she shouldn't do nudity in a student art film, which I agree with, but he uses the worst possible words and ideas to say it (I believe "Slutty Barbie" was invoked).
The New Rachel insists that she's growing up, like a plant.
---
Back in Lima, Ohio, Marley-Kate and her boring boyfriend New Puck perform a platitudinous rendition of a Terrible Song I Hate Just Kidding I Sometimes Sing Along When It's On The Radio But Don't Tell Anybody. Um, it's Christina Perri's "A Thousand Years."
Will Marley tell Jake that she loves him? I'm on the edge of my seat, actually not anymore, I'm on the floor now, that's how close I was to the edge of my seat for the next breathtaking development in this breathtaking relationship.
---
Elsewhere in this esteemed academic institution, Rumbledethumps recruits Artie to track down Sue's Penthouse situation, and Artie's pleased as punch about this pornographic turn of events. Also, he doesn't wanna be in the calendar because boys have body image issues too.
Artie insists his body is "broken" and Finn unhelpfully prods him in the direction of a spread featuring Artie lying on a bed surrounded by fluffy pillows. Artie politely declines:
Artie: "Finn, you're not hearing me. I don't want to pose for the calendar. and that whole pillow scenario you just described is incredibly emasculating. It's not just girls that have body issues. Sometimes guys aren't cool with showing off their bodies, either."
Rumbledethumps then backs off and lets Artie go his own way, after sharing some sanctimonius sentiment about it being cool to keep a part of yourself private and Artie being brave.
---
Cut to Tina and Fake Quinn dropping in on the Muscly Manroom of Lockers and Steel to deliver wardrobe directions and when they leave, the boys pump some iron and josh around. New Puck says he lovs Marley and Ryder Bieber-Strong says he should tell her. Gripping stuff.
Turns out New Puck thought Marley-Kate was gonna drop the L-Bomb after their duet and was sad that she didn't. He doesn't think he's got what it takes to say it first.
---
Smear to the Glee Club Room where New Puck is putting me, my unborn children and their children and their children's children and a tribe of dancing vegans to sleep.
It's Ne-Yo's "Let Me Love You"! Fake Quinn says all there is to say about it:
---
Then we, the audience, get on our scooters, swing by Kentucky, hop a train to New Haven and zip on over to the barbie Dreamhouse Bushwick Loft, where The New Rachel waltzes into her apartment to find…
Santana: "Lady Hummel called begging us to do an emergency intervention."
Rachel: "On who?"
Quinn: "You."
---
Pages: 1 2 3See entire article on one page