Saturday night fellow Words With Girls person Lauren Neal accompanied me to the Ellen DeGeneres-hosted 23rd Annual GLAAD Media Awards, Los Angeles edition, where we worked the red carpet (video to come!), ate a lot of rolls, and tweeted frequently.
Dressing for this event was a special treat because my wardrobe is focused around the premise of being comfortable, and award show wardrobes are generally focused around the premise of looking good. This is how that went: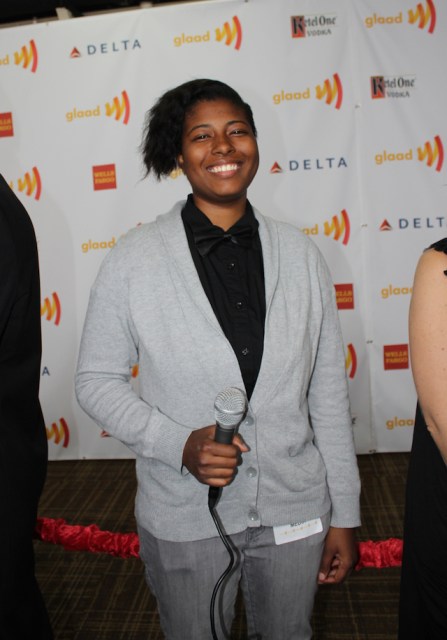 This was my first trip to the GLAAD Awards and I noticed that the presenter-to-award ratio is horribly askew and that nobody made any GLAAD/glad puns (probably used those up during the inaugural show). Naya Rivera did not host which might be my life's greatest tragedy, but nevertheless, a fantastic time was had by all.
Also, Ellen DeGeneres did host and everybody loves Ellen and she came out dancing. Ellen Degeneres opened the show… much like she opened the minds of minds across America! Awwwww.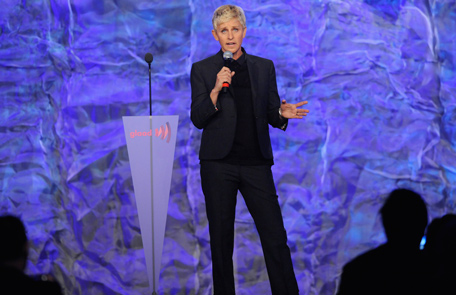 "Betty White is here. I didn't know you were gay. Welcome sister." – Ellen
Jason Mraz was slated to perform but couldn't because he's sick. This doesn't surprise me as he looks like he's been hanging out with feral cats. In lieu of a performance, he spoke about being bullied as a kid and having gay besties.
"Some of my best friends are L, G, T. I skipped B because I think all people have the potential to be B." – Jason Mraz
Herndon Graddick took to the stage to testify as GLAAD's newly appointed president. It was pretty cool. He cursed a lot in his speech so I think he should run their Twitter account.
"It's 2012. We're sick of this shit." – Herndon Graddick
Then Jennifer Tyrrell told the touching story of being removed as den leader of her son's Boy Scout troop and everybody cried a lot. I was really hungry at that point and was wondering why Boy Scouts didn't make cookies, but it was also really moving and important.
"I don't know why people are interested in same sex marriage. I've been having the same sex in my marriage for 30 years and it's really fucking boring." – Lisa Vanderpump
Modern Family continued their domination of any and every award show by taking home the award for Outstanding Comedy Series. Jesse Tyler Ferguson accepted the award from the cast of Hot in Cleveland. He seemed pretty excited about meeting Betty White. I think he enjoyed the award as well but I don't think it was his top priority. Drop Dead Diva's "Prom"  (which was based on the Constance McMillen situation, apparently) and Hot in Cleveland's "Beards" tied for Outstanding Individual Episode. This tie made me curious about their voting process but not curious enough to actually look it up. Beginners won Outstanding Film – Wide Release.
Molly Shannon did an Angelina Jolie tribute by showing us her leg and undies, Sara Gilbert wore silver pants, and the opening montage included about .2 seconds of Pariah, which is not enough.
The Kolzak Award is presented to an openly lesbian, gay, bisexual or transgender media professional who has made a significant difference in promoting equality and this year the winner was Chaz Bono. I think by the end of the night I'd seen the entire documentary.
During Chaz Bono's introduction, Cher made a surprise appearance. Cher is one of those people that doesn't sound like an actual person. She sounds like an imitation of someone doing a Cher imitation. It's really weird. Also, she's rocking a giant fro these days, although I suppose she could've been rocking a giant 'fro for a while now, but I don't really keep up with Cher's day-to-day.
"My pronouns for my child just jump all over the fucking place." -Cher
Josh Hutcherson from The Hunger Games received the Vanguard Award from GLAAD and the Perfect Person Award from me. The Vanguard Award is given to media professionals who have increased the visibility and understanding of the LGBT community. The Perfect Person Award is given to whomever I decide to call a perfect person. I have given myself this award many times so Josh is in good company. He is the youngest recipient of both awards.
Hutcherson, who is the co-founder of advocacy group Straight But Not Narrow, lost his two gay uncles to AIDS and has been outspoken on the issue of LGBT equality for as long as he's been in the public eye.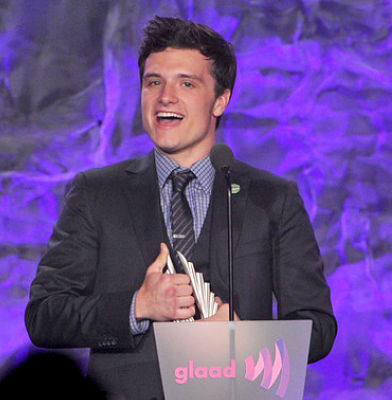 Other people in attendance included Portia de Rossi, Sara Gilbert, Linda Perry, Kim Wayans, Molly Shannon, Max Adler, Joshua Jackson, Milla Jovovich, Benicio del Toro, Ali Larter, Michelle Paradise and Grant Gustin.
Here are our photos from the Red Carpet: