It's no accident that the Boy Scout Oath calls for young scouts to be "morally straight." Unlike the Girl Scouts of America, which have a history of being supportive of all their members, regardless of sexual orientation or gender identity, the Boy Scouts of America are explicitly and unrepentantly anti-gay. In 2000, when assistant scoutmaster James Dale mentioned in a published interview that he was gay, and was subsequently expelled from the BSA. In the court case that followed, Boy Scouts of America et al. v. Dale, it was ruled that "that opposition to homosexuality is part of BSA's "expressive message", and allowing homosexuals as adult leaders would interfere with that message."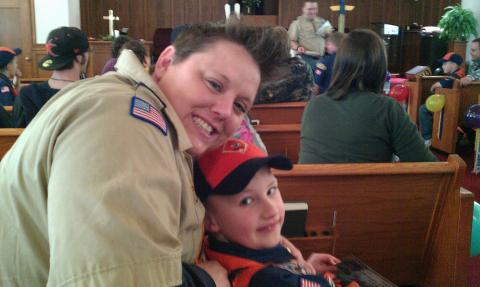 Now, twelve years later, Jennifer Tyrell is facing a similar situation. She was told she'd no longer be able to serve as den leader of her son's Cub Scout troop because she's gay. Tyrell had served as den leader for over a year, and the den she served won "multiple Scout badges for service and skills." As Tyrell herself puts it, her performance with the troop appears to have been exemplary, and she had no indication that she'd ever be castigated for her sexual orientation:
"Shortly after registering my son for Cub Scouts, I was asked to assume the role of den leader and was persuaded by a platform of tolerance, acceptance and support… Throughout the year, my cubs performed volunteer service at a local soup kitchen, collected canned goods for area churches to distribute in food baskets, participated in bell-ringing for the Salvation Army, and, at the time of my removal, were working on a conservation project for a state park."
Tyrell claims that her dismissal from the volunteer position of den leader is actually about something else: the fact that she had just discovered inconsistencies in the troop's finances. She says that within a week of reporting her findings, she was told that her membership was revoked because she was gay. Now, if the local troop was hoping to silence Tyrell and her discovery, they may be regretting their decision: a group of outraged parents and scouts held a peaceful protest outside the local BSA center, and GLAAD is now backing Tyrell in her campaign for the BSA to leave behind its discriminatory ways.
Tyrell isn't the first lesbian mom to face discrimination from the BSA just for trying to be a supportive and involved parent — in 2011, Denise Steele also worked with a generally supportive troop and did a great job leading them. That is, until assistant scoutmaster James Inabinett saw Steele's partner picking up their child one day, and instigated her removal. Inabinett had to go to the national council in order to have Steele removed, and the national council defended their decision when pressed. Now, Tyrell has created a Change.org petition to unite supporters who believe that the BSA's blatantly homophobic practice is indefensible. Although the Boy Scouts are a private institution and were at least in 2000 considered within their rights to fire gay volunteers by the Supreme Court of New Jersey, a lot has changed in 12 years; 74% of Americans now believe that sexual orientation shouldn't be a factor in firing or hiring. Maybe Jennifer Tyrell's will finally be the story that put pressure on the BSA to catch up with the rest of America, and treat all of its members with respect.