It's Sunday! Your 4/20 hangover is gone and probably your food baby as well. Go throw out those pizza boxes! It's a brand new day and a brand new week and I have a lot of Eileen Myles, Margaret Cho, and President Obama to go around. Also, Mormons!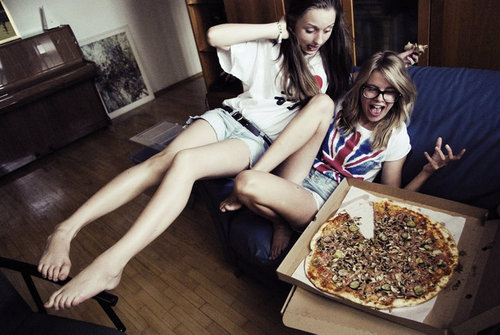 Mormon Parents Come Out As Loving Their Kids, Being Nice to Gay People
It wasn't too long ago that Mormons from Brigham Young spoke out about the idea that their lives, too, can get better – and that it won't be easy. Now, parents of gay Mormon youth have announced they will be using the "It Gets Better" campaign to speak out about the experience of learning to love and accept their gay children, despite their religious beliefs, and with a lot of help from Kleenex:
In the video, parents recall how they struggled with their faith when their children first came out as gay. One teary mother says she learned her 19-year-old son was gay after he tried to kill himself. A father describes his initial discomfort with gay men. The message is that God wants them to love their children despite their sexual orientation.
"When he came out, I wasn't quite ready to accept that situation," said Charles Carver, a father from Utah, said in the video about his son.
"My job is is to love. My job is to accept," he said later.
Eileen Myles Is Amazing, Likes Amazing Stuff
I was scrolling through "The Advocate," just a typical day in the life of Carmen Rios, and I found this list of six things Eileen Myles couldn't love more. I'm deeply moved, as always. I'm also kind of thinking I seriously need to see Iceland.
…Steven Alan shirts.
I can't resist them. I love going into the Steven Alan store and getting one for a book party or just because I've worked hard on something and want to own something new. I'm not against wealth; I just think everybody should have it, same as health.
StevenAlan.com
President Obama Dislikes Bullying
President Obama was given a private screening of Bully at the White House, and immediately afterward – on the Day of Silence – announced that he supports the Safe Schools Improvement Act and the Student Non-Discrimination Act. 
Rihanna "Out Of Fucks To Give," Must Read Autostraddle
This conversation should go down in the Twitter Hall Of Fame as "Most Amazing."
Margaret Cho's Big Gay Interview
Even a woman as awe-inspiring as Margaret Cho has heroes, right? And because it's Margaret Cho, they are so obviously she-roes. Cho is lesbian singer/songwriter Garrison Starr's "biggest fan," and Cho recently  interviewed her for "The Advocate" and was absolutely adorable:
[Cho] What type of singing do you enjoy most? My fave is when you go real high in your range. Your voice is so beautiful and dynamic and really interesting because the tone is so different in each octave.
[Starr] That's so sweet, dude.
Earth Day Is Coming – CHIMPANZEE TRAILER
How does someone not want to see this?