AOL is partnering with a group of about 15 celebrities including Zoe Saldana, Steve Buscemi and Ellen Degeneres to create online reality shows that will debut later this year. While very little is being said about most of the shows (including Ellen's), one is catching a lot of attention so far. That one is the show starring Against Me!'s transgender frontwoman Laura Jane Grace.
Grace came out back in 2012 and since then has become one of the most recognizable faces in the transgender community. The band has also gained some popularity and many critics think that they are currently making some of the best music of their careers. Grace really is an awesome figure in both the trans and punk scenes, whether she's making roaring and triumphant punk records, performing on The Late Show with David Letterman with her band, raising a daughter with her wife, or having one of the most badass twitter accounts on the internet.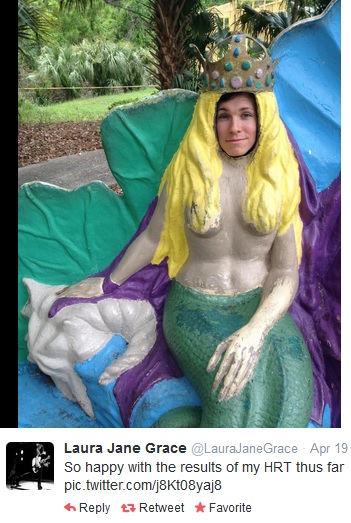 The band's 2014 album Transgender Dysphoria Blues debuted at number 23 on the Billboard charts, making it the band's highest charting album of their career. On the album, Grace sings about the struggles of growing up as a trans woman who is dealing with gender dysphoria, being in the closet and coming out. The songs on this album are aggressive and furious and she holds no punches when singing about these often very personal issues.
I'm really excited to have the chance to see more about how Laura Jane Grace and Against Me! are doing. I was a fan before she came out, and I'm an even bigger fan of her newer stuff. Plus, she's been a great supporter of all the trans fans who've reached out to her at shows and online. She often spends time after shows talking with transgender fans and also sends messages via twitter to people who reach out to her saying that she inspired them or that they need help. It's going to be really interesting to see some of these interactions up close on the show. Also, the band is always spot-on when they perform live, so I'm hoping to see a lot of great clips of live shows.
In the preview for the show, Grace talks about how she hopes the show will give hope to others thinking about transitioning. "It took until I was 31 to publicly come out as a transgender woman; nothing has been the same since. You build it up in your head beforehand … 'Should I transition?' And you're following through with that and you realize life's a transition, everyone's in transition, that's just the way it is. … That's what I hope [the show] gives other people, too, that they feel like they're not alone in the world."
Grace's show will be called So Much More and showcases her meetings with trans and gender variant people that she met while the band was on tour supporting their recent album Transgender Dysphoria Blues as well as personal interviews and performances. No release date has been announced yet, but you can watch a preview here:
---
Before you go!
It takes funding to keep this publication by and for queer women and trans people of all genders running every day. And A+ members keep the majority of our site free for everyone.
Still, 99.9% of our readers are not members.
A+ membership starts at just $4/month.
If you're able to, will you join A+ and keep Autostraddle here and working for everyone?
Join A+