Hummingbird Bakery Red Velvet Cake by Rachel
Support and photography by Peter Swire, fan of Autostraddle and soup chef extraordinaire
Notes
+ This is a British recipe and many of the amounts are in grams. You can do a quick conversion to more American measurements via interwebs if you must. We're leaving it in British so our friends across the pond feel included! What's up, Eley, et al!
+ The next time I make this cake, I'll double the recipe and make three layers. As it is, your cake will be a little thin. Also, everyone knows that nothing gets you laid faster than a three-layer cake on Valentine's Day.
Ingredients
120g unsalted butter, at room temperature
300g caster sugar (or organic Sucanat if you are a dirty hippie like me)
2 egg
20g cocoa powder
40ml red food colouring (this is like a ton of food coloring? I think you could use less)
1 tsp vanilla extract
240ml buttermilk
300g plain flour
1 tsp salt
1 tsp baking soda
3 tsp white wine vinegar
Preheat the oven to 170°C. (325° F)
Beat butter + sugar until fluffy and well mixed. Now turn the mixer up to high speed and slowly add the egg until everything is blended nicely. Don't have an electric mixer? Make your friend / valentine do all the stirring while you add the stuff! Teamwork!
In a separate bowl, mix cocoa powder + red food colouring + vanilla extract to make a very thick, dark paste. Add the butter mixture and combine well. Don't combine poorly! That'd be ridiculous.
Turn the mixer (or your friend / loved one) to slow speed and slowly pour in half the buttermilk. Now add half the flour and beat until everything is friendly and incorporated. Repeat this until you've got all the buttermilk and flour in there. Turn your mixer / friend up to high and beat the batter (oh!) until it's smooth and even. At this point it probably looks a lot like blood. You should smear some on your face and pretend to be Bill Compton! Only sexier / smarter / with a normal accent.
Ok get back on task. Time to add the baking soda and vinegar. Once that's in there, beat it for a few more minutes (OMG THAT IS SO WHAT SHE SAID)
Pour into a lightly greased 6″ cake tin, which you probs don't have. That's cool — use what you've got. Bake for 40 minutes for a 6″ tin, 30 for an 8″ tin. Are they done yet? Let 'em cool!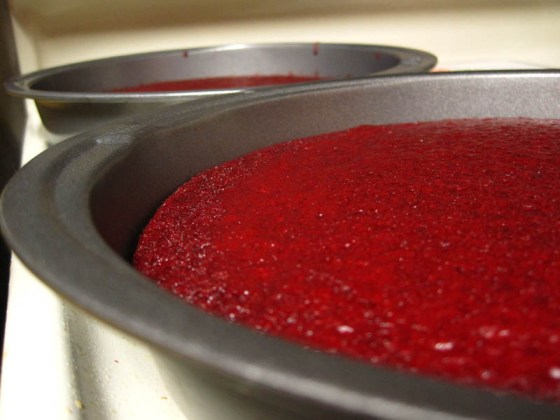 Hmmm, now you just need some cream cheese frosting. Oh hey look!
Cream Cheese Frosting
I went with Paula Deen's recipe, because no one knows more about high-cholesterol and traditionally-Southern desserts. This recipe is easy but makes an outrageous amount of frosting! Unless you want two solid inches of frosting all over this cake (which is fine, I'm not judging if you do), I would make 3/4 or 1/2 this amount.
Ingredients
1 lb cream cheese, room temp
2 sticks of butter, softened
4 cups powdered sugar
Mix that shit up until it's fluffy and delicious! Do not frost that cake until it's all the way cool, or else this ish will melt all over your counter. Tip: put the frosting in the fridge for about little while — not too long — so it's firmer when you use it.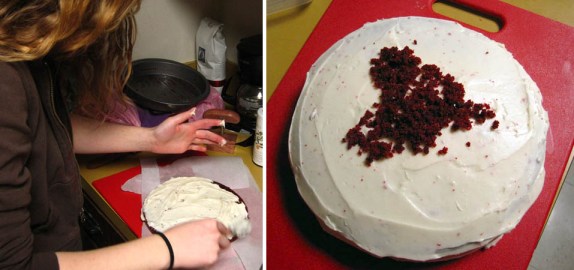 Now decorate! Maybe use some heart-shaped sprinkles. Or set aside some of the crumbs from the cake (if you have to level off some of the layers to make them flat, that would work) and sprinkle them on top. We made a heart shape stencil and used that to make a heart shape on top. But do whatever you want! Go wild!
---
Triple Chocolate Brownies
by Nigella Lawson, not Laneia
These brownies come from Nigella Lawson and her show, Nigella Feasts (which is the only thing worth watching on a lazy Sunday morning, in my opinion). I've halved her recipe because I have no need for eighteen brownies. Maybe you have many lovers and require several brownies? If so, feel free to double this.
Notes
+ All measurements were originally in the language of Great Britain, which means grams not ounces, which means when I halved the recipe, things got a little silly. Deal with it.
+ Don't have superfine / caster sugar? Sarah suggests running granulated sugar through a food processor. Worked for me!
Ingredients
1 + 1/2 sticks + 1 Tbl unsalted butter
6 oz bittersweet chocolate
3 eggs
1/2 +  cups superfine / caster sugar
1/2 Tbl vanilla extract
3/4 cups + Tbl all-purpose flour
1/2 tsp salt
1/4 cup white chocolate chips
1/4 cup semisweet chocolate chips
powdered sugar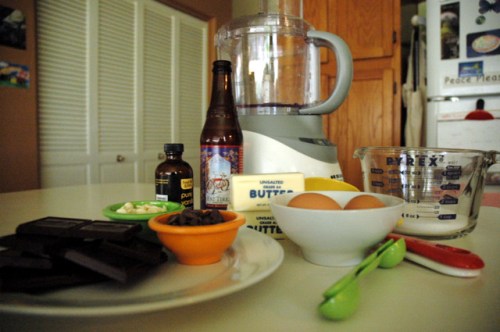 Before you do anything — before you even preheat the oven or open a beer — put the bittersweet chocolate + butter into a heavy saucepan over low heat. Don't have a heavy saucepan? Double boiler!
Ok now you can get an adult beverage and crank your oven up to 350°. Line an 8 x 8 pan (or 9 x 9, who's counting?) with parchment paper or aluminum foil. Stir the chocolate + butter! Isn't it pretty and glossy? It is. Let that stuff melt. (If you insist on not using parchment paper – which's totes up to you – you'll need to grease the pan. Oh my goodness, just buy some parchment paper, srsly.) Now would be a good time to organize a new playlist or delete those old photos of your ex-girlfriend. Stir!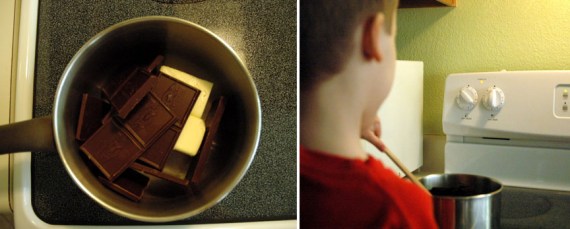 When your chocolate + butter has melted to a lovely, thick syrup, remove it from heat and allow it to cool. You didn't let it boil, did you? Don't. It need only melt.
While the chocolate's cooling, beat the eggs + sugar + vanilla. In a separate bowl, combine the flour + salt. Is the chocolate cooled off yet? Awesome. Add it to the egg + sugar. Fold in the flour mixture, then stir in the white chocolate / semi-sweet chocolate chips.
Obvs pour the batter into the prepared pan, stick that sucker in the oven and bake for about 30 – 35 mins. Because you were being reasonable and decided to line your pan with parchment paper, you can just lift it out — parchment paper and all — and let the giant pan-shaped brownie cool on a wire rack. You don't have a wire rack? Um, that's ok. Just pretend you didn't read the last part.
Time to cut them! I originally typed "cute" them, which is sort of fitting because we're about to cover them with powdered sugar. Hella cute!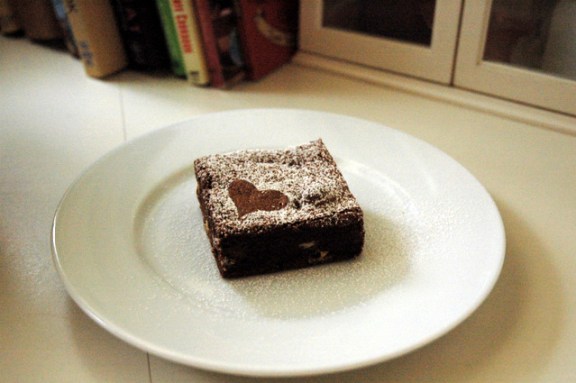 How'd I manage to write out this whole thing without prompting a parenthetical "That's what she said" moment? Damn.
Pages: 1 2See entire article on one page