It's spring/summertime (unless you're in Australia, in which case, we're sorry/jealous), and we're excited to bake up something sunny! What's sunnier and lovelier than lemons? Probably nothing! For this installment of Get Baked, Rachel, Sarah, and guest-contributor Abby will be making a variety of lemon-themed yummy foodstuffs.
I bet you'd like to know a little bit about Abby, yeah? Well she's a baking and pastry arts student at the Culinary Institute of America in New York. Abby hails from the great state of Georgia and enjoys soccer and the ladies. Hey-o!
Lemon Yogurt Anything Cake (vegan-friendly!): Rachel
Lemon Granita (vegan! gluten-free!): Abby
Lemon Coconut Bars: Sarah
Lemon Mousse with Macerated Berries (gluten-free!): Abby
+
---
Lemon Yogurt Anything Cake by Rachel
(vegan-friendly!)
I think this is originally from Ina Garten, but more recently from Deb at Smitten Kitchen, my #1 favorite food blog. It's a yogurt cake, which makes me feel good because yogurt is healthy, right?
Notes
+ As the name implies, this recipe can be altered in a lot of different ways. It's perfect for veganizing, since it already uses oil instead of butter! Try coconut milk yogurt instead of the whole milk kind, egg substitute, and maybe even lime instead of lemon, and you are well on your way to bagging that vegan barista.
+ Make sure not to neglect the lemon-simple syrup thing at the end. Without it, this recipe is only vaguely lemony instead of a hot sexy lemon explosion in your mouth.
+ For the oil, I used half vegetable oil and half olive oil, because I was out. Just wanted to remind you not to get too hung up on little things like that. Don't be afraid to improvise!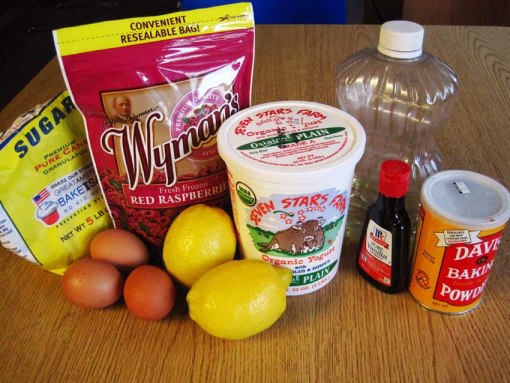 Ingredients
1 ½ cups + 1 Tbl all-purpose flour (the last tablespoon is for the fruit!)
2 tsp baking powder
½ tsp kosher salt
1 cup plain whole-milk yogurt (I think Greek yogurt might be interesting, too!)
1 cup plus 1 Tbl sugar (the last tablespoon is for the sauce!)
3 extra-large eggs
2 tsp grated lemon zest (approximately 2 lemons)
½ tsp pure vanilla extract
½ cup vegetable oil
1 ½ cups berries, fresh or frozen, thawed and rinsed (I used raspberries!)
1/3 cup freshly squeezed lemon juice
Are you ready? I don't think you're ready. Preheat the oven to 350°F. Grease an 8 ½ by 4 ¼ by 2 ½-inch loaf pan.
Mix the flour, baking powder, and salt in a bowl.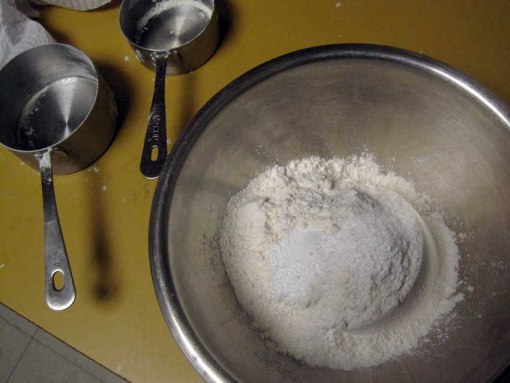 Using either your stand mixer or a separate bowl and whisk, combine the yogurt, 1 cup sugar, eggs, lemon zest, vanilla and oil. Have you ever zested lemons before? It's great. For a while I thought I couldn't because I didn't have a microplane or a zester or whatever, but then I realized that the holes on my cheese grater get pretty small and I'm never going to be Ina Garten anyways.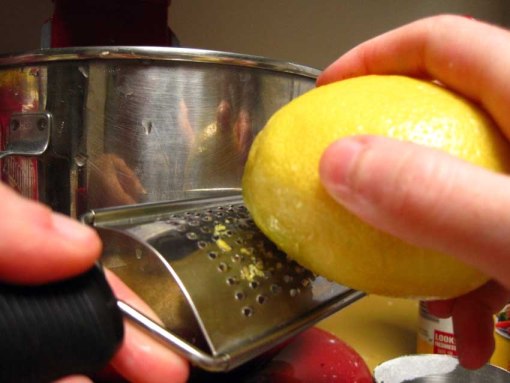 So like I was saying, mix it all together. This will be an incredibly gross-looking mixture, so enjoy that. Gradually whisk the dry ingredients into the wet ingredients until it looks like, you know, a cake batter?
Mix your berries with the remaining 1 Tbl of flour, carefully so they don't turn into puree, and fold them very gently into the batter. Pour the batter into the prepared pan and bake for 50-ish minutes, or until a cake tester placed in the center of the loaf comes out clean. At this point it will look golden and sexy on top.
Either while the cake is baking or while it's cooling, put the 1/3 cup lemon juice (you can just use the lemons you've zested! How great.) and 1 Tbl sugar in a small pan until the sugar dissolves and the mixture is clear. Set aside until the cake is out of the oven and has cooled for a while. The recipe says to leave it in the pan to cool for 10 minutes before taking it out, but I might wait longer than that? Mine was still a little… mushy. While the recipe recommends putting it on a wire cooling rack over a sheet pan, some of us don't own cooling racks, so we just put them on a wooden cutting board.
Next is my favorite part: pricking the cake all over with toothpicks so that the lemon sauce can get all up in there. It's like a voodoo cake! Once you've made all your little holes, just pour the sauce carefully over the top of the cake — this works best when both cake and sauce are still kinda warm, so the sauce soaks up all the way.
Ok now you're done! Good job! High fives all around! You will be tempted to start eating it, and I would be lying if I said that's not what I did, but I will note that it's still super soft and if you cut it now it will kind of fall apart and smoosh your nice loaf. So if you can wait an hour or six, I would, but if you can't, no one here will judge you. I recommend enjoying your slice with a nice cup of tea and some cunnilingus.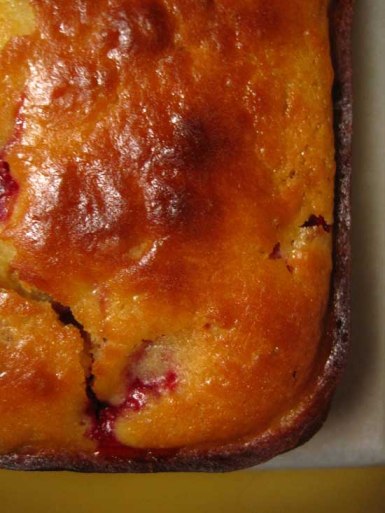 ---
Lemon Granita by Abby
(vegan! gluten-free!) makes about 4 servings
Granita is just a sexy name that the Italians like to use for their addictive, slushy-style dessert. This will take some time to freeze, so plan accordingly. My vegan and gluten-free friends, this one's for you!
Ingredients
3 cups water
1 cup sugar
½ cup lemon juice, preferably fresh
¼ cup orange juice
½ tsp vanilla
¼ tsp salt
*3 oz. (6 Tbl) vodka, rum, etc. (optional, but suggested) – more than this and it won't freeze
*Basil – definitely optional – chop 6 leaves, add it to your sugar, but strain it out before freezing
Combine your sugar and water in a saucepan. Stir to combine, and then start heating on medium. Boil for 3 minutes and then turn off the heat. Stir in the lemon juice, orange juice, vanilla, salt, and your chosen adult beverage, if desired. Pour it into whatever you'd like, but something that is flat and will fit in your freezer. I usually stick to an 8 X 8 baking dish. Cool completely to room temperature and then freeze overnight until frozen solid.
45 minutes before you're ready to dig in, transfer your granita to the refrigerator. Do you have some glasses/cups/whatevs ready? I rimmed mine with sugar, like the recipe above. Shave the top of the surface with a fork and divvy it up. Garnish with some lemon zest and sugar. Done….easy, huh?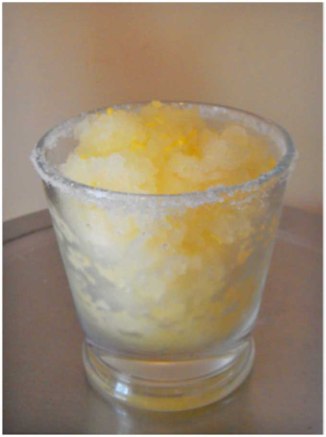 ---
Lemon Coconut Bars by Sarah
Bars are wonderful because they're halfway between a pie and a cookie. The delicious filling of pie but with the portability of cookies? Best of both worlds! This particular recipe is via mybakingaddiction.com.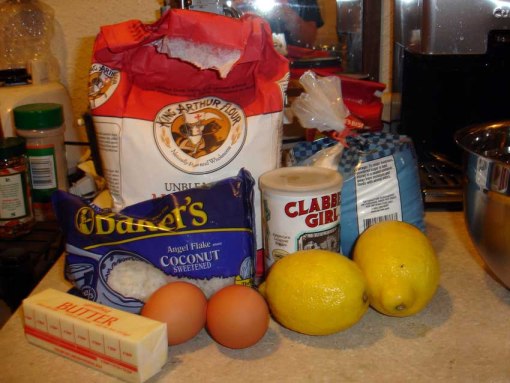 Ingredients
1 ½ cups all-purpose flour
½ cup powdered sugar, sifted
¾ cup cold butter or margarine
4 eggs
1 ½ cups sugar
½ cup lemon juice (about 2 lemons)
1 tsp baking powder
1 cup flaked coconut (toasted if you want)
Preheat your oven to 350 degrees.
In a bowl, mix together the flour and powdered sugar. Cut in the butter until it's crumbly. I used a fork, but you can use a food processor or a pastry blender (which is definitely going to be the next kitchen gadget I buy myself). Press this mixture into an even layer at the bottom of a 9 x 13 x 2 inch baking pan lined with parchment paper and non-stick spray. Bake this at 350 degrees for 15 minutes, then set it aside.
While the crust is in the oven, beat together the eggs, sugar, lemon juice and baking powder until well mixed. Make sure there are no clumps of baking powder. Pour this mixture over the prepared crust. Time for the coconut! If you like your coconut toasty, and I'm thinking you might, I suggest you toast it in the oven ahead of time and sprinkle it evenly over the top of the lemony goodness.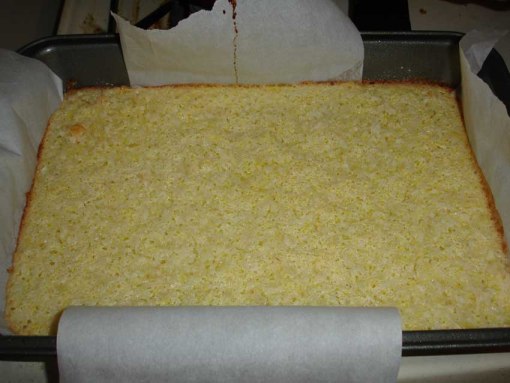 Bake at 350 degrees for 20 to 25 minutes or until it's golden brown and beautiful. Cool on a wire rack, cut into bars, and enjoy!
---
Lemon Mousse with Macerated Berries by Abby
(gluten-free!) 4-6 servings
These desserts end up being pretty impressive and are much simpler to make than they look.
Notes
+ When choosing citrus fruits at the gro-store, go by the scratch and sniff test. Besides seeing what kind of strange looks you can get (people will stare), if it instantly smells like Floridian essence (i.e. citrus), you've found a good one!
+ Let's talk equipment! It's best to have a basic thermometer and a hand mixer. They're pretty cheap at the major retail stores, and they'll help you get killer results. You can accomplish this recipe by hand, but you're bound to break a sweat in the kitchen.
+ I chose to exclude the gelatin because it's complicated and messy, so these can only last in the fridge for about 4 hours. If garnishing, finish them when you're ready to serve.
Ingredients
Macerated fruit:
½ pint of your favorite berries – slice them if they're large
3 tablespoons of sugar
¼ teaspoon vanilla extract or ¼ vanilla bean, scraped
*optional (suggested): 1.5 oz. liquor
Mousse:
¾ cup + 1.5T heavy cream
½ cup + 3.5T sugar
3 large egg whites @ room temp (pasteurized!)
¼ cup lemon juice, preferably fresh
Zest of 2 large lemons
*optional: ¼ tsp lemon extract, to make it extra…lemony
Garnish (optional):
sugar for rimming
¾ cup heavy cream and 3 T lemon zest
First, you want to locate some sort of drinking glasses. They can be plastic, glass, whatevs. I like to play bartender sometimes and decorate the rim with sugar. Go here to see how to embellish your glass.
Next, the macerated berries. Macerate isn't actually as painful as it sounds, just another fancy-pants term for 'fruit in a syrup'. Wash and gently dry the berries, put them in a small bowl, and toss with 3T of sugar and the vanilla. If you have plastic wrap on hand, it's best to wrap the top of the bowl. Let this stand at room temp for 30 minutes, or until your mousse is ready.
**If you're trying to drug / entice your lady, may I suggest macerated fruit with liquor? Add enough 'to taste,' or about 1.5 oz. (3 tablespoons) per ½ pint of berries.
Ready for the mousse? In a medium-sized bowl, whisk the heavy cream until it holds on to the whisk. It shouldn't be as runny as soup, but have a consistency more like sour cream. If you've studied up on your baking terminology, it should be soft peak (see below). Put this in the fridge.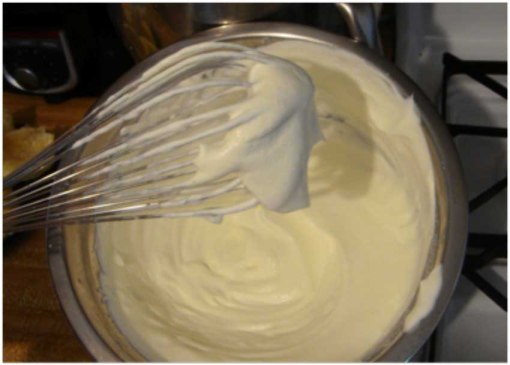 Separate your egg whites. Heads up: NO yolk should be in the whites, or else you're going to end up drinking your mousse rather than eating it. Also, have your lemon juice and zest combined in a small bowl, which you'll save for later. (*Hint* it's easier to juice lemons if you microwave them for about 15 seconds)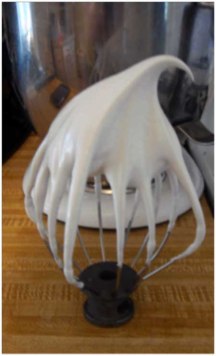 If you have a thermometer and a hand/stand mixer, skip to the next paragraph. If not, nbd. I'm sure you're thinking, 'Abby, I'd like to get some mad Madonna-like arms for springtime.' You're in luck, my friend! Put your whites and ¼ tsp of lemon juice into a medium-sized bowl and whisk until the whites get foamy and opaque. Continue to whisk while you gradually add your sugar. If you have a buddy on hand, it's best to enlist their help now. They can sprinkle while you whisk, or you can tag team. You're going to whisk for about 8 minutes until you can get a soft peak when you turn your whisk over, like the pic at right. Want that hand mixer? Thought so. Skip the next paragraph.
For those with a thermometer and a hand mixer: put your whites, sugar, and ¼ tsp of lemon juice into a metal bowl. Heat the bowl over the stove, directly or over a water bath, on medium-low heat while stirring. (If you don't stir you'll get a sugary egg-white omelet. Oops, just start this section over.) Once the mixture reaches 135°F, whisk it on high with your mixer for about 3-5 minutes. Watch for the whip to start to pull a defined track in the whites, and turn off the mixer. Flip the whisk over, check the peak, and hopefully it should look like the picture above. If it looks wimpy, whip it a tad more. Err on the under-whipped side because over-whipped whites = mousse that looks like cellulite. True story.
It's important to work quickly to finish the mousse once you've whipped the meringue (whites/sugar combo). Add your lemon juice and zest to the meringue. Fold a bit with a rubber spatula or a big spoon. Take your soft-peak whipped cream out of the fridge, whisk it a bit if it softened, and add it ALL at once to your meringue. Next, as some chefs say, you want to make love to your mousse (i.e. fold gently but quickly until just combined).
Do your best Martha Stewart impression and arrange the berries in the glasses. Then you'll transfer the mousse to the glasses, which you can accomplish by either spooning or piping (ohh girl, if you're not blushing by now, I am). If you have a large Ziploc bag around, simply fill it with mousse, snip off a corner, and fill your glasses evenly. Otherwise, just spoon it. Feeling extra creative? You can whip up some additional heavy cream for the top and garnish with some lemon zest. Congrats, you're done!