Alert! Alert! Blueberries are in season! I recently came home to visit my dad and his wife, only to find 18 pounds of freshly-picked highbush organic New Jersey blueberries. They were gorgeous; as far from your typical grocery store blueberries as you can imagine. These berries were lucious and juicy, sweet but still tangy, practically as big as very small grapes.
I did everyone a public service and baked things til my tongue turned purple! Here are some of the things I made:
---
Blueberry Crumb Cake
based on Blueberry Crumb Cake from Smitten Kitchen
STEP ONE: Prep
Heat the oven to 375°F. Butter a 9-inch round baking pan. Dust it with flour. Cut out a circle of parchment paper to fit in the bottom. (I did this step because I miraculously had parchment paper available to me. Probably it would be ok if you didn't have the paper; it will just make it harder to get out at the end.)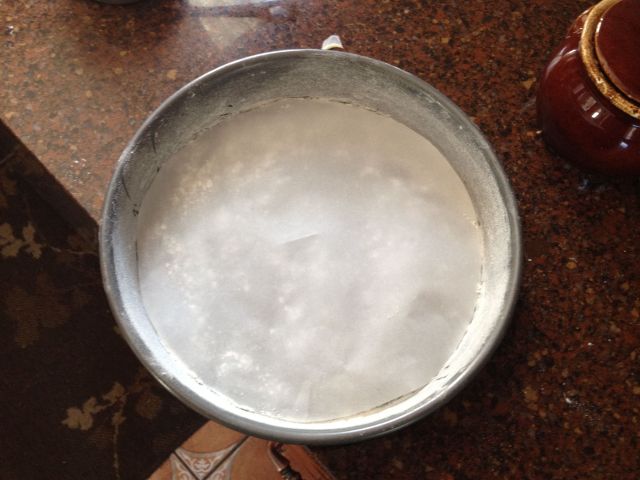 Next, gather your ingredients.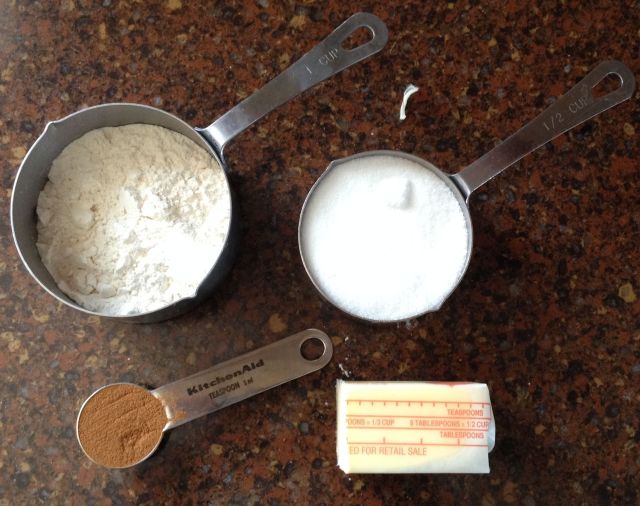 Topping
5 Tbsp all-purpose flour
1/2 cup sugar
1 tsp cinnamon
4 Tbsp unsalted butter (that's half a stick)
pinch of salt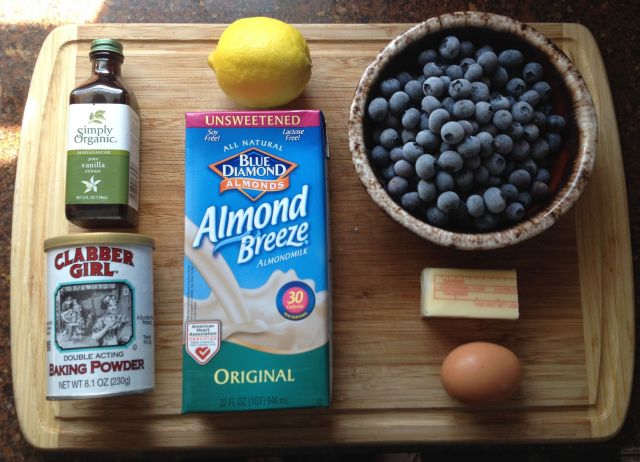 Cake
2 cups all-purpose flour
2 tsp baking powder
1/2 tsp salt
4 Tbsp softened unsalted butter (that's the other half of the stick)
3/4 cup sugar
1 lemon's zest
1 large egg
1 tsp vanilla extract
2 1/2 cup fresh blueberries
1/2 cup unsweetened plain almond milk
STEP TWO: Topping
Combine the flour, sugar, cinnamon and salt together, and then cut the butter into it. I learned to cut butter in a time when I did not have a pastry blender available to me. I think I was like twelve. I tried to use the "two knives" method, but I didn't have the fine motor skills for it and honestly I don't think I do now, either. My preferred butter-cutting method is just with my fingers.
I start by cutting the butter into smallish cubes like so:
And then I put them in the flour/sugar mixture:
And then I pull them apart over and over again.
At the end of the process, you can involve a fork to kind of smash things around.
The idea is to get it all crumbly, but not have the butter completely evenly distributed.
GOOD WORK. Now put it aside for later. I put it on the stove, which I didn't realize was going to make it get hot because of the heat from the oven. This was not the worst thing later when it was time to put it on the cake, but if it had been on the oven much longer, it would have probably melted into a goo that would have been less than ideal.
STEP THREE: Cake
Whisk the flour, baking powder and salt together. In a different bowl, beat the butter, sugar and zest together. I used a hand mixer for this, but if you have a stand mixer it'd be worth it to pull it out, because while this is totally manageable, it's gonna get less manageable.
Once the butter, sugar and zest are fluffy, add the egg and vanilla and beat it all together.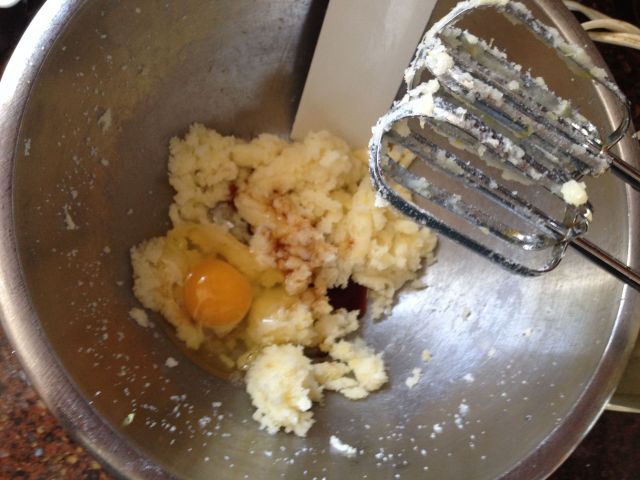 Ok, so now you have your wet ingredients, your dry ingredients, and your almond milk on the side. (Sidenote: I always prefer almond milk when baking because it's easier on my stomach and it adds a subtle almond flavor that is rarely a bad thing.) First, beat 1/3 of the dry into the wet. THEN add half of the milk. THEN add another third of the dry, then the rest of the milk, then the rest of the dry. OK? Got it? Dry, milk, dry, milk, dry. You're going to have really, really thick batter, but Deb says "don't fret," and if Deb says not to fret, there's no need to, is there?
Then fold in those blueberries. Yes, all of them.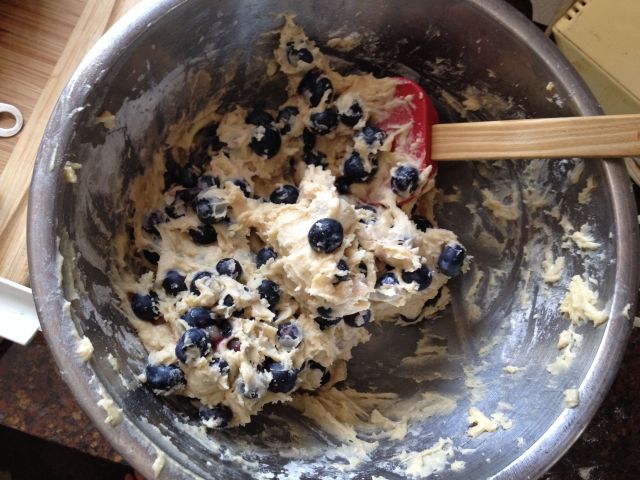 Now take your cake pan and dump the batter in. Spread it all around. Then sprinkle the topping on.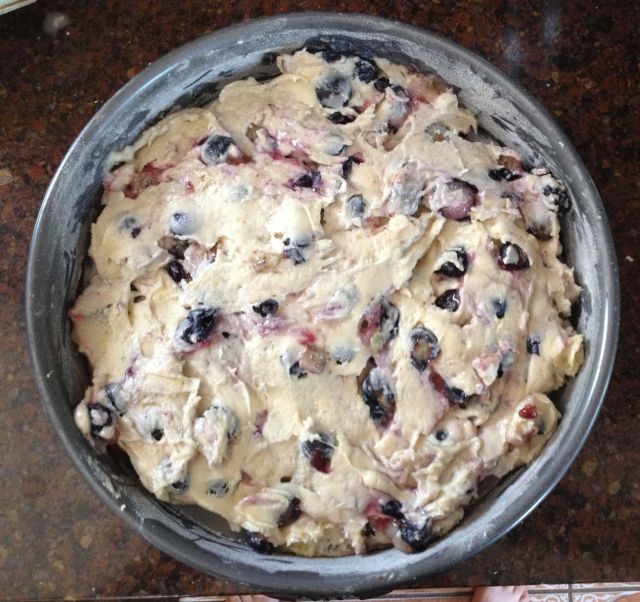 Bake for 40 minutes or until the top is kind of crunchy and a toothpick comes out clean.
STEP FOUR: Eat
We ate this to celebrate my aunt's birthday! Happy Birthday Auntie Ali!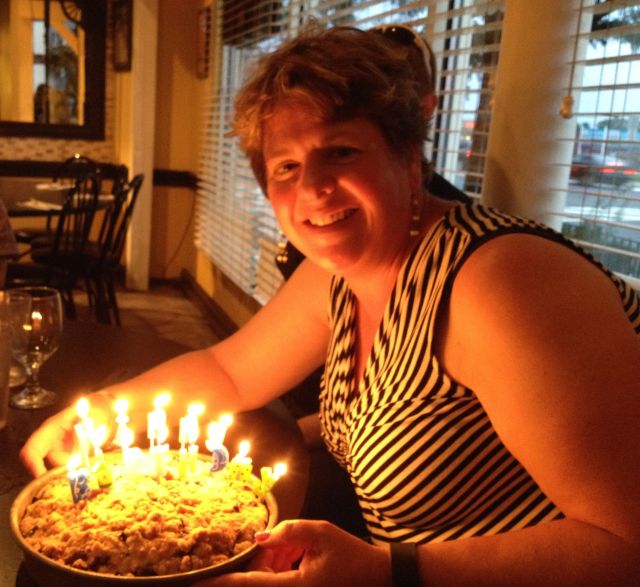 It's like 50% blueberries and so very delicious.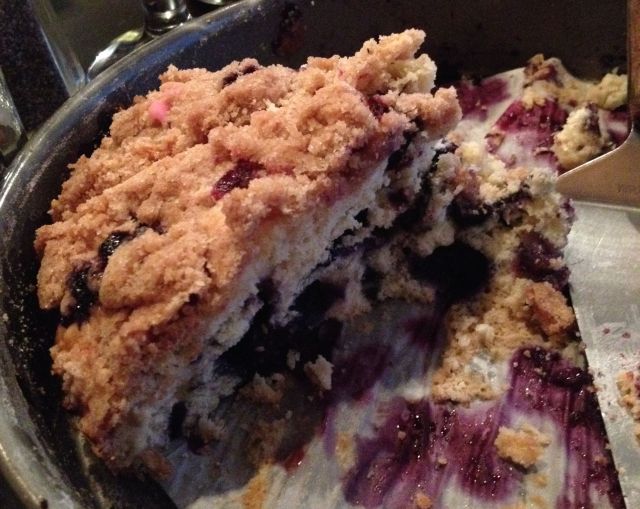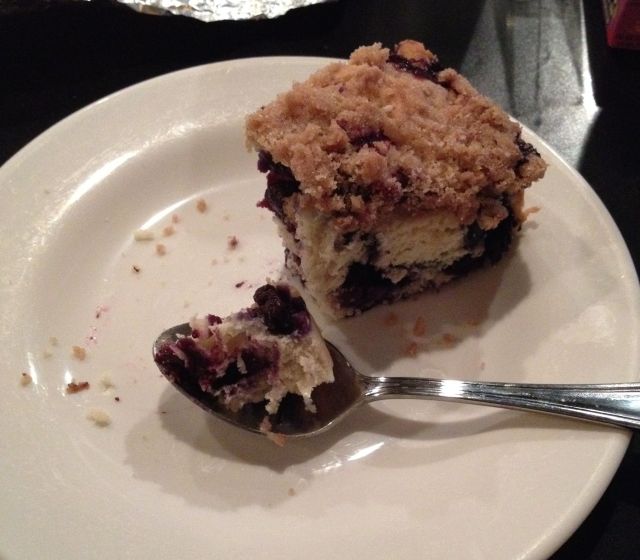 ---
Blueberry Basil Popsicles
I combined the abundant blueberries with abundant home-grown basil to make abundant popsicles. While you can certainly follow my recipe, I'd recommend you create your own modifications depending on what you have a ton of and/or really need to use.
My ingredients:
juice from half a lemon
3.5 cups blueberries
a whole bunch of basil (I don't have anything more specific to tell you other than I loosely filled a salad spinner. I know that's not super helpful, but it's better than nothing)
1/4ish cup sugar
1/2 cup water
Take your blueberries, mix them with the water and sugar and a little more than half the basil, and put them in a saucepan over medium heat until the sugar dissolves, the basil wilts, and everything is super dark purple.
Then fish out the basil. I am not sure why, but the internet suggested it, and I feel like it makes sense. because you don't want a bunch of cooked basil in your ice pops.
Now let the blueberries cool. While you wait, juice your lemon half, maybe rip up the rest of the basil a little bit, get out the blender, and clean the kitchen.
Once the blueberries are cool, put everything in the blender and liquefy it for a good long time.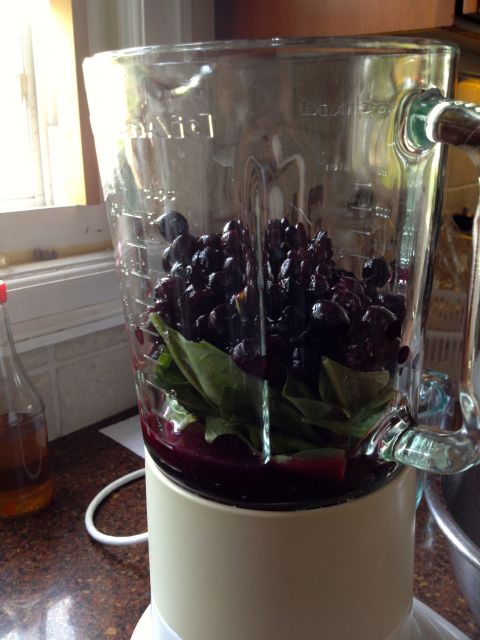 Then pour it into your popsicle molds.
I had exactly the right amount to make eight popsicles, which made me feel like a wizard.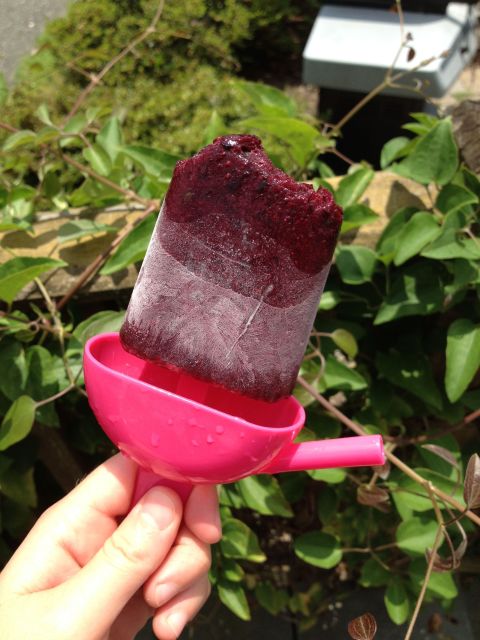 Okay. So. Here's how they turned out. On flavor, I'd give them a nine out of ten, but on texture they were only at like a five. They were too chunky! The blueberries weren't totally liquefied before they went into the popsicle molds, but that wasn't as much of an issue as the basil, which also wasn't totally liquefied — some of the pieces were still kind of big, which is pretty weird in a popsicle. This is why when I say liquefy that stuff in the blender, I really mean liquefy. There might be something to be said for using an actual juicer if that's something you have access to.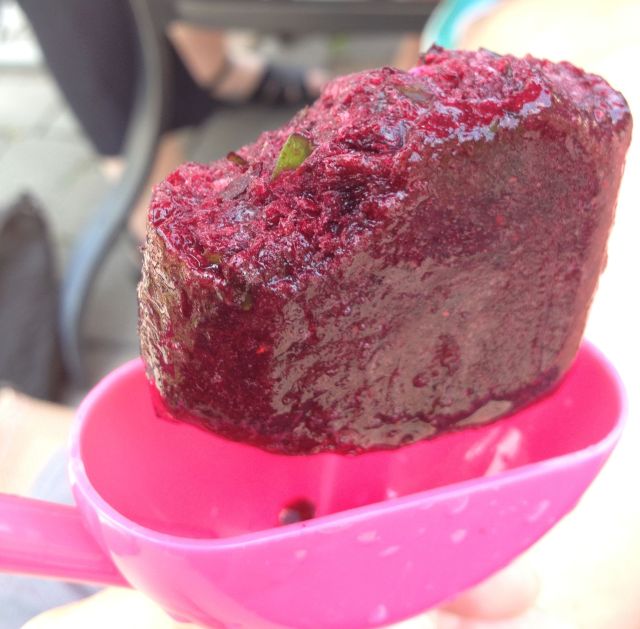 I still thoroughly enjoyed these with the family.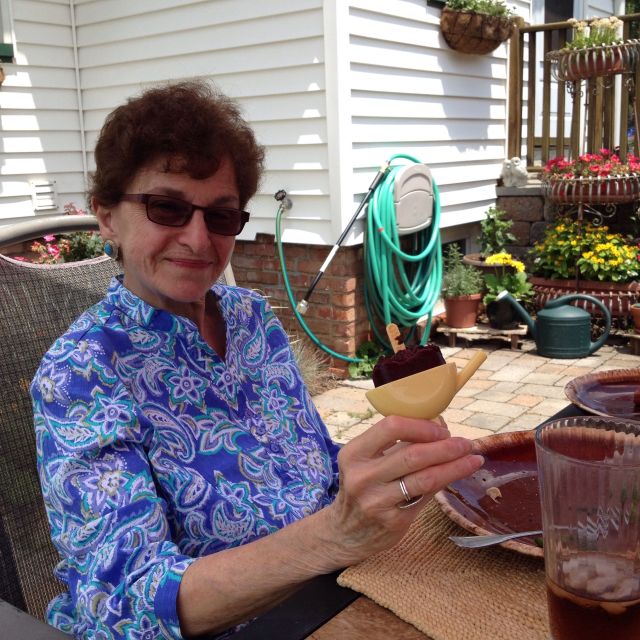 ---
BlueberryTinis
Then I left the other four popsicles unattended while I went to Dyke March, and said remaining popsicles were appropriated for "BlueberryTinis." I am told this involved, "blending the popsicles and adding a lot of gin."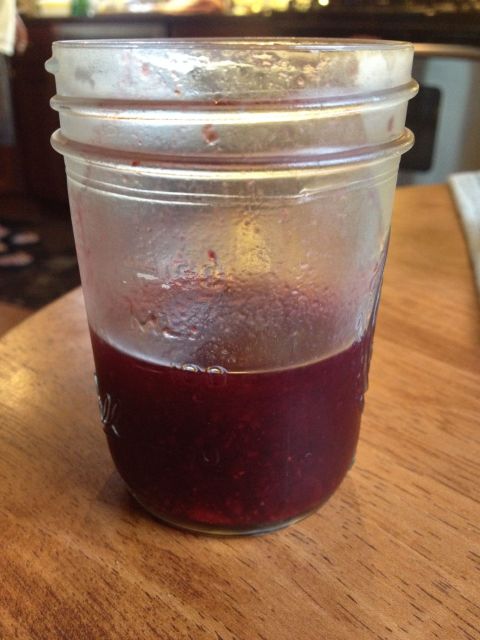 This is the lone photographic evidence of said BlueberryTinis, but I am assured that three of them led to a fun night and a rough next morning.
---
So that's what I did when I had a zillion blueberries at my disposal. And let's be honest – there were still a ton leftover in the freezer. How are you celebrating blueberry season?