A couple of weeks ago I went to bed a normal, moderately well-adjusted woman with many hopes and ambitions. I awoke to a different world, a different me. My hopes and ambitions had been reduced to one single thing and it was all I could think about: my grandmother's peach cobbler. Not a peach buckle or a peach crumble or a peach girl bait. A peach cobbler. And not your peach cobbler or the peach cobbler you can get at the hipster barbecue place or even all the peach cobblers a person could make using all the recipes from the first fifty pages of results when they searched "peach cobbler" on google. It had to be my grandmother's peach cobbler: roughly 33% dough, 33% peaches, and 33% butter. The kind of peach cobbler that vanilla ice cream weeps for. The reason spoons were invented. Mema's peach cobbler.
I texted my mom for the recipe and asked Megan to bring home a box of peaches ASAP. I made sure we were flush with butter. I told the kids, KIDS I'M MAKING A PEACH COBBLER. Everything was in place.
Then I froze. Trying to emulate my grandmother's peach cobbler? Had I lost my mind?? IT'S NOT POSSIBLE TO REMAKE HER PEACH COBBLER because I'm not good enough! No one's good enough. Oh man. I put it off for days while the pile of peaches sat on the countertop. My children lost hope. Megan doesn't even like peach cobbler so she was fine, but I was miserable. So much longing yet so much fear! Like having sex for the first time or something. I had to come to terms with the fact that the peach cobbler I would make wouldn't be my grandmother's peach cobbler. It might not even be close at all, but it would be a) a peach cobbler and b) in my mouth, and in the end, that's what felt most important. Also my grandmother would've hexed me if I'd let those peaches go bad.
The cobbler I ended up making was on the scale of OK/Good, but as predicted, even an OK cobbler is better than no cobbler, and I learned a thing or two. For example, cobblers are like the stew of desserts, in that you kind of can't fuck them up, really. Once you know your preferred ratio of sugar to fruit to crust, you have all cobblers at your command. You are the cobbler king, my friend. What will you do with this power? Maybe you will find that your local grocer has put strawberries and blueberries on sale this week, and you'll make this delicious cobbler so we can be cobbler twins!
Summer Berry Cobbler That You Deserve
Filling:
4+ Tablespoons salted butter, cubed or pinched
3-4 cups of blueberries and sliced strawberries (I used one small 6oz package of blueberries and one 16oz package of strawberries)
1/3 cup white sugar, plus more for sprinkling
pinch of salt
kettle of boiling water
Buttermilk Biscuit Crust:
2 cups all-purpose flour
1/4 teaspoon baking soda
1 Tablespoon baking powder
1 teaspoon salt
6 Tablespoons super cold salted butter, cubed
1 cup buttermilk (or scant 1 cup milk + 1 Tablespoon vinegar, whisked together and rested for 10 minutes)
Also:
9″ cast iron skillet
2 Tablespoons butter (or more)
1. Line the bottom rack of your oven with foil to catch the filling when it boils over, then preheat it to 350 degrees.
2. Do you have buttermilk? I salute you if you do. I never have buttermilk because a person can only make and eat so many buttermilk biscuits in the week it takes a carton of buttermilk to go bad, and so I always end up throwing it out, which is a damn travesty. I make my own buttermilk by whisking one tablespoon of vinegar in with enough milk to equal a cup and then letting it sit for 10 minutes while it curdles. If you need to make your own buttermilk, now's the time!
3. Cut up all your fruit and instagram a picture of it in a bowl so all your friends know that you're living your best life. Mix in the sugar and salt and set it aside, preferably near a sun drenched window because you deserve only the most beautiful views right now.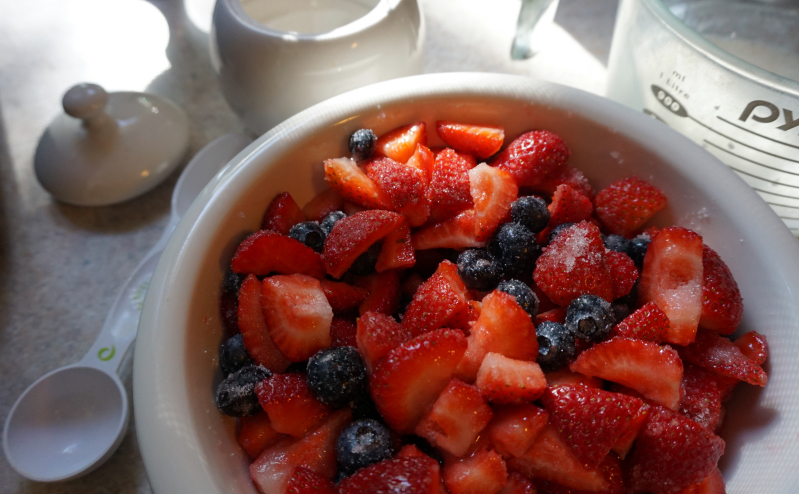 4. Put the kettle on. You'll need at least a cup of boiling water, more if you decide to do this in a larger baking dish. What music are you listening to? I hope it's something lovely.
5. Crust time! Mix together the flour, baking soda, baking powder and salt in a large bowl. Using a pastry blender, food processor [or two knives in a crisscrossing motion if you hate yourself and want this to take forever], cut the very cold butter into the flour mixture until it resembles cornmeal and/or you get bored. If you were making actual biscuits with this recipe (because that's what it is, a tried and true recipe for perfect biscuits), you'd want to really mix it in and make it as uniform as possible, but kid, you're making a cobbler. This is so chill.
As the original biscuit recipe states, the key to perfect biscuits — or in our case, crust — is that you don't overwork your dough. Combine the flour mixture with the buttermilk just until it's mixed and not a moment longer. It should be sticky, wet and fluffy.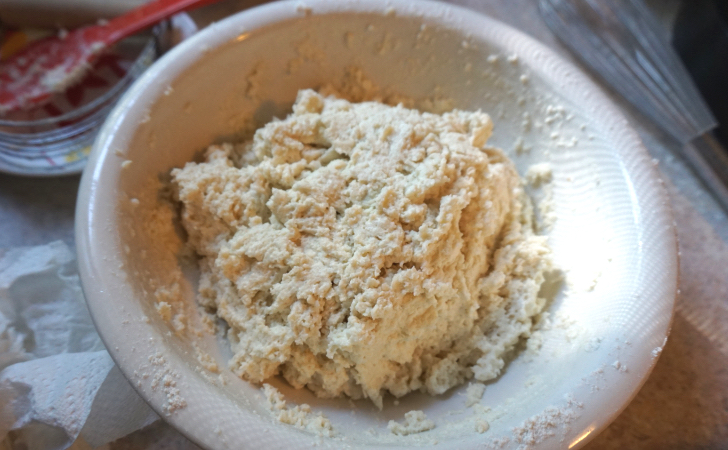 6. Put the two tablespoons of butter into the skillet and pop it into the hot oven. I like to obsessively monitor my skillet while it preheats, but this is also a good time to get everything set up in one place so it's easy to assemble the cobbler once the skillet is hot and your butter has browned slightly. You should have a bowl of sugared fruit, some cut up butter (or you can pinch it off a little chunk at a time like Mema did), a bowl of fluffy wet dough, a couple of spoons for scooping the dough, sugar for sprinkling, and a kettle of boiling water.
7. Once the butter has browned, you've removed the pan from the oven and you are ready for this jelly, spoon about half of the dough into the skillet so that it mostly covers the bottom. Don't do this all in one go like you're pouring cake batter — you're going to create a bumpy bottom crust one spoonful at a time. Then dump all the fruit on top of the dough, followed by enough boiling water to almost cover the fruit. Distribute the butter about as evenly as a person can, then create the top crust the same way you did the bottom, one spoon at a time until it's pretty much covered, then top that with a heavy sprinkle of sugar. Your skillet will be very full at this point, so be really really careful when you move it to the oven.
8. Bake for around 45 minutes, until the crust has browned and the filling has thickened. Then give so much praise and thanks to seasonal fruits and the spirits of our grandmothers AMEN.