Hey, do you have five minutes? Good! 'Cause that's all you'll need to whip up this vegetarian sausage and peppers sandwich.
Ingredients
3 Bell Peppers, chopped
1 Clove Garlic, Crushed
1/2 White Onion, chopped
2 Italian-Style Veggie Sausages
About 1/2 Cup Shredded Cheese*
1 Hoagie-Style Roll
Directions
Start by heating some olive oil in a frying pan. Add the onions, garlic, and peppers to the pan and add some water. Cook over medium heat until the peppers and onions are soft. While that stuff is heating up, slice your sausages into nickels.
When they're all done, toss 'em in to the pan and add oil as needed to prevent the ingredients from sticking. The goal is to let everything get a little browned, so don't fret if they already are!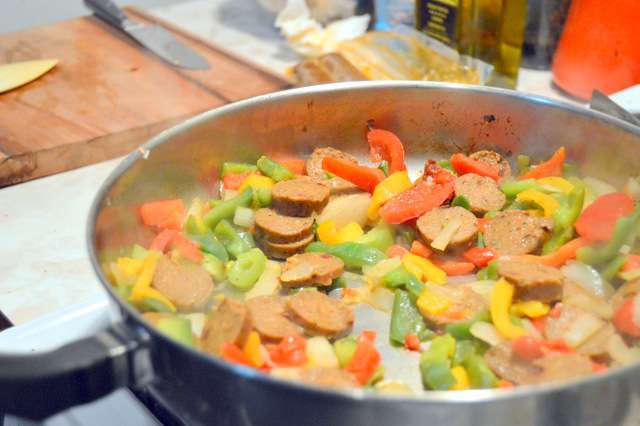 Cut your roll in half, vertically, without slicing all the way through the roll. Toast it, open, in a toaster oven. (Or an oven. Or a toaster!) Remove the sausage and peppers from the pan and use a soft baking spatula to push them into the roll. Add cheese, then another layer of sausage and peppers. Squish the sandwich down to melt the cheese and then, voila! It's all ready for you, bae.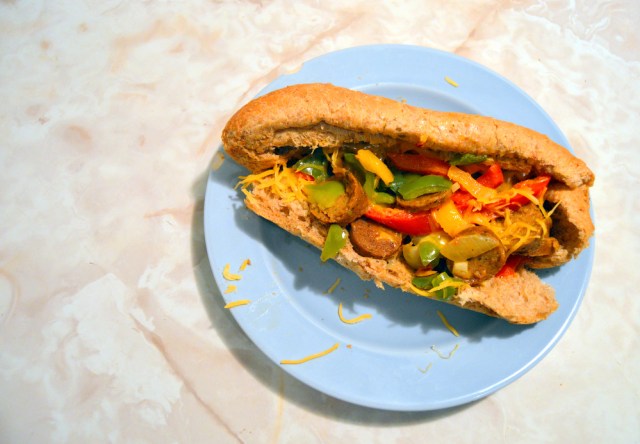 *Everything in this recipe is vegan, minus the cheese. Just don't add cheese or trade it out for some vegan cheese if that's your life and dig in!