At this point in Passover, I would basically rather eat cardboard than another piece of plain matzo. Enter the matzo pizza. Some people will tell you to just slap some sauce on a whole piece of matzo and stick it in the microwave. Some people would be wrong. Doing this results in a huge soggy, floppy, unfulfilling mess you can't properly cut or eat. My way results in delicious, crisp pizza that is conveniently bite sized and manageable.

MATZO PIZZA
Ingredients
Matzo
olive oil
Tomato sauce (jarred or otherwise)
mozzarella cheese
parmesan cheese
Mushrooms (optional)
Onion (optional)
Feta cheese (optional)
Greek olives (optional)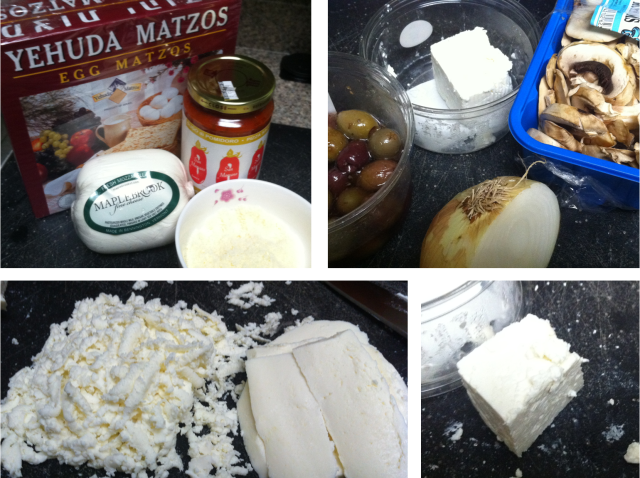 Instructions
1. Assemble your ingredients and preheat the oven to 375 degrees.
2. Grate your parmesan cheese. Grate or thinly slice your mozzarella. Chop any toppings up in to penny-sized pieces.
3. Break a piece of matzo into four pieces. If any of the pieces break larger than the palm of your hand break them in half. Brush one side of each piece of matzo with a dab of olive oil and place oil side down on a tin foil covered pan. Repeat until pan is covered.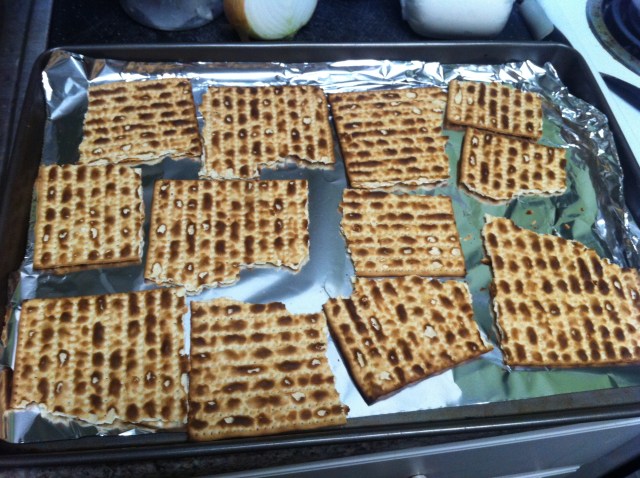 4. Using a dessert spoon, put a dollop of sauce in the center of each small piece of matzo. Ensure that the sauce is not over flowing or too sparse.
5. Sprinkle mozzarella cheese out on each small piece. If you have cut the mozzarella, lay pieces end to end so as not to overlap too thick. Sprinkle the parmesan on top of this.
6. Delicately array out your toppings in the center of the matzo as you might for a bruschetta. spring with additional parmesan if desired.
7. Alternatively, arrange feta cheese, olives and onion in the center of the sauced matzo for a greek pizza.


8. Bake in the oven for 7-10 minutes or until the cheese browns.
9. Remove the pizza pan from the oven and allow to sit for 5 minutes. This is crucial for the pizza to set.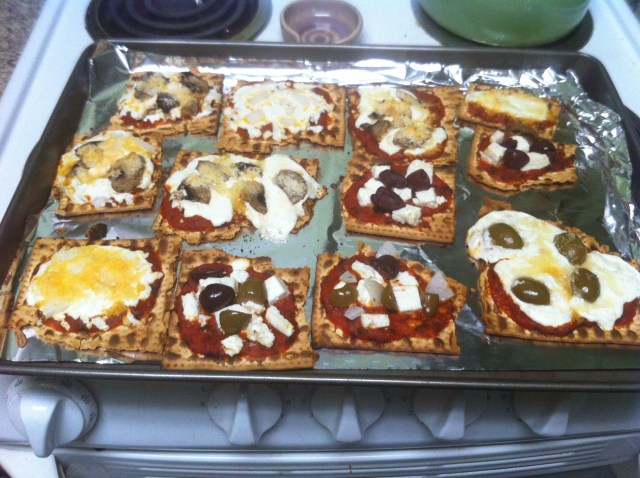 Serves five pieces per person for a delicious Passover dinner or two slices per person for a snack.