This one pan kale and haddock situation is perfect as a quick dinner.
Haddock gets super flaky when cooked and tastes mild and slightly sweet, which is perfect paired with slightly bitter kale. Like all fish, getting it from the grocery store works but a fishmonger is great. Look for fresh, moist white fillets with no grey tinge. You could maybe use halibut or sole, but that's more expensive, and you could use tilapia or another white fish, but haddock is just a little more substantial while still tasting light.
Instead of serving the haddock on a bed of kale, you just dump the kale in on top. The haddock is so flaky that it will probably completely fall apart when you serve it, so the kale keeps things looking pretty.
This is one of those recipes where amounts are more or less suggestions rather than actual rules, especially when it comes to seasoning. You might want way more lemon on everything, or none at all. You might want two bunches of kale instead of one. Follow your heart.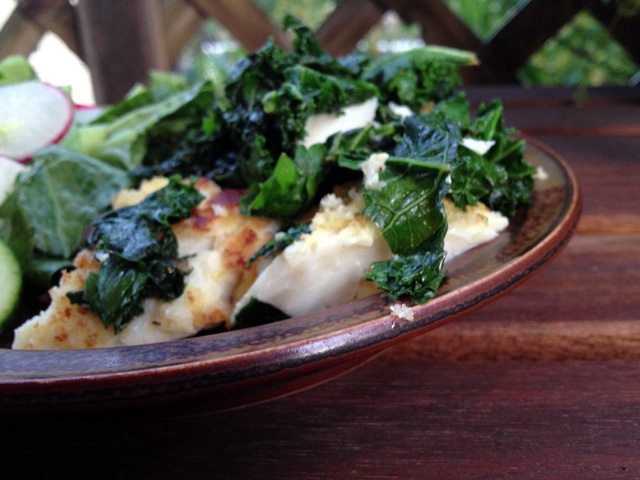 Kale and Haddock
Recipe from Jamie Germaine
Ingredients
olive oil
1 bunch kale
Handful of parsley
1 small red onion
1/2 a lemon, freshly squeezed
1 egg
panko bread crumbs
1/3 to 1/2 haddock fillets per serving, approximately
vegetable oil
salt and pepper
Directions
1. Wash the kale and separate the leaves from the stems. Coarsely chop the leaves. Chop the onion into smallish chunks. Chop the parsley. Heat some olive oil in a large frying pan over medium-high heat. Add the onions with some salt and pepper, stirring often so they don't stick. When they brown and start to soften, add the kale. Cook until it turns bright green, stirring often. Add the parsley and some of the lemon to taste, mix it in, and remove everything from the heat. Set the kale aside in a bowl.
2. Break the egg into a bowl large enough to dip the fish into, and scramble it. Sprinkle some breadcrumbs over a large plate. Remove the skin from the haddock if you haven't already. Dip each fillet into the egg and then into the breadcrumbs — aim for a light dusting rather than a solid coating, but make sure you get both sides. Season with salt and pepper to taste. Add some vegetable oil to the same pan you cooked the kale in and heat on medium-high heat. When it's hot, add the fillets and cook for 3 to 4 minutes on one side, until they're a little crispy. Gently flip and cook on the other side for another few minutes. The haddock will be finished when it gets super flaky.
3. Spread the kale on top of the fish in the pan. Serve with sweet chili sauce or freshly squeezed lemon.