The great thing about working 9-6 at a parenting magazine is that I am always in the know about really important things, like that today, August 10, is officially National S'mores Day. As a human who loves camp and melted chocolate, I felt the need to celebrate this holiday enthusiastically. Simply making a few s'mores would not be enough. That's why I decided to make four different s'mores-inspired concoctions and share them with you. Now let's all join hands around the metaphorical campfire and sing koombaya. Just kidding. Without further ado, let's get baked in honor of National S'mores Day!
THE CLASSIC S'MORE
Inspired By My Counselors at Summer Camp 1999-2008
Because sometimes you want to pretend you're still a small child at summer camp.
Ingredients:
Graham crackers
Marshmallows
Chocolate (get creative!)
Directions:
1. Take your graham cracker cookie and break it in half. Put it on your plate. I used a Disney Princess heart-shaped plate but that's not a requirement, just a friendly suggestion.
2. Take your chocolate and break it into a small piece, ideally the same size as one half of your graham cracker. You can get creative with this step; a true classic s'more uses plain milk chocolate, but who's to say you can't use mint chocolate, or caramel swirl chocolate, or cherry flavored chocolate, or my personal favorite: a Reese's peanut butter cup. Really, the choice is yours. Anyway, take your chocolate, whatever it may be, and place it on top of your graham cracker.
3. Roast your marshmallow. Again, you'll be faced with some choices. Will you build a fire in the woods? Will you use a your stovetop despite your mother's warning? Will you say whatever, I'm tired, and just pop the whole thing in the microwave? Only you can know what's right for you. The point is, you want to make your marshmallow gooey.
4. Slide your roasted marshmallow off the utensil you used to roast it and onto the graham cracker and chocolate stack. Take the other graham cracker, put it on top of the stack, and smush everything together.
5. Think of the cutest girl who has ever made you a s'more. Reminisce about the last time you enjoyed a real outdoor campfire. Fret over the gooey strands of marshmallow that will inevitably get stuck to your chin. Don't forget to eat your s'more, it won't be as good when it's cold. In short: Enjoy!
THE ON-THE-G0 S'MORE
This was originally created for a child, but I think we can all benefit from its deliciousness.
Ingredients:
Golden Grahams cereal
Mini marshmallows
Chocolate chips

Directions:
1. This adorable on-the-go snack is really fun because it's made for a child and so really anything goes. Children are forgiving when you willingly give them chocolatey snacks. So the first step is, basically do whatever you want.
2. The original recipe suggests mixing the ingredients together in a bowl, but honestly that's unnecessary. Just scoop a bunch of cereal, some marshmallows, and a handful of chocolate chips into your to-go container of choice (once again, you have options!) and shake it up a little bit. Boom, you're done. Your co-workers, classmates, and basically all humans ever will be insanely jealous of your afternoon snack.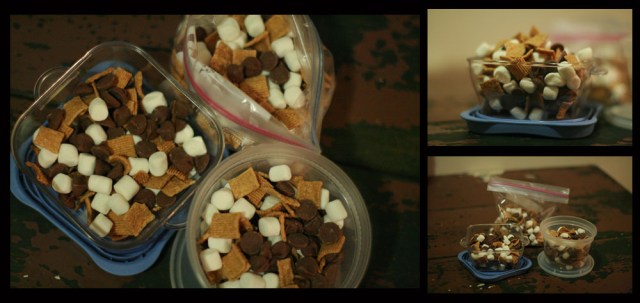 Bonus points: If you're fancy, you can put this on-the-go mixture into cute little glass containers and serve it as an h'orderve next time you host a dinner party and/or your friends come over to get drunk. Everyone will be super impressed and now your on-the-go s'more is a here-to-stay memory. Remember the time you were the best host ever? All your friends do!

Next: S'mores so intense you'll think you're camping.
Pages: 1 2See entire article on one page