THE SMASHING S'MORE
Apparently Jessica, the blogger who inspired me to try this recipe, got her original idea from a Trader Joe's snack by the same name. I've never tried the particular TJ morsel of which she speaks, but I trust it is delicious because I've never eaten a single chocolate item from Trader Joe's that wasn't delicious. I like this variation on a s'more recipe because sometimes it's too hot for a fire or even a microwave, and yet I still want a summer s'more. This snack requires minimal heat (in fact if you're impatient like me you'll be using the refrigerator a little bit) but it still packs a strong s'more flavor.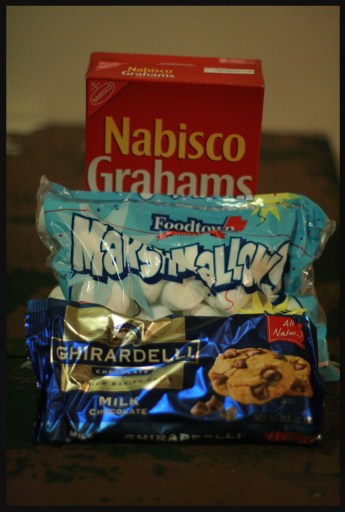 Ingredients:
Graham crackers
Marshmallows
Chocolate chips
Directions:
1. The small amount of heat you'll use happens right at the beginning: you need to melt some chocolate. I melted chocolate chips, but you can use chunks if you want. Whatever you decide, get some melted chocolate in a small bowl. Grab a spoon.
2. Take your graham crackers and break them into eight tiny squares. Take a tiny amount of chocolate and dab a blob onto one of your tiny squares. Then take another tiny square and press them together. Next up, grab a marshmallow. Apply another tiny dab of chocolate onto the top of your graham cracker stack and stick the marshmallow on top of that. Your melted chocolate is currently acting like glue. If you're patient, wait an hour for the melted chocolate to harden. If you're impatient, pop your snacks in the fridge and wait approximately ten minutes.
3. Once the "glue" has hardened, you're ready to dip the snacks. Melt a much larger amount of chocolate in a much larger bowl. I don't recommend burning the chocolate. I burned it and while there doesn't seem to be any effect on the final taste, it smelled horrible and also made me feel bad about myself, like jeez, you can't even microwave chocolate correctly Vanessa, god. Anyway.
4. Get a long skewer. If you don't have one use a knife, or chop sticks like I did. Poke the skewer/knife/chopstick into the top of the marshmallow and coat the entire thing — graham cracker, marshmallow — with melted chocolate. If you're me you'll get frustrated after a few tries and you'll just use your hands. The tops of the marshmallows never get perfectly covered; don't panic. Just use a spoon or your fingers and mush some extra chocolate on top.
5. Sprinkle crushed graham crackers on top.
6. Again, either let the treats harden on their own, or stick them in the fridge for a little while. Yum.

THE INTENSE S'MORE
AKA The Peanut Butter Cup S'mores Bar
Whenever I tell my girlfriend that something is "intense," she looks at me with a completely straight face and says, "Like camping?" (Get it? Intense? In tents? Yeah…) Anyway, this s'more situation is super intense (look at all the ingredients!) and if someone ever makes a joke about it you can look them in the eye and say, "Yes! Exactly like camping." At least that's what I plan to do to my girlfriend.
Ingredients:
1/2 cup butter
1/2 cup brown sugar
1/4 cup white sugar
1 egg
1 teaspoon vanilla
1 1/4 cups flour
1 teaspoon baking powder
1/4 teaspoon salt
1 cup graham cracker crumbs
9+ peanut butter cups, regular size
basically a whole jar of marshmallow fluff
1. Preheat your oven to 350 degrees. Grease an 8×8 baking tin, then set it aside.
2. Making the dough for this recipe is pretty standard, you just add graham cracker crumbs at the end. Cream your butter and sugars, then add the egg and the vanilla. Next add your dry ingredients: flour, salt, baking powder, graham cracker crumbs. The original recipe says to use a stand mixer, but I used a plain old spoon and bowl and everything was fine. Also the original recipe says to use softened butter, but who remembers to leave that stuff out?! I used frozen butter from the freezer and microwaved it until it was completely melted, and everything was okay, don't worry.
3. Once your dough is ready take 2/3 of it and press it into the baking dish. Make it thinner than you think you can. Trust me. Take your peanut butter cups and line then up evenly in rows. Next, take a bunch of fluff (the original recipe said 1 1/2 cups but to be honest I used almost an entire jar and I still think I could've used more) and spread it over the whole situation. Fluff is hard to spread so just do your best. The point is to cover the entire base with chocolate peanut butter cups or fluff or both.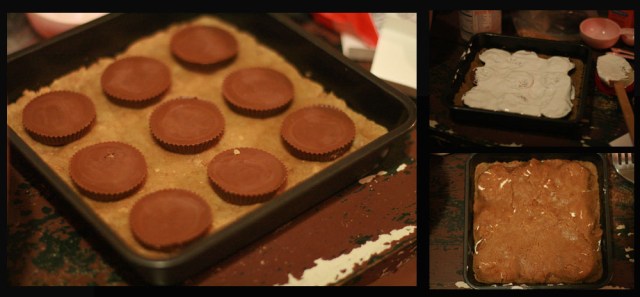 4. Take the remaining 1/3 of the dough and roll it into a very thin 8×8 square. Then carefully lift your dough square and place it gently on top of everything else. Lightly push down to anchor it in place. (Full disclosure, my "thin 8×8 square" was more like "lumpy disjointed puzzle pieces.") Repeat after me: everything is going to be okay.
5. Pop the baking tin in the oven for about 30 minutes or until the crust is golden brown. I live in fear of burning things so I took mine out a bit early.
6. When the bars have set (the original recipe says it takes 2 hours but I only had the patience to wait about 20 minutes), grab a large sharp knife and start cutting squares. Then invite people over immediately so you don't eat the entire pan of gooey goodness by yourself.
ALSO! Vegan Options:
This campfire staple can be modified for vegans with just a few small adjustments. You'll want graham crackers with no honey (Nabisco actually fits the bill!), dark chocolate with no milk product, and vegan marshmallows or Ricemellow Creme. Stef, who made legendary vegan s'mores at A-Camp, recommends Sweet and Sara for vegan marshmallows. That company also makes prepackaged vegan s'mores, if you're into that. And if you want a real challenge, your own "intense" s'more moment if you will, try Isa Chandra Moskowitz and Terry Hope Romero's Vegan S'more Cupcake that ran in the now defunct Satya magazine. Yum for everyone. Happy S'mores Day!
Pages: 1 2See entire article on one page