Money Matters to Republicans; That's Why They Veto Anti-Gay Laws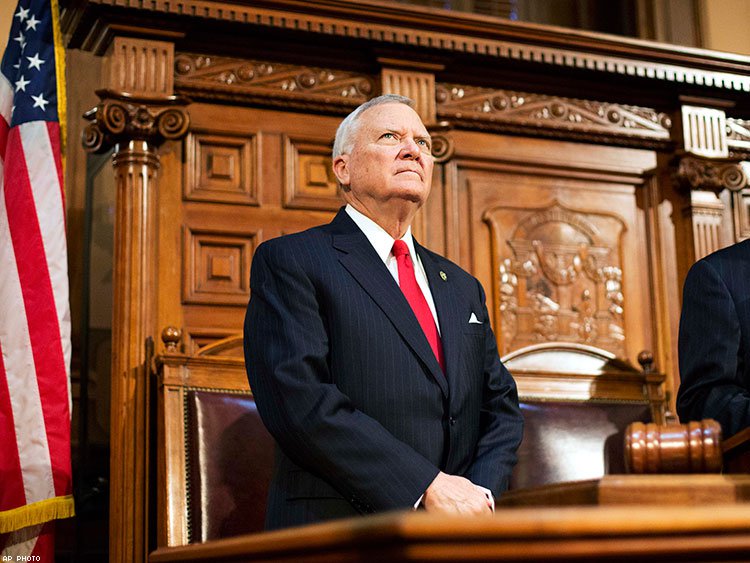 + Georgia Governor Nathan Deal vetoed the anti-gay "religious freedom" bill that would've allowed "faith-based organizations deny services to those who violate their 'sincerely held religious belief' and preserve their right to fire employees who aren't in accord with those beliefs." Human Rights Campaign president Chad Griffin asked entertainment companies to boycott Georgia if HB757 became law. Many responded and companies like Disney, Marvel, AMC, Viacom, 21st Century Fox, Time Warner, Starz, the Weinstein Co., Lionsgate threatened to boycott the state and asked Deal to veto the bill. Other major companies have spoken out against the bill and even the NFL said if the bill would become law, it would jeopardize Georgia's chances of hosting a Super Bowl. Deal, a Republican, said in a news conference: "I do not respond well to insults or threats. The people of Georgia deserve a leader who will made sound judgments based on solid reasons that are not inflamed by emotion. That is what I intend to do."
Here's Proof Trans Women, Not Cis Ones, Are the Ones Who Are Getting Assaulted in Bathrooms
+ A 25-year-old trans woman was raped in the bathroom at the historic gay bar Stonewall Inn. She told police she entered the bar's single occupancy unisex restroom when a man entered behind her, saying he just needed to wash his hands. Once inside, he groped and raped her. The woman left the bar and an hour later came back and called the police. The NYPD has a photo of the suspect and is looking for him.
More on the North Carolina Bathroom Bill
+ The ACLU and Lambda Legal are suing North Carolina officials over the new law that doesn't allow trans people to use the correct bathrooms. The ACLU is confident the law violates the Constitution and federal civil rights laws.
"In a process rife with procedural irregularities, the legislature introduced and passed H.B. 2 in a matter of hours, and the governor signed the bill into law that same day. Lawmakers made no attempt to cloak their actions in a veneer of neutrality, instead openly and virulently attacking transgender people, who were falsely portrayed as predatory and dangerous to others."
2016 Presidential Hunger Games
+ Corey Lewandowski, Donald Trump's Campaign Manager, was charged with battery for forcefully grabbing journalist Michelle Fields as she tried to ask Trump some questions earlier this month. Fields, whose arm was bruised, pressed charges and investigators corroborated her story with a Washington Post reporter and video footage, even though Lewandowski and Trump both denied it ever happened.
+ Vox came up with this handy dandy tool to help you understand how presidential candidates' tax proposals affect you. What they found is Clinton would keep things mostly the same, Sanders would increase taxes across the board and Cruz and Trump want big cuts for everyone but the wealthier you are the more you get to keep. You can read more analysis here. 
+ More than 41,000 people have signed a petition to allow the open carry of guns at the Republican National Committee, which will be held in Cleveland, Ohio in July. The RNC event will be held at Quicken Loans Arena, which doesn't allow firearms on the premises.
+ Bernie Sanders won big this past weekend in Alaska, Hawaii, and Washington, winning by a wide margin in each state. Colorlines reports:
"When it was over, he had added 55 pledged delegates to his column. His opponent, Hillary Clinton, won 20. Overall, Clinton has 1,243 pledged delegates to Sanders' 975; throwing in super-delegates, Clinton has 1,712 to Sanders' 1,004. The Vermont senator needs to win 57 percent of the remaining delegates to reach the 2,383 required to secure his party's nomination."
+ Rosario Dawson, who played Dolores Huerta in the film Cesar Chavez, wrote an open letter to the real Dolores Huerta in order to debunk Huerta's arguments against Bernie Sanders in an article she wrote for Medium.
Grab Bag
+ The National Endowment for Humanities announced its latest recipients of their "Common Good" initiative, which includes a book project on "the history of French lesbian activism." Six thousand dollars was awarded to Tamara Chaplin, an associate professor at the University of Illinois at Urbana-Champaign for her project.
+ California passed a new sex education bill that will be inclusive to LGBT students.
+ Dee and Cat, a deaf lesbian couple, were attacked last week near their home in Desert Hot Springs. Shaunda Lane, the attacker, became offended when the couple was trying to communicate to her to get off their property. Lane attacked them with a baseball bat, injuring their arms and hands. Dee and Cat's home was also robbed and vandalized after the attack. Their community set up a GoFundMe page.
+ Nora Crest, a former Scientologist, told the Daily Mail she was forced to spend three years at Rehabilitation Project Force (which former members say is similar to Scientology prison) for kissing her female roommate. She says she lived in poor conditions and sustained several injuries while working 80 hours of hard labor and also attempted suicide. "It was the most horrific time of my life," Crest said. "I was battered and bruised, pushed around and nearly died trying to leave the Church and all because I had the audacity to desire another woman." Scientology's founder L. Ron Hubbard believes homosexuality is an "illness" and "sexual perversion" and Scientology should help "cure" gay people.
+ Freemasons in Tennessee voted to uphold a ban on gay members. Freemasons is a fraternity dedicated to "building the moral character of its members and the preservation of personal freedom."
+ The American Civil Liberties Union wrote a letter challenging a Kentucky prison for censoring LGBT-related books, magazines and mail from prisoners under their policy that it "promotes homosexuality." ACLU legal director William Sharp filed a freedom of information act to investigate the Eastern Kentucky Correctional Complex and found 13 instances where the policy was used to confiscate mail. Not all LGBT materials are banned but gay porn is, with the policy stating "exclusion shall not be based on sexual content alone," leaving lots of room for interpretation.
+ Martin Blackwell, the Atlanta man who poured boiling water on a gay couple while they slept, was indicted for aggravated battery and aggravated assault and could face up to 80 years in prison. Georgia doesn't have any anti-gay hate crime laws in place but Blackwell may be prosecuted under federal hate crimes law since the FBI are investigating the attacks.