Last week, the internet freaked out when it learned about Jayce M, a transgender student at George Fox University who the school prohibited from living on campus. In response to the freakout, George Fox upped the ante on its discriminatory cluelessness.  Jayce and other trans students can live on campus in gender-appropriate dorms — if they get genital surgery.
Trans students are protected from discrimination under Title IX, but when Jayce filed a complaint to be allowed to live in the men's dorm, the school, a Quaker institution, applied for and received a religious exemption from the Department of Education.
The school's updated transgender housing policy (which directly references Jayce's case), states that:
Providing appropriate housing for transgender students continues to be a challenge at religious and non-religious institutions across the country. George Fox University has a two-year required, single-sex dorm policy it has developed in light of its religious convictions. It has the discretion to assign all students to appropriate housing. Common residence halls are single-sex, defined anatomically. We are committed to residential access, and it is consistent with our beliefs and our community values that a presurgical transgendered person will be provided on-campus housing in appropriate alternative housing well-connected to the residential community. That person also has the option to live off campus.
The World Health Organization recently condemned laws and policies that require surgery for transgender individuals to receive complete rights and legal recognition. The surgery requirement is especially galling for an undergraduate institution, where many trans students are t0o young to be psychologically and physically ready to make a decision to get surgery, even if they may ultimately decide to. Further, George Fox's student insurance policy explicitly excludes transgender care, including hormone treatments, surgical breast reduction, and "sexual reassignment surgery" (itself a problematic term; better terms are gender confirmation surgery and bottom surgery). In a statement about the policy change, school officials said they are "very conscious of the need to approach difficult questions with grace, understanding, and an abiding love for our students, faculty, and staff,wp_postsbut their decision shows a gross misunderstanding of transgender identity and the experiences and needs of transgender individuals.
Allowing a trans student to live off campus in exception to normal campus rules will create further isolation for trans students who may already struggle to adjust to university life more than other students, and who may just be coming to terms with their gender identity. Jayce says he has found a supportive community of faculty and students at George Fox, which is wonderful. But the administration has revealed a lack of commitment to truly supporting its trans students.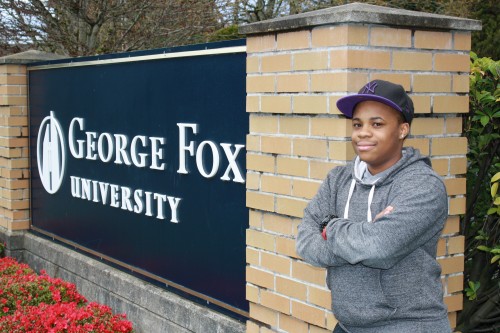 Unfortunately, the school is not unique in its failure to support transgender students. As of 2012, only 10 percent of colleges and universities had trans-inclusive nondiscrimination statements. Many universities and colleges consider offering trans students a single person dorm room or off campus housing to be an acceptable alternative to housing trans students with other students of their gender. There are some shifts — more schools are creating gender-neutral bathrooms, for example. Hopefully a stronger Title IX and the brave work of students like Jayce will force universities to recognize that their housing policies are discriminatory and fail to live up to their responsibility to support all students campus experience.