Many of us were overjoyed at this time in 2008, when Barack Obama's historic presidency began. But many of us were also, at the same time, despondent: Prop 8 had passed the same night that Obama had been elected, and while the rest of the country was celebrating, we had this private grief to deal with. This year, things look very different. While Obama's victory was still closer than many of us felt comfortable with, we had something of a landslide when it came to marriage equality. Four different states – Maine, Maryland, Minnesota, and Washington – saw voters defend marriage equality at the ballot in an unprecedented instance of the majority voting on the rights of a minority and doing the right thing. In the days after the election, many are wondering whether there's some kind of new era at hand, whether we're looking at the beginning of something different than we've ever seen before. For queer communities, this question is maybe even more urgent. Votes on marriage equality look very different now than they did a few years ago, but does that mean this is change we can believe in?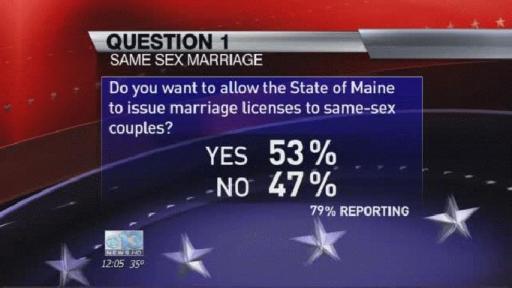 The most obviously important thing to note about these victories is that only three years ago, they seemed impossible. Maine and Washington both had votes on marriage equality in 2009, even more recently than Prop 8, and in both cases voters decided to deny gay citizens the right to marry. We were reminded by a barrage of media sources that when the question of granting gays marriage rights was left up to the public, they had never once decided to extend to us the same rights that straight people enjoy. We were forced to wonder whether winning marriage equality by a vote was not just unprecedented, but impossible. So for even one vote to come out in favor of gay marriage only three years later would have been historic; the fact that all four votes did so is nothing short of incredible. That's something more than worth celebrating. And it seems that these votes really do reflect a measurable difference in how the nation feels about us. While gays and gay marriage have been polling better in general in recent years, and many people notice anecdotal progress, it can be hard to know what exactly that means or why that is. But new studies show that this isn't just a result of younger, more socially progressive people reaching voting age; older people are now saying they feel differently about gays than they did previously, which means hearts and minds are actually changing.
 Some marriage advocates have posited that the mammoth growth our country has seen in support for allowing gay and lesbian couples to marry has been primarily caused by younger, more accepting voters replacing older ones in the population. But new data released in our new report, The Big Shift, shows that this phenomenon only explains one quarter of the total movement since 2004, while 75% of the shift was caused by Americans of all ages — including your parents' and grandparents' generation — changing their minds.
Even better, gay activists can actually take credit for this shift. Nathaniel Frank of Columbia's Center for Gender and Sexuality Law says that the difference we're seeing is a result of "one of the most sophisticated issue campaign operations ever deployed." "Why Marriage Matters," a "tightly coordinated" campaign that refuted anti-gay myths like the "teaching of gay marriage in schools" and simultaneously worked to associate gay marriage with the ideals of commitment and stability, just like straight marriage.
Its message was "love, commitment, family," with no mention of rights or benefits. On the surface, it looks like any garden-variety public education campaign, a little vague, a little sappy. But this message was the result of several years and millions of dollars of research. It signaled a sea change in the way gay advocates pled their case. This was a way to invite straight people to empathize with gay people, to reassure the majority that gay people wanted the same things that they did, and to shift focus from minority rights to points of commonality. The year Why Marriage Matters rolled out, 2011, was also the year that a slew of polls first showed majority national support for same-sex marriage.
In this sense, we can feel good in knowing that these victories on the ballot are reflective of something real. We really do live in a different America, in measurable ways, than we did in 2008 and 2009. But in the same way that Obama's election reflected progress on racial issues, but doesn't mean that racism is suddenly over, these ballot victories aren't a sign to pack up our campaigns and go home because the work is done. We've long known that it's wrong to let the majority vote on the rights of a minority, and history shows that it nearly always results in a preservation of the privilege status quo. The fact that these votes are the exception to the rule is amazing, but it doesn't change the fact that trying to pursue our rights through an avenue that requires others to approve of our relationships is dangerous. Winning states on an individual basis isn't a strategy that makes sense; for real change to happen for couples across America, sweeping legislative change on the national level is required, and unfortunately convincing Congress is a whole different proposition from reminding friends and family on Facebook that a vote for Romney is a vote to reduce your personhood.
Furthermore, it's not clear what these victories might mean for the vast number of gay issues that aren't marriage-based and also aren't receiving the support they need. Frank writes about how part of what accomplished this change in attitudes is that the "Why Marriage Matters" campaign moved away from "confrontational" and "demanding" tactics, which proclaimed things like "We're here and we're queer!" and "We deserve equal rights now!" He's right, and the fact is that social progress has historically depended upon a combination of "confrontational" and more harmonious measures.
But the fact is that the reason "Why Marriage Matters" could work is that it was focused specifically around marriage, and it could therefore function by asking straight people to think about their own marriages. Frank writes that:
The group found that when straight people were asked what marriage meant to them, they spoke of love, commitment and responsibility. But when asked why they thought gay people wanted to marry, they cited rights and benefits. Tapping into anti-gay stereotypes, they suggested gay people wanted marriage for selfish reasons while they themselves wanted to express love and commitment.
By helping straight people make the mental leap that (many) gay people wanted to marry their partners for the same reasons that straight people wanted to marry theirs, the coalition was able to accomplish something historic. But it's not clear how these same tactics would work for issues that don't have a warm and fuzzy straight equivalency. If the issue is getting funding to organizations that will provide at-risk trans* teens with binders and transition support, or pushing for better training for doctors and EMS workers when it comes to queer and trans* issues, or reducing our dependence on faith-based foster care that hurts gay homeless kids, it's not clear how appeals to love and commitment will help. These are issues specific to the queer community that can be life-or-death for us, but that the straight community may not even be aware of. The project of making these issues comprehensible to the nation at large is a huge task in and of itself; the project of making the nation at large feel that these are their problems, too, is not one that we've figured out how to solve. This is a place where it may be necessary to make the rest of the country that we are here, we are queer, and we do deserve equal rights, because making noise seems like the only way these less photogenic issues can get the attention they need. The "confrontational" tactics Frank refers to were born of the AIDS crisis, when drastic, radical action was needed to convince Americans that the problem of AIDS was real and that the deaths of queers were worth mourning. If we look beyond the issue of marriage, there are still many other ongoing crises for our community that the general public isn't really even aware of. While the lessons we learned from these campaigns are hugely important, they may not be applicable in all situations.
The fact that for the first time in history, the majority of voters in four states (in any state!) felt called to give their fellow citizens the same rights that they enjoy is incredible, and we should by all means revel in it. Our community worked for that victory, and the lives of families in these four states can now be much more stable and secure. America really is changing. But we shouldn't take that change as a sign that the marginalization our community has experienced for so long is ending. Instead, it should be a call for us to use the momentum that we have from this election, and to figure out how we can continue to build on the goodwill it appears we have, at least in some corners. The rights of families in four states are now more secure – that means we need to take the next step and figure out what needs to be done to help everyone else, too.