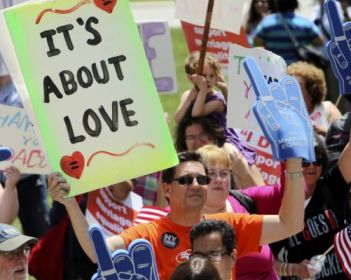 UPDATE 1:50 PM EST Thursday: New York Magazine Says:
Republican Senate Majority Leader Dean Skelos just told reporters that there would be a 'lengthy" GOP conference on the marriage equality bill today, during which they'd consider the religious exemption amendments. (For the past couple of days the bill was set aside in conference in favor of other issues). He also said that the caucus as a group will decide whether to put it to a vote in the middle of the night tonight, on Friday, or not at all.
UPDATE 9:33 PM EST: According to the Associated Press, there will be no vote on same-sex marriage tonight:
"A spokesman said a slew of more mundane but critical bills pushed consideration of Gov. Andrew Cuomo's same-sex marriage bill into Thursday at the earliest."
____
As of 7:00 PM EST,  The Wall Street Journal has reported that New York state legislators agreed today "conceptually" on more protections for religious groups in the gay marriage bill which will ease its passage. However, "negotiations dragged on, making it highly unlikely there would final action before Thursday."
However, The Box Turtle Bulletin wrote a story based off information in the Wall Street Journal story with the headline "New York Marriage Equality Likely Tonight."
The State Senate has added same-sex marriage to the agenda for the day.
The KnickLedger reported that a 32nd vote has been secured but they aren't saying who it is:
A name has not yet been released, but sources close to those with the New York State Republican Conference have confirmed a thirty-second vote has been "secured" for the passage of Governor Andrew M. Cuomo's Marriage Equality Act.
As the Senate goes through what is being called "the big ugly" – property cap reform, tuition for public colleges, and rent control regulation – the vote for marriage equality may not be until the wee hours on Thursday.
As of 8:30 PM EST, there haven't been any new reports since 7 EST. Towleroad has a comprehensive collection of today's same-sex marriage coverage.
We'll let you know if something exciting happens!