Sorry this Drawn to Comics is so late you guys!!! But I have an interview with America writer Gabby Rivera, so hopefully that will make up for it!
If you haven't read America #1 yet, put down you computer and go buy it. Or read this interview and fall even more in love with the idea of a comic about a superpowered Latina lesbian with thick thighs that's written by a super awesome Latina lesbian with thick thighs. This first issue is so great, you guys. America decides she's had enough of the superhero life, and so she's going to college, and her college is called Sotomayor University, you guys, as in Sonia, the Supreme Court Justice. She's taking classes like "Intergalactic Revolutionaries & You" and meeting awesome sororities filled with brown and Black nerds and hanging out with other queer poc. It's EVERYTHING. Y'all, this comic is so explicitly queer, and it's so explicitly brown, and it just makes those things normal — it's not treating them like they're "other," they're just how things are because the main character is a Latina lesbian, and so that's what her world is like. Plus, Joe Quinones is killing it on the art, with Joe and Paolo Rivera inking, Jose Villarrubia doing colors and Travis Lanham doing letters. This book looks AMAZING. I love it so much, you guys. And here's an interview with Gabby, so you can learn why you'll love it too!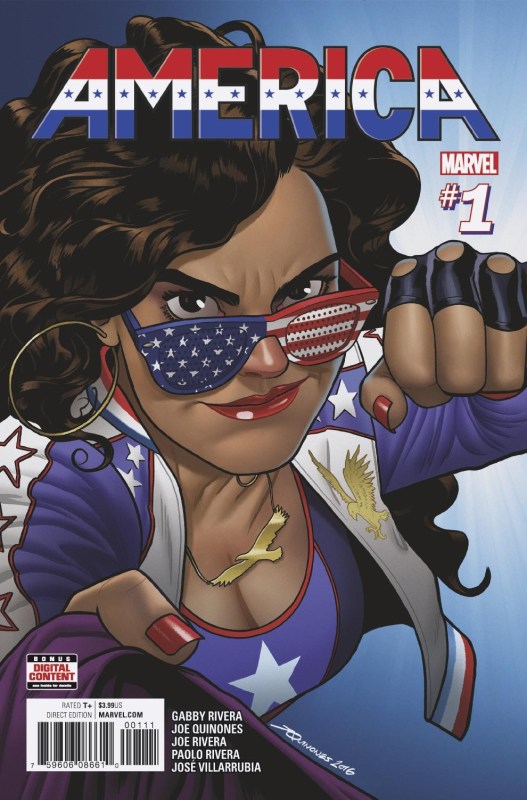 Mey: How does it feel to be a queer Latina writing a comic about a queer Latina superhero? You're the first person who can say that they've done that, that's awesome!
Gabby: First, right now I'm listening to ANTI and I feel like that's really important for folks reading this interview to know. Important music things are happening, Mey.
It's dope as hell to be the first queer Latina (maybe even first Latina ever) writer at Marvel and I'm writing the solo series for this megababe, Latina lesbian, in ripped jeans and bamboo earrings. America's time is right now. I need to believe in the impossible, the worlds and existences never thought possible. America is living that in this series. I'm just honored to be along for the ride, you know?
M: We see America meet some new people in this first issue, like her new professor, as well as some people from her life before, like Prodigy. How many other new and old faces will we see in this series?
G: One of the best parts about writing AMERICA was that there weren't any limits to the characters we could create and the ones we could pull in from the Marvel Universe. Making sure that America wasn't the only brown babe in this series was important to me. And by babe, I mean ass-kicking, brilliant as hell, free and confident person/being.
She's going to be on the quest for her people, her roots, and the true depths of her powers. Maybe she even comes across people who knew her moms. On top of that, there's so much knowledge and wild-ass power held by the female superheroes of Marvel and America's going to get to connect to all of it. Be on the lookout for tough, ready to rumble women of color, and some of the our favorite high-profile superheroes that you know and love from Marvel. Maybe even some X-Men if you're lucky…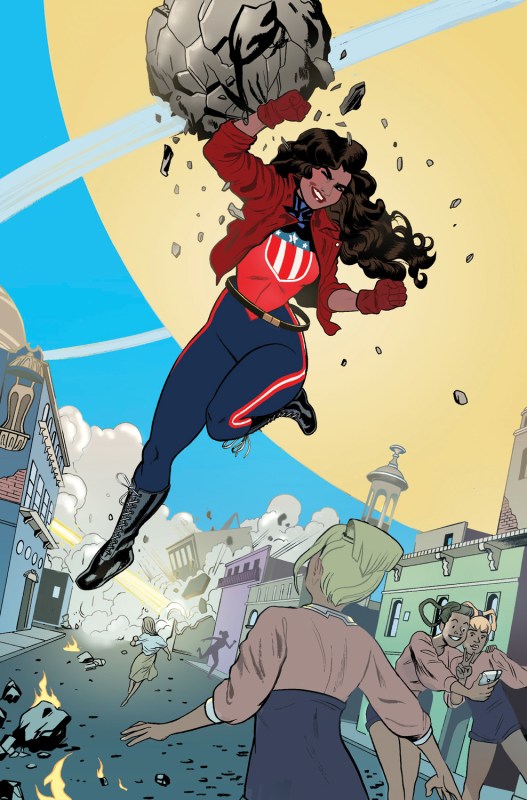 M: I'm absolutely in love with this university that you've created. How important was it to you to put America in a place where she's surrounded by other poc and learning about poc in an environment like this?
G: Yo, it's fun, right? I wanted to explore the university of my dreams. America gets to study and learn in a place where anything is possible.
I've had two Puerto Rican teachers in my life: my mom in kindergarten and my college freshman Spanish class teacher. Meeting her was like magic; she knew my whole life kinda. She knew I failed my Spanish entrance exam because I didn't care and because even though I knew the tense, no one in my house called it the "imperfect progressive." She knew I called bus "guaga" and not "autobus." America deserves that type of connection as her starting off point.
She deserves an entry point so normal that it doesn't even register as remarkable. S.U. just exists without anyone perplexed as to how or why. And that's what America's getting.
M: What of yourself are you bringing to this comic? You've never written comics before, so I'm excited to see what you do with a character like this that people know and love!
G: I'm a queer brown weirdo and I love every short inch of myself. I'm bringing all that round, brown, goodness to this story. All the things that make me laugh and make me feel strong, they're going to be in America's world.
But really, it's about America. It's about this character who's been on the Marvel come up for almost six years. She's played the vibrant, hella powerful, tough girl to different teams of folks, shining in every moment she gets. And now, now she gets her own moment. I am honored to get to write her.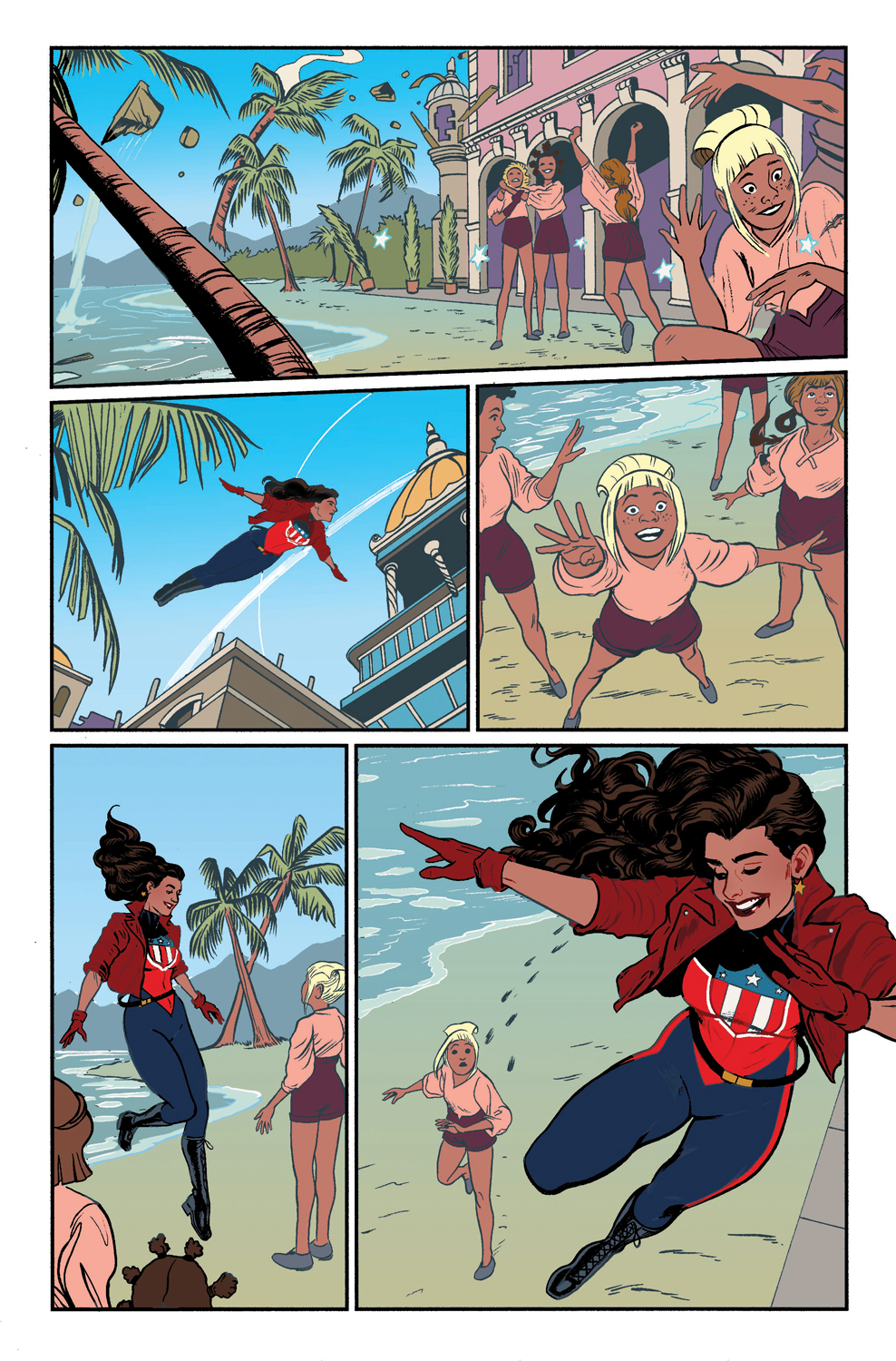 M: Are we gonna see America get a new girlfriend?
G: What makes you think she needs a new girlfriend? Maybe America just wants to punch star-shaped holes into other dimensions while looking fierce af and living her best life.
I love you, Mey!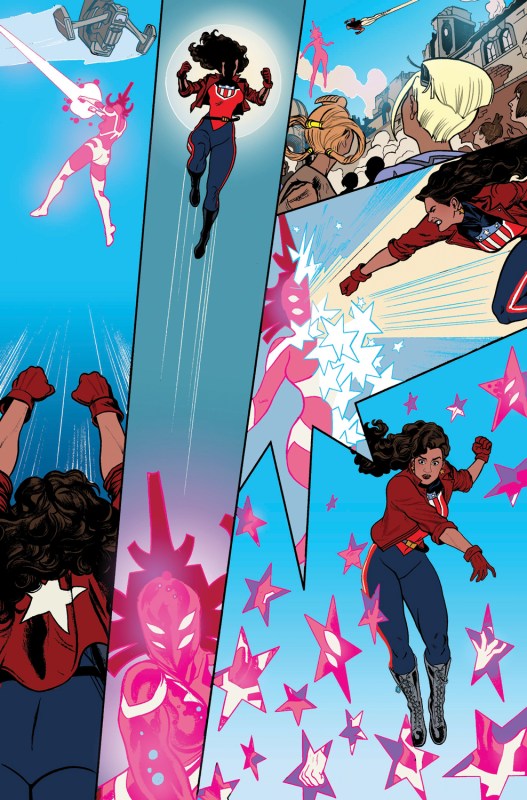 ---
Welcome to Drawn to Comics! From diary comics to superheroes, from webcomics to graphic novels – this is where we'll be taking a look at comics by, featuring and for queer ladies. So whether you love to look at detailed personal accounts of other people's lives, explore new and creative worlds, or you just love to see hot ladies in spandex, we've got something for you.
If you have a comic that you'd like to see me review, you can email me at mey [at] autostraddle [dot] com.