G-SPOT: Last year, an article was published in the Journal Of Sexual Medicine claiming that the g-spot is a real thing. But THINGS HAVE CHANGED, ladies.
Jezebel reports: "According to a study out of King's College, London, the legendary g-spot, source of a million Cosmo articles and bad jokes ending with "am I right, ladies?", is actually a total myth with no scientific basis whatsoever."
1,800 women were surveyed, making it the largest study of its kind. The Times of London explains that "Andrea Burri, who led the research, said she was anxious to remove feelings of "inadequacy or underachievementwp_poststhat might affect women who feared they lacked a G-spot."
Beverly Whipple, emeritus professor at Rutgers University, New Jersey, helped to popularise the G-spot, dismissed the findings of the British study as "flawed" for not including the experiences of lesbian or bisexual women or considering the effects of Papi's Circle Trick or your super special technique. Jezebel summarizes:
In other words, the answer as to whether or not you have a g-spot may just lie entirely in your own head, though it's hard to dismiss the idea that many women may believe they have (or don't have) a g-spot based on what they read in magazines, see on television, or hear in really bad jokes…am I right ladies?
For a second opinion, try Pop my Cherry's Adventures of G-Spot Girl.
FANTASY: Is it okay to have rape fantasies? (@san francisco sex information)
MAGS: The article's from August but it's still good: A New Wave of Erotic Mags Blur the Line Between High-Style and Smut. (@refinery29)
GALLERY: Well, here's one thing: we have a gallery of really, really, really good looking women. They're actually all actual people with tits & ass and all those things that you like. From curvy hip-hop superstars to the newest plus-sized models. Check it. (@autostraddle)
READING: The Naked and the Conflicted: For a literary culture that fears it is on the brink of total annihilation, we are awfully cavalier about the Great Male Novelists of the last century. It has become popular to denounce those authors, and more particularly to deride the sex scenes in their novels.
LADIES: The Women We've Loved 2009. (@esquire)
SLAP HAPPY: Reconciling the Identities of Feminist & Butch Top: "A few years ago, a girl I dated wanted me to slap her. I was terrified of what it would mean for me, as a masculine person, as a butch, to be more dominating in bed. To like it. To like to cause someone pain. To like to cause a woman pain. To hit someone in the face. To hit a woman in the face, to sexualize that act and that power dynamic specifically … I was paralyzed by that terror – I wanted to do it, the idea, the very thought of it, the discussions with her, turned me on, the girl I was dating wanted me to do it, but I couldn't…" (@sugarbutch)
BUSTY: 52 Best Natural Breasts of All Time and 2000's: The Decade in Sexy Celebrity Sideboob [184 Photos] (@coed)
PINUP: "And The First Naked Celebrity of 2010 is… Amber Heard, who we predicted would be the big breakout sex symbol of 2010 for no reason other than we want to get into her good graces… and pants." (@nerve)
SEXY MUSIC VIDEO: 100 Sexiest Music Videos (t.a.T.u is #100, and there's some Rihanna, Lohan, Prince, George Michael and Britney Spears up in there, although a lot of the videos are down for copyright violation etc… also you know what I forgot about? Lady Marmalade. Good video.) AND the 10 most NSFW Music Videos of 2010. (@fhm, @stereogum)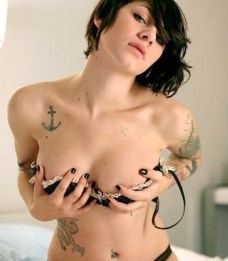 SEXY TUMBLR ALERT: If you can get past the title (or maybe it's just me that hates the title), Synthetic Pubes is all kinds of tasteful, artsy, sexy delight.
HETS: Also sometimes I accidentally see these um, like advice things for women about men and they're so weird! Check out the Guy Behavior Decoder. I bet you didn't know guys were so stupid! If he wants to have a threesome btw that means he wants a flying car or something. (@ivillage)
VIDEO: Sex doesn't sell movies … it sells DVDs. (@nerve)