It's Friday! TGIF! It's the time when everyone sits down together into this open thread to share a bowl of kettle corn and when you tell everyone where you got that sweater that we all love and when we all discuss which appetizers we're going to split when we go to Applebee's later. It's the Friday Open Thread!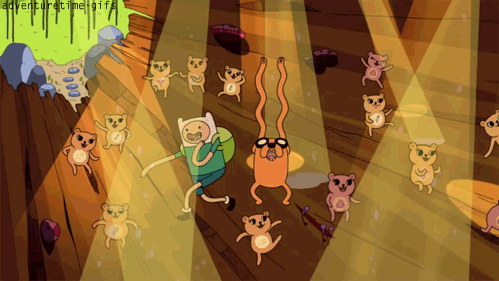 Lately I've been thinking about the conversations we've been having about representations — how often now we see an LGBTQ character in a movie, TV show or book, and think "what would my life have been like if I had grown up seeing characters like this all the time?" And when we were writing about what kind of support LGBTQ youth need during Ally Week, it came up again and again that it's important to be able to see LGBTQ adults in their communities so that they can see living proof that it's possible to grow up into happy, healthy people. Many of us didn't have those examples, though; or if we saw LGBTQ people on TV or in real life, they were played for a laugh or looked down upon. So how did that affect our thoughts about what we were going to be like?
I'm curious about, for people who have known they weren't straight or weren't cis from a young age, what you imagined your adulthood would look like. Was it based on straight people you knew? Was it influenced at all by flawed depictions of LGBTQ people you saw, like the "pathetic lesbian" trope? For people who didn't identify as LGBTQ til later in life, how did you relate (or not relate) to LGBTQ representation? How did you imagine your future looking? I know when I was a kid, when many of my peers were imagining their weddings or family structures, I mostly saw a big blank, a swirling mist of uncertainty, and in retrospect that seems linked to my sexual orientation. If you're an adult now, how does your life compare to what you did or didn't imagine for yourself?
ALSO THOUGH I'd like to hear everything else! What was the best sandwich you ate this week? What are you wearing for Halloween? Which is better, apple pie or apple crisp? Would anyone like to make me some apple crisp? Discuss.
---
​
How To Post A Photo In The Comments:
​
1. Find a photo! This is the easy part. Find a photo on the web, right click (on a Mac, control+click), hit "Copy Image URLwp_postsand then…
​
2. Code it in to your comment! Use the following code, and use a DIRECT LINK to the image. Your image link should end in .JPG or .GIF or .PNG or .CallMeWhateverYouWant even. I don't care, but it should be an image suffix! KINDA LIKE THIS:
​

​
If you need to upload the photo you love from your computer, try using imgur. To learn more about posting photos, check out Ali's step-by-step guide.
​
How To Post A Video In The Comments, Too:
​
1. Find a video on YouTube or Vimeo or WHATEVER and click "embed." Copy that code, but first make sure it's for 640 px wide or less. If your player is too large, it will not display properly.
​
2. Copy the code and paste it directly into your comment.
​
3. Go forth and jam.