It was the winter of my televised technicolor wonder-pop glittery discontent, when everything in the real world felt cold and sad and I sought refuge in the unreal. Specifically, in soapy primetime dramas like Beverly Hills 90210 and Party of Five and campy movies about pretty people in warm climates like The Brady Bunch Movie, Clueless and Empire Records. I watched those movies and listened to their soundtracks obsessively while scouring my Delia*s catalogs for clothing that'd make me even half as cool and popular and — most importantly — normal — as Cher or Kelly Taylor. I wasn't very good at fitting in and I needed help. This meant not only internalizing messages about what it meant to do womanhood properly but what to avoid, too, and those messages were far more subtle. Sometimes those messages were hopelessly brief, but nevertheless resonated eternally. The singular message that scared me away from lesbianism was delivered, it turns out, in less than six minutes, and I was laughing the whole time. It was during The Brady Bunch Movie. 
It was 1995, you see, and my image of the modern lesbian was pretty stereotypical — dumpy, unstylish, short-haired. It's a "type" I embrace these days (literally and metaphorically). But back then, as an awkward gawky teenager struggling to fit in, that image was downright petrifying and bore no resemblance to my own aspirational existence. The only famous lesbians I knew of were The Indigo Girls. So I was pretty vulnerable, you could say, to suggestion.
Which brings me to Noreen.
I'd forgotten about Noreen, except not really. I had this vague sense that there was a character, or more than one, I knew as a teenager who made lesbians seem really pathetic and gross. I knew this was real because I had this image in my head of that character who I'd decided was probably a compilation of many plaid-clad characters, maybe even some real people, too. But a few weeks ago when The Brady Bunch Movie was on television and I saw Noreen again, it all came back to me, and a lot more, too.
Noreen is Marcia Brady's best friend. Marcia is beautiful but she's not popular, because it's the '90s and she thinks it's the '70s, which makes people think she's weird. So she's stuck with Noreen. Marcia Brady's strolls through school early in The Brady Bunch Movie is executed to the sound of Shocking Blue's 1969 recording of "Venus," a song which tends to pop up in pop culture whenever long-limbed short-skirted girls (or their razors) do. Her male classmates look on with slack-jawed awe as she summarily passes each one of them by in the hallway until reaching the final body in line to admire hers — Noreen, of course. Noreen's clad in Lilith Fair Grunge — a plaid vest, a bandana, a white t-shirt — and immediately tells Marcia that her Mom approved a sleepover. (!!!) Marcia's kinda excited, but not really, because she's more excited that her crush Doug just said hi to her. Noreen's face falls as Marcia lapses into thinking about Doug:
Marcia: He's so dreamy, isn't he?
Noreen: Yeah, I guess. If you like that sort of thing. So… can I carry your books to class?
At the aforementioned sleepover, the two girls lie in bed next to each other. Noreen's clearly too close for comfort, as she clutches the sheets with intense anticipation. Breathlessly, she tells Marcia that she's the prettiest girl in school. "I know," says Marica, before deciding to go to sleep. Moments later, Marcia exclaims, "Noreen, is that your hand?" and Noreen nervously replies "Oh, I thought that was my own leg."
Later in the film, Noreen delivers a winning punch to Doug's face after he calls Marcia a "slut" at the school dance. But when Marcia returns from getting their coats to see Doug on the ground, she assumes it was her date, Charlie, who saved the day, and he's glad to take credit. They jet, and Noreen starts sobbing until another tall blonde girl comes by to offer her Kleeenex. Noreen looks up at the new blonde, lustfully.
I watched this movie so many times. It was one of my favorites. The scenes I just talked about made me laugh at the time, and they make me laugh now, too. I still love it. But what I'm telling you is that I saw this movie so many times, I saw these scenes so many times. Noreen became almost everything I knew about young lesbians at the time and I didn't even realize it.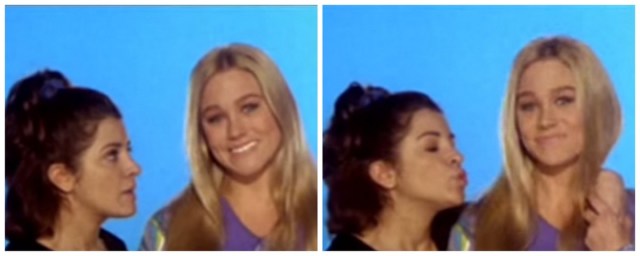 When we think about Lesbian Predator storylines, we tend to think about actual violent criminals in dramatic films — Rebecca in The Roommate, Diane in Mullholland Drive, Miss G in Cracks, any lesbian in any film during The Hays Code era — but there's a different type of lesbian trope that really cut to the bone for me because it's simply more realistic and often quite comedic: The Pathetic Lesbian. I don't know a lot of homicidal stalkers, but awkward lesbian teenagers lusting after girls they can't have? That feels honest. It never felt like me — I've never fallen for a straight best friend and am usually only attracted to masculine lesbian-identified women — but back then there was nothing more embarrassing than liking somebody who didn't like you back, and that seemed to be par for the course when it came for women who liked women. So I never considered the possibility that I was one of them, just like I never considered lots of possibilities that would've made me a loser. Gay men seemed cool, but lesbians? Nope. Adolescence, oftentimes, isn't about finding your true self. It's about making conscious decisions to be a certain way in order to fit in with everybody else.
It wasn't just that movie, either. In the 1994-1995 season of Beverly Hills 90210, Kelly Taylor became a target for unrequited lesbian attention after surviving a fire with four-episode character Alison Lash. Alison develops strong feelings for Kelly and even breaks up with her girlfriend for Kelly, totally undaunted by Kelly's boyfriend and lack of interest. Kelly handles Alison's love confession, in which Alison suggests that lesbianism is something Kelly can't truly say she rejects until she tries, kindly and without homophobia, but the situation still left me uneasy.
Ditto for Tammy Metzler in the excellent 1999 film Election, who's hopelessly in love with her best friend, Lisa. Like Noreen, she's presented as an unstylish hanger-on. Tammy monologues, "It's not like I'm a lesbian or anything, I'm attracted to the person. It's just that all the people I'm attracted to happen to be girls." When Lisa rejects Tammy after some innocent "experimenting," insisting that she's not "like [Tammy" because she's 'not a dyke," Tammy becomes hysterical and even hides in a trash can to stalk Lisa and her boyfriend (Tammy's brother). Luckily, there's some redemption in store for her later on.
Were there more? Rachel's sorority sister on Friends? When Rachel was thrilled to share her anecdote about kissing a girl in college but horrified when that girl confessed a longstanding crush on her? Rebecca confessing her love and laying a kiss to Bridget Jones in Bridget Jones? (A tip of the hat to Bridget, however, for her mature and light-hearted handling of that situation and her pledge to Rebecca that should she ever go that way, she'll hit her up first.) All of these shows and movies were progressive in their own way, and many were incredibly gay-friendly. Election is smart, carefully crafted, and one of the best high school films ever made, and Tammy does end up at an all-girls Catholic School, happy as a clam at a clam-dive, after getting in trouble for her subversive campaign speech. The Brady Bunch Movie is dripping in gay campiness and features RuPaul as the school guidance counselor. Friends showed Ross's ex-wife, Carol, in a lesbian relationship with her partner, Susan. I enjoyed, and still enjoyed, all of those movies. Which is part of why I didn't question who was the butt of the joke.
I think Noreen would read very differently now, and probably does to anybody seeing the movie for the first time. Back then there just wasn't a lot of lesbian content out there that you could access without intentionally looking for it.
There's still lots of bad stories, now, but there are good stories, too. In 1999's But I'm A Cheerleader, Megan's got a hopeless (if unnamed) crush on her best friend, Kimberly, but she gets over that real fast when she falls in love with an actual homo at Ex-Gay Camp. I left that movie theater a different person then when I walked in. But ultimately, it wasn't even a gay movie or a gay storyline that finally smashed this image to bits for me — it was, as so many things are, Mean Girls. Janis Ian is supposed to be an uncool loser, but the viewer is aware that she is actually awesome. Regina George, the most popular girl in school, is insistent that Janis isn't truly repelled by her but that her aversion must mask a Pathetic Lesbian lurking beneath. But nope, Janis just hates Regina because they used to be best friends and then Regina started being an asshole and telling everyone Janis was a lesbian. She tells Cady how she couldn't invite Janis to her birthday party, " I was like, "Janis, I can't invite you, because I think you're lesbian." I mean I couldn't have a lesbian at my party. There were gonna be girls there in their *bathing suits*. I mean, right? She was a LESBIAN." Janis isn't a lesbian, of course. She really, truly, really honestly just doesn't like Regina George, and tells her so:
Janis: Okay, yeah. I've got an apology. So, I have this friend who is a new student this year. And I convinced her that it would be fun to mess up Regina George's life. So I had her pretend to be friends with Regina, and then she would come to my house after and we would just laugh about all the dumb stuff Regina said. And we gave these candy bar things that would make her gain weight, and then we turned her best friends against her. And then… Oh yeah, Cady – you know my friend Cady? She made out with her boyfriend, and we convinced him to break up with her. Oh, God, and we gave her foot cream instead of face wash.
God! I am so sorry Regina. Really, I don't know why I did this. I guess it's probably because I've got a big *lesbian* crush on you! Suck on *that*! AY-YI-YI-YI-YI-YI!
I laughed.