In last week's FRIDAY OPEN THREAD, I made many enemies by using my authority as the First Lunchables Child to rank cheeses. It wasn't all bad, though. The next day, my Dungeons & Dragons pals came over and we descended into The Sunless Citadel to find this warlock who was making apple tree people out of apples and while we were doing that, we ate about ten thousand cheeses to test out my ranking! (I was wrong about manchego, but I was right about string cheese — I'm sorry). My partner, Stacy, and I were talking about my cheese ranking this week and she was shaking her head at me and then she said, "Please never rank cereals; you will get murdered."
I've never met anyone in my life who loves cereals as much as Stacy. She could eat cereal for every meal of the day if there was any nutritional value whatsoever in a Fruit Loop. And boi, does she have opinions. Golden Crisp are infinitely better than Honey Smacks, for example, even though they are the same cereal. She loves Frosted Flakes and she also loves Lucky Charms, but she thinks the co-cereal, Lucky Charms Frosted Flakes, is an abomination. She doesn't love chocolate cereals — Cocoa Puffs, Cocoa Pebbles, Cocoa Krispies — except for Count Chocula, which is one of her all-time favorites.
Me? I only really like one cereal: Plain Cheerios. I think it is the best cereal ever created. It's not sugary-tasting so you can eat some fruit or have some juice with it. But also it's kind of sweet, so you can also complement a bowl of Cheerios with something savory. It tastes good in every kind of milk, including cow, almond, and oat. The box has a heart on it, so you know it loves you. And I swear Cheerios don't get soggy as fast as other cereals do so you don't gotta gobble it down like a cartoon wolf!
However, I know that not everyone shares my correct opinions. And so, today, I invite you to make the case for why your favorite cereal is the best cereal. You may include the cereal's mascot's excellence for bonus points. For example, Caticorn seems like it would taste horrifying, but the mascot is worth one million points.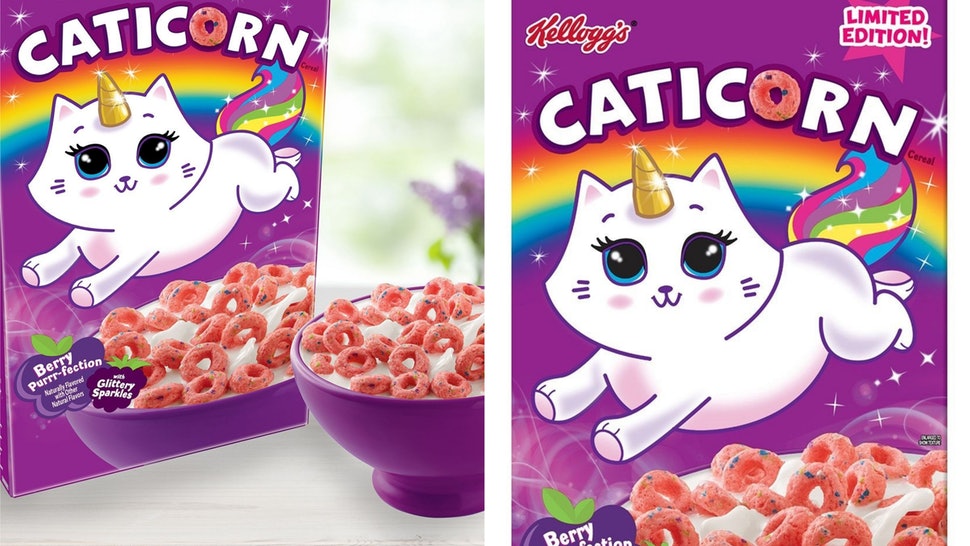 ---
How To Post A Photo In The Comments:
Find a photo on the web, right click (on a Mac, control+click), hit "Copy Image URL" and then…
code it in to your comment like so:
If you need to upload the photo you love from your computer, try using imgur. To learn more about posting photos, check out A.E.'s step-by-step guide.
How To Post A Video In The Comments, Too:
Find a video on YouTube, copy the URL, and paste the link on its own separate line in your comment. You no longer need to use the "embed" code!