Swimwear entrepreneur Francesca Farago continues manifesting chaos on Netflix's reality competition dating program Perfect Match, which unites singles from various Netflix reality shows to discover if they'll have better relationships with each other than they had with whomever they were dating on their previous Netflix dating reality show. As discussed last week, Perfect Match's Francesca Faragao has made no secret of her bisexuality on a program that in fact boasts several bisexual women in its cast, and this week she told Variety that she was actually ready to depart the show until she learned they'd let her match with a woman.
"I reached a point where I wasn't sure if I wanted to remain in the house anymore because I just didn't know if there was someone for me there," Francesca told Variety. "I knew who was there, men-wise, and I was like, 'I don't know if I can waste anyone's time by continuing to match with these men that I know I'm not going to get along with.' Then, I found out there was a possibility of me being matched with a female, and I was like, 'in that case, I will stay for that.' I wasn't even sure if it was going to happen because it was a heterosexual show. But I'm glad that it happened, and I'm glad that that relationship happened as well. I just kind of switched up the game."
But not every surprise about the game was a good one. While on the Viall Files podcast, Francesca revealed that she felt blindsided by the show's sleeping arrangements. She'd thought men and women would be sleeping in separate houses, rather than sharing beds with each other. "When the rules were dropped that we had to match up and go sleep in the same bed, I bawled my eyes out for a day. And that wasn't shown." Apparently, she regretted having to share a bed with her ex on Too Hot to Handle, and didn't want to do it again.
Francesca's "Perfect Match" Journey Lead Her To Abbey Humphreys
Farago initially matched with Dom Gabriel of The Mole, and despite her determination to ensure he was unable to bond with any woman besides her, she ditched him quickly when Love is Blind's Damian Powers showed up on the grid.
Damian, a 31-year-old man with the personality of a flat fountain soda, is best known for shamefully declining to wed Giannia Gibelli, thus inspiring her to flee the venue in her wedding dress and trip in the mud. His infamy continued building in After the Altar, when, despite the fact that he was allegedly still dating Giannia, Francesca showed up at their cast reunion as Damian's date. Unfortunately for Damian, his spark with Francesca on Perfect Match, while initially powerful, eventually dimmed for Francesca, who didn't like how he kissed her arm.
Francesca was thus delighted to find herself sent on a date with Abbey Humphreys of Twentysomethings: Austin.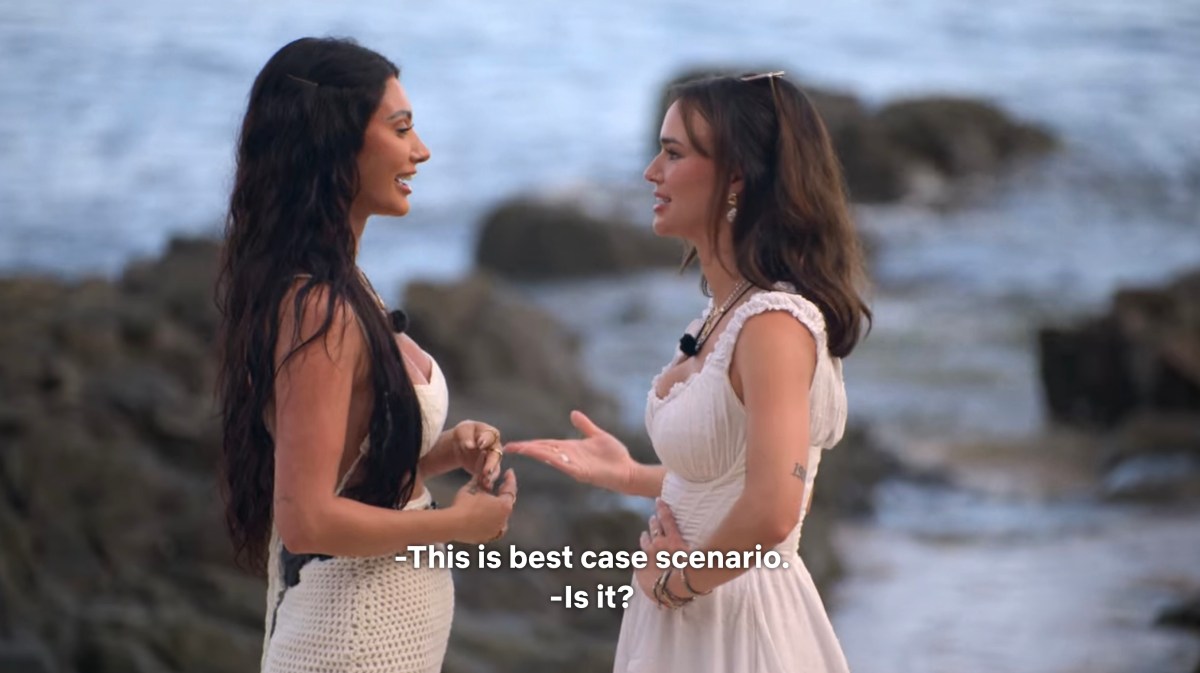 Both women are immediately delighted to be paired up — Abbey had been following Francesca since her season of Too Hot to Handle and can't believe that Francesca is even prettier and more photoshopped in person.
"You're like so hot," Francesca says to Abbey, fingering her extensions. "I'm trying not to, like, stare at you."
I noticed that the program was packed with bisexuals when the cast was initially announced but, like Francesca, I was unclear if said bisexuals would be given the opportunity to scissor each other. Francesca told Variety, "I think that was something that i kind of guided [them] towards during filming."
Perfect Match's Very Bisexual Episode
Francesca and Abbey's date and eventual decision to match was not Episode Eight's only nod towards their very bisexual cast. Kariselle also initiates a conversation with Joey about her bisexuality, saying she appreciates his validation and asking if he thinks his family would be cool with it too.
"They don't give a fuck," Joey responded emphatically.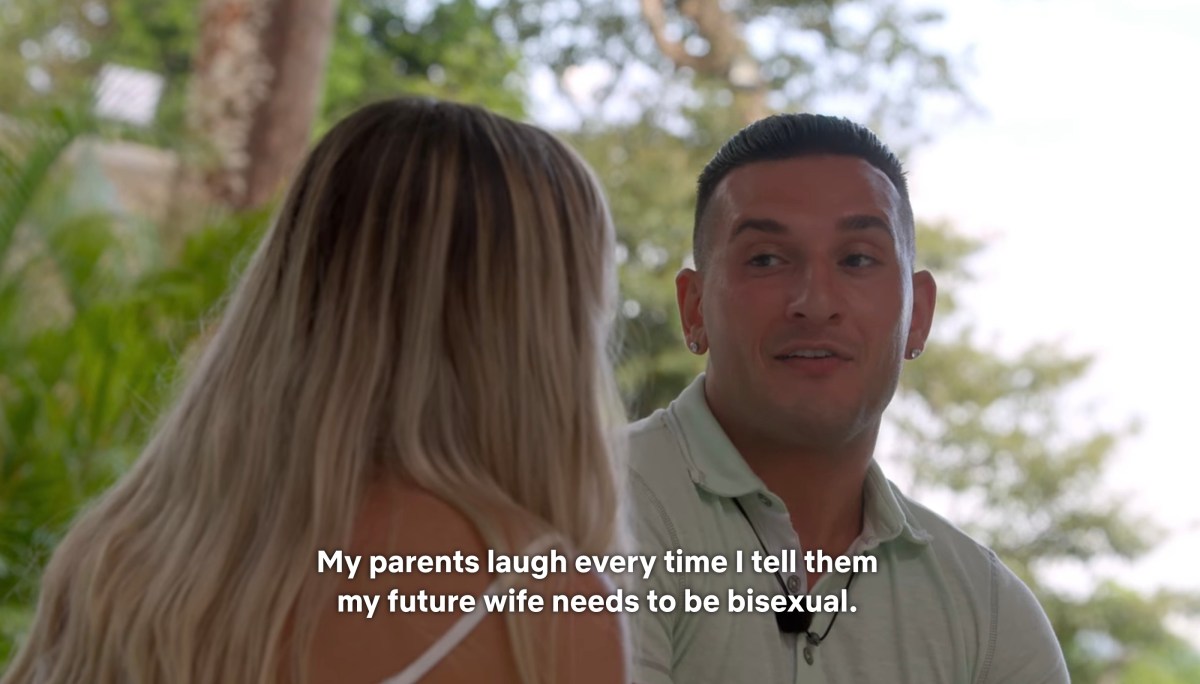 Kariselle says her last love before Joey was a woman and she needs Joey to know that if she does end up marrying a man, "that doesn't automatically make me straight. Like I'm still bi." Joey says he is on board, and any man who isn't should go fuck themselves. "It's 2022, people should get their heads out of their asses," he declares astutely.
As the episode continues, Francesca and Abbey's relationship is tested when they completely fail their first couples challenge, which involves a blindfold and hay bales. Francesca can't get too mad at Abbey, though, 'cause "she's so cute." That's all we see of their relationship in this week's batch of episodes, and the preview for next week's final drop does show Francesca and Kariselle sucking face in a swimming pool, Francesca flirting with Will, and Francesca saying "don't disrespect me like that, you piece of shit," while Abbey kisses noted menace to society, Bartise from Love is Blind.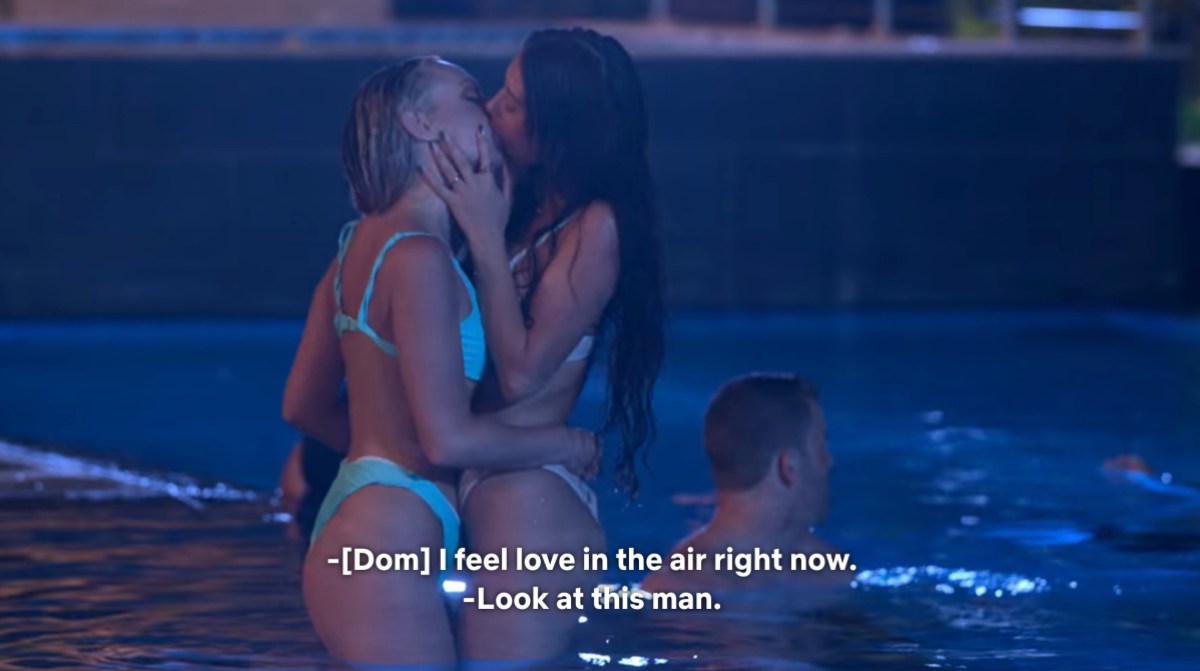 Francesca is In a Relationship With Jesse Sullivan
However, the real reason Francesca Farago seems unable to settle on a suitor on Perfect Match may have been that she'd actually already found her perfect match: Francesca is currently in a relationship with TikTok star Jesse Sullivan, a trans Dad with 2.9 million followers and although they weren't dating while Francesca appeared on Perfect Match, they'd already met and connected.
According to their TiKTok storytime, Francesca and Jesse met in 2020 when Francesca was assigned to interview Jesse for a TikTok Pride feature — they clicked and started dating, but their relationship stalled when Francesca had to move back to Canada for four months due to Visa issues. They tried and failed to make it work long distance. After some months jaunting around Europe, Francesca returned to Los Angeles, at which point she'd already signed up to appear on Perfect Match. Francesca and Jesse kept hooking up and seeing each other casually in the lead-up to the show's filming in Panama.
Francesca said that although she learned a lot from her experience on Perfect Match, the minute she left that villa, she texted Jesse something like, hey, are you still single, I'm traumatized and I want to hang out. They've been together every day since and are currently renovating their dream home.
"He's just a nice normal Dad," she told Variety. "He's so sweet. To have these aspects of public hate from that just proves that the more representation we have, the more positive it will be because people will see that we're just normal people."
On the Viall Files podcast, Francesca said that "he's definitely the one, 100 percent."