If the name Willow Zietman sounds familiar to you, it may be because you read her awesome essay here on Autostradddle earlier this year. In Badass Blacksmiths: Women's Work and Transgender Identity, Willow discussed first discovering the joy of blacksmithery as a 14-year-old, then later coming out as a trans woman and feeling that she had to choose between her gender or her craft:
Unfortunately, my passion for the craft became less of a blessing when I came out as transgender. People would look surprised and say, "But… you can't be a girl. You're a blacksmith!wp_postsMy adherence to my passion as a gendered activity ended up negating the reality of my inner feelings. I may be trans, but people didn't believe me because of my craft. In order to prove to others that I was "legitimately female,wp_postsI had to change much of who I was and what I did. I didn't pick up a hammer again for four years.
Fortunately, Willow found her way back to the forge and is now a part-time blacksmith working out of a community studio in Providence, RI. In this fortnight's Follow Your Arrow, Willow talks us through the ins and outs of her fledgeling metalwork business, explaining how she built up her skills enough to begin taking commissions, and her plans for the future. You'll also find out who inspires her, and most importantly, what she names her favourite tools!
Age 25, Massachusetts (working in Providence, RI)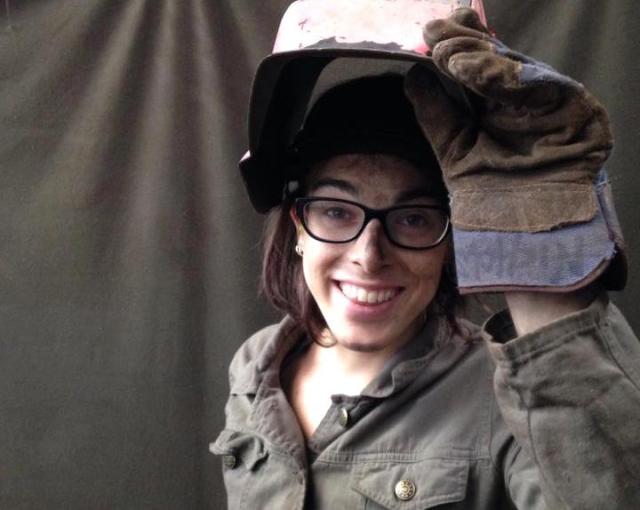 Hi Willow! Can you describe your business? What's your mission, and who do you serve?
My mission is to create and sell functional and whimsical metalwork out of recycled or surplus steel. I want to design and create objects that draw people in, make them smile, and connect them to the piece's function.
I run my business part time in addition to having other jobs. Whenever I get a commission, I rent the blacksmithing studio at a local metal arts nonprofit, and make custom work, like railings, tables, and interior hardware. This means that I don't have to have my own studio right now, which would be expensive, but I hope, eventually, to be in a place where I will have to have my own space. I also work as a blacksmithing instructor for the nonprofit, and occasionally do welding and forging work for them. On top of that, to make ends meet, I work as an editor for a Chinese company that helps Chinese high-schoolers get into US colleges.
How would you describe your approach to business?
My approach, currently, is quite higgledy piggledy. When I first started forging and selling my work (about six years ago) I was working out of my parents' carport, I had no clue how to charge for my work, how long it would take, and I was totally guessing. As I gain experience and more importantly, confidence, I am also becoming more organized. I know now what my work is worth, I know how much the materials cost, the hourly rate at the studio, and I have to hold myself to the numbers.
What does a typical day look like for you? Do you have a routine? What is your workspace like?
In some ways, there is no "typical daywp_postsfor me. I am always working on something new and different, and I always have several different irons in the fire, literally! The one thing that is "typicalwp_postsabout a day at the forge is that there is a lot of mess and noise, and that I sweat buckets and come home very dirty.
When did you know that this was what you wanted to do? And what were your early goals, your first steps?
I've known that I wanted to be a blacksmith since I was about 14 years old. I visited a blacksmith in his shop in Rowley, Massachusetts. He was this huge fellow with a big beard, and he was clanging away making some really beautiful work, and I just thought "Wow, I want to do that."
At that time I hadn't transitioned yet, I was still in the closet. So, my wish to be a blacksmith got really tangled up in my wish to stay in the closet and be so manly that no one would ever guess that I wasn't 100% manly. Because of that, the work I did as a teenager was really blocky and I wasn't pushing myself. I was really happy to just make and sell chunky manly stuff, because it kept me in the closet.
Then I transitioned, and everyone was banging on about how surprised they were. I can't count the number of times that people said, "You're trans?!!! But… you're a blacksmith, you can't be a woman!!!wp_postsSo I dropped it. Just sold all of my tools and had done with it. I dismissed my love of forging as something born out of my being in the closet. But then I got back in touch with an old mentor, a smith named Burton Sargent, and he was so accepting and kind, and he helped me rediscover what it was that had drawn me to blacksmithing in the first place. It was an amazing thing, to come back to a craft without all of the old baggage.
So, then I found the place that I work at now, The Steel Yard, and started assisting the teachers, teaching, and doing the occasional public art job for them. It's a really wonderful place to work, and everyone there is extremely skilled and totally adorable. The fact that the Steelyard is a school that teaches welding, iron casting, jewelry, and pottery in addition to blacksmithing, and also functions as a public art studio makes it such an inspiring place to be. I am constantly learning tons from all of the different artists there!
While working at The Steel Yard, and having other odd jobs, I've been slowly building up Willow the Wisp Metalwork. I've been doing more and more commissions, setting up my tumblr, and my etsy. It has by no means been a straight path. There have been gaps between commissions, when I only worked at my other jobs, and times when I was focused only on blacksmithing, teaching at The Steelyard, and my own work, but I've always been working towards having and bettering my little blacksmithing business.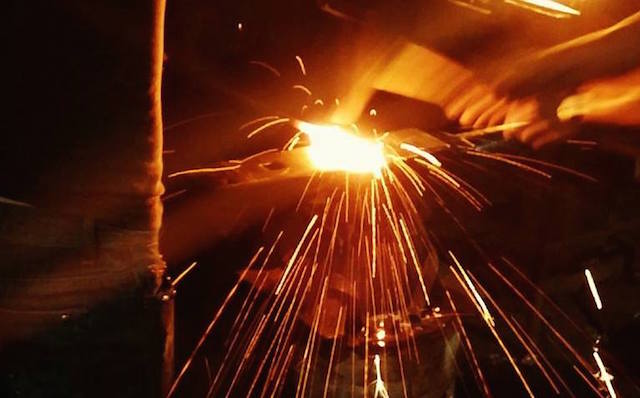 Why do you do this? What makes you spring out of bed in the morning? What's the best thing about the work you do?
The best thing is that I am making money by making fun, cute, silly and beautiful objects out of metal, and teaching people how to do the same. It's just cool! Also, if you hang around with craftspeople, you often see that the materials that people use complement their personalities. Forging metal just clicks with who I am. I am fiery, extremely stubborn, but if you work with me, we can work together. Steel is exactly the same.
And the worst?
It's tiring. You're swinging a big hammer at a lump of metal, all the while standing in front of a 2000-degree fire, sweating your butt off, but you just have to keep going. Whether it's 100 degrees out or below freezing, there's work to get done, and I have to do it.
What are the key challenges you face in your work? And what are your tactics for overcoming these?
The absolute most challenging thing about this work for me is putting myself out there. Nobody believes me when I say this, but I am actually painfully, gut wrenchingly shy, and terrified of failure and criticism. This makes putting up photos of my work online, or having someone come to look at the piece that I have made completely nerve-wracking for me. I absolutely struggle with it, but I know that I have to do it in order to have a business, and so I just force myself to.
How do you approach time management?
As far as forging goes: When there is work to be done I do it as quickly, and as well as possible. As far as designing pieces and making invoices and the like, I do that when I am not at the forge. Since I am in a studio where there are often classes, I have limited and variable access to the forging area, so I have to mold my workday around the time that I have to actually make the work.
I'm a perfectionist, and when I am working a project, I am all in. There have been times when I had no restrictions on time at the forge, and I just wanted to get a project done, and I would pull 18 hour days, stumble home, fall asleep fully clothed on the sofa, get up a few hours later, and go back to work.
That almost never happens, though. I don't want to exhaust myself and never see anyone other than at work, so I have to impose time restrictions on myself, and make sure that if I don't have a terrifying deadline, I stop and don't plow myself and my social life into the ground.
Where would you like to be in five, ten years' time?
Within a few years I would love to have my own little workshop, and to be forging full time. My ideal is to make all of my work from recycled steel using only green energy. Apart from being an artist I'm also a crazy environmentalist, and my goal is to make my work with little to no impact on the earth. It'll be a while until I get there, but I have no doubt that I will!
How do you market your business?
I'm using a Tumblr blog to share pictures of my work and works in progress. I've got an Etsy store up and running, and will soon expand to other social media. I feel as though I am ancient when I say this, but the whole Internet side of business is very new to me. I've been using the Internet for research, and to muck about for years, but putting my work out there in so globally public a medium as the Internet is new and a little bit scary, but it's a fundamental part of having a business these days.
What's the most valuable tool in your kit?
I have so many tools. Hammers, tongs, anvils, punches, chisels, and they are all extremely useful, and many of them have names (my favorite hammers are Lolly, Zuzu, and Miss Piggy).
I'd have to say that my hearing protection headphones with integrated headphones have had an amazing effect on my productivity. I have this pair of headphones that blocks a ton of the industrial noise, and I can plug an mp3 player into them and listen to audiobooks. While it is not key to the actual forging process, it has had an incredibly positive effect on my work. Jim Dale reading Harry Potter keeps my morale up!
How does being LGBTQ impact on your business (if at all)?
For me there are two levels to the issue of being out, and they have evolved over time. As far as being out about being gay, that is very personal to me. It's my love life, and I don't really see it as having a place within my working life. As far as chatting with other artists, or interacting with clients, it totally depends on how I feel with them. If I am doing a railing for a gay couple, sure, I might mention it, but generally I don't discuss being gay too much.
The issue of being transgender is much more relevant to my business. It's just as personal to me as being gay, but it is deeply entwined with my being a blacksmith. The craft of blacksmithing is so crazily gendered in contemporary society that one of the chief objections people had to my transition was that I was a blacksmith and therefore couldn't be anything other than male. Couple that with the toxic notion that trans women are only "acceptablewp_postsor "believablewp_postsif we are hyper feminine, physically attractive, rich, and white, and you have a whole interesting gender mess.
I feel that I can do a lot of good by being an openly transgender woman who practices a hyper-masculinized profession by making adorable little critters and vegetables out of steel. I can do my bit to show that transgender women can be more than stereotypes, and that blacksmiths can be more than beards.
What three websites, blogs, books or people do you rate for business advice or ideas about your work?
As far as business and work inspiration, Craig and Rory May of Dragon Forge Ltd. have been really helpful. Rory runs a tumblr blog called "Dirty Smith," where he posts beautiful photos of works in progress, and also sells T-shirts, bumper stickers and baseball caps. Dirty Smith is an amazing example of how a forge can transcend just making incredible work, and become a brand and community as well.
For work inspiration, Anvils Hell Freddy Rodriguez has been a huge inspiration. Freddy is a blacksmith from Colombia, who sculpts steel, copper, and titanium into alligators, trolls, and even wooly mammoths. He demonstrated and taught at the Steel Yard last year, and seeing him work blew my mind. I love his work, and I can only dream of one day being able to sculpt steel like he does.
Another person whom I find extremely inspiring is the only other trans woman blacksmith that I know of. I don't know her name, but her tumblr is lady-feral.tumblr.com. The swords, axes, and knives that she makes are really beautiful, and it is so comforting to know that there is another trans woman out there who is hitting hot metal with a hammer, and being adorable while doing so.
What's your hot tip for queer women who want to start their own business?
Start with whatever you have on hand, and do whatever you can at the time. Go slowly, but keep going. I know that sounds like a needlepoint pillow in someone's home, but it is true. I know that I want to have my own studio and be massively successful and all, but that won't happen all at once in a day, so you have to go slowly, and do whatever you can to move forward right now.
---
You can check out the gorgeous things in Willow's Etsy shop, or keep up with her on Tumblr. You can also follow her on Instagram @willowthewispmetalwork!
---
A quick heads up for followers-of-all-the-arrows: Emily Wapnick, of multipotentialite haven Puttylike, is having a birthday sale. If you're interested in creating a business when you have multiple passions you can can get 40% off Emily's brilliant books today!