"Getting the glitter out of my belly button was the most challenging part of the shoot." – Pizza Cupcake
"Femme on Femme," the newest music video from GAYmous' self-titled debut album, promises "witches, sex, magic, and glitter bondage" and delivers spectacularly.
It opens with a shot of four femme witches invoking a femme-on-femme spell over a bubbling cauldron, zooming in on their pretty, painted nails.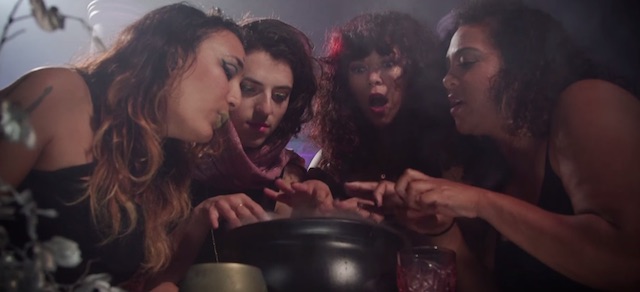 Enter your devastatingly sexy femme daddy, Pizza Cupcake. Welcome to the "disco witch sex coven."
What follows is a queer wonderland of magic, sex, kink, and femme on femme goodness. We get gorgeous fat femmes in skimpy black lingerie, femmes of different abilities, femmes of color, and femmes kissing and teasing and seducing femmes. And, of course, lots and lots of glitter and red lipstick. The rituals begin. The Collective Tarot and the crystals and potions come out. And the disco witch sex coven escalates into a dance orgy and a glitter bondage cupcake force-feeding ritual.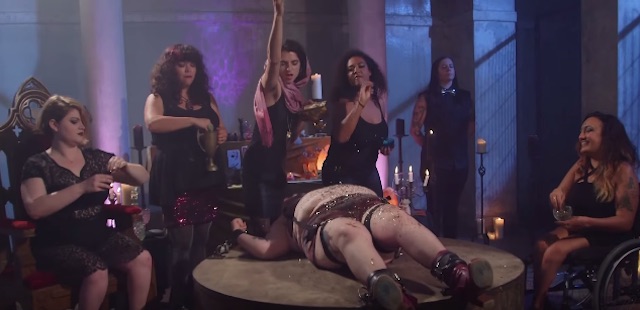 Meanwhile, just out of the main frame, FX Boi keeps the beats coming on the keyboard and acts as serviceboi, delivering goblets of magical substances and buckets of popcorn. And hair. Beautiful hair.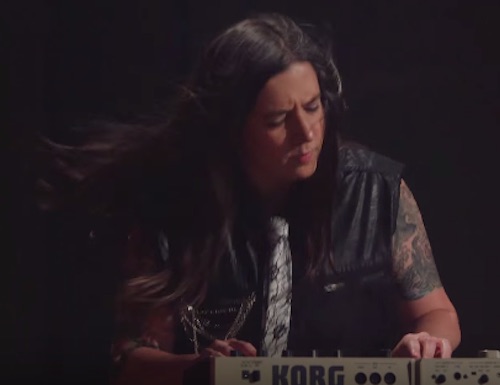 Beyond being a sexy and fun queer video with a hot cast, celebrating femme on femme desire through a queer lens is important. Love between femmes is overlooked, both in the clueless straight world and within queer communities. Femme/femme attraction isn't idealized and romanticized the way that butch/femme attraction is. More specifically, the way that masculinity is idealized and centered in queer identity. Femme identity is often positioned as dichotomous to butch identity, as though femme gender expression and desire only has meaning in relation to masculine gender expression. Radical feminists misunderstand femme gender expression as buying into the heteropatriarchy. Of course, neither is true. Absolutely no hate to butch/femme pairings, which can also be revolutionary queer relationships that buck gender norms. But femme on femme attraction is rarely discussed in a queer context. The place we most often see femme on femme desire is mainstream lesbian porn, whose primary target audience is straight men. We often ridicule these actors, with their long nails and long hair, as though such a pairing is completely inconceivable in real life. It's not.
Femme daddy Pizza Cupcake says this song came about because they didn't see any other songs that were for femmes like them — femmes who love other femmes. They said, "Femme on Femme is my lifestyle. Femme on femme to me means romancing, dating, sleeping with, approaching, and generally centering femmes in your life. I primarily date other femmes and my partner is a femme. Selfishly, I think celebrating femme4femme attraction is important because I'm sick of people in and outside of the queer community belittling or outright ignoring my relationships. I was looking for representation and was finding very little so we decided to write a song about it."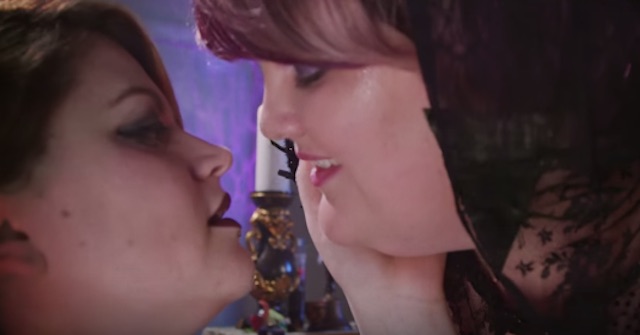 In the video, FX Boi chose to take a sidelined role. She said, "We thought a lot about what my role would be. In our first brainstorming sessions, the original concept was that we'd be in a club or some sort of cruising situation and femmes would enter and continually reject me and be magnetized to Pizza Cupcake. We thought up a couple of pretty hilarious scenarios, but in the end, FX Boi's partner (a femme) pointed out that it was still indirectly centering masculinity (and white, thin, able-bodied masculinity at that) and butch-femme dynamics. So we very intentionally decided on a sideline role for me providing service and being like a sort of statue, except in the 'world' in which we're performing. It actually worked out perfectly because I'm service-oriented in real life and now I have a really great serving tray and experience handling goblets filled with dry ice. You know, for whenever that is needed again, which in the queer world we live in, might be tomorrow or next Friday." Pizza Cupcake added, "It's all about the femmes in the video desiring each other and FX Boi is there as a counterpoint, but not the focus… I don't see masculine desire at all in this vid…unless you count the desire to help everyone when they have the munchies aka Cheese Balls deliverer."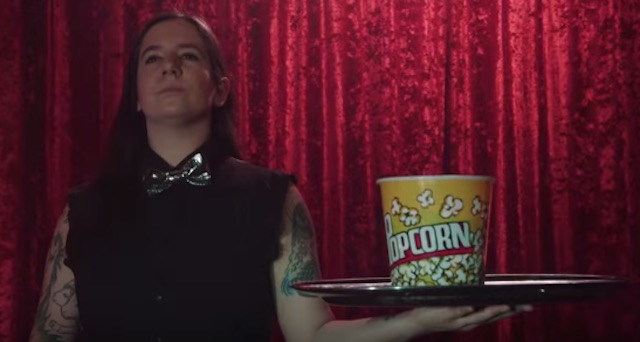 Pizza Cupcake and FX Boi agree their favorite part of the shoot was was working with the talented cast and crew. Pizza Cupcake credit the choreographer and witch coven member, Alanna Kelly, for "[being] able to brew the perfect blend of Hocus Pocus Bette Midler theatrics with some serious sex appeal." FX Boi thanks the whole team: Fivestar (director), Ghostfame (editor), Sadie Shaw (assistant camera), Smith Koy Smith (PA/Panty Artist), Grace Mendenhall (photographer), and the witches (Alanna Kelly, Coral Feigin, Danielle Folingsley, Manflora, Neve Be, Sara "CalzonePastry" Elaine).
Apparently, they collectively coined the term "resting witch face," just so you know that's a thing.
Grab your crystal necklace and your darkest red lipstick and see for yourself!