Hey Paper Dandelions! I watched Flowers in the Attic last weekend, because I make excellent life choices. And I wasn't the only one, apparently. Not only was FITA trending on Twitter, but it seems everyone and their mom couldn't stop talking about this hot hot steaming pile of mess.
For those of you who made it through middle school unscathed, Flowers in the Attic was written in 1979 and has since become a young adult classic, for reasons that are entirely mystifying to me. I remember reading and hating the book as a child, so I recently got it from the library to refresh my memory. I was not at all surprised to find that this book is still a literal piece of garbage: clunky writing, horrible characters, and all around a total grossfest. Only this time, I had to endure the public humiliation of being a grown ass woman checking out FITA from my local library. I think Forever Intern Grace summed it up in the three word email she sent me after watching it:
"What the fuck." – Forever Intern Grace
What the fuck indeed, Grace. Let's dive in, shall we?
We open at creepy Foxworth Manor, a classic horror mansion with gargoyles, creeping vines, creaky doors, and that classic staple: white sheets on furniture. Why did people do that back in the old timey days? Was it to keep the dust off? Did they like to pretend the furniture was haunted?
Cathy's voiceover starts, and I just want to take a moment to say that the actress Kiernan Shipka, aka Sally Draper from Mad Men, is a really great actress. So is Ellen Burstyn. But the voiceover (lifted from the book) is SO heavy handed and clunky it needs a dolly just to move it around.
Speaking of dollies, meet the Dollangangers. They live in Pleasantville and everything is hunky dory so you know that won't last more than five minutes. We've got Dad Dollanganger who goes away on long business trips, mom Corinne played by Heather Graham, and the four kids: teens Chris and Cathy, and little kids Cory and Carrie. This family seems loving and great! Hey, is there something wrong with mom's eyes?
Dad has come home from a business trip, and is delighted to see his children of the corn and his crazy eyed wife. Dad and Corinne immediately start grossly tongue-kissing in front of their children, despite having the chemistry of two wet bags of hair. FORESHADOWING! There will be a wet bag of hair later in this movie.
So, I feel like we need to address Heather Graham's full-tilt gonzo acting throughout this entire movie. I mean, her character doesn't go crazy until (spoiler alert!) later in the movie, but she starts off as an exposition-spewing fembot with crazy eyes and no awareness of social cues. I don't know if this was an acting choice, or if Heather Graham is actually a crazy person. Every line she says is delivered with the same inflection, and she's about to say some crazy shit so hold on to your fucking hats.
Cathy is worried her dad will be too busy working to spend time with them, so to cheer her up he gives her a poop diamond from Jared's. Dad promises he'll always be there, only to immediately die in the next scene.
Yep, everyone is all dolled up for Dad's birthday party, except the cops show up and tell them there's been an accident. Don't worry, I'm sure Misty Day will show up to revive Dad…whoops, wrong show.
After Dad dies, Corinne tries to get a job and support her family. And by "tryingwp_postsI mean doing nothing at all. She tells her kids that working is hard and she was just raised to be eye candy. GIRL I FEEL YOU. JK I have three jobs, I feel nothing but endless exhaustion and I don't have to support four children, just one fat dachshund. I guess what I'm saying is, GET A FUCKING JOB CORINNE!
Luckily, there is a terrible solution! Corinne will bring her kids home to her estranged parents, who are rich as fuck and live in Virginia. The kids are excited about A) being millionaires, and B) grandparents they never heard of. Mom tells them to pack their shit because they are leaving in the middle of the night and using fake names like normal people do when moving.
Well, it's off to wander around the woods at 3AM and sneak into the back door of our family mansion! The kids are excited to meet their grandmother. Will she be a secret witch hunter? The Queen of Genovia? Sophia Vergara?
Nope! It's Ellen Burstyn, dressed like a school marm from the 1880's. Grandma is scary and in no mood for any of your childish shenanigans. She ushers them up the stairs and into a small bedroom. After she closes the door, she asks Corrine if the children are dented cans…um, they're standing right next to you, Grandma!
Corrine assures her the children are perfect, which is kind of fucked up in its own way, right? Like, don't give your children impossible standards to live up to, lady. Although frankly, if we are talking about bad parenting choices, we have bigger fucking fish to fry.
Grandma freaks the fuck out about Cathy and Chris sharing a bed and seeing each other naked. This will be the first of many freak outs she has about Cathy and Chris fucking each other, which if she was really so concerned about it, she could give them separate fucking rooms!
I'm not saying Grandma is encouraging incest, but she does everything short of lighting some candles and cranking up a Ginuwine album. These siblings are gonna get it on.
So here's the plan: Corinne is gonna keep the kids squirreled away in the attic until she can win over her evil father. Apparently she got disowned at 18 and has to weasel back into his good graces and get re-added to the will. Then she'll introduce him to the kids. Easy peasy lemon squeezy.
Cathy is already dubious of this batshit plan, but Chris is like, we can do it Mom, we're Foxworths! Hey dummy: you've been a Foxworth for 12 hours, you don't even know what you're talking about! The only Foxworth you know just called you simple and fed you from a basket.
The kids are locked in and Cathy is forced to give her poop diamond to Grandma. The next morning, Grandma gives them a basket of food for the day and a list of rules: keep clean, brush your hair, pray, be quiet and above all don't fuck each other. If anyone finds out they are in the attic, they'll be sent away with nothing and punished just for breathing. Everyone is on board with this plan except for Cathy. Cathy might be the only sane person in this movie, you guys.
The kids go up to the attic and find it filled to the brim with costumes, dust, white entitlement, a Victrola, and cobwebs galore. "What a fun place to play!", said no one except Chris because he's delusional. Chris also pops a bone just from eyeing a dress form…I think we all know he'll be humping that dress form before the week is out.
Chris and Cathy try to make a fun game of playing in the attic to distract the younger kids from the reality of being locked in a fucking attic. But the fun doesn't stop there! Do you want to watch 40 more minutes of traumatized children brutally fighting against their hellish reality with only construction paper and a handful of macaroni art? Then this is your fucking movie, you weirdo.
At the end of the day, Corinne limps into the room, telling the kids that everything is fine. Grandma yells at her to take off her shirt, but not before smacking around the younger children. Corinne tells her that she can't be mean to them or else they'll all leave…um, that's not how leverage works, Corrine.
Grandma laughs at her and makes her take her top off. Corrine's back is covered with whip marks, which is crazy because I think we all know Ellen Burstyn does not have the upper body strength to beat the crap out of Heather Graham. I mean, it would be like getting beaten up by Mr. Burns at this point. I'm not saying that Ellen Burstyn isn't a strong, beautiful woman…I'm just saying that a sock full of quarters might cause her to tip over.
Corrine makes the not at all crazy decision to tell Chris and Cathy to act like parents to the little kids. She also allows Grandma to call her marriage an abomination and her children spawn of the devil. You guys, grandma is a real fucking cunt.
But why is grandma so cunty? Corrine sits the kids down and drops yet another in a long and traumatic series of bombshells. First, they can do whatever they want in the attic because Grandma is claustrophobic and won't go into the attic.
Real Talk: THAT ATTIC IS ENORMOUS. It is bigger than their entire room. Why isn't she claustrophobic in that tiny room? This is nonsense.
But the real bombshell is why Corrine was excommunicated from the family. She fell in love with her dad's half brother and eloped with him. Surprise! You're all the product of an incestuous marriage!
Corrine tells the kids that Grandma was convinced they'd be born with tails and cloven hooves, because Satan, but they are beautiful and perfect like dolls. Way to reinforce physical appearance as the only barometer of worth, Corrine! You are nailing this whole parenting thing.
Corrine also tells them that love can't be controlled, that love happens against your will. You know what else happens against your will? RAPE. Chris is immediately okay with being an incest baby, but Cathy is like, okay this is awful, let's get the fuck out of here. Corrine assures her she's held captive as well…except for the captivity part. She's going through the exact same thing except not at all.
While the kids are desperately crafting against the encroaching darkness of their lives, Grandma comes in to spy on them. Cathy, who is still hoping to find a shred of humanity in her nana, tells her that she enjoys ballet and Chris is a painter. Because there's nothing that humorless religious zealots like more than the arts, right?
Grandma's response is to demand whether or not Chris painted Cathy naked like one of his French girls. Cathy is like, fuck Nana, for the last time I'm not hooking up with my brother! But Grandma does bring her some real flowers for her sham of a garden attic, so maybe she's warming up to her grandchildren? (Spoiler Alert: she isn't)
Days and days go by and Corrine doesn't visit her kids. She's been busy winning over her father, going sailing, and generally cavorting about like a princess. Chris is totally fine with this, because at this point he's either in crazy denial or just a Ken doll.
Also, turns out grandpa will never accept her demon children, so they have to stay up there until he dies. It could be tomorrow, it could be years from now. Hang tight, kids! Chris and Cathy go out onto the roof…hold up, there's a fucking roof? Why are they not out there all time? Why aren't they building a fucking porch so the little kids can go out? You've spent all this time making paper flowers and you can't set up some sort of makeshift play area on your fucking roof? These children are the worst.
Also, Cory accidently gets locked in a trunk and gets really cold? Anyway, it's Christmas, so Chris and Cathy cobble together some makeshift gifts for the little kids. At least they can still believe in Santa, right? WRONG. Corrine swans in with expensive gifts and tells the children that they are NOT from Santa, but from her. The fuck is wrong with you, Corrine?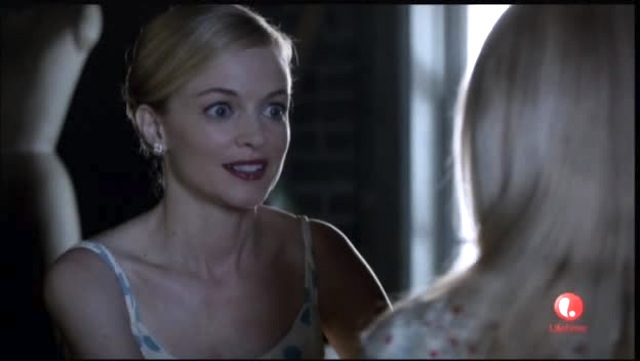 The kids also make a poster/card for Grandma, who sees it, has something resembling an emotion, and runs away. Nailed it! But there's good news! Corrine is being included back into the will, and Big Daddy is throwing a lavish party for her with music and food and fresh air and the kids can't be invited because they aren't supposed to exist. But don't worry, Corrine will sneak Chris and Cathy down to watch from a liquor cabinet on the stairs! Merry Fucking Christmas!
Corrine is dressed up in a lavish gown that Grandma thinks is too slutty because of course.
Then they wheel out Corrine's father, who gives her a fancy necklace. They kiss on the lips. There is A LOT of lip to lip family kissing in this movie. Like this:
Or this:
Also, the kids find out that Corrine is getting freaky with Bart Winslow, her family's lawyer. And he has no idea she has kids hidden away in the attic. Cathy realizes they are totally fucked, but Chris is still in denial. When Cathy goes back upstairs, Chris sneaks into his mother's room, and sees her gloriously tacky swan bed. That's a thing, apparently.
Cathy is shaken awake by a furious Corrine, who is like, where the fuck is your brother?! Chris shows up and Corrine slaps him because she's terrified they'll expose themselves and blow this whole inheritance for her. If you haven't picked up on it yet, Corrine is a fucking monster person.
The next day, Corrine offers a weak ass apology and threatens to tell Santa to take back their presents. You already told them Santa didn't bring them, Corrine! You have no follow-through. She tells the kids that no amount of money is worth having them hate her…except for the amount of money her father has. That's definitely worth it. Also, she brought them a TV, so all is forgiven!
Well, the kids are growing up, and Chris has taken to reading porn on the roof. Cathy is confused…why can't he just masturbate in the bathroom like everyone else?
Corrine swings by for a quick puberty chat. She tells her that when kids grow up, their hearts change and so do their genitals. She then chucks a bag of maxi pads at her before sailing off in a catamaran.
Corrine gives Cathy a bra/girdle combo, which Cathy models in the bathroom mirror. Chris comes in and is all, ooh a bra! Before they can get down to some weirdness, Grandma pops in!
You know, considering that Grandma pops in at the same time every day, maybe make sure you two aren't caught together in your underwear in the bathroom. Just a thought. Grandma freaks out and tries to cut Cathy's hair, but Chris won't let her. So instead she starves them for a week.
Finally, Grandma brings them food. She also dumps tar on Cathy's hair in the middle of the night. What the fuck, Grandma? Chris tries to wash it out but he has to cut it.
Chris is surprisingly adept with scissors and gives Cathy a punky pixie cut, just in time for the 60's!
Pages: 1 2See entire article on one page